Mercator Misconceptions: Clever Map Shows the True Size of Countries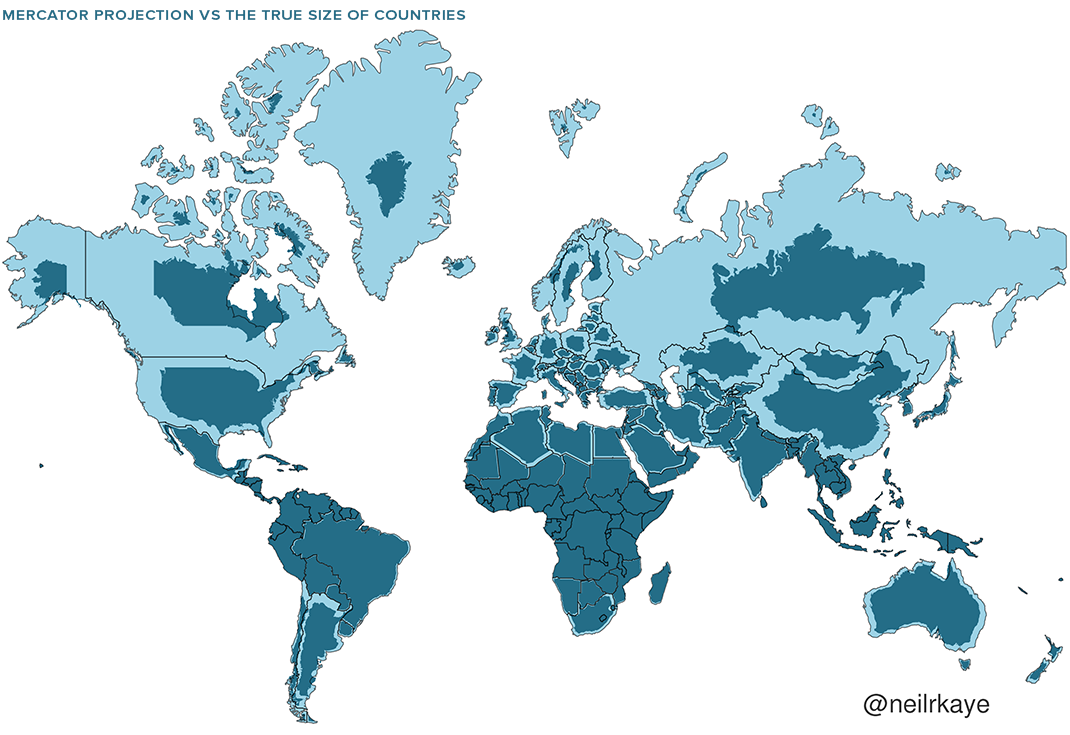 This Clever Map Shows the True Size of Countries
Maps are hugely important tools in our everyday life, whether it's guiding our journeys from point A to B, or shaping our big picture perceptions about geopolitics and the environment.
For many people, the Earth as they know it is heavily informed by the Mercator projection—a tool used for nautical navigation that eventually became the world's most widely recognized map.
Mercator's Rise to the Top
With any map projection style, the big challenge lies in depicting a spherical object as a 2D graphic. There are various trade-offs with any map style, and those trade-offs can vary depending on how the map is meant to be used.
In 1569, the great cartographer, Gerardus Mercator, created a revolutionary new map based on a cylindrical projection. The new map was well-suited to nautical navigation since every line on the sphere is a constant course, or loxodrome.
Geographic Inflation
The vast majority of us aren't using paper maps to chart our course across the ocean anymore, so critics of the Mercator projection argue that the continued use of this style of map gives users a warped sense of the true size of countries—particularly in the case of the African continent.
Mercator's map inadvertently also pumps up the sizes of Europe and North America. Visually speaking, Canada and Russia appear to take up approximately 25% of the Earth's surface, when in reality they occupy a mere 5%.
As the animated GIF below—created by Reddit user, neilrkaye – demonstrates, northern nations such as Canada and Russia have been artificially "pumped up" in the minds of many people around the world.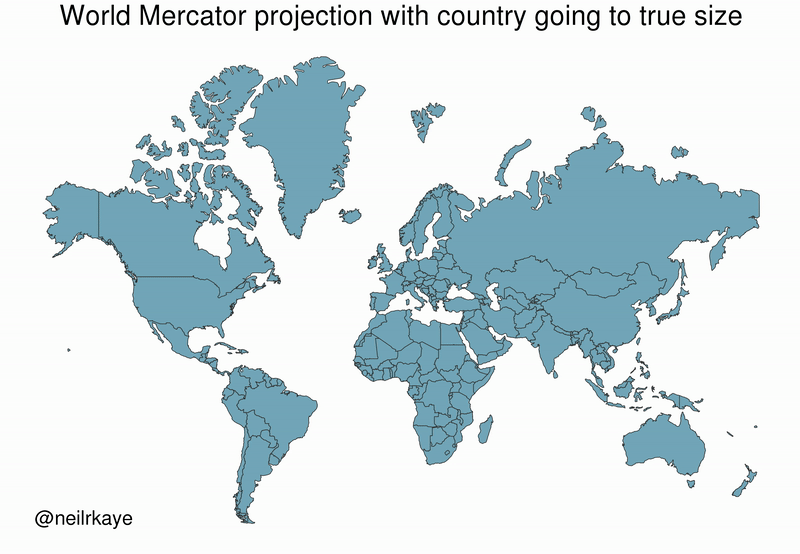 Greenland, which appears as a massive icy landmass in Mercator projection, shrinks way down. The continent of Africa takes a much more prominent position in this new, correctly-scaled map.
This visualization also highlights how distorted neighboring countries can look in Mercator projection. In the GIF above, Scandinavian countries no longer loom imposingly over their European neighbors, and Canada deflates to a size similar to the United States.
Despite inaccurate visual features—or perhaps because of them—the Mercator projection has achieved widespread adoption around the world. This includes in the classroom, where young minds are first learning about geography and forming opinions on the relationships between countries.
Getting Reacquainted with Globes
Google, whose map app is used by approximately 150 million people per month, took the bold step of using different projections for different purposes in 2018.
The Earth is depicted as a globe at further zoom levels, sidestepping map projection issues completely and displaying the world as it actually is: round. The result is a more accurate depiction of countries and landmasses.
With 3D Globe Mode on Google Maps desktop, Greenland's projection is no longer the size of Africa.

Just zoom all the way out at https://t.co/mIZTya01K3 😎🌍 pic.twitter.com/CIkkS7It8d

— Google Maps (@googlemaps) August 2, 2018
At closer zoom levels, users are typically using maps for things like navigation, which the Mercator projection was designed for. The exact angles of roads and borders are preserved in this projection.
In the Right Direction
In a more globally connected world, geographic literacy is more important than ever. As people become more accustomed to equal area maps and seeing the Earth in its spherical form, misconceptions about the size of continents may become a thing of the past.
This post was first published in 2018. We have since updated it, adding in new content for 2021.
Visualizing Two Decades of Reported Hate Crimes in the U.S.
Hate crimes across the U.S. have been on the rise since 2014. Here's a look at the most common types of offenses over the years.

Creator Program
Visualizing Two Decades of Reported Hate Crimes in the U.S.
Across the U.S., thousands of hate crimes are committed each year, with many different motivating biases.
In 2020 alone, more than 10,000 unique hate crime incidents were reported to the Federal Bureau of Investigation (FBI)—and it's likely that thousands more were committed that didn't get reported to law enforcement.
What are the most commonly reported motivating biases, and how have hate crime rates evolved over the years? This graphic uses data from the FBI to visualize two decades of reported hate crime incidents across America.
What is Considered a Hate Crime?
Before diving in, it's important to determine what constitutes a hate crime.
According to the U.S. Department of Justice, a hate crime is a crime that's "committed on the basis of the victim's perceived or actual race, color, religion, national origin, sexual orientation, gender, gender identity, or disability."
These types of crimes are a threat to society, as they have a broader impact on communities than other types of crimes do. This is because hate crimes can foster fear and intimidate large groups of people or marginalized communities, making them feel unwelcome, unsafe, or othered.
Hate Crimes on the Rise
Hate crimes have been rising across the U.S. in nearly every year since 2014. By 2020, reported crimes across America reached record-level highs not seen in over two decades.
| Year | Number of Reported Incidents | % Change (y-o-y) |
| --- | --- | --- |
| 2001 | 9730 | 18.4% |
| 2002 | 7485 | -23.1% |
| 2003 | 7545 | 0.8% |
| 2004 | 7685 | 1.9% |
| 2005 | 7411 | -3.6% |
| 2006 | 7715 | 4.1% |
| 2007 | 7625 | -1.2% |
| 2008 | 8039 | 5.4% |
| 2009 | 6613 | -17.7% |
| 2010 | 6633 | 0.3% |
| 2011 | 6299 | -5.0% |
| 2012 | 6594 | 4.7% |
| 2013 | 6044 | -8.3% |
| 2014 | 5599 | -7.4% |
| 2015 | 5871 | 4.9% |
| 2016 | 6276 | 6.9% |
| 2017 | 7321 | 16.7% |
| 2018 | 7170 | -2.1% |
| 2019 | 7892 | 10.1% |
| 2020 | 10299 | 30.5% |
And sadly, these figures are likely a vast undercount. Law enforcement submit this data to the FBI of their own volition, and in 2020, thousands of agencies did not submit their crime statistics.
Race-Related Hate Crimes are Most Common
Historically, the most reported hate crimes in the U.S. are related to race. In 2020, about 66% of incidents were motivated by discrimination against the victim's race or ethnicity.
| Type of Bias | Total Number of Crimes (2020) | % of Total |
| --- | --- | --- |
| Race/Ethnicity | 6793 | 66.0% |
| Religion | 1626 | 15.8% |
| Sexual Orientation | 1311 | 12.7% |
| Other | 569 | 5.5% |
| Total | 10299 | -- |
While race is the most commonly reported hate crime, incidents related to gender and gender identity are on the rise—in 2020, there was a 9% increase in gender-related incidents, and a 34% increase in gender identity-related incidents, compared to 2019 figures.
Visualizing the Relationship Between Cancer and Lifespan
New research links mutation rates and lifespan. We visualize the data supporting this new framework for understanding cancer.
A Newfound Link Between Cancer and Aging?
A new study in 2022 reveals a thought-provoking relationship between how long animals live and how quickly their genetic codes mutate.
Cancer is a product of time and mutations, and so researchers investigated its onset and impact within 16 unique mammals. A new perspective on DNA mutation broadens our understanding of aging and cancer development—and how we might be able to control it.
Mutations, Aging, and Cancer: A Primer
Cancer is the uncontrolled growth of cells. It is not a pathogen that infects the body, but a normal body process gone wrong.
Cells divide and multiply in our bodies all the time. Sometimes, during DNA replication, tiny mistakes (called mutations) appear randomly within the genetic code. Our bodies have mechanisms to correct these errors, and for much of our youth we remain strong and healthy as a result of these corrective measures.
However, these protections weaken as we age. Developing cancer becomes more likely as mutations slip past our defenses and continue to multiply. The longer we live, the more mutations we carry, and the likelihood of them manifesting into cancer increases.
A Biological Conundrum
Since mutations can occur randomly, biologists expect larger lifeforms (those with more cells) to have greater chances of developing cancer than smaller lifeforms.
Strangely, no association exists.
It is one of biology's biggest mysteries as to why massive creatures like whales or elephants rarely seem to experience cancer. This is called Peto's Paradox. Even stranger: some smaller creatures, like the naked mole rat, are completely resistant to cancer.
This phenomenon motivates researchers to look into the genetics of naked mole rats and whales. And while we've discovered that special genetic bonuses (like extra tumor-suppressing genes) benefit these creatures, a pattern for cancer rates across all other species is still poorly understood.
Cancer May Be Closely Associated with Lifespan
Researchers at the Wellcome Sanger Institute report the first study to look at how mutation rates compare with animal lifespans.
Mutation rates are simply the speed at which species beget mutations. Mammals with shorter lifespans have average mutation rates that are very fast. A mouse undergoes nearly 800 mutations in each of its four short years on Earth. Mammals with longer lifespans have average mutation rates that are much slower. In humans (average lifespan of roughly 84 years), it comes to fewer than 50 mutations per year.
The study also compares the number of mutations at time of death with other traits, like body mass and lifespan. For example, a giraffe has roughly 40,000 times more cells than a mouse. Or a human lives 90 times longer than a mouse. What surprised researchers was that the number of mutations at time of death differed only by a factor of three.
Such small differentiation suggests there may be a total number of mutations a species can collect before it dies. Since the mammals reached this number at different speeds, finding ways to control the rate of mutations may help stall cancer development, set back aging, and prolong life.
The Future of Cancer Research
The findings in this study ignite new questions for understanding cancer.
Confirming that mutation rate and lifespan are strongly correlated needs comparison to lifeforms beyond mammals, like fishes, birds, and even plants.
It will also be necessary to understand what factors control mutation rates. The answer to this likely lies within the complexities of DNA. Geneticists and oncologists are continuing to investigate genetic curiosities like tumor-suppressing genes and how they might impact mutation rates.
Aging is likely to be a confluence of many issues, like epigenetic changes or telomere shortening, but if mutations are involved then there may be hopes of slowing genetic damage—or even reversing it.
While just a first step, linking mutation rates to lifespan is a reframing of our understanding of cancer development, and it may open doors to new strategies and therapies for treating cancer or taming the number of health-related concerns that come with aging.