Meet the 5 Companies Aiming to Bring the Web to 4.3 Billion New People
Meet the 5 Companies Aiming to Bring the Web to 4.3 Billion New People
Infographic sponsored by: Datawind
The internet is an essential part of our daily lives, but it is actually only used by a minority of the world's population. 4.3 billion people across the world do not yet have access to the web.
In fact, there are seven countries where more than 100 million people are not yet connected: Brazil, Nigeria, Pakistan, Bangladesh, China, India, and Indonesia.
Internet penetration in developed countries such as the United States and Canada is high, averaging about 74%. However, in some of the world's most populous regions, only about one in five people have access.
In the coming decades, we will see a great revolution as billions of new people get instant access to knowledge, tools, communication, and opportunities for the first time. A study by Deloitte concludes that bringing internet access to developing countries could boost productivity worldwide by 25%, generate $2.2 trillion in GDP, create 140 million new jobs, and lift 160 million people out of poverty.
The Challenge
With many of the world's brightest minds and entrepreneurs not yet connected to the web, it remains to be seen what new world-shaping technologies and companies will be born.
However, connecting 4.3 billion people to the grid is no easy feat. Many people with no internet access live in remote areas without infrastructure or even reliable water or power. Solving these issues creates one of the largest and most challenging business opportunities the world has seen.
To succeed, companies must be bold, while thinking bigger and outside of the box. Here are the companies and technologies that will further connect our world:
Big Tech
In 2014, Facebook made $4.8 billion from online ad revenue and Google made $19.1 billion. Together, that comprises 50% of all online ad revenues.
If the worldwide audience for their services grows, that means a much bigger target audience for their services. As a result, both companies have been making big investments to build their networks.
Google is aiming to cover the sky with floating celltowers and solar-powered drones. Project Loon, officially launched as a Google project in 2013, aims to send thousands of high-flying hot air balloons 10-20km into the stratosphere to broadcast internet to the ground over remote areas. The balloons use algorithms to read wind currents and navigate the globe, all while beaming down an internet signal.
Google has broken its own records for flight duration, having a balloon that lasted 187 days in the air, circumnavigating the globe nine times and passing over more than a dozen countries on four continents along the way.
Google also outbid Facebook for Titan Aerospace in 2014 for $60 million. Titan builds the world's biggest solar powered drones. These can also broadcast internet to the ground, and are described by Google as "exactly where Project Loon was two years ago in development."
Facebook is also experimenting with satellites and drones. However, the bulk of its operations to expand the internet's reach are through its newly formed Internet.org initiative founded in 2013. Partnering with telecoms and mobile operators like Microsoft and Samsung, Internet.org has launched apps in Zambia, Tanzania, Kenya, Colombia, Ghana, and India.
Internet.org provides free access to basic internet services since it is the cost of data is one of the biggest challenges for people to absorb in developing countries. However, Facebook has been criticized for Internet.org because of the practice of zero-rating. Making some services free while having others cost money is at the heart of the debate on net neutrality.
Innovative Technology
Aside from Big Tech, there are other companies taking big steps to bringing the internet to the rest of the planet.
While most of the developed world accesses internet through broadband, the cost of building the infrastructure for such networks make it a less feasible endeavour for most remote regions. That is why 90% of the world does not have fixed broadband access.
Even if it existed, the cost of broadband is very expensive for people in developing countries, costing 27% of monthly gross income on average. However, Datawind has found another way to tackle the problem. Datawind has developed proprietary technology to reduce the amount of data being transmitted over cellular networks by approximately 20X on average.
This allows them to provide internet access to the 93% of the world that does have mobile access mostly through 2G coverage. By turning 1MB of data into 0.05MB and pairing this service with building some of the world's cheapest tablets and smartphones, Datawind is able to bring internet browsing costs to as low as $0.70 per month.
O3b Networks, backed by Google and HSBC, is solving the traditional problem with satellite networks: latency.
The company has a growing constellation of satellites that orbit the Earth at 8,000km, about 4X closer than traditional geosynchronous satellites. The resulting signal provides internet speeds that rival fiberoptic networks.
BRCK, designed an prototyped in Kenya, is a rugged and portable hotspot that can broadcast WIFI or a cell signal via multiple networks. BRCK has its own power source and can be recharged via solar power. The battery lasts for eight hours in full power mode in the case of blackouts, a common problem in Africa and the developing world.
Conclusion
The internet impacts nearly every aspect of modern society and serves as a powerful economic stimulator. The opportunity to connect 4.3 billion people to the internet is not only a business opportunity, but one that will improve everyone's standard of living.
How Big Tech Revenue and Profit Breaks Down, by Company
How do the big tech giants make their money? This series of graphics shows a breakdown of big tech revenue, using Q2 2022 income statements.

Creator Program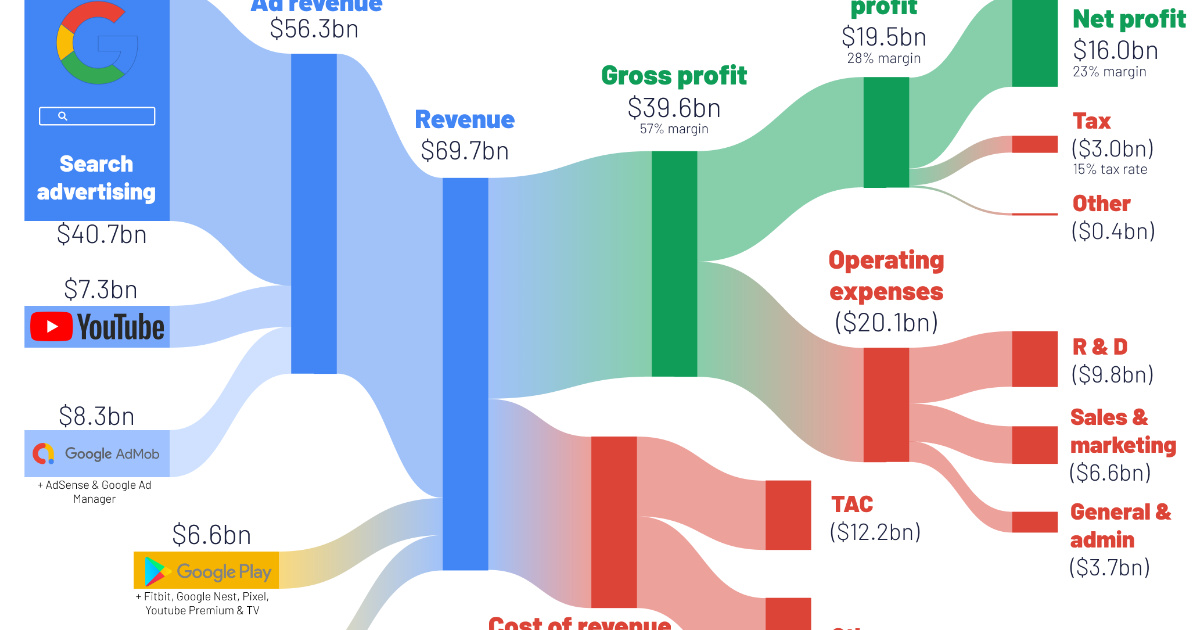 In the media and public discourse, companies like Alphabet, Apple, and Microsoft are often lumped together into the same "Big Tech" category. After all, they constitute the world's largest companies by market capitalization.
And because of this, it's easy to assume they're in direct competition with each other, fiercely battling for a bigger piece of the "Big Tech" pie. But while there is certainly competition between the world's tech giants, it's a lot less drastic than you might imagine.
This is apparent when you look into their various revenue streams, and this series of graphics by Truman Du provides a revenue breakdown of Alphabet, Amazon, Apple, and Microsoft.
How Big Tech Companies Generate Revenue
So how does each big tech firm make money? Let's explore using data from each company's June 2022 quarterly income statements.
Alphabet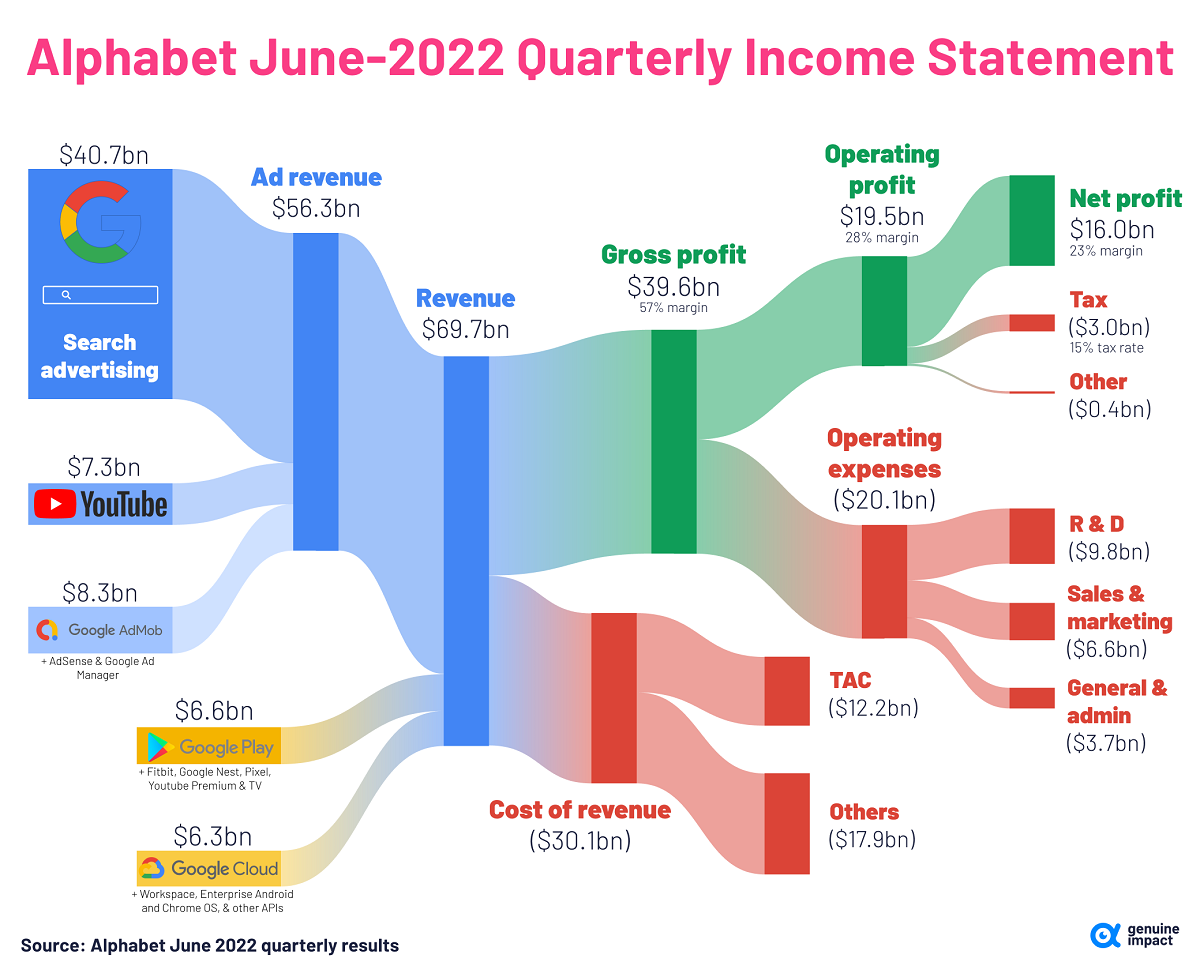 View the full-size infographic
In Q2 2022, about 72% of Alphabet's revenue came from search advertising. This makes sense considering Google and YouTube get a lot of eyeballs. Google dominates the search market—about 90% of all internet searches are done on Google platforms.
Amazon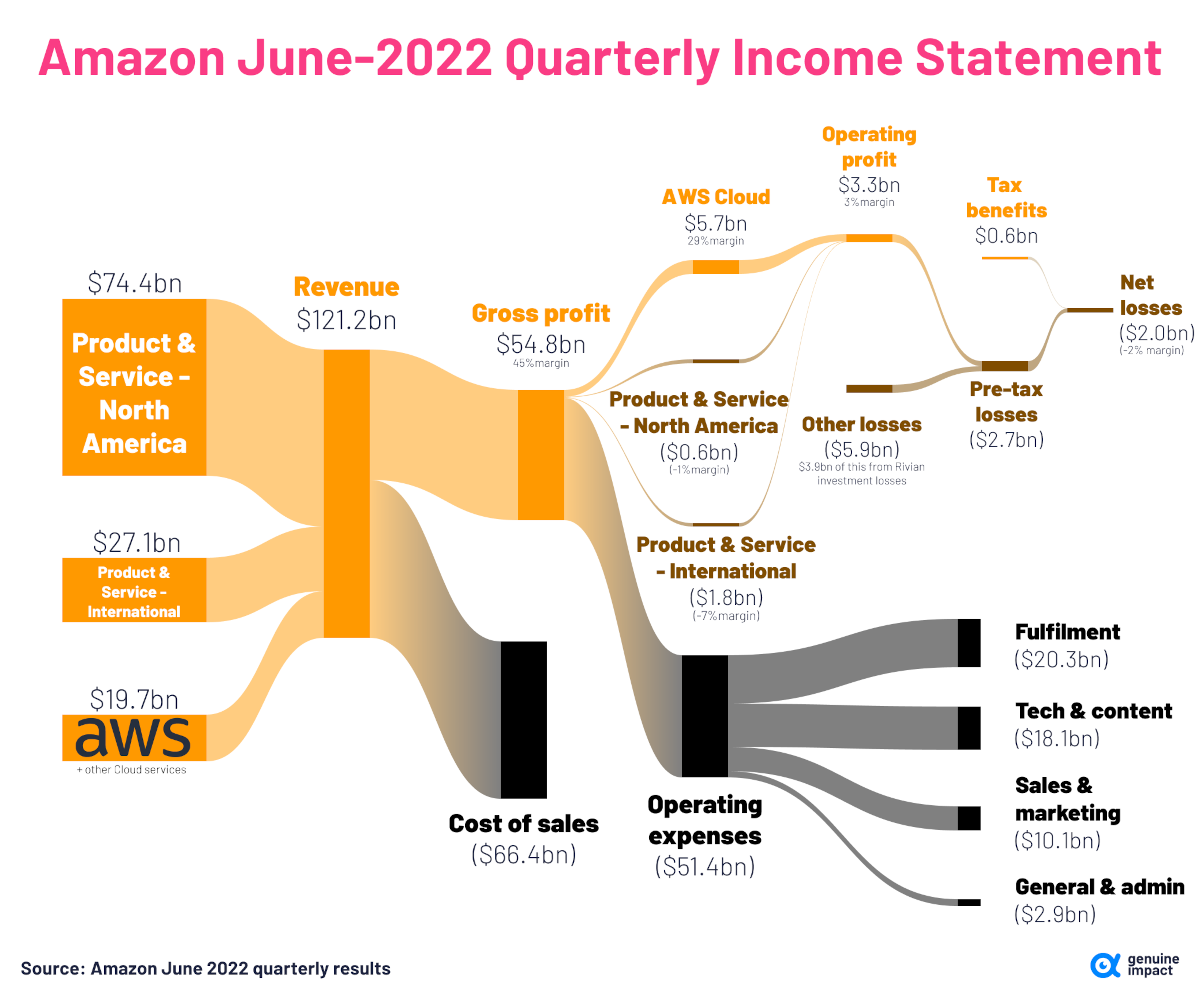 View the full-size infographic
Perhaps unsurprisingly, Amazon's biggest revenue driver is e-commerce. However, as the graphic above shows, the costs of e-commerce are so steep, that it actually reported a net loss in Q2 2022.
As it often is, Amazon Web Services (AWS) was the company's main profit-earner this quarter.
Apple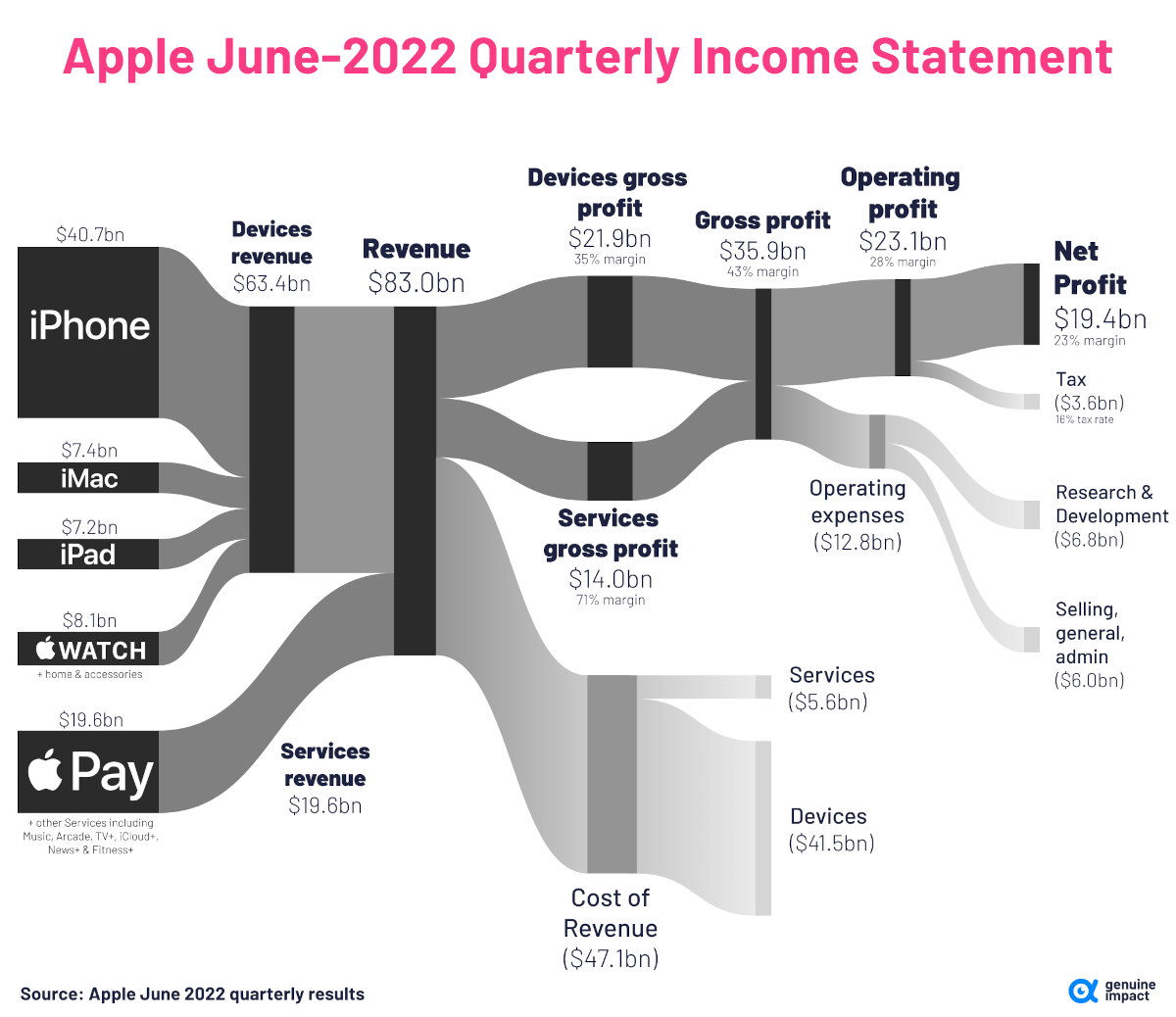 View the full-size infographic
Apple's biggest revenue driver is consumer electronics sales, particularly from the iPhone which accounts for nearly half of overall revenue. iPhones are particularly popular in the U.S., where they make up around 50% of smartphone sales across the country.
Besides devices, services like Apple Music, Apple Pay, and Apple TV+ also generate revenue for the company. But in Q2 2022, Apple's services branch accounted for only 24% of the company's overall revenue.
Microsoft
View the full-size infographic
Microsoft has a fairly even split between its various revenue sources, but similarly to Amazon its biggest revenue driver is its cloud services platform, Azure.
After AWS, Azure is the second largest cloud server in the world, capturing 21% of the global cloud infrastructure market.
Animation: The Most Popular Websites by Web Traffic (1993-2022)
This video shows the evolution of the internet, highlighting the most popular websites from 1993 until 2022.

Creator Program
The Most Popular Websites Since 1993
Over the last three decades, the internet has grown at a mind-bending pace.
In 1993, there were fewer than 200 websites available on the World Wide Web. Fast forward to 2022, and that figure has grown to 2 billion.
This animated graphic by James Eagle provides a historical look at the evolution of the internet, showing the most popular websites over the years from 1993 to 2022.
The 90s to Early 2000s: Dial-Up Internet
It was possible to go on the proto-internet as early as the 1970s, but the more user-centric and widely accessible version we think of today didn't really materialize until the early 1990s using dial-up modems.
Dial-up gave users access to the web through a modem that was connected to an active telephone line. There were several different portals in the 1990s for internet use, such as Prodigy and CompuServe, but AOL quickly became the most popular.
AOL held its top spot as the most visited website for nearly a decade. By June 2000, the online portal was getting over 400 million monthly visits. For context, there were about 413 million internet users around the world at that time.
| Rank | Website | Monthly Visits (May 2000) |
| --- | --- | --- |
| 1 | AOL | 400,891,812 |
| 2 | Yahoo | 387,573,587 |
| 3 | MSN | 354,239,803 |
| 4 | eBay | 116,101,785 |
| 5 | Lycos | 116,064,930 |
But when broadband internet hit the market and made dial-up obsolete, AOL lost its footing, and a new website took the top spot—Yahoo.
The Mid 2000s: Yahoo vs. Google
Founded in 1994, Yahoo started off as a web directory that was originally called "Jerry and David's Guide to the World Wide Web."
When the company started to pick up steam, its name changed to Yahoo, which became a backronym that stands for "Yet Another Hierarchical Officious Oracle."
Yahoo grew fast and by the early 2000s, it became the most popular website on the internet. It held its top spot for several years—by April 2004, Yahoo was receiving 5.6 billion monthly visits.
| Rank | Website | Monthly Visits (April 2004) |
| --- | --- | --- |
| 1 | Yahoo | 5,658,032,268 |
| 2 | MSN | 1,838,700,057 |
| 3 | Google | 1,318,276,780 |
| 4 | AOL | 905,009,947 |
| 5 | eBay | 805,474,705 |
But Google was close on its heels. Founded in 1998, Google started out as a simpler and more efficient search engine, and the website quickly gained traction.
Funny enough, Google was actually Yahoo's default search engine in the early 2000s until Yahoo dropped Google so it could use its own search engine technology in 2004.
For the next few years, Google and Yahoo competed fiercely, and both names took turns at the top of the most popular websites list. Then, in the 2010s, Yahoo's trajectory started to head south after a series of missed opportunities and unsuccessful moves.
This cemented Google's place at the top, and the website is still the most popular website as of January 2022.
The Late 2000s, Early 2010s: Social Media Enters the Chat
While Google has held its spot at the top for nearly two decades, it's worth highlighting the emergence of social media platforms like YouTube and Facebook.
YouTube and Facebook certainly weren't the first social media platforms to gain traction. MySpace had a successful run back in 2007—at one point, it was the third most popular website on the World Wide Web.
| Rank | Website | Monthly Visits (Jan 2007) |
| --- | --- | --- |
| 1 | Google | 7,349,521,929 |
| 2 | Yahoo | 5,169,762,311 |
| 3 | MySpace | 1,276,515,128 |
| 4 | MSN | 1,259,467,102 |
| 5 | eBay | 957,928,554 |
But YouTube and Facebook marked a new era for social media platforms, partly because of their ​​impeccable timing. Both platforms entered the scene around the same time that smartphone innovations were turning the mobile phone industry on its head. The iPhone's design, and the introduction of the App store in 2008, made it easier than ever to access the internet via your mobile device.
As of January 2022, YouTube and Facebook are still the second and third most visited websites on the internet.
The 2020s: Google is Now Synonymous With the Internet
Google is the leading search engine by far, making up about 90% of all web, mobile, and in-app searches.
What will the most popular websites be in a few years? Will Google continue to hold the top spot? There are no signs of the internet giant slowing down anytime soon, but if history has taught us anything, it's that things change. And no one should get too comfortable at the top.