Canada's Medical Cannabis Report Card: Spring 2015
Canada's Medical Cannabis Report Card: Spring 2015
Just over a year ago, we released an infographic that introduced the new MMPR (Marihuana for Medical Purposes Regulations) introduced in Canada as well as the case for medical cannabis.
With the first full year of MMPR now behind us, we wanted to take a look at how the medical cannabis industry has matured. For two weeks of April, we talked to every practicing LP (Licensed Producer) in Canada to get a sense of the current landscape of the medical cannabis market.
We wanted to see how the market has changed as well as the type of experience that prospective patients could expect. Then, our team put this information together with some industry context. In the infographic and report, we include a timeline highlighting the last year of events affecting the medical marijuana space in Canada, and also a section focusing on the cultural shift towards acceptance of cannabis.
Methodology
The purpose of this report is to serve as a snapshot of what a potential patient may experience while contacting and researching different LPs.
This report is meant to be representative of the time of the two weeks of research (mid-April) and not today. Things change fast and it is possible that producers have come out with new strains (or run out of strains) since that time period.
Further, we measured things like social media, phone, and email response times with only a small sample size. These are not statistically significant measures, but are again indicative of what our experience was in trying to reach producers with questions.
Lastly, it is also worth noting that at the end of April, we reached out to every LP with the opportunity to correct information that we had collected. Most producers wrote us back and provided some corrections or affirmation that the information was correct, but a few did not respond.
Conclusions
TRADEOFFS
The market is still in its early stages, and companies are executing different strategies to win over patients. Right now, there are brands ranging from low to high end in terms of pricing and quality. There are also a variety of preparation strategies, including but not limited to: selling only whole buds, pre-milling the product, machine-trimming, or irradiating the product. In the future, as the market matures, it will be clearer which of these strategies work best for patients and which are better suited for smaller niches.
Moving forward, it will also be interesting to watch if all LPs move towards creating a similar selection of products with comparable benefits, or if they all specialize in specific areas based on patient demand.
STRAIN AVAILABILITY
The single biggest trend we noticed was a lack of consistent strain availability. While the LPs have made big progress since last autumn, there is still a wide variability in what is available at any given time.
Supply hiccups are expected in a new industry, but we did get the impression that it does impact patients significantly. We hope that as medical cannabis in Canada matures, that patients will be able to rely on consistent supply for the medicine that works best for them.
TRANSPARENCY
Our last note is on transparency. We found several LPs very reluctant to give out information on their company or their medicine. This is a concern for patients that are interested in knowing more about what they are buying.
A possible cause of this could also be that some representatives for each company may not yet have enough industry experience to know answers to questions like whether their product is irradiated, or if their flowers are trimmed by machines or by hand.
The good news is that companies seem to be rapidly maturing in their approach to knowledge and customer service. We had done some preliminary calls and research in the autumn of 2014, and many less-established LPs were much more reluctant to give us information at that time. Further, some representatives were not knowledgeable about product traits and were unprofessional with their phone and email responses.
While we still received some of these types of responses in our most recent rounds, we saw a noticeable decrease as company representatives acted more professional, courteous, and with genuine knowledge of their product and the industry. Companies also responded much faster to us in April than they did in 2014, which means that they are improving from a customer service standpoint.
Edits: We updated this on June 4, 2015 at 12:58pm, updating the total amount of listed LPs by Health Canada to 19.
Ranked: The World's Top Cotton Producers
As the most-used natural fiber, cotton has become the most important non-food agricultural product.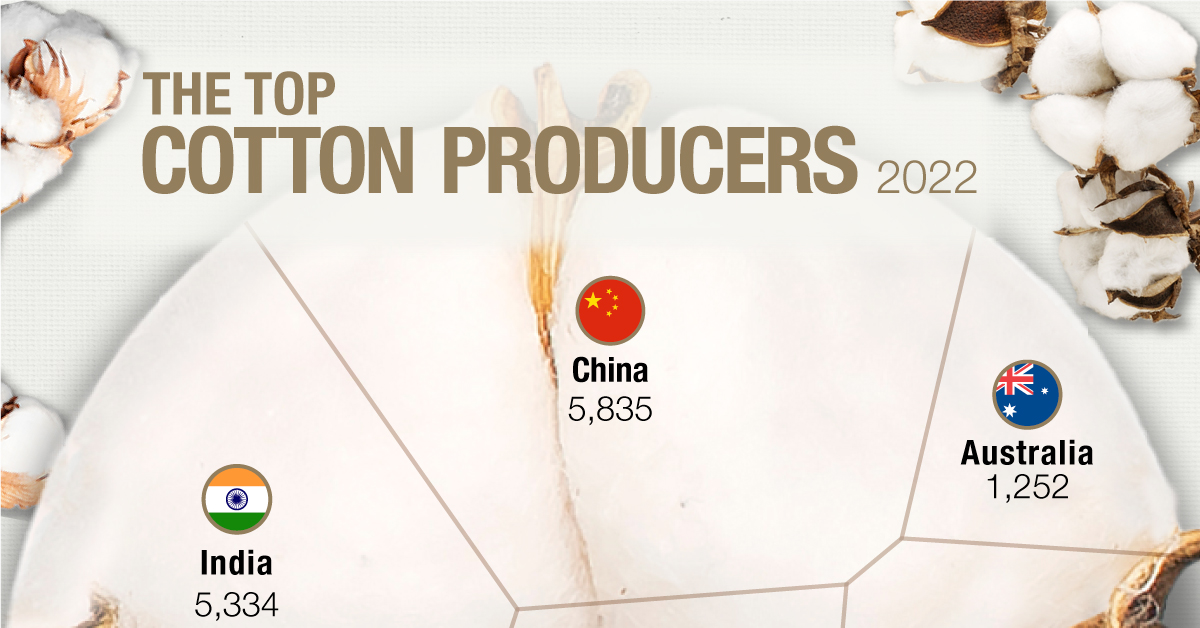 Ranked: The World's Top Cotton Producers
This was originally posted on Elements. Sign up to the free mailing list to get beautiful visualizations on natural resource megatrends in your email every week.
Cotton is present in our everyday life, from clothes to coffee strainers, and more recently in masks to control the spread of COVID-19.
As the most-used natural fiber, cotton has become the most important non-food agricultural product. Currently, approximately half of all textiles require cotton fibers.
The above infographic lists the world's top cotton producers, using data from the United States Department of Agriculture.
Fancy Fabric
Originating from the Arabic word "quton," meaning fancy fabric, cotton is a staple fiber made up of short fibers twisted together to form yarn.
The earliest production of cotton was around 5,000 B.C. in India, and today, around 25 million tons of cotton are produced each year.
Currently, five countries make up around 75% of global cotton production, with China being the world's biggest producer. The country is responsible for over 23% of global production, with approximately 89 million cotton farmers and part-time workers. Cotton's importance cannot be understated, as it is the primary input for the Chinese textile industry along with many other nations' textile industries.
| Top Cotton Producers | 2020/2021 (metric tons) | 2021/2022 (metric tons) |
| --- | --- | --- |
| 🇨🇳 China | 6,445,000 | 5,835,000 |
| 🇮🇳 India | 6,009,000 | 5,334,000 |
| 🇺🇸 United States | 3,181,000 | 3,815,000 |
| 🇧🇷 Brazil | 2,356,000 | 2,504,000 |
| 🇦🇺 Australia | 610,000 | 1,252,000 |
| 🇵🇰 Pakistan | 980,000 | 1,306,000 |
| 🇹🇷 Turkey | 631,000 | 827,000 |
| 🌐 Other | 4,059,000 | 4,282,000 |
| Total | 24,271,000 | 25,155,000 |
The United States is the leading global exporter of cotton, exporting three-fourths of its crop with China as the top buyer.
Despite its importance for the global economy, cotton production faces significant sustainability challenges.
The Controversy Over Cotton
Cotton is one of the largest users of water among all agricultural commodities, and production often involves applying pesticides that threaten soil and water quality.
Along with this, production often involves forced and child labor. According to the European Commission, child labor in the cotton supply chain is most common in Africa and Asia, where it comes from small-holder farmers.
In 2020, U.S. apparel maker Patagonia stopped sourcing cotton from the autonomous territory of Xinjiang because of reports about forced labor and other human rights abuses against Uighurs and other ethnic minorities.
L Brands, the parent company of Victoria's Secret, has also committed to eliminating Chinese cotton from its supply chain. Whether these changes in supply chains impact China's cotton production and its practices, cotton remains essential to materials found across our daily lives.
Mapped: Where Does Our Food Come From?
Did you know that over two-thirds of national crops originated from somewhere else? Over time the food that built national diets has evolved.
Where Does Our Food Come From?
Did you know that over two-thirds of national crops originated from somewhere else?
Humans have been selecting and growing crops for specific traits since the origins of agriculture some 10,000 years ago, shaping where and what crops are grown today.
Now our food system is completely global and many of the world's top producers of staple crops are in countries far from their historical origin. For example, Brazil is now the largest soybean producer in the world, though the crop is originally from East Asia.
The above infographic by Brazil Potash shows the historical origins of crops before they were domesticated across the globe and the main producers of our staple crops today.
Producers Of Staple Crops Today
Staple crops are those that are the most routinely grown and consumed. These can vary between countries depending on availability.
In 2020, sugarcane, maize, wheat, and rice made up around 50% of global crop production.
But when the production and distribution of staple crops are threatened, the consequences can be felt globally. Let's take a look at the countries that were the top three producers of some of our staple crops in 2020.
| Crop | Country | Percentage of Global Production |
| --- | --- | --- |
| Sugar Cane | 🇧🇷Brazil | 40.5% |
| Sugar Cane | 🇮🇳India | 19.9% |
| Sugar Cane | 🇨🇳China | 5.8% |
| Maize | 🇺🇸U.S. | 30.9% |
| Maize | 🇨🇳China | 22.4% |
| Maize | 🇧🇷Brazil | 8.9% |
| Wheat | 🇨🇳China | 17.6% |
| Wheat | 🇮🇳India | 14.1% |
| Wheat | 🇷🇺Russia | 11.3% |
As you can see from the data above, Brazil is the world's largest producer of sugarcane and one of the top three producers of maize.
The Future of Food Security
Global food security depends on staple crops and the countries that produce them. As the global population increases, so does the need to grow more crops.
The FAO estimates that by 2050 the world will need to increase its food output by around 70% in order to feed an ever-growing population.
Early food security solutions were transplanting crops from other regions to supplement diets. Now crop yields must increase as the next evolution in strengthening our food security. Fertilizers are a vital step in this process and are an essential ingredient in the future of global food security. They provide vital nutrients that increase crop production and strengthen nutrition security.
Brazil Potash extracts vital potash ore from the earth for it to return to the earth as fertilizer, fortifying food and helping to maintain continuous growth in the agricultural sector.
Click here to learn more about fertilizer and food production in Brazil.