Global Happiness: Which Countries are the Most (and Least) Happy?
How much happier would you be if were given a 10% raise?
While money can be a crucial indicator of happiness at lower income levels, studies have found that as incomes rise, money becomes a less important part of the overall happiness equation.
In fact, researchers see happiness as a complex measure that involves many variables outside of material wealth, including social support, freedom, and health.
Measuring Global Happiness
Today's chart uses data from the World Happiness Report 2018 to measure and understand which countries report feeling the most and least happy.
WHAT CONTRIBUTES TO HAPPINESS?
The six key variables used by researchers in this report on global happiness include:
GDP per capita
Healthy life expectancy
Social support
Freedom of choice
Generosity
Perceptions of corruption
While average income and life expectancy definitely carry their weight in explaining happiness levels, what's more interesting are the Gallup World Poll (GWP) questions about the other, more subjective variables.
Social support
"If you were in trouble, do you have relatives or friends you can count on to help you whenever you need them?"
Freedom to make life choices
"Are you satisfied or dissatisfied with your freedom to choose what you do with your life?"
Generosity
"Have you donated money to a charity in the past month?"
Perceptions of corruption
"Is corruption widespread throughout the government or not?"
"Is corruption widespread within businesses or not?"
HOW HAPPY IS THE WORLD?
The top tier of happiest countries happen to be Nordic, with Finland, Norway, Denmark, and Iceland making it into the top five. Aside from having a common geographic location, these countries are also well-known for their social safety nets, using a high tax burden to fund government services such as education and healthcare.
A surprising entry near the top of the list might be Costa Rica. It's the happiest country in the Latin American region, despite persisting income inequality issues. Although it has a lower GDP per capita than other high-ranking entries, the country has more than made up for it through social support; Costa Rica has invested significantly in education and health as a proportion of GDP, and the nation is also known for housing a culture that forms solid social networks of friends, families and neighborhoods.
On the other hand, 18 of the least happy countries are concentrated on the African continent. GDP per capita varies intensely among the bottom countries, and many report a lack of freedom overall. A silver lining is that social support is relatively stable, and there have been steady improvements over time.
Finally, the aftermath of the 2008 financial crisis has had a ripple effect on global happiness. The report demonstrates where the most and fewest advances have been made.
Togo
Happiness is on the upswing, as the West African nation climbs 17 places to demonstrate the most improvement.
Venezuela
Meanwhile, the South American country plummeted even further, in part from socio-political changes and dramatic hyperinflation.
Where does your country fare on this scale?

Eudaimonia [happiness] is the meaning and the purpose of life, the whole aim and end of human existence.
― Aristotle
Comparing Luxury Investment Around the World
From artwork to rare whiskeys, see which categories of luxury investment were the most popular in 2020 across nine global regions.
Comparing Luxury Investment Around the World
Do you enjoy the finer things in life? For many of the world's wealthy individuals, acquiring luxury goods such as art, fine wine, and watches is a passion.
Unlike traditional investments in financial assets, luxury goods can be difficult to value if one does not have an appreciation for their form. A rare painting, for example, does not generate cash flows, meaning its value is truly in the eye of the beholder.
To gain some insight into the market for luxury goods, this infographic takes data from Knight Frank's 2021 Wealth Report to compare the preferences of nine global regions.
Global Tastes in Luxury Goods
To rank the most popular luxury investments in 2020, Knight Frank surveyed over 600 private bankers, wealth advisors, and family offices. The following table summarizes their findings, as well as each category's growth according to the Knight Frank Luxury Investment Index.
| Global Average Ranking | Category | 10-year growth in asset values (%) |
| --- | --- | --- |
| 1 | Art | 71% |
| 2 | Classic cars | 193% |
| 3 | Watches | 89% |
| 4 | Wine | 127% |
| 5 | Jewelry | 67% |
| 6 | Rare whiskey | 478% |
| 7 | Furniture | 22% |
| 8 | Colored diamonds | 39% |
| 9 | Coins | 72% |
| 10 | Handbags | 108% |
Art was unmistakably the top category for 2020, ranking first in every geographic region except Africa and Asia, where it placed second instead. The global market for artwork was estimated to be worth $64 billion in 2019, and is often facilitated through auction houses such as Sotheby's.
In terms of asset appreciation, rare whiskeys have climbed the most in value over the past 10 years. Connoisseurs of this spirit will be familiar with distilleries like The Macallan, whose rare bottles can sell for more than a million dollars.
Comparing Luxury Investment Between North America and Asia
Below, we've compared the rankings of Asia and North America to get a better idea of how preferences can vary.
The biggest differences here are watches, which ranked first in Asia but fourth in North America, and classic cars, which ranked second in North America but fifth in Asia. The remaining eight categories took similar spots across the two regions.
| Rank | Asia Popularity | North America Popularity |
| --- | --- | --- |
| 1 | Watches | Art |
| 2 | Art | Classic cars |
| 3 | Jewelry | Wine |
| 4 | Wine | Watches |
| 5 | Classic cars | Jewelry |
| 6 | Rare whiskey | Rare whiskey |
| 7 | Handbags | Furniture |
| 8 | Furniture | Handbags |
| 9 | Colored diamonds | Coins (tied for 8th place) |
| 10 | Coins | Colored diamonds |
Asia's stronger preference for watches was likely driven by Chinese consumers, who are now the biggest buyers of luxury watches globally. Demand throughout the COVID-19 pandemic proved resilient, with exports of Swiss watches to China increasing by 17.1% between January and November 2020.
Classic cars, on the other hand, may be more popular in North America due to the region's longer automotive history. Two of America's most iconic automakers, Ford and General Motors, have both been around for over a century!
The Biggest Sales of 2020
Here were some of the most extravagant and noteworthy luxury sales from 2020.
Art
Francis Bacon's 1981 Triptych Inspired by the Oresteia of Aeschylus was sold by Sotheby's for $84.6 million in June 2020. A triptych is an artwork that is divided into three sections but displayed as a single piece.
Other paintings by Francis Bacon have sold for even larger amounts. In 2013, Three Studies of Lucian Freud was sold by Christie's auction house for $142 million.
Classic Cars
A 1932 Bugatti Type 55 Super Sport Roadster sold for $7.1 million in March 2020, making it one of the biggest classic car sales of the year.
Founded in 1909, Bugatti has produced some of the world's most sought-after cars. The French brand was acquired by the Volkswagen Group in 1998, and since then, has released numerous special edition cars with price tags reaching well into the millions.
Handbags
An Hermès Himalaya Niloticus Crocodile Retourné Kelly 25 sold for $437,330 in November 2020, becoming the most expensive handbag ever sold at an auction. Founded in 1837, Hermès is commonly regarded as one of the world's most prestigious makers of handbags.
COVID-19 Dampens Luxury Investment
When compared to 2019, total sales for Sotheby's declined 16% in 2020, while Christie's, another leading auction house, reported a 25% decline. Despite these decreases, executives remain optimistic.
"The art and luxury markets have proven to be incredibly resilient, and demand for quality across categories is unabated."
– Charles Stewart, CEO, Sotheby's
The industry has been largely successful in transitioning to online operations, with Sotheby's reporting that 70% of its auctions in 2020 were held online, up from 30% in the previous year.

Which Streaming Service Has the Most Subscriptions?
From Netflix and Disney+ to Spotify and Apple Music, we rank the streaming services with the most monthly paid subscriptions.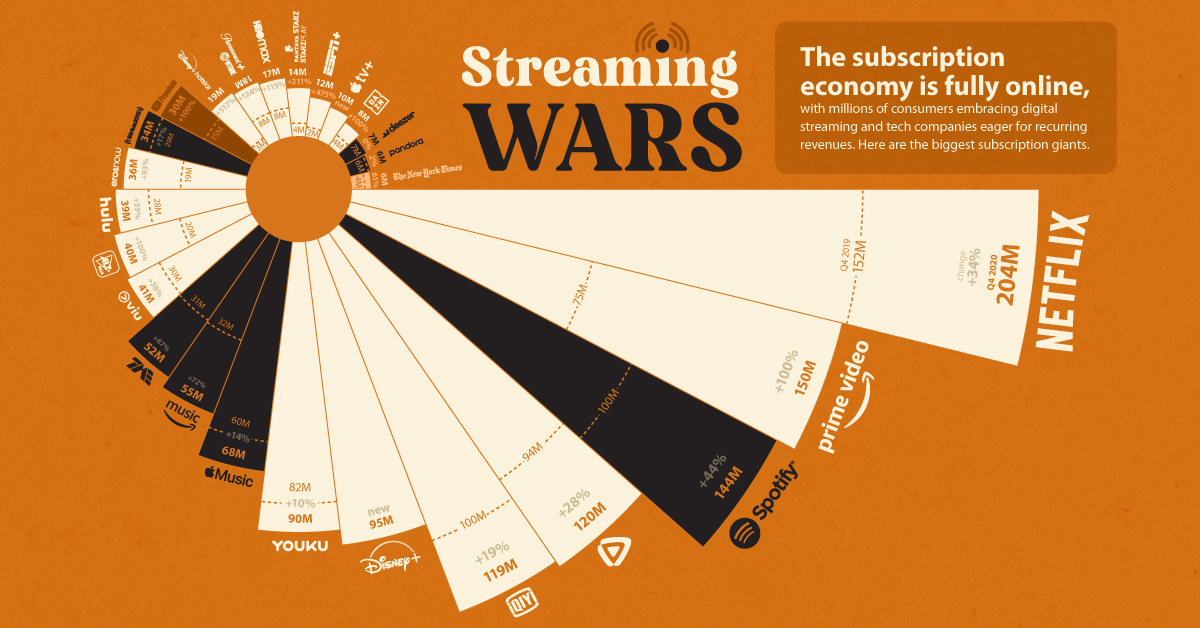 Which Streaming Service Has The Most Subscriptions?
Many companies have launched a streaming service over the past few years, trying to capitalize on the digital media shift and launching the so-called "streaming wars."
After Netflix grew from a small DVD-rental company to a household name, every media company from Disney to Apple saw recurring revenues ripe for the taking. Likewise, the audio industry has long-since accepted Spotify's rise to prominence, as streaming has become the de facto method of consumption for many.
But it was actually the unexpected COVID-19 pandemic that solidified the foothold of digital streaming, with subscription services seeing massive growth over the last year. Although it was expected that many new services would flounder along the way, media subscription services saw wide scale growth and adoption almost across the board.
We've taken the video, audio, and news subscription services with 5+ million subscribers to see who came out on top—and who has grown the most quickly—over the past year. Data comes from the FIPP media association as well as individual company reports.
Streaming Service Giants: Netflix and Amazon
The top of the streaming giant pantheon highlights two staples of business: the first-mover advantage and the power of conglomeration.
With 200+ million global subscribers, Netflix has capitalized on its position as the first and primary name in digital video streaming. Though its consumer base in the Americas has begun to plateau, the company's growth in reach (190+ countries) and content (70+ original movies slated for 2021) has put it more than 50 million subscribers ahead of its closest competition.
The story is the same in the audio market, where Spotify's 144 million subscriber base is more than double that of Apple Music, the next closest competitor with 68 million subscribers.
Meanwhile, Amazon's position as the second most popular video streaming service with 150 million subscribers might be surprising. However, Prime Video subscriptions are included with membership to Amazon Prime, which saw massive growth in usage during the pandemic.
| Service | Type | Subscribers (Q4 2020) |
| --- | --- | --- |
| Netflix | Video | 203.7M |
| Amazon Prime Video | Video | 150.0M |
| Spotify | Audio | 144.0M |
| Tencent Video | Video | 120.0M |
| iQIYI | Video | 119.0M |
| Disney+ | Video | 94.9M |
| Youku | Video | 90.0M |
| Apple Music | Audio | 68.0M |
| Amazon Prime Music | Audio | 55.0M |
| Tencent Music (Group) | Audio | 51.7M |
| Viu | Video | 41.4M |
| Alt Balaji | Video | 40M |
| Hulu | Video | 38.8M |
| Eros Now | Video | 36.2M |
| Sirius Xm | Audio | 34.4M |
| YouTube Premium | Video/Audio | 30M |
| Disney+ Hotstar | Video | 18.5M |
| Paramount+ | Video | 17.9M |
| HBO Max | Video | 17.2M |
| Starz/StarzPlay/Pantaya | Video | 13.7M |
| ESPN+ | Video | 11.5M |
| Apple TV+ | Video | 10M |
| DAZN | Video | 8M |
| Deezer | Audio | 7M |
| Pandora | Audio | 6.3M |
| New York Times | News | 6.1M |
Another standout is the number of large streaming services based in Asia. China-based Tencent Video (also known as WeTV) and Baidu's iQIYI streaming services both crossed 100 million paid subscribers, with Alibaba's Youku not far behind with 90 million.
Disney Leads in Streaming Growth
But perhaps most notable of all is Disney's rapid ascension to the upper echelons of streaming service giants.
Despite Disney+ launching in late 2019 with a somewhat lackluster content library (only one original series with one episode at launch), it has quickly rocketed both in terms of content and its subscriber base. With almost 95 million subscribers, it has amassed more subscribers in just over one year than Disney expected it could reach by 2024.
| Service | Type | Percentage Growth (2019) |
| --- | --- | --- |
| Disney+ | Video | New |
| Apple TV+ | Video | New |
| Disney+ Hotstar | Video | 516.7% |
| ESPN+ | Video | 475.0% |
| Starz/StarzPlay/Pantaya | Video | 211.4% |
| Paramount+ | Video | 123.8% |
| HBO Max | Video | 115.0% |
| Amazon Prime Video | Video | 100.0% |
| Alt Balaji | Video | 100.0% |
| YouTube Premium | Video/Audio | 100.0% |
| DAZN | Video | 100.0% |
| Eros Now | Video | 92.6% |
| Amazon Prime Music | Audio | 71.9% |
| Tencent Music (Group) | Audio | 66.8% |
| New York Times | News | 60.5% |
| Spotify | Audio | 44.0% |
| Hulu | Video | 38.6% |
| Viu | Video | 38.0% |
| Netflix | Video | 34.4% |
| Tencent Video | Video | 27.7% |
| iQiyi | Video | 19.0% |
| Sirius Xm | Audio | 17.4% |
| Apple Music | Audio | 13.3% |
| Youku | Video | 9.6% |
| Pandora | Audio | 1.6% |
| Deezer | Audio | 0% |
The Disney+ wave also spurred growth in partner streaming services like Hotstar and ESPN+, while other services with smaller subscriber bases saw large growth rates thanks to the COVID-19 pandemic.
The lingering question is how the landscape will look when the pandemic starts to wind down, and when all the new players are accounted for. NBCUniversal's Peacock, for example, has reached over 30 million subscribers as of January 2021, but the company hasn't yet disclosed how many are paid subscribers.
Likewise, competitors are investing in content libraries to try and make up ground on Netflix and Disney. HBO Max is slated to start launching internationally in June 2021, and ViacomCBS rebranded and expanded CBS All Access into Paramount+.
And international growth is vital. Three of the top six video streaming services by subscribers are based in China, while Indian services Hotstar, ALTBalaji, and Eros Now all saw surges in subscriber bases, with more room left to grow.