Mapping the Greatest Empires of History
Just like the stock market, the history of the greatest empires is cyclical in nature. Even the most powerful empires have crashed and burned – and it is this creative destruction that creates the next opportunity for new civilizations and cultures to rise.
At its height, the Roman Empire spanned across 5,000,000 km² with 70 million people within its borders. Yet, despite massive amounts of riches and its fearsome legionaries, Rome slowly but surely self-destructed. While there are many complex factors involved in this including the debasement the empire's currency, this collapse set the stage for the next cycle.
The Byzantines would take over in the East, and centuries later the Holy Roman Empire eventually would emerge in the West. The nomadic Huns unified a formidable empire under Attila in the grasslands of the Western Steppe. To the south of the Mediterranean, the Umayyad Caliphate became one of the greatest empires ever formed.
Mapping the Greatest Empires of History
The following infographic from Just the Flight looks at the greatest empires of history, and their geographical and political footprints.
What important lessons for business and investing can we take home from the cyclical nature of empires?
For one, even empires that once seemed impenetrable have fallen apart. We must be vigilant to spot cracks in our investments and business ideas at all times, because even the mightiest companies can bite the dust. The music industry was once a machine: there was an oligopoly of major labels that could produce radio singles and market them to rake in money. Many of these companies did not see the writing on the wall as it happened, and now Apple, Spotify, and other companies are eating their lunch.
Lastly, even in the wake of the worst crash, there are opportunities available to build something great. Things were gruesome for many of the empires that imploded, but there were certainly people that were able to prosper even in spite of the tough times. The "heroes" of The Financial Crisis such as Michael Burry and Steve Eisman were able to recognize a disaster, while making smart decisions to help them build their own empires and legacies.
Ranked: Share of Global Arms Exports in 2022
The U.S. is the biggest weapons exporter in the world, but which other countries take up a significant share of global arms exports in 2022? And how has that share changed over time?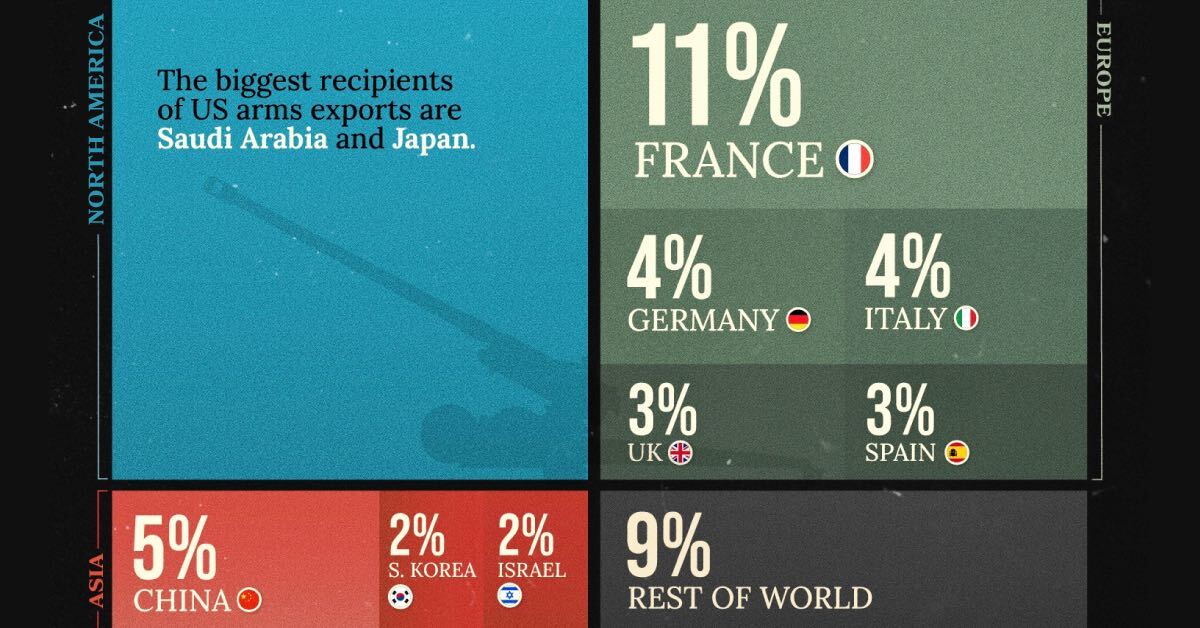 Ranked: Share of Global Arms Exports 2018–2022
In 2022, global military budgets hit $2.2 trillion, an eighth consecutive year of increase.
Part of those budgets were used for the procurement of arms, but which countries are major weapons suppliers, and how do they influence the global arms trade?
We chart out the top 10 countries with the biggest share of global arms exports using data from the Stockholm International Peace Research Institute (SIPRI).
Which Country Exports the Most Weapons?
The U.S. is the biggest weapons exporter, accounting for 40% of the total volume of international arms transfers between 2018–2022. Nearly one-fifth of these exports headed to Saudi Arabia, and other significant amounts went to Japan (8.6%) and Australia (8.4%).
Below we rank the biggest weapons exporters by share of total volume traded in 2018–2022, as well as their growth or decline from trends recorded in 2013–2017.
Rank
Country
% share of global arms exports
(2018-2022)
% change between
2013-17 & 2018-22
1
🇺🇸 U.S.
40%
+14%
2
🇷🇺 Russia
16%
-31%
3
🇫🇷 France
11%
+44%
4
🇨🇳 China
5%
-23%
5
🇩🇪 Germany
4%
-35%
6
🇮🇹 Italy
4%
+45%
7
🇬🇧 UK
3%
-35%
8
🇪🇸 Spain
3%
-4%
9
🇰🇷 South Korea
2%
+74%
10
🇮🇱 Israel
2%
-15%
N/A
🌐 Rest of World
9%
N/A
Russia (16%) and France (11%) rank close together, followed by China (5%) and Germany (4%) to round out the top five major arms exporters.
However France's export volumes grown considerably (+44%) from the previous five-year period, thanks to big sales to India, which included 62 combat aircraft and four submarines, one-third of all French weapons trade. This has resulted in France leapfrogging the U.S. as India's second-largest weapons supplier after Russia.
On the other hand, Russia's exports by volume has decreased (-31%) even before sanctions kicked in after the invasion of Ukraine. Its biggest trade partners, India and China, have prioritized developing their own weapons industries.
South Korea's Surging Weapons Exports
Another country whose arms sales are skyrocketing is South Korea, which ranks 9th in the overall share of global arms exports, but has seen a 74% increase in its export volumes. Key recipients include the Philippines, India, and Thailand.
South Korean president Yoon Suk Yeol has pledged to grow his country into the world's fourth largest arms exporter by 2027.
Interestingly, South Korea is one of three countries which is both a top-10 arms exporter and importer (along with China and the U.S.) as it has many takers for domestically produced military equipment, while simultaneously being reliant on American-produced long-range missiles and advanced combat aircraft.