Mapped: Where are the World's Ongoing Conflicts Today?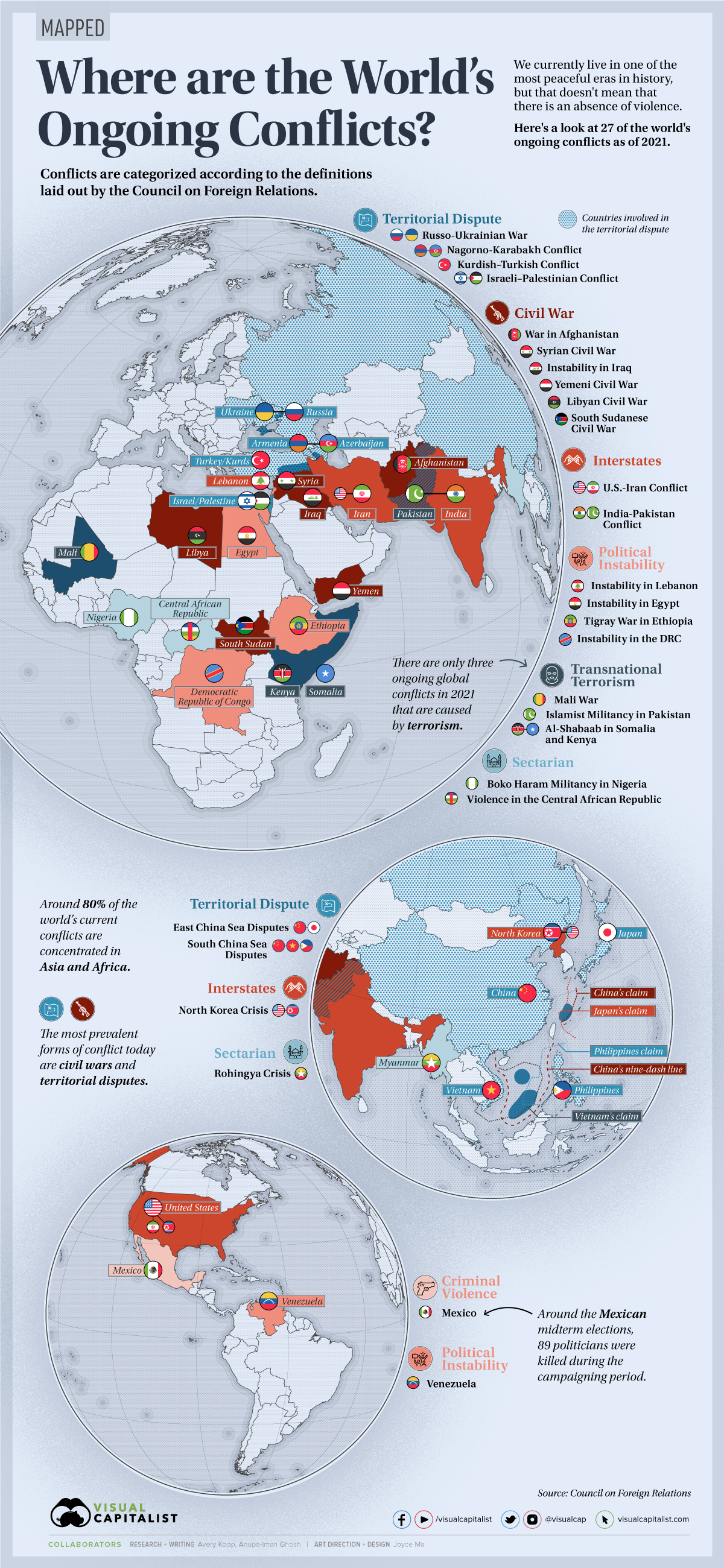 Where are the World's Ongoing Conflicts Today?
We live in an era of relative peace compared to most of history, however, this does not mean that there are no conflicts in the world today.
This map using data from the Council on Foreign Relations (CFR) reveals where the world's 27 ongoing conflicts are today, and what type of conflicts they are.
Note: conflicts are categorized by definitions laid out by the CFR.
Detailing the Conflicts
Many people alive today have never lived through a war on their country's soil, especially those in the West. But conflict, wars, and violence are by no means things of the past.
According to the Armed Conflict Location & Event Data Project (ACLED), as of Q2'2021 alone:
Violence against civilians resulted in over 5,000 deaths worldwide
Battle related deaths numbered over 18,000
Explosion/remote violence led to more than 4,000 deaths
Riots resulted in over 600 fatalities
Most of the world's conflicts are concentrated in Asia and Africa and the most common forms are territorial disputes and civil wars. While terrorism often strikes fear in people, only three of the world's ongoing conflicts are linked to terrorism, according to the CFR.
Conflict Name
Type
Countries Involved
Civil War in South Sudan
Civil War
🇸🇸 South Sudan
War in Yemen
Civil War
🇾🇪 Yemen
Civil War in Libya
Civil War
🇱🇾 Libya
War in Afghanistan
Civil War
🇦🇫 Afghanistan
Civil War in Syria
Civil War
🇸🇾 Syria
Instability in Iraq
Civil War
🇮🇶 Iraq
Criminal Violence in Mexico
Criminal
🇲🇽 Mexico
Confrontation of U.S. & Iran
Interstates
🇺🇸 United States
🇮🇷 Iran
Conflict of India & Pakistan
Interstates
🇮🇳 India
🇵🇰 Pakistan
North Korea Crisis
Interstates
🇺🇸 United States
🇰🇵 North Korea
Violence in the DRC
Political Instability
🇨🇩 DRC
Instability in Egypt
Political Instability
🇪🇬 Egypt
Political Instability in Lebanon
Political Instability
🇱🇧 Lebanon
Instability in Venezuela
Political Instability
🇻🇪 Venezuela
Tigray War in Ethiopia
Political Instability
🇪🇹 Ethiopia
Boko Haram in Nigeria
Sectarian
🇳🇬 Nigeria
Violence in Central African Republic
Sectarian
🇨🇫 Central African Republic
Rohingya Crisis in Myanmar
Sectarian
🇲🇲 Myanmar
Nagorno-Karabakh Conflict
Territorial Disputes
🇦🇲 Armenia
🇦🇿 Azerbaijan
Conflict in Ukraine
Territorial Disputes
🇺🇦 Ukraine
🇷🇺 Russia
Israeli-Palestine Conflict
Territorial Disputes
🇮🇱 Israel
🇵🇸 Palestine
Turkey & Armed Kurdish Groups
Territorial Disputes
🇹🇷 Turkey
South China Sea Disputes
Territorial Disputes
🇨🇳 China
🇻🇳 Vietnam
🇵🇭 Philippines
Tensions in East China Sea
Territorial Disputes
🇨🇳 China
🇯🇵 Japan
Destabilization in Mali
Terrorism
🇲🇱 Mali
Al-Shabab in Somalia
Terrorism
🇸🇴 Somalia
Islamist Militancy in Pakistan
Terrorism
🇵🇰 Pakistan
As an example of a more typical conflict, Myanmar's civil unrest began in February 2020 when the military overthrew the democratically elected government and arrested the country's leader Aung San Suu Kyi. The civilian population has been protesting heavily but to no avail. According to a BBC report, more than 860 people have been killed and around 5,000 have been detained.
This is just one of the many examples of persistent violence today including recent events like Mexico's midterm election violence, Ethiopia's fighting in the country's Tigray region, and the fighting between Israel and Palestine over the Sheikh Jarrah evictions.
Finally, though the United States military has now withdrawn from Afghanistan, and the Taliban has taken control of the country, the outlook for the country remains uncertain.
War and Peace
While there are conflicts today, deaths from violence and wars have and wars have decreased over time. For example, battle death rates in state-based conflicts have reduced significantly in a period from 1946 to 2016.
However, according to the UN, although battle related deaths have been decreasing, the number of conflicts occurring in the last few years has actually been on the rise (they have simply remained less deadly). Most conflicts have been waged by non-state actors, like organized criminal groups and political militias.
The UN found that the most common causes of conflict today are:
Regional tensions
Breakdowns in the rule of law
Co-opted or absent state institutions
Illicit economic gain
Scarcity of resources exacerbated by climate change
Traditional war between countries and war-related deaths may be becoming a thing of the past, but the threat of violence is still very real. Many countries know this as they continue to build up armies and spend significant amounts on military and defense.
The Future of Warfare
War and conflict are still extremely relevant in the 21st century and impact millions of people. However, traditional warfare may be changing its shape and may become less deadly as a result.
For instance, issues like climate change will create further exacerbations on conflicts, and new forms of technological and cyber warfare could threaten countries' elections and manipulate populations.
Ranked: Share of Global Arms Exports in 2022
The U.S. is the biggest weapons exporter in the world, but which other countries take up a significant share of global arms exports in 2022? And how has that share changed over time?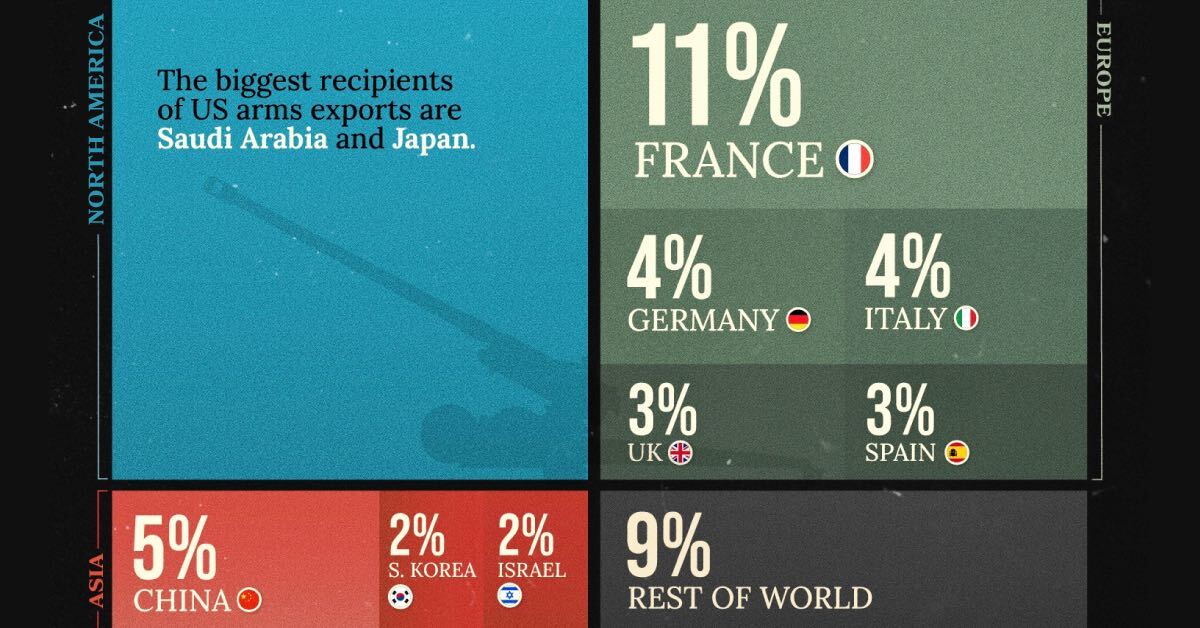 Ranked: Share of Global Arms Exports 2018–2022
In 2022, global military budgets hit $2.2 trillion, an eighth consecutive year of increase.
Part of those budgets were used for the procurement of arms, but which countries are major weapons suppliers, and how do they influence the global arms trade?
We chart out the top 10 countries with the biggest share of global arms exports using data from the Stockholm International Peace Research Institute (SIPRI).
Which Country Exports the Most Weapons?
The U.S. is the biggest weapons exporter, accounting for 40% of the total volume of international arms transfers between 2018–2022. Nearly one-fifth of these exports headed to Saudi Arabia, and other significant amounts went to Japan (8.6%) and Australia (8.4%).
Below we rank the biggest weapons exporters by share of total volume traded in 2018–2022, as well as their growth or decline from trends recorded in 2013–2017.
Rank
Country
% share of global arms exports
(2018-2022)
% change between
2013-17 & 2018-22
1
🇺🇸 U.S.
40%
+14%
2
🇷🇺 Russia
16%
-31%
3
🇫🇷 France
11%
+44%
4
🇨🇳 China
5%
-23%
5
🇩🇪 Germany
4%
-35%
6
🇮🇹 Italy
4%
+45%
7
🇬🇧 UK
3%
-35%
8
🇪🇸 Spain
3%
-4%
9
🇰🇷 South Korea
2%
+74%
10
🇮🇱 Israel
2%
-15%
N/A
🌐 Rest of World
9%
N/A
Russia (16%) and France (11%) rank close together, followed by China (5%) and Germany (4%) to round out the top five major arms exporters.
However France's export volumes grown considerably (+44%) from the previous five-year period, thanks to big sales to India, which included 62 combat aircraft and four submarines, one-third of all French weapons trade. This has resulted in France leapfrogging the U.S. as India's second-largest weapons supplier after Russia.
On the other hand, Russia's exports by volume has decreased (-31%) even before sanctions kicked in after the invasion of Ukraine. Its biggest trade partners, India and China, have prioritized developing their own weapons industries.
South Korea's Surging Weapons Exports
Another country whose arms sales are skyrocketing is South Korea, which ranks 9th in the overall share of global arms exports, but has seen a 74% increase in its export volumes. Key recipients include the Philippines, India, and Thailand.
South Korean president Yoon Suk Yeol has pledged to grow his country into the world's fourth largest arms exporter by 2027.
Interestingly, South Korea is one of three countries which is both a top-10 arms exporter and importer (along with China and the U.S.) as it has many takers for domestically produced military equipment, while simultaneously being reliant on American-produced long-range missiles and advanced combat aircraft.