Mapped: Top Trending Searches of 2021 in Every U.S. State
The Trending Searches in 2021
Google's data editor Simon Rogers once said, "You're never as honest as you are with your search engine. You get a sense of what people genuinely care about and genuinely want to know."
This look at trending searches for every U.S. state is a window into the topics people were truly curious about in 2021. From political tensions to meme stocks, and from Elon Musk to a devastating tornado, we saw a wide range of trending searches throughout the year.
In the above animated video, Reddit user u/V1Analytics pulls together the top trending search terms from Google's 2021 Year in Search summary (for the period before mid-November 2021) and Google's Daily Search Trends page (from mid-November to December 20th) to illustrate the daily trends for each state.
It's fascinating to see what Americans were looking up this year.
Trending Searches Offer a Glimpse of American Psyche
In the year when COVID-19 vaccines became widely available, many Americans turned to the world's most popular search engine to figure out how to come back to a life of normalcy.
In 2021, the search entries spoke to people's interest in alternative assets like cryptocurrencies and NFTs, as well as persistent economic insecurity, evidenced by questions about when they would get their stimulus checks.
Entertainers and billionaires trended throughout the year, and so did topics of significant cultural impact at those moments in time.
Here is a look at the trending searches of 2021 and when they were searched most:
| Topic | Trending Months | Category |
| --- | --- | --- |
| Biden | January | Political Figure |
| Capitol | January | Monuments |
| Mega Millions | January | Culture |
| GME | January | Gaming |
| Dogecoin | January, April, May | Cryptocurrency |
| The Weeknd | February | Entertainment |
| Valheim | February | Gaming |
| Power Outage | June, July, August | Society |
| Stimulus Check | March | Society |
| Lil Nas X | March | Entertainment |
| DMX | April | Entertainment |
| Prince Philip | April | Famous Personalities |
| Jake Paul | April, August | Content Creator |
| AMC Stock | May, June, August | Entertainment |
| Jeff Bezos | July | Businessman |
| Simone Biles | July | Athlete |
| Afghanistan | August, September | Country |
| Hurricane Ida | August | Climate Change |
| Gabby Petito | September | Crime |
| Squid Game | October | TV Shows |
| Alec Baldwin | October | Actor |
| Travis Scott | November | Entertainment |
| Kyle Rittenhouse | November | Crime |
| Adele | November | Entertainment |
| Tornado | December | Climate Change |
| Elon Musk | December | Businessman |
Notable Trending Searches in 2021
Here's a look at a few of the notable searches that trended across the U.S. in 2021:
President Biden and Capitol
Unsurprisingly, the year started with news of the presidential election and the U.S. Capitol riot, as President Biden was set to take office.
In six states, however, the top trending search was still related to the Mega Millions jackpot, even as individuals stormed the Capitol Building.
Valheim
One of the most sought-after games of the year, Valheim, came on the market in February, 2021. By August, it had garnered over 8 million users. The developing company's new Hearth and Home patch has skyrocketed the game's appeal even more.
Stimulus Check
In March, the U.S. government unveiled their plan to distribute the third stimulus check to Americans.
People started looking for more information about when they would be getting their checks and if there had been any changes in the amount they would receive.
Dogecoin
Created in 2013 as a parody of Bitcoin, Dogecoin saw record trading levels in May 2021. This was in part due to Elon Musk supporting the cryptocurrency.
The Dogecoin market capitalization surged to a peak of $88 billion, worth more than three-quarters of the companies in the S&P 500.
AMC Stock
After suffering significant losses due to the pandemic-related shuttering of theaters across the country, AMC Entertainment became a fan favorite of Reddit-based retail traders who drove the share price up beyond what most analysts considered reasonable.
AMC's stock price rose by 95% in a couple of days, reaching a record high of $63 per share. This was the latest phase of the meme stock frenzy.
Afghanistan
President Biden decided to completely withdraw U.S. troops from Afghanistan by September 11th, 2021, ending the longest war the country has ever fought.
As an immediate consequence of the withdrawal, the Taliban militia took over the country and the government. The event, which was broadcast in near real-time, caused widespread panic among the citizens as some attempted to flee the country.
What's in Store for 2022
It's going to be everyone's best guess as to what the trending searches for 2022 will be. Based on the events that dominated the news throughout the year, a few predictions could be made.
Experts predict that we will be moving to an endemic stage of the pandemic, which is bound to profoundly impact how we live in 2022.
New trends, movies, TV shows, and even newer gadgets will surely catch everyone's attention next year. It will be fascinating to see what's on the minds of people in the coming 12 months.
Visualizing Population Density Patterns in Six Countries
These maps show the population density of several countries, using 3D spikes to denote where more people live.

Creator Program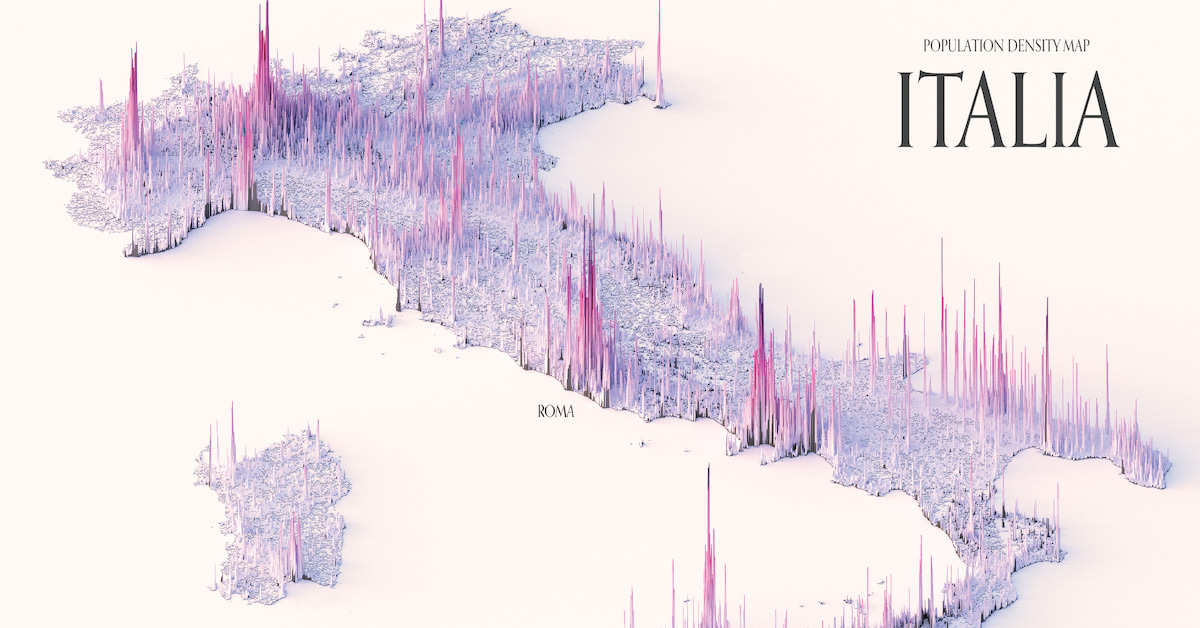 As of 2022, Earth has 8 billion humans. By 2050, the population is projected to grow to 10 billion.
In the last 50 years, the global population more than quadrupled. But none of this growth has been evenly spread out, including within countries.
This series of 3D maps from Terence Teo, an associate professor at Seton Hall University, renders the population density of six countries using open-source data from Kontur Population. He used popular programming language R and a path-tracing package, Rayshader, to create the maps.
France and Germany: Population Density Spikes and Troughs
Let's take a look at how the population spreads out in different countries around the world. Click the images to explore higher-resolution versions.
France is the world's 7th largest economy and second-most-populous country in the EU with 65 million people. But a staggering one-fifth of the French population lives in Paris and its surrounding metro—the most populous urban area in Europe.
Many residents in the Paris metropolitan area are employed in the service sector, which makes up one-third of France's $2.78 trillion gross domestic product.
Unlike France, Germany has many dense cities and regions, with Berlin, Munich, Stuttgart, and Cologne all having over a million residents. Berlin is the most populated at 3.5 million residents in the city proper, and 6 million in the wider urban area.
That said, the relatively recent reunification of West and East Germany in 1991 meant that post-WWII growth was mostly concentrated in West Germany (and West Berlin).
Italy and Chile: Coast to Coast
In Italy, another phenomenon affects population density and urban development—a sprawling coastline.
Despite having a large population of 59 million and large metropolitan areas throughout, Italy's population spikes are closer to the water.
The port cities of Genoa, Napoli, and Palermo all have large spikes relative to the rest of the country, as does the capital, Rome. Despite its city center located 15 miles inland from the sea, it extends to the shore through the district of Ostia, where the ancient port of Rome existed.
Meanwhile in Chile, stuck between the Andes to the east and the Pacific Ocean to the west, population spikes corroborate with its many port towns and cities.
However, the country is more concentrated than Italy, with 40% of its residents congregating around the capital of Santiago.
Turkey and Canada: Marred by Mountains and Climes
Though Chile has difficulties with terrain, it is relatively consistent. Other countries have to attempt to settle many different climes—regions defined by their climates.
Mountains to the south and east, a large, semi-arid plateau, and even a small desert leave few centers of urban growth in Türkiye.
Predictably, further west, as the elevation comes down to the Aegean and Mediterranean Seas, population spikes begin to heighten. The largest of course is the economic and cultural hub of Istanbul, though the capital Ankara is also prominent with more than 5 million residents.
In Canada, the Rocky Mountains to the west and freezing cold temperatures in the center and north account for the large country's relative emptiness.
Though population spikes in Western Canada are growing rapidly, highly populous urban centers are noticeably concentrated along the St. Lawrence River, with the Greater Toronto Area accounting for more than one-sixth of the country's 39 million people.
Increasing Urbanization
According to the World Bank, more than half of the world's population currently lives in cities, and that trend is only growing.
By 2050, 7 out of 10 people are projected to live in cities. This congregation makes cities a beehive of productivity and innovation—with more than 80% of the world's GDP being generated at these population centers.
It's in this context that mapping and studying urban development becomes all the more important, particularly as policymakers try their hand at sustainable urban planning.
As Teo puts it:
"By showing where people are (and are not), they show us where political and economic power is concentrated, and perhaps where and who our governments represent."