Mapped: Economic Freedom Around the World
Mapped: Economic Freedom Around the World
How would you define a country's economic freedom?
The cornerstones of economic freedom by most measures are personal choice, voluntary exchange, independence to compete in markets, and security of the person and privately-owned property. Simply put, it is about the quality of political and economic institutions in countries.
Based on the Index of Economic Freedom by the Heritage Organization, we mapped the economic freedom of 178 countries worldwide.
Measures of Economic Freedom
The index uses five broad areas to score economic freedom for each country:
Size of Government: Greater government spending, taxation, and bigger government agencies tend to reduce individual choice and economic freedom.
Legal System and Property Rights: The ability to accumulate private property and wealth is a central motivating force for workers and investors in a market economy, and well-functioning legal frameworks protect the rights of all citizens.
Sound Money: Does earned money maintain its value, or is it lost to inflation? When inflation is high and volatile, individuals can't plan for the future and use economic freedom effectively.
Freedom to Trade Internationally: Freedom to exchange—in its broadest sense, buying, selling, making contracts, and so on—is considered essential to economic prosperity. Limited international trading options significantly reduce the potential for growth.
Regulation: When governments utilize tools and impose oppressive regulations that limit the right to exchange, economic freedom typically suffers.
World Economic Freedom by Region
In 2021, the global average economic freedom score is 61.6, the highest its been in 27 years.
But from Mauritius and smaller African nations being beacons of hope to East Asian and Oceanic countries epitomizing economic democracy, every region has a different story to tell.
Let's take a look at the economic freedom of each region in the world.
Americas
Even though the U.S. and Canada continue to be some of the most economically free countries globally, some markers are suffering.
The regional average unemployment rate has risen to 6.9%, and inflation (outside of Venezuela) has increased to 5.2%. The region's average level of public debt—already the highest globally—rose to 85.2% of its GDP during the past year.
Across many Latin American countries, widespread corruption and weak protection of property rights have aggravated regulatory inefficiency and monetary instability.
For example, Argentina's Peronist government has recently fixed the price of 1,432 products as a response to a 3.5% price rise in September, the equivalent to a 53% increase if annualized.
Europe
More than half of the world's 38 freest countries (with overall scores above 70) are in Europe. This is due to the region's relatively extensive and long-established free-market institutions, the robust rule of law, and exceptionally strong investment freedom.
However, Europe still struggles with a variety of policy barriers to vigorous economic expansion. This includes overly protective and costly labor regulations, which was one of the major reasons why the UK voted to leave the EU.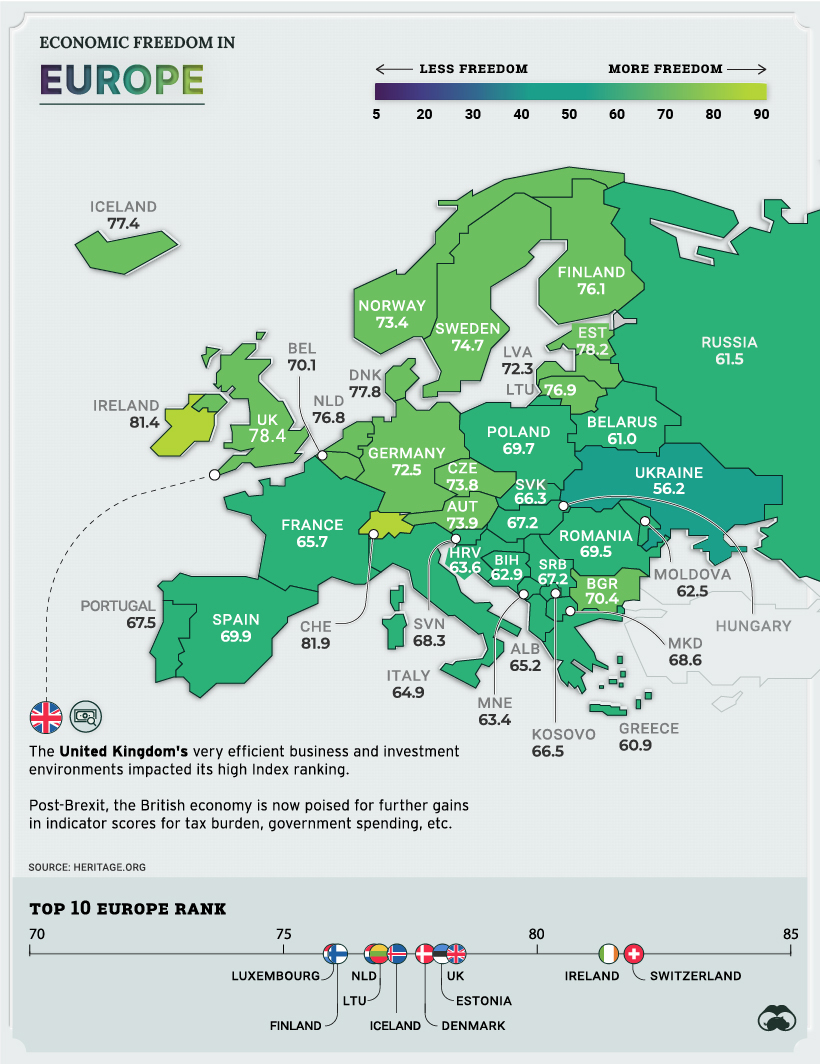 Brexit has since had a major impact on the region.
Even a year later, official UK figures showed a record fall in trade with the EU in January 2021, as the economy struggled with post-Brexit rules and the pandemic.
Africa
Dictatorships, corruption, and conflict have historically kept African nations as some of the most economically repressed in the world.
While larger and more prosperous African nations struggle to advance economic freedom, some smaller countries are becoming the beacon of hope for the continent.
Mauritius (rank 11), Seychelles (43) and Botswana (45) were the top African countries, offering the most robust policies and institutions supporting economic self-sufficiency.
From property rights to financial freedom, small African countries are racing ahead of the continent's largest in advancing economic autonomy as they look to build business opportunities for their citizens.
Middle East and Central Asia
When Israel, the UAE, and Bahrain signed the Abraham Accords last year, there was a sense of a new paradigm emerging in a region with a long history of strife.
A year into the signing of this resolution, the effects have been promising. There have been bilateral initiatives within the private sector and civil society leading to increasing economic and political stability in the region.
Central Asian countries once part of the Soviet Union have recently starting integrating more directly with the world economy, primarily through natural resource exports. In total, natural resources account for about 65% of exports in Kyrgyzstan, Tajikistan, and Uzbekistan, and more than 90% in Kazakhstan and Turkmenistan.
Despite this progress, these countries have a long way to go in terms of economic freedom. Uzbekistan (108), Turkmenistan (167) and Tajikistan (134) are still some of the lowest-ranked countries in the world.
East Asia and Oceania
Despite massive populations and strong economies, countries like China and India remain mostly unfree economies. The modest improvements in scores over the last few years have been through gains in property rights, judicial effectiveness, and business freedom indicators.
Nearby, Singapore's economy has been ranked the freest in the world for the second year in a row. Singapore remains the only country in the world that is considered economically free in every index category.
Finally, it's worth noting that Australia and New Zealand are regional leaders, and are two of only five nations that are currently in the "free" category of the index.
Support the Future of Data Storytelling
Sorry to interrupt your reading, but we have a favor to ask. At Visual Capitalist we believe in a world where data can be understood by everyone. That's why we want to build the VC App - the first app of its kind combining verifiable and transparent data with beautiful, memorable visuals. All available for free.
As a small, independent media company we don't have the expertise in-house or the funds to build an app like this. So we're asking our community to help us raise funds on Kickstarter.
If you believe in data-driven storytelling, join the movement and back us on Kickstarter!
Thank you.
Interest Rate Hikes vs. Inflation Rate, by Country
Inflation rates are reaching multi-decade highs in some countries. How aggressive have central banks been with interest rate hikes?
Interest Rate Hikes vs. Inflation Rate, by Country
Imagine today's high inflation like a car speeding down a hill. In order to slow it down, you need to hit the brakes. In this case, the "brakes" are interest rate hikes intended to slow spending. However, some central banks are hitting the brakes faster than others.
This graphic uses data from central banks and government websites to show how policy interest rates and inflation rates have changed since the start of the year. It was inspired by a chart created by Macrobond.
How Do Interest Rate Hikes Combat Inflation?
To understand how interest rates influence inflation, we need to understand how inflation works. Inflation is the result of too much money chasing too few goods. Over the last several months, this has occurred amid a surge in demand and supply chain disruptions worsened by Russia's invasion of Ukraine.
In an effort to combat inflation, central banks will raise their policy rate. This is the rate they charge commercial banks for loans or pay commercial banks for deposits. Commercial banks pass on a portion of these higher rates to their customers, which reduces the purchasing power of businesses and consumers. For example, it becomes more expensive to borrow money for a house or car.
Ultimately, interest rate hikes act to slow spending and encourage saving. This motivates companies to increase prices at a slower rate, or lower prices, to stimulate demand.
Rising Interest Rates and Inflation
With inflation rates hitting multi-decade highs in some countries, many central banks have announced interest rate hikes. Below, we show how the inflation rate and policy interest rate have changed for select countries and regions since January 2022. The jurisdictions are ordered from highest to lowest current inflation rate.
| Jurisdiction | Jan 2022 Inflation | May 2022 Inflation | Jan 2022 Policy Rate | Jun 2022 Policy Rate |
| --- | --- | --- | --- | --- |
| UK | 5.50% | 9.10% | 0.25% | 1.25% |
| U.S. | 7.50% | 8.60% | 0.00%-0.25% | 1.50%-1.75% |
| Euro Area | 5.10% | 8.10% | 0.00% | 0.00% |
| Canada | 5.10% | 7.70% | 0.25% | 1.50% |
| Sweden | 3.90% | 7.20% | 0.00% | 0.25% |
| New Zealand | 5.90% | 6.90% | 0.75% | 2.00% |
| Norway | 3.20% | 5.70% | 0.50% | 1.25% |
| Australia | 3.50% | 5.10% | 0.10% | 0.85% |
| Switzerland | 1.60% | 2.90% | -0.75% | -0.25% |
| Japan | 0.50% | 2.50% | -0.10% | -0.10% |
The Euro area has 3 policy rates; the data above represents the main refinancing operations rate. Inflation data is as of May 2022 except for New Zealand and Australia, where the latest quarterly data is as of March 2022.
The U.S. Federal Reserve has been the most aggressive with its interest rate hikes. It has raised its policy rate by 1.5% since January, with half of that increase occurring at the June 2022 meeting. Jerome Powell, the Federal Reserve chair, said the committee would like to "do a little more front-end loading" to bring policy rates to normal levels. The action comes as the U.S. faces its highest inflation rate in 40 years.
On the other hand, the European Union is experiencing inflation of 8.1% but has not yet raised its policy rate. The European Central Bank has, however, provided clear forward guidance. It intends to raise rates by 0.25% in July, by a possibly larger increment in September, and with gradual but sustained increases thereafter. Clear forward guidance is intended to help people make spending and investment decisions, and avoid surprises that could disrupt markets.
Pacing Interest Rate Hikes
Raising interest rates is a fine balancing act. If central banks raise rates too quickly, it's like slamming the brakes on that car speeding downhill: the economy could come to a standstill. This occurred in the U.S. in the 1980's when the Federal Reserve, led by Chair Paul Volcker, raised the policy rate to 20%. The economy went into a recession, though the aggressive monetary policy did eventually tame double digit inflation.
However, if rates are raised too slowly, inflation could gather enough momentum that it becomes difficult to stop. The longer high price increases linger, the more future inflation expectations build. This can result in people buying more in anticipation of prices rising further, perpetuating high demand.
"There's always a risk of going too far or not going far enough, and it's going to be a very difficult judgment to make." — Jerome Powell, U.S. Federal Reserve Chair
It's worth noting that while central banks can influence demand through policy rates, this is only one side of the equation. Inflation is also being caused by supply chain issues, a problem that is more or less outside of the control of central banks.
3 Insights From the FED's Latest Economic Snapshot
Stay up to date on the U.S. economy with this infographic summarizing the most recent Federal Reserve data released.
3 Insights From the Latest U.S. Economic Data
Each month, the Federal Reserve Bank of New York publishes monthly economic snapshots.
To make this report accessible to a wider audience, we've identified the three most important takeaways from the report and compiled them into one infographic.
1. Growth figures in Q2 will make or break a recession
Generally speaking, a recession begins when an economy exhibits two consecutive quarters of negative GDP growth. Because U.S. GDP shrank by -1.5% in Q1 2022 (January to March), a lot rests on the Q2 figure (April to June) which should be released on July 28th.
Referencing strong business activity and continued growth in consumer spending, economists predict that U.S. GDP will grow by +2.1% in Q2. This would mark a decisive reversal from Q1, and put an end to recessionary fears for the time being.
Unfortunately, inflation is the top financial concern for Americans, and this is dampening consumer confidence. Shown below, the consumer confidence index reflects the public's short-term outlook for income, business, and labor conditions.
Falling consumer confidence suggests that more people will delay big purchases such as cars, major appliances, and vacations.
2. The COVID-era housing boom could be over
Housing markets have been riding high since the beginning of the COVID-19 pandemic, but this run is likely coming to an end. Here's a summary of what's happened since 2020:
Lockdowns in early 2020 created lots of pent-up demand for homes
Greater household savings and record-low mortgage rates pushed demand even further
Supply chain disruptions greatly increased the cost of materials like lumber
Construction of new homes couldn't keep up, and housing supply fell to historic lows
Today, home prices are at record highs and the cost of borrowing is rapidly rising. For evidence, look no further than the 30-year fixed mortgage rate, which has doubled to more than 6% since the beginning of 2022.
Given these developments, the drop in the number of home sales could be a sign that many Americans are being priced out of the market.
3. Don't expect groceries to become any cheaper
Inflation has been a hot topic this year, especially with gas prices reaching $5 a gallon. But there's one category of goods that's perhaps even more alarming: food.
The following table includes food inflation over the past three years, as the percent change over the past 12 months.
| Date | CPI Food Component (%) |
| --- | --- |
| 2018-02-01 | 1.4% |
| 2019-05-01 | 2.0% |
| 2019-06-01 | 1.9% |
| 2019-07-01 | 1.8% |
| 2019-08-01 | 1.7% |
| 2019-09-01 | 1.8% |
| 2019-10-01 | 2.1% |
| 2019-11-01 | 2.0% |
| 2019-12-01 | 1.8% |
| 2020-01-01 | 1.8% |
| 2020-02-01 | 1.8% |
| 2020-03-01 | 1.9% |
| 2020-04-01 | 3.5% |
| 2020-05-01 | 4.0% |
| 2020-06-01 | 4.5% |
| 2020-07-01 | 4.1% |
| 2020-08-01 | 4.1% |
| 2020-09-01 | 4.0% |
| 2020-10-01 | 3.9% |
| 2020-11-01 | 3.7% |
| 2020-12-01 | 3.9% |
| 2021-01-01 | 3.8% |
| 2021-02-01 | 3.6% |
| 2021-03-01 | 3.5% |
| 2021-04-01 | 2.4% |
| 2021-05-01 | 2.1% |
| 2021-06-01 | 2.4% |
| 2021-07-01 | 3.4% |
| 2021-08-01 | 3.7% |
| 2021-09-01 | 4.6% |
| 2021-10-01 | 5.3% |
| 2021-11-01 | 6.1% |
| 2021-12-01 | 6.3% |
| 2022-01-01 | 7.0% |
| 2022-02-01 | 7.9% |
| 2022-03-01 | 8.8% |
| 2022-04-01 | 9.4% |
| 2022-05-01 | 10.1% |
From this data, we can see that food inflation really picked up speed in April 2020, jumping to +3.5% from +1.9% in the previous month. This was due to supply chain disruptions and a sudden rebound in global demand.
Fast forward to today, and food inflation is running rampant at 10.1%. A contributing factor is the impending fertilizer shortage, which stems from the Ukraine war. As it turns out, Russia is not only a massive exporter of oil, but wheat and fertilizer as well.