Mapped: Economic Freedom Around the World
Mapped: Economic Freedom Around the World
How would you define a country's economic freedom?
The cornerstones of economic freedom by most measures are personal choice, voluntary exchange, independence to compete in markets, and security of the person and privately-owned property. Simply put, it is about the quality of political and economic institutions in countries.
Based on the Index of Economic Freedom by the Heritage Organization, we mapped the economic freedom of 178 countries worldwide.
Measures of Economic Freedom
The index uses five broad areas to score economic freedom for each country:
Size of Government: Greater government spending, taxation, and bigger government agencies tend to reduce individual choice and economic freedom.
Legal System and Property Rights: The ability to accumulate private property and wealth is a central motivating force for workers and investors in a market economy, and well-functioning legal frameworks protect the rights of all citizens.
Sound Money: Does earned money maintain its value, or is it lost to inflation? When inflation is high and volatile, individuals can't plan for the future and use economic freedom effectively.
Freedom to Trade Internationally: Freedom to exchange—in its broadest sense, buying, selling, making contracts, and so on—is considered essential to economic prosperity. Limited international trading options significantly reduce the potential for growth.
Regulation: When governments utilize tools and impose oppressive regulations that limit the right to exchange, economic freedom typically suffers.
World Economic Freedom by Region
In 2021, the global average economic freedom score is 61.6, the highest its been in 27 years.
But from Mauritius and smaller African nations being beacons of hope to East Asian and Oceanic countries epitomizing economic democracy, every region has a different story to tell.
Let's take a look at the economic freedom of each region in the world.
Americas
Even though the U.S. and Canada continue to be some of the most economically free countries globally, some markers are suffering.
The regional average unemployment rate has risen to 6.9%, and inflation (outside of Venezuela) has increased to 5.2%. The region's average level of public debt—already the highest globally—rose to 85.2% of its GDP during the past year.
Across many Latin American countries, widespread corruption and weak protection of property rights have aggravated regulatory inefficiency and monetary instability.
For example, Argentina's Peronist government has recently fixed the price of 1,432 products as a response to a 3.5% price rise in September, the equivalent to a 53% increase if annualized.
Europe
More than half of the world's 38 freest countries (with overall scores above 70) are in Europe. This is due to the region's relatively extensive and long-established free-market institutions, the robust rule of law, and exceptionally strong investment freedom.
However, Europe still struggles with a variety of policy barriers to vigorous economic expansion. This includes overly protective and costly labor regulations, which was one of the major reasons why the UK voted to leave the EU.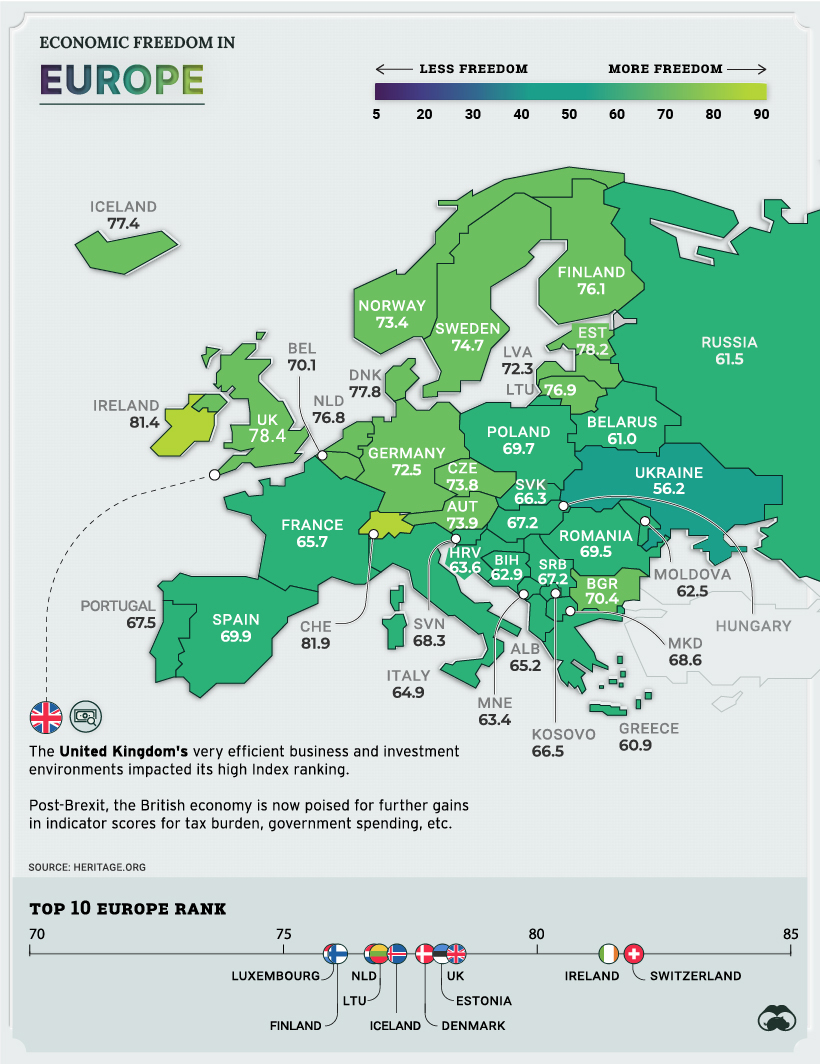 Brexit has since had a major impact on the region.
Even a year later, official UK figures showed a record fall in trade with the EU in January 2021, as the economy struggled with post-Brexit rules and the pandemic.
Africa
Dictatorships, corruption, and conflict have historically kept African nations as some of the most economically repressed in the world.
While larger and more prosperous African nations struggle to advance economic freedom, some smaller countries are becoming the beacon of hope for the continent.
Mauritius (rank 11), Seychelles (43) and Botswana (45) were the top African countries, offering the most robust policies and institutions supporting economic self-sufficiency.
From property rights to financial freedom, small African countries are racing ahead of the continent's largest in advancing economic autonomy as they look to build business opportunities for their citizens.
Middle East and Central Asia
When Israel, the UAE, and Bahrain signed the Abraham Accords last year, there was a sense of a new paradigm emerging in a region with a long history of strife.
A year into the signing of this resolution, the effects have been promising. There have been bilateral initiatives within the private sector and civil society leading to increasing economic and political stability in the region.
Central Asian countries once part of the Soviet Union have recently starting integrating more directly with the world economy, primarily through natural resource exports. In total, natural resources account for about 65% of exports in Kyrgyzstan, Tajikistan, and Uzbekistan, and more than 90% in Kazakhstan and Turkmenistan.
Despite this progress, these countries have a long way to go in terms of economic freedom. Uzbekistan (108), Turkmenistan (167) and Tajikistan (134) are still some of the lowest-ranked countries in the world.
East Asia and Oceania
Despite massive populations and strong economies, countries like China and India remain mostly unfree economies. The modest improvements in scores over the last few years have been through gains in property rights, judicial effectiveness, and business freedom indicators.
Nearby, Singapore's economy has been ranked the freest in the world for the second year in a row. Singapore remains the only country in the world that is considered economically free in every index category.
Finally, it's worth noting that Australia and New Zealand are regional leaders, and are two of only five nations that are currently in the "free" category of the index.
Visualizing Major Layoffs At U.S. Corporations
This infographic highlights the accelerating pace of layoffs so far in 2022, as businesses cut costs ahead of a potential recession.
Visualizing Major Layoffs at U.S. Corporations
Hiring freezes and layoffs are becoming more common in 2022, as U.S. businesses look to slash costs ahead of a possible recession.
Understandably, this has a lot of people worried. In June 2022, Insight Global found that 78% of American workers fear they will lose their job in the next recession. Additionally, 56% said they aren't financially prepared, and 54% said they would take a pay cut to avoid being laid off.
In this infographic, we've visualized major layoffs announced in 2022 by publicly-traded U.S. corporations.
Note: Due to gaps in reporting, as well as the very large number of U.S. corporations, this list may not be comprehensive.
An Emerging Trend
Layoffs have surged considerably since April of this year. See the table below for high-profile instances of mass layoffs.
| Company | Industry | Layoffs (#) | Month |
| --- | --- | --- | --- |
| Peloton | Consumer Discretionary | 2,800 | February |
| Funko | Consumer Discretionary | 258 | April |
| Robinhood | Financial Services | ~400 | April |
| Nektar Therapeutics | Biotechnology | 500 | April |
| Carvana | Automotive | 2,500 | May |
| Doma | Financial Services | 310 | May |
| JP Morgan Chase & Co. | Financial Services | ~500 | June |
| Tesla | Automotive | 200 | June |
| Coinbase | Financial Services | 1,100 | June |
| Netflix | Technology | 300 | June |
| CVS Health | Pharmaceutical | 208 | June |
| StartTek | Technology | 472 | June |
| Ford | Automotive | 8,000 | July |
| Rivian | Automotive | 840 | July |
| Peloton | Consumer Discretionary | 2,000 | July |
| LoanDepot | Financial Services | 2,000 | July |
| Invitae | Biotechnology | 1,000 | July |
| Lyft | Technology | 60 | July |
| Meta | Technology | 350 | July |
| Twitter | Technology | <30 | July |
| Vimeo | Technology | 72 | July |
| Robinhood | Financial Services | ~795 | August |
Here's a brief rundown of these layoffs, sorted by industry.
Automotive
Ford has announced the biggest round of layoffs this year, totalling roughly 8,000 salaried employees. Many of these jobs are in Ford's legacy combustion engine business. According to CEO Jim Farley, these cuts are necessary to fund the company's transition to EVs.
We absolutely have too many people in some places, no doubt about it.
– Jim Farley, CEO, Ford
Speaking of EVs, Rivian laid off 840 employees in July, amounting to 6% of its total workforce. The EV startup pointed to inflation, rising interest rates, and increasing commodity prices as factors. The firm's more established competitor, Tesla, cut 200 jobs from its autopilot division in the month prior.
Last but not least is online used car retailer, Carvana, which cut 2,500 jobs in May. The company experienced rapid growth during the pandemic, but has since fallen out of grace. Year-to-date, the company's shares are down more than 80%.
Financial Services
Fearing an impending recession, Coinbase has shed 1,100 employees, or 18% of its total workforce. Interestingly, Coinbase does not have a physical headquarters, meaning the entire company operates remotely.
A recession could lead to another crypto winter, and could last for an extended period. In past crypto winters, trading revenue declined significantly.
Brian Armstrong, CEO, Coinbase
Around the same time, JPMorgan Chase & Co. announced it would fire hundreds of home-lending employees. While an exact number isn't available, we've estimated this to be around 500 jobs, based on the original Bloomberg article. Wells Fargo, another major U.S. bank, has also cut 197 jobs from its home mortgage division.
The primary reason for these cuts is rising mortgage rates, which are negatively impacting the demand for homes.
Technology
Within tech, Meta and Twitter are two of the most high profile companies to begin making layoffs. In Meta's case, 350 custodial staff have been let go due to reduced usage of the company's offices.
Many more cuts are expected, however, as Facebook recently reported its first revenue decline in 10 years. CEO Mark Zuckerberg has made it clear he expects the company to do more with fewer resources, and managers have been encouraged to report "low performers" for "failing the company".
Realistically, there are probably a bunch of people at the company who shouldn't be here.
– Mark Zuckerberg, CEO, Meta
Also in July, Twitter laid off 30% of its talent acquisition team. An exact number was not available, but the team was estimated to have less than 100 employees. The company has also enacted a hiring freeze as it stumbles through a botched acquisition by Elon Musk.
More Layoffs to Come…
Layoffs are expected to continue throughout the rest of this year, as metrics like consumer sentiment enter a decline. Rising interest rates, which make it more expensive for businesses to borrow money, are also having a negative impact on growth.
In fact just a few days ago, trading platform Robinhood announced it was letting go 23% of its staff. After accounting for its previous layoffs in April (9% of the workforce), it's fair to estimate that this latest round will impact nearly 800 people.
Which Countries Produce the Most Wheat?
Global wheat production is concentrated in just a handful of countries. Here's a look at the top wheat-producing countries worldwide.

Creator Program
Visualizing Global Wheat Production by Country (2000-2020)
Wheat is a dietary staple for millions of people around the world.
After rice and corn (maize), wheat is the third most-produced cereal worldwide, and the second-most-produced for human consumption. And considering wheat's importance in the global food system, any impact on major producers such as droughts, wars, or other events, can impact the entire world.
Which countries are the largest producers of wheat? This graphic by Kashish Rastogi visualizes the breakdown of 20 years of global wheat production by country.
Top 10 Wheat Producing Countries
While more than 80 different countries produce wheat around the world, the majority of global wheat production comes from just a handful of countries, according to data from The Food and Agriculture Organization of the United Nations (FAO).
Here's a look at the top 10 wheat-producing countries worldwide, based on total yield in tonnes from 2000-2020:
| Rank | Country | Continent | Total yield (tonnes, 2000-2020) | % of total (2000-2020) |
| --- | --- | --- | --- | --- |
| #1 | 🇨🇳 China | Asia & Oceania | 2.4 B | 17.0% |
| #2 | 🇮🇳 India | Asia & Oceania | 1.8 B | 12.5% |
| #3 | 🇷🇺 Russia | Asia & Oceania | 1.2 B | 8.4% |
| #4 | 🇺🇸 U.S. | Americas | 1.2 B | 8.4% |
| #5 | 🇫🇷 France | Europe | 767 M | 5.4% |
| #6 | 🇨🇦 Canada | Americas | 571 M | 4.0% |
| #7 | 🇩🇪 Germany | Europe | 491 M | 3.5% |
| #8 | 🇵🇰 Pakistan | Asia & Oceania | 482 M | 3.4% |
| #9 | 🇦🇺 Australia | Asia & Oceania | 456 M | 3.2% |
| #10 | 🇺🇦 Ukraine | Europe | 433 M | 3.1% |
China, the world's largest wheat producer, has yielded more than 2.4 billion tonnes of wheat over the last two decades, making up roughly 17% of total production from 2000-2020.
A majority of China's wheat is used domestically to help meet the country's rising food demand. China is the world's largest consumer of wheat—in 2020/2021, the country accounted for approximately 19% of global wheat consumption.
The second-largest wheat-producing country is India. Over the last two decades, India has produced 12.5% of the world's wheat. Like China, India keeps most of its wheat domestic because of significant food demand across the country.
Russia, the world's third-largest wheat producer, is also the largest global exporter of wheat. The country exported more than $7.3 billion worth of wheat in 2021, accounting for approximately 13.1% of total wheat exports that year.
Russia-Ukraine Impact on Global Wheat Market
Because Russia and Ukraine are both significant global wheat producers, the ongoing conflict between the two countries has caused massive disruptions to the global wheat market.
The conflict has had an impact on adjacent industries as well. For instance, Russia is one of the world's major fertilizer suppliers, and the conflict has led to a global fertilizer shortage which could lead to food shortages worldwide.