Mapped: Economic Freedom Around the World
Mapped: Economic Freedom Around the World
How would you define a country's economic freedom?
The cornerstones of economic freedom by most measures are personal choice, voluntary exchange, independence to compete in markets, and security of the person and privately-owned property. Simply put, it is about the quality of political and economic institutions in countries.
Based on the Index of Economic Freedom by the Heritage Organization, we mapped the economic freedom of 178 countries worldwide.
Measures of Economic Freedom
The index uses five broad areas to score economic freedom for each country:
Size of Government: Greater government spending, taxation, and bigger government agencies tend to reduce individual choice and economic freedom.
Legal System and Property Rights: The ability to accumulate private property and wealth is a central motivating force for workers and investors in a market economy, and well-functioning legal frameworks protect the rights of all citizens.
Sound Money: Does earned money maintain its value, or is it lost to inflation? When inflation is high and volatile, individuals can't plan for the future and use economic freedom effectively.
Freedom to Trade Internationally: Freedom to exchange—in its broadest sense, buying, selling, making contracts, and so on—is considered essential to economic prosperity. Limited international trading options significantly reduce the potential for growth.
Regulation: When governments utilize tools and impose oppressive regulations that limit the right to exchange, economic freedom typically suffers.
World Economic Freedom by Region
In 2021, the global average economic freedom score is 61.6, the highest its been in 27 years.
But from Mauritius and smaller African nations being beacons of hope to East Asian and Oceanic countries epitomizing economic democracy, every region has a different story to tell.
Let's take a look at the economic freedom of each region in the world.
Americas
Even though the U.S. and Canada continue to be some of the most economically free countries globally, some markers are suffering.
The regional average unemployment rate has risen to 6.9%, and inflation (outside of Venezuela) has increased to 5.2%. The region's average level of public debt—already the highest globally—rose to 85.2% of its GDP during the past year.
Across many Latin American countries, widespread corruption and weak protection of property rights have aggravated regulatory inefficiency and monetary instability.
For example, Argentina's Peronist government has recently fixed the price of 1,432 products as a response to a 3.5% price rise in September, the equivalent to a 53% increase if annualized.
Europe
More than half of the world's 38 freest countries (with overall scores above 70) are in Europe. This is due to the region's relatively extensive and long-established free-market institutions, the robust rule of law, and exceptionally strong investment freedom.
However, Europe still struggles with a variety of policy barriers to vigorous economic expansion. This includes overly protective and costly labor regulations, which was one of the major reasons why the UK voted to leave the EU.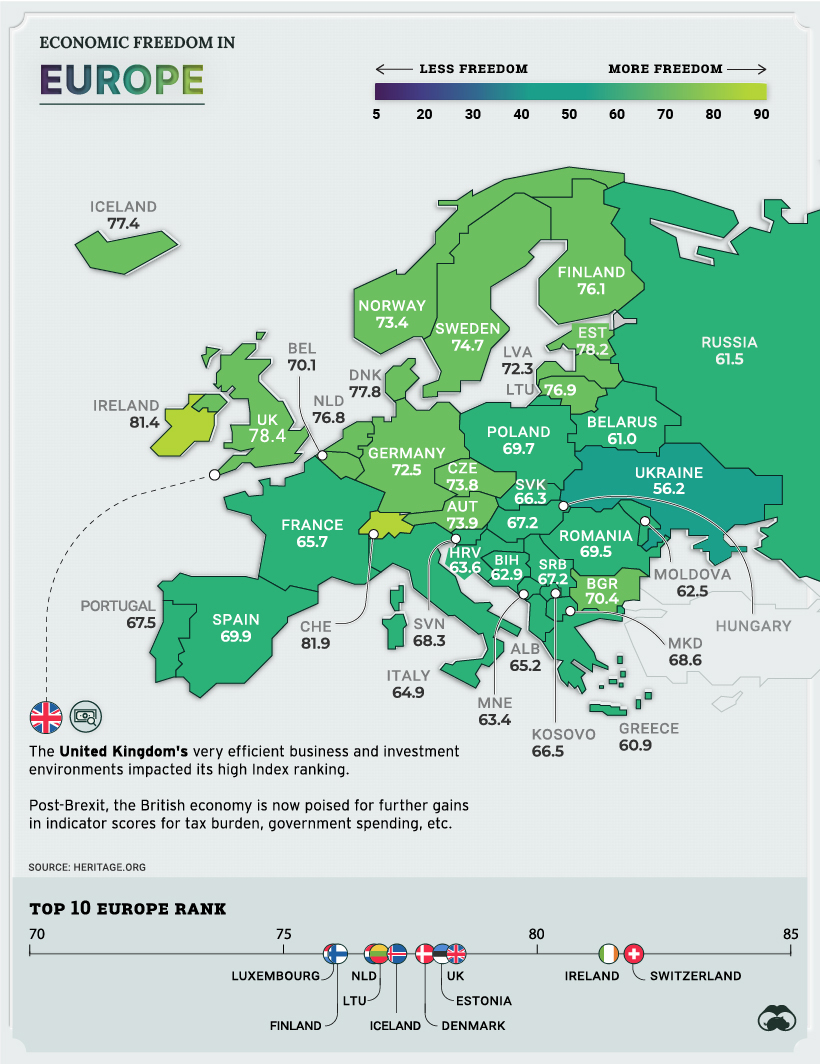 Brexit has since had a major impact on the region.
Even a year later, official UK figures showed a record fall in trade with the EU in January 2021, as the economy struggled with post-Brexit rules and the pandemic.
Africa
Dictatorships, corruption, and conflict have historically kept African nations as some of the most economically repressed in the world.
While larger and more prosperous African nations struggle to advance economic freedom, some smaller countries are becoming the beacon of hope for the continent.
Mauritius (rank 11), Seychelles (43) and Botswana (45) were the top African countries, offering the most robust policies and institutions supporting economic self-sufficiency.
From property rights to financial freedom, small African countries are racing ahead of the continent's largest in advancing economic autonomy as they look to build business opportunities for their citizens.
Middle East and Central Asia
When Israel, the UAE, and Bahrain signed the Abraham Accords last year, there was a sense of a new paradigm emerging in a region with a long history of strife.
A year into the signing of this resolution, the effects have been promising. There have been bilateral initiatives within the private sector and civil society leading to increasing economic and political stability in the region.
Central Asian countries once part of the Soviet Union have recently starting integrating more directly with the world economy, primarily through natural resource exports. In total, natural resources account for about 65% of exports in Kyrgyzstan, Tajikistan, and Uzbekistan, and more than 90% in Kazakhstan and Turkmenistan.
Despite this progress, these countries have a long way to go in terms of economic freedom. Uzbekistan (108), Turkmenistan (167) and Tajikistan (134) are still some of the lowest-ranked countries in the world.
East Asia and Oceania
Despite massive populations and strong economies, countries like China and India remain mostly unfree economies. The modest improvements in scores over the last few years have been through gains in property rights, judicial effectiveness, and business freedom indicators.
Nearby, Singapore's economy has been ranked the freest in the world for the second year in a row. Singapore remains the only country in the world that is considered economically free in every index category.
Finally, it's worth noting that Australia and New Zealand are regional leaders, and are two of only five nations that are currently in the "free" category of the index.
The Periodic Table of Commodity Returns (2012-2021)
Energy fuels led the way as commodity prices surged in 2021, with only precious metals providing negative returns.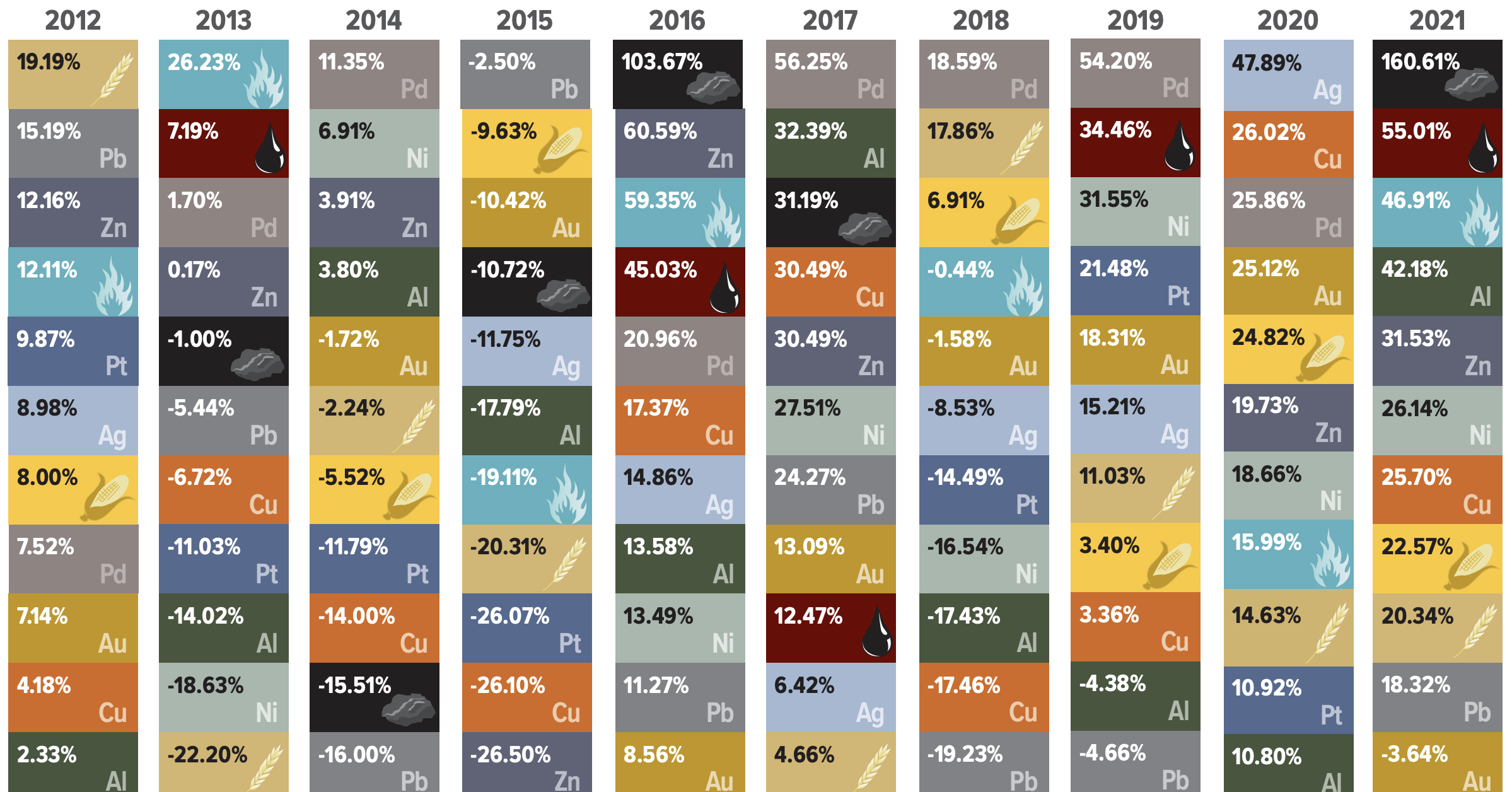 The Periodic Table of Commodity Returns (2022 Edition)
For investors, 2021 was a year in which nearly every asset class finished in the green, with commodities providing some of the best returns.
The S&P Goldman Sachs Commodity Index (GSCI) was the third best-performing asset class in 2021, returning 37.1% and beating out real estate and all major equity indices.
This graphic from U.S. Global Investors tracks individual commodity returns over the past decade, ranking them based on their individual performance each year.
Commodity Prices Surge in 2021
After a strong performance from commodities (metals especially) in the year prior, 2021 was all about energy commodities.
The top three performers for 2021 were energy fuels, with coal providing the single best annual return of any commodity over the past 10 years at 160.6%. According to U.S. Global Investors, coal was also the least volatile commodity of 2021, meaning investors had a smooth ride as the fossil fuel surged in price.
| Commodity | 2021 Returns |
| --- | --- |
| Coal | 160.61% |
| Crude Oil | 55.01% |
| Gas | 46.91% |
| Aluminum | 42.18% |
| Zinc | 31.53% |
| Nickel | 26.14% |
| Copper | 25.70% |
| Corn | 22.57% |
| Wheat | 20.34% |
| Lead | 18.32% |
| Gold | -3.64% |
| Platinum | -9.64% |
| Silver | -11.72% |
| Palladium | -22.21% |
Source: U.S. Global Investors
The only commodities in the red this year were precious metals, which failed to stay positive despite rising inflation across goods and asset prices. Gold and silver had returns of -3.6% and -11.7% respectively, with platinum returning -9.6% and palladium, the worst performing commodity of 2021, at -22.2%.
Aside from the precious metals, every other commodity managed double-digit positive returns, with four commodities (crude oil, coal, aluminum, and wheat) having their best single-year performances of the past decade.
Energy Commodities Outperform as the World Reopens
The partial resumption of travel and the reopening of businesses in 2021 were both powerful catalysts that fueled the price rise of energy commodities.
After crude oil's dip into negative prices in April 2020, black gold had a strong comeback in 2021 as it returned 55.01% while being the most volatile commodity of the year.
Natural gas prices also rose significantly (46.91%), with the UK and Europe's natural gas prices rising even more as supply constraints came up against the winter demand surge.
Despite being the second worst performer of 2020 with the clean energy transition on the horizon, coal was 2021's best commodity.
High electricity demand saw coal return in style, especially in China which accounts for one-third of global coal consumption.
Base Metals Beat out Precious Metals
2021 was a tale of two metals, as precious metals and base metals had opposing returns.
Copper, nickel, zinc, aluminum, and lead, all essential for the clean energy transition, kept up last year's positive returns as the EV batteries and renewable energy technologies caught investors' attention.
Demand for these energy metals looks set to continue in 2022, with Tesla having already signed a $1.5 billion deal for 75,000 tonnes of nickel with Talon Metals.
On the other end of the spectrum, precious metals simply sunk like a rock last year.
Investors turned to equities, real estate, and even cryptocurrencies to preserve and grow their investments, rather than the traditionally favorable gold (-3.64%) and silver (-11.72%). Platinum and palladium also lagged behind other commodities, only returning -9.64% and -22.21% respectively.
Grains Bring Steady Gains
In a year of over and underperformers, grains kept up their steady track record and notched their fifth year in a row of positive returns.
Both corn and wheat provided double-digit returns, with corn reaching eight-year highs and wheat reaching prices not seen in over nine years. Overall, these two grains followed 2021's trend of increasing food prices, as the UN Food and Agriculture Organization's food price index reached a 10-year high, rising by 17.8% over the course of the year.
As inflation across commodities, assets, and consumer goods surged in 2021, investors will now be keeping a sharp eye for a pullback in 2022. We'll have to wait and see whether or not the Fed's plans to increase rates and taper asset purchases will manage to provide price stability in commodities.
Apple's Colossal Market Cap as it Hits $3 Trillion
Apple's market cap recently hit $3 trillion. To put that scale into context, this visualization compares Apple to European indexes.

Creator Program
Apple's Colossal Market Cap in Context
In January of 2019, Apple's market capitalization stood at $700 billion.
While this was perceived as a colossal figure at the time, when we fast forward to today, that valuation seems a lot more modest. Since then, Apple has surged to touch a $3 trillion valuation on January 3rd, 2022.
To gauge just how monstrous of a figure this is, consider that Apple is no longer comparable to just companies, but to countries and even entire stock indexes. This animation from James Eagle ranks the growth in Apple's market cap alongside top indexes from the UK, France, and Germany.
Let's take a closer look.
Apple Takes On Europe
The three indexes Apple is compared to are heavyweights in their own right.
The FTSE 100 consists of giants like HSBC and vaccine producer AstraZeneca, while the CAC 40 Index is home to LVMH, which made Bernard Arnault the richest man in the world for a period of time last year.
Nonetheless, Apple's market cap exceeds that of the 100 companies in the FTSE, as well as the 40 in each of the CAC and DAX indexes.
| Stock/Index | Market Cap ($T) | Country of Origin |
| --- | --- | --- |
| Apple | $3.00T | 🇺🇸 |
| FTSE 100 | $2.90T | 🇬🇧 |
| CAC 40 Index | $2.76T | 🇫🇷 |
| DAX 40 (Dax 30) Index* | $2.50T | 🇩🇪 |
*Germany's flagship DAX Index expanded from 30 to 40 constituents in September 2021.
It's important to note, that while Apple's growth is stellar, European companies have simultaneously seen a decline in their share of the overall global stock market, which helps make these comparisons even more eye-catching.
For example, before 2005, publicly-traded European companies represented almost 30% of global stock market capitalization, but those figures have been cut in half to just 15% today.
Here are some other approaches to measure Apple's dominance.
Apple's Revenue Per Minute vs Other Tech Giants
Stepping away from market capitalization, another unique way to measure Apple's success is in how much sales they generate on a per minute basis. In doing so, we see that they generate a massive $848,090 per minute.
Here's how Apple revenue per minute compares to other Big Tech giants:

| Company | Revenue Per Minute |
| --- | --- |
| Amazon | $955,517 |
| Apple | $848,090 |
| Alphabet (Google) | $433,014 |
| Microsoft | $327,823 |
| Facebook | $213,628 |
| Tesla | $81,766 |
| Netflix | $50,566 |
Furthermore, Apple's profits aren't too shabby either: their $20.5 billion in net income last quarter equates to $156,000 in profits per minute.
How Apple Compares To Countries
Lastly, we can compare Apple's market cap to the GDP of countries.
| Country (excluding Apple) | Total Value ($T) |
| --- | --- |
| Apple | $3.0T |
| Italy | $2.0T |
| Brazil | $1.8T |
| Canada | $1.7T |
| Russia | $1.7T |
| South Korea | $1.6T |
| Australia | $1.4T |
| Spain | $1.4T |
| Mexico | $1.3T |
| Indonesia | $1.1T |
What might be most impressive here is that Apple's market cap eclipses the GDP of major developed economies, such as Canada and Australia. That means the company is more valuable than the entire economic production of these countries in a calendar year.
That's some serious scale.