Mapped: Economic Freedom Around the World
Mapped: Economic Freedom Around the World
How would you define a country's economic freedom?
The cornerstones of economic freedom by most measures are personal choice, voluntary exchange, independence to compete in markets, and security of the person and privately-owned property. Simply put, it is about the quality of political and economic institutions in countries.
Based on the Index of Economic Freedom by the Heritage Organization, we mapped the economic freedom of 178 countries worldwide.
Measures of Economic Freedom
The index uses five broad areas to score economic freedom for each country:
Size of Government: Greater government spending, taxation, and bigger government agencies tend to reduce individual choice and economic freedom.
Legal System and Property Rights: The ability to accumulate private property and wealth is a central motivating force for workers and investors in a market economy, and well-functioning legal frameworks protect the rights of all citizens.
Sound Money: Does earned money maintain its value, or is it lost to inflation? When inflation is high and volatile, individuals can't plan for the future and use economic freedom effectively.
Freedom to Trade Internationally: Freedom to exchange—in its broadest sense, buying, selling, making contracts, and so on—is considered essential to economic prosperity. Limited international trading options significantly reduce the potential for growth.
Regulation: When governments utilize tools and impose oppressive regulations that limit the right to exchange, economic freedom typically suffers.
World Economic Freedom by Region
In 2021, the global average economic freedom score is 61.6, the highest its been in 27 years.
But from Mauritius and smaller African nations being beacons of hope to East Asian and Oceanic countries epitomizing economic democracy, every region has a different story to tell.
Let's take a look at the economic freedom of each region in the world.
Americas
Even though the U.S. and Canada continue to be some of the most economically free countries globally, some markers are suffering.
The regional average unemployment rate has risen to 6.9%, and inflation (outside of Venezuela) has increased to 5.2%. The region's average level of public debt—already the highest globally—rose to 85.2% of its GDP during the past year.
Across many Latin American countries, widespread corruption and weak protection of property rights have aggravated regulatory inefficiency and monetary instability.
For example, Argentina's Peronist government has recently fixed the price of 1,432 products as a response to a 3.5% price rise in September, the equivalent to a 53% increase if annualized.
Europe
More than half of the world's 38 freest countries (with overall scores above 70) are in Europe. This is due to the region's relatively extensive and long-established free-market institutions, the robust rule of law, and exceptionally strong investment freedom.
However, Europe still struggles with a variety of policy barriers to vigorous economic expansion. This includes overly protective and costly labor regulations, which was one of the major reasons why the UK voted to leave the EU.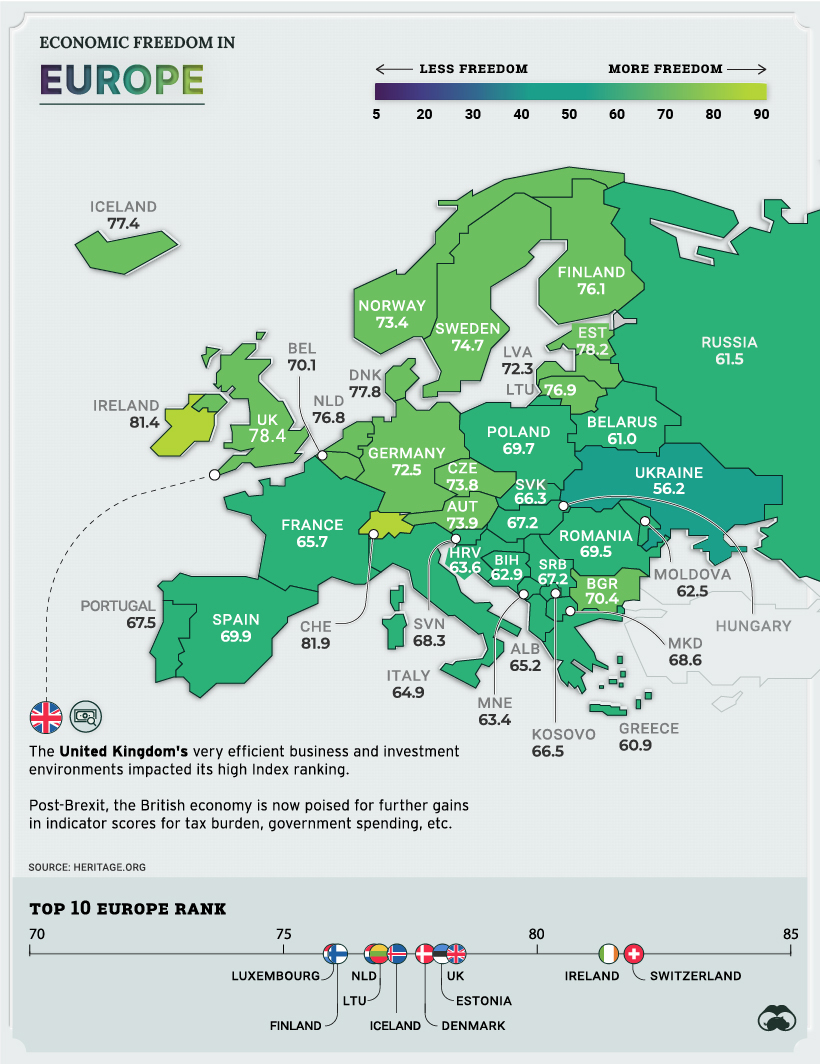 Brexit has since had a major impact on the region.
Even a year later, official UK figures showed a record fall in trade with the EU in January 2021, as the economy struggled with post-Brexit rules and the pandemic.
Africa
Dictatorships, corruption, and conflict have historically kept African nations as some of the most economically repressed in the world.
While larger and more prosperous African nations struggle to advance economic freedom, some smaller countries are becoming the beacon of hope for the continent.
Mauritius (rank 11), Seychelles (43) and Botswana (45) were the top African countries, offering the most robust policies and institutions supporting economic self-sufficiency.
From property rights to financial freedom, small African countries are racing ahead of the continent's largest in advancing economic autonomy as they look to build business opportunities for their citizens.
Middle East and Central Asia
When Israel, the UAE, and Bahrain signed the Abraham Accords last year, there was a sense of a new paradigm emerging in a region with a long history of strife.
A year into the signing of this resolution, the effects have been promising. There have been bilateral initiatives within the private sector and civil society leading to increasing economic and political stability in the region.
Central Asian countries once part of the Soviet Union have recently starting integrating more directly with the world economy, primarily through natural resource exports. In total, natural resources account for about 65% of exports in Kyrgyzstan, Tajikistan, and Uzbekistan, and more than 90% in Kazakhstan and Turkmenistan.
Despite this progress, these countries have a long way to go in terms of economic freedom. Uzbekistan (108), Turkmenistan (167) and Tajikistan (134) are still some of the lowest-ranked countries in the world.
East Asia and Oceania
Despite massive populations and strong economies, countries like China and India remain mostly unfree economies. The modest improvements in scores over the last few years have been through gains in property rights, judicial effectiveness, and business freedom indicators.
Nearby, Singapore's economy has been ranked the freest in the world for the second year in a row. Singapore remains the only country in the world that is considered economically free in every index category.
Finally, it's worth noting that Australia and New Zealand are regional leaders, and are two of only five nations that are currently in the "free" category of the index.
Charted: U.S. Consumer Debt Approaches $16 Trillion
Robust growth in mortgages has pushed U.S. consumer debt to nearly $16 trillion. Click to gain further insight into the situation.
Charted: U.S. Consumer Debt Approaches $16 Trillion
According to the Federal Reserve (Fed), U.S. consumer debt is approaching a record-breaking $16 trillion. Critically, the rate of increase in consumer debt for the fourth quarter of 2021 was also the highest seen since 2007.
This graphic provides context into the consumer debt situation using data from the end of 2021.
Housing Vs. Non-Housing Debt
The following table includes the data used in the above graphic. Housing debt covers mortgages, while non-housing debt covers auto loans, student loans, and credit card balances.
Date
Housing Debt
(USD trillions)
Non-Housing Debt
(USD trillions)
Total Consumer Debt
(USD trillions)
Q1 2003
5.18
2.05
7.23
Q2 2003
5.34
2.04
7.38
Q3 2003
5.45
2.10
7.55
Q4 2003
5.96
2.10
8.06
Q1 2004
6.17
2.13
8.30
Q2 2004
6.34
2.12
8.46
Q3 2004
6.64
2.20
8.84
Q4 2004
6.83
2.22
9.05
Q1 2005
7.01
2.19
9.20
Q2 2005
7.23
2.26
9.49
Q3 2005
7.45
2.35
9.80
Q4 2005
7.67
2.34
10.01
Q1 2006
8.02
2.36
10.38
Q2 2006
8.35
2.40
10.75
Q3 2006
8.65
2.46
11.11
Q4 2006
8.83
2.48
11.31
Q1 2007
9.03
2.46
11.49
Q2 2007
9.33
2.53
11.86
Q3 2007
9.56
2.58
12.14
Q4 2007
9.75
2.63
12.38
Q1 2008
9.89
2.65
12.54
Q2 2008
9.95
2.65
12.60
Q3 2008
9.98
2.69
12.67
Q4 2008
9.97
2.71
12.68
Q1 2009
9.85
2.68
12.53
Q2 2009
9.77
2.63
12.40
Q3 2009
9.65
2.62
12.27
Q4 2009
9.55
2.62
12.17
Q1 2010
9.53
2.58
12.11
Q2 2010
9.38
2.55
11.93
Q3 2010
9.28
2.56
11.84
Q4 2010
9.12
2.59
11.71
Q1 2011
9.18
2.58
11.76
Q2 2011
9.14
2.58
11.72
Q3 2011
9.04
2.62
11.66
Q4 2011
8.90
2.63
11.53
Q1 2012
8.80
2.64
11.44
Q2 2012
8.74
2.64
11.38
Q3 2012
8.60
2.71
11.31
Q4 2012
8.59
2.75
11.34
Q1 2013
8.48
2.75
11.23
Q2 2013
8.38
2.77
11.15
Q3 2013
8.44
2.85
11.29
Q4 2013
8.58
2.94
11.52
Q1 2014
8.70
2.96
11.66
Q2 2014
8.62
3.02
11.64
Q3 2014
8.64
3.07
11.71
Q4 2014
8.68
3.16
11.84
Q1 2015
8.68
3.17
11.85
Q2 2015
8.62
3.24
11.86
Q3 2015
8.75
3.31
12.06
Q4 2015
8.74
3.37
12.11
Q1 2016
8.86
3.39
12.25
Q2 2016
8.84
3.45
12.29
Q3 2016
8.82
3.54
12.36
Q4 2016
8.95
3.63
12.58
Q1 2017
9.09
3.64
12.73
Q2 2017
9.14
3.69
12.83
Q3 2017
9.19
3.77
12.96
Q4 2017
9.32
3.82
13.14
Q1 2018
9.38
3.85
13.23
Q2 2018
9.43
3.87
13.30
Q3 2018
9.56
3.95
13.51
Q4 2018
9.53
4.01
13.54
Q1 2019
9.65
4.02
13.67
Q2 2019
9.81
4.06
13.87
Q3 2019
9.84
4.13
13.97
Q4 2019
9.95
4.20
14.15
Q1 2020
10.10
4.21
14.31
Q2 2020
10.15
4.12
14.27
Q3 2020
10.22
4.14
14.36
Q4 2020
10.39
4.17
14.56
Q1 2021
10.50
4.14
14.64
Q2 2021
10.76
4.20
14.96
Q3 2021
10.99
4.24
15.23
Q4 2021
11.25
4.34
15.59
Source: Federal Reserve
Trends in Housing Debt
Home prices have experienced upward pressure since the beginning of the COVID-19 pandemic. This is evidenced by the Case-Shiller U.S. National Home Price Index, which has increased by 34% since the start of the pandemic.
Driving this growth are various pandemic-related impacts. For example, the cost of materials such as lumber have seen enormous spikes. We've covered this story in a previous graphic, which showed how many homes could be built with $50,000 worth of lumber. In most cases, these higher costs are passed on to the consumer.
Another key factor here is mortgage rates, which fell to all-time lows in 2020. When rates are low, consumers are able to borrow in larger quantities. This increases the demand for homes, which in turn inflates prices.
Ultimately, higher home prices translate to more mortgage debt being incurred by families.
No Need to Worry, Though
Economists believe that today's housing debt isn't a cause for concern. This is because the quality of borrowers is much stronger than it was between 2003 and 2007, in the years leading up to the financial crisis and subsequent housing crash.
In the chart below, subprime borrowers (those with a credit score of 620 and below) are represented by the red-shaded bars:
We can see that subprime borrowers represent very little (2%) of today's total originations compared to the period between 2003 to 2007 (12%). This suggests that American homeowners are, on average, less likely to default on their mortgage.
Economists have also noted a decline in the household debt service ratio, which measures the percentage of disposable income that goes towards a mortgage. This is shown in the table below, along with the average 30-year fixed mortgage rate.
| Year | Mortgage Payments as a % of Disposable Income | Average 30-Year Fixed Mortgage Rate |
| --- | --- | --- |
| 2000 | 12.0% | 8.2% |
| 2004 | 12.2% | 5.4% |
| 2008 | 12.8% | 5.8% |
| 2012 | 9.8% | 3.9% |
| 2016 | 9.9% | 3.7% |
| 2020 | 9.4% | 3.5% |
| 2021 | 9.3% | 3.2% |
Source: Federal Reserve
While it's true that Americans are less burdened by their mortgages, we must acknowledge the decrease in mortgage rates that took place over the same period.
With the Fed now increasing rates to calm inflation, Americans could see their mortgages begin to eat up a larger chunk of their paycheck. In fact, mortgage rates have already risen for seven consecutive weeks.
Trends in Non-Housing Consumer Debt
The key stories in non-housing consumer debt are student loans and auto loans.
The former category of debt has grown substantially over the past two decades, with growth tapering off during the pandemic. This can be attributed to COVID relief measures which have temporarily lowered the interest rate on direct federal student loans to 0%.
Additionally, these loans were placed into forbearance, meaning 37 million borrowers have not been required to make payments. As of April 2022, the value of these waived payments has reached $195 billion.
Over the course of the pandemic, very few direct federal borrowers have made voluntary payments to reduce their loan principal. When payments eventually resume, and the 0% interest rate is reverted, economists believe that delinquencies could rise significantly.
Auto loans, on the other hand, are following a similar trajectory as mortgages. Both new and used car prices have risen due to the global chip shortage, which is hampering production across the entire industry.
To put this in numbers, the average price of a new car has climbed from $35,600 in 2019, to over $47,000 today. Over a similar timeframe, the average price of a used car has grown from $19,800, to over $28,000.
Why Investors Tuned Out Netflix
Disappointing results have pushed Netflix shares down by over 60% year-to-date. This infographic puts the company's rocky year into perspective.
Why Investors Tuned Out Netflix
Netflix shares have enjoyed an incredible run over the past decade. Subscriber growth seemed limitless, profitability was improving, and the pandemic gave us a compelling case for watching TV at home.
Things took a drastic turn on April 19, 2022, when Netflix announced its Q1 results. Rather than gaining subscribers as forecasted, the company lost 200,000. This was the first decline in over a decade, and investors rushed to pull their money out.
So, is there a buying opportunity now that Netflix shares are trading at multi-year lows? To help you decide, we've provided further context around this historic crash.
Netflix Shares Fall Flat
Over the span of a few months, Netflix shares have erased roughly four years worth of gains. Not all of these losses are due to the drop in subscribers, however.
Prior to the Q1 earnings announcement, Netflix had lost most of its pandemic-related gains. This was primarily due to rising interest rates and people spending less time at home. Still, analysts expected Netflix to add 2.7 million subscribers.
After announcing it had lost 200,000 subscribers instead, the stock quickly fell below $200 (the first time since late 2017). YTD performance (as of April 29, 2022) is an abysmal -67%.
What's to Blame?
Netflix pointed to three culprits for its loss in subscribers:
The suspension of its services in Russia
Increasing competition
Account sharing
Let's focus on the latter two, starting with competition. The following table compares the number of subscribers between Netflix and two prominent rivals: Disney+ and HBO.
| Date | Netflix Subscribers | Disney+ Subscribers | HBO & HBO Max Subscribers |
| --- | --- | --- | --- |
| Q1 2020 | 182.8M | 26.5M | 53.8M |
| Q2 2020 | 192.9M | 33.5M | 55.5M |
| Q3 2020 | 195.1M | 60.5M | 56.9M |
| Q4 2020 | 203.6M | 73.7M | 60.6M |
| Q1 2021 | 207.6M | 94.9M | 63.9M |
| Q2 2021 | 209.2M | 103.6M | 67.5M |
| Q3 2021 | 213.6M | 116.0M | 69.4M |
| Q4 2021 | 221.8M | 118.1M | 73.8M |
| Q1 2022 | 221.6M | 129.8M | 76.8M |
Disney+ was launched in November 2019, while HBO Max was launched in May 2020. HBO (the channel) and HBO Max subscribers are rolled up as one.
Based on this data, Netflix may be starting to feel the heat of competition. A loss in subscribers is bad news, but it's even worse when competitors report growth over the same time period.
Keep in mind that we're only talking about a single quarter, and not a long-term trend. It's too early to say whether Netflix is actually losing ground, though the company has warned it could shed another 2 million subscribers by July.
Next is account sharing, which according to Netflix, amounts to 100 million non-paying households. This is spread out across the entire world, but if we use the company's U.S. pricing as a benchmark, it translates to between $1 to $2 billion in lost revenue.
Growth is Everything
In the tech sector, growth is everything. If Netflix can't return to posting consecutive quarters of subscriber growth, it could be many years before the stock returns to its previous high.
"We've definitely seen that once you get to 70, 80 millions of subs, things really tend to slow down. We saw it with HBO, and we've seen the same issues with Disney. They're hitting the upper limit on the big growth."
– David Campo, NYU
Regaining that momentum is going to be difficult, but Netflix does have plans. To address password sharing, the service may charge a fee for out-of-household profiles that are added to an account. The specifics around enforcement are vague, but Netflix is also considering a lower-priced subscription plan that includes advertising.
Only time will tell if these strategies can stop the bleeding, or perhaps even boost profitability. Rampant inflation, which might persuade consumers to cut down on their subscriptions, could be a source of additional headwinds.