Mapped: Visualizing the True Size of Africa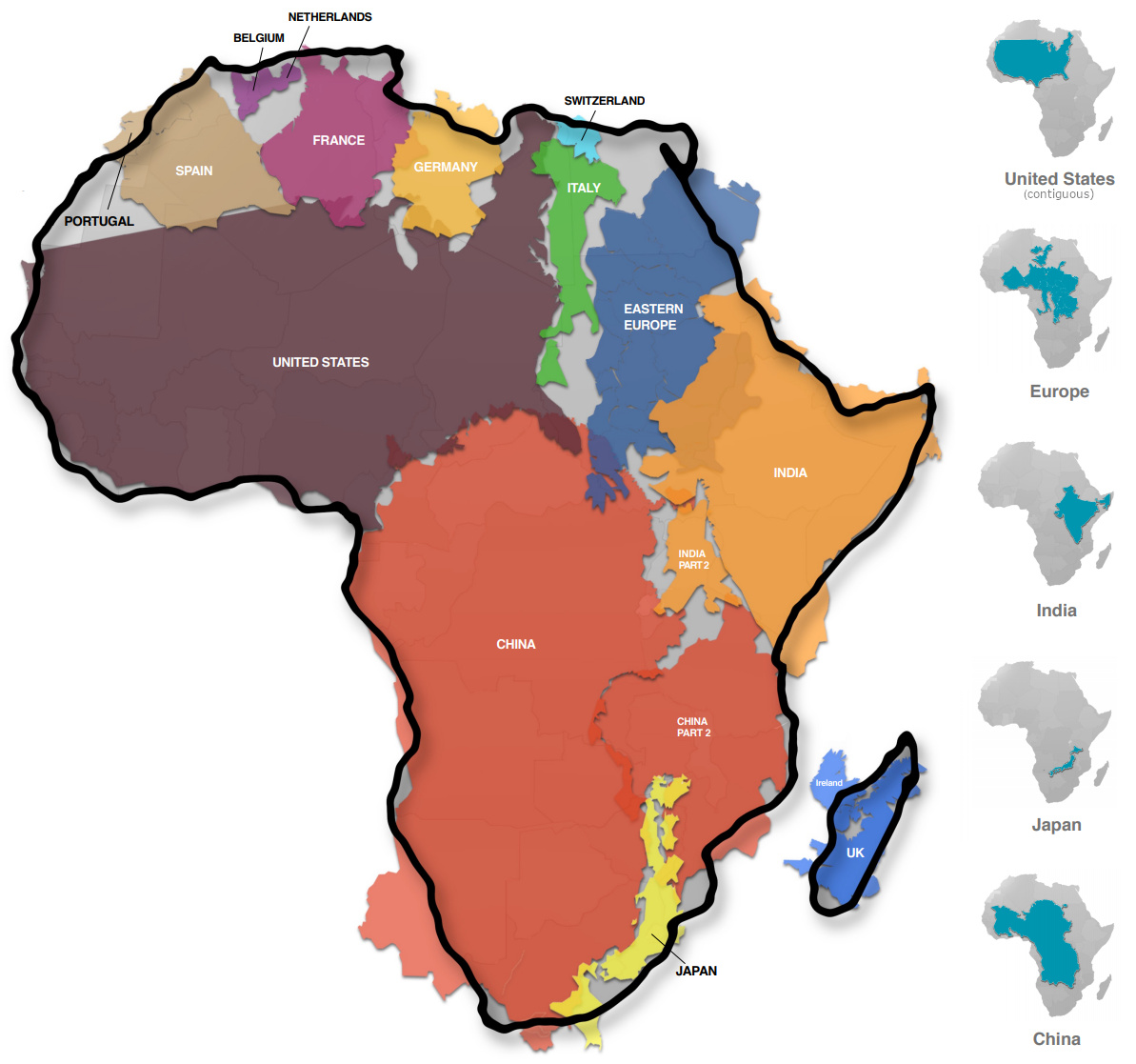 Mapped: The True Size of Africa
Take a look at any map, and it's clear that the African continent is a big place.
However, despite the common perception that Africa is a large landmass, it's still one that is vastly underestimated by most casual map viewers.
The reason for this is that the familiar Mercator map projection tends to distort our geographical view of the world in a crucial way — one that often leads to misconceptions about the relative sizes of both countries and continents.
A Geographical Jigsaw
Today's infographic comes from Kai Krause and it shows the true size of Africa, as revealed by the borders of the countries that can fit within the continent's shape.
The African continent has a land area of 30.37 million sq km (11.7 million sq mi) — enough to fit in the U.S., China, India, Japan, Mexico, and many European nations, combined.
| Country | Land Area (sq. km) | Land Area (sq. mi) | % of Africa |
| --- | --- | --- | --- |
| 🇺🇸 United States | 9.83 million | 3.80 million | 32.4% |
| 🇨🇳 China | 9.60 million | 3.71 million | 31.6% |
| 🇮🇳 India | 3.29 million | 1.27 million | 10.8% |
| 🇲🇽 Mexico | 1.96 million | 0.76 million | 6.5% |
| 🇵🇪 Peru | 1.29 million | 0.50 million | 4.2% |
| 🇫🇷 France | 0.64 million | 0.25 million | 2.1% |
| 🇪🇸 Spain | 0.51 million | 0.20 million | 1.7% |
| 🇵🇬 Papua New Guinea | 0.46 million | 0.18 million | 1.5% |
| 🇸🇪 Sweden | 0.45 million | 0.17 million | 1.5% |
| 🇯🇵 Japan | 0.38 million | 0.15 million | 1.3% |
| 🇩🇪 Germany | 0.36 million | 0.14 million | 1.2% |
| 🇳🇴 Norway | 0.32 million | 0.13 million | 1.1% |
| 🇮🇹 Italy | 0.30 million | 0.12 million | 1.0% |
| 🇳🇿 New Zealand | 0.27 million | 0.10 million | 0.9% |
| 🇬🇧 United Kingdom | 0.24 million | 0.09 million | 0.8% |
| 🇳🇵 Nepal | 0.15 million | 0.06 million | 0.5% |
| 🇧🇩 Bangladesh | 0.15 million | 0.06 million | 0.5% |
| 🇬🇷 Greece | 0.13 million | 0.05 million | 0.4% |
| Total | 30.33 million sq. km | 11.71 million sq. mi | 99.9% |
You could add together all of the landmasses above and they would not equate to the geographical footprint of Africa, which itself is home to 54 countries and 1.2 billion people.
Editor's note: The above table is slightly different from the countries shown in the visualization, which focuses more on fitting recognizable country shapes into the geographical shape of Africa.
Why the Misconception?
Interestingly, the problem with maps is not that Africa is sized incorrectly.
Using the animation below, you'll see that Africa is actually the most accurately sized continent using the common Mercator map projection: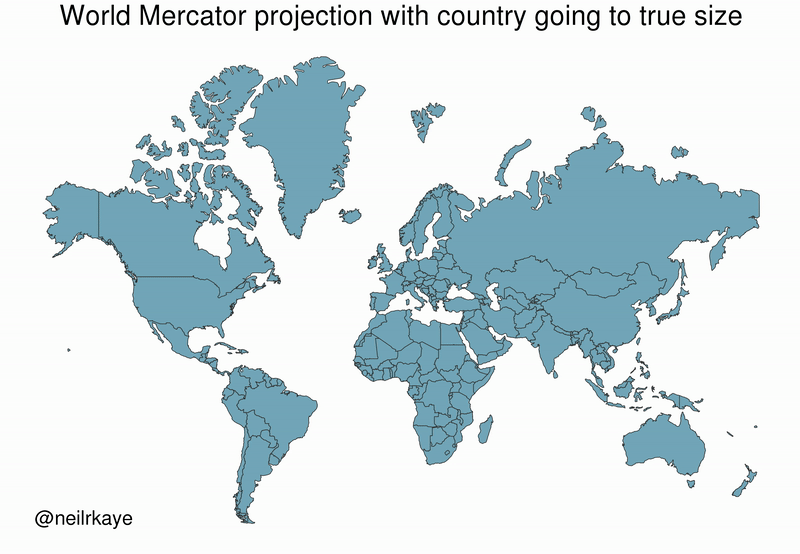 The Mercator projection attempts to place the spherical shape of the world onto a cylinder, causing areas closest to the poles to be "stretched".
Africa, which straddles the Equator, barely changes in size — meanwhile, the countries furthest from the Equator become inflated from their true sizes on this type of map.
For those of us living in Western countries, this is an interesting dilemma to consider.
This means that the sizes of European and North American countries are distorted, giving us an inaccurate mental "measuring stick" for judging the relative sizes of other countries.
This has implications not only for Africa, but for the whole Southern Hemisphere: South America, India, the Middle East, and even Australia are "bigger" than they may initially appear on a map.
Comparing Population Pyramids Around the World
Population pyramids can show a country's demographic advantages and challenges at a glance. See how different parts of the world stack up.
Understanding and Comparing Population Pyramids
Demographic data can reveal all kinds of insights about a population, from the country's fertility and mortality rates to how certain events and policies have shaped the makeup of a population.
Population pyramids are one of the best ways to visualize population data, and comparing the pyramids of various countries and regions side-by-side can reveal unexpected insights and differences between groups.
This graphic uses population data from the United Nations to compare the demographics of some select nations and regions of the world, showcasing how much age distributions can vary.
Three Types of Population Pyramids
Although population pyramids can come in all shapes and sizes, most generally fall into three distinct categories:
Expansive Pyramids: Recognized by their traditional "pyramid-like" shape with a broad base and narrow top, expansive pyramids reflect a population with a high birth rate along with a high mortality rate which is most common in developing countries.
Constrictive Pyramids: With a narrow base and thicker middle and top sections of the pyramid, constrictive pyramids often occur in developed economies whose populations have low birth rates and long life expectancies.
Stationary Pyramids: These pyramids showcase an evenly distributed population across age groups, often found in newly-developed countries which have stable birth and mortality rates.
Each population pyramid is essentially a visual snapshot of a nation's current demographic breakdown, shaped by fluctuating birth and mortality rates as well as changes to immigration and social policies.
Understanding the inherent risks associated with different pyramid types can help give insight into the challenges these populations face.
The Risks of Different Population Pyramid Types
Each type of population pyramid structure has unique challenges and advantages often characterized by the country or region's current stage of economic development.
Populations with expansive pyramids, such as the one representing the continent of Africa, have the advantage of a larger youth and working-aged population, however this advantage can be rendered null if job growth, education, and health care aren't prioritized.
Countries with constrictive pyramids like Japan face the challenge of supporting their outsized aging population with a diminishing working-aged population. While immigration and increasing birth rates can help in both the short and long term, due to the working population being outnumbered, countries with constrictive pyramids must find ways to increase their productivity to avoid potential declines in economic growth.
China and India's Demographics Compared
After the world's population reached eight billion people last year, 2023 brought a new population milestone as India overtook China as the world's most populous country.
When you compare the two nations' population pyramids, you can see how India's population has a strong base of young and working-aged people compared to China's more constrictive population pyramid that also features a higher median age.
This demographic difference is largely shaped by China's one-child policy which since 2021 was loosened to be a three-child policy. As a result, China's total fertility rate is around 1.2 today, in contrast to India's total fertility rate of 2.0.
While India is set to ride the productivity boom of its large working-age population, the country will have to ensure it can keep its population pyramid stable as the majority of the population ages and total fertility rates continue to decline.
Interested in learning more about the various factors that affect demographics?

VC+ Members get an exclusive look comparing the G7 and BRICS nations, how war shapes population pyramids, and immigration's role in demographics.

Unlock this in-depth briefing and hundreds of other visual insights with our newly available VC+ Archive.