Map: The Top Tourist Attraction in Every Country
View the high resolution version of today's graphic by clicking here.
Even as early as a decade ago, if you were backpacking in a foreign place, it was not uncommon to rely on the wisdom printed in travel guides such as Lonely Planet or Rick Steves to choose your day-to-day activities.
"Go off the beaten path to see this secluded black sand beach that's only used by locals."
"See this historic city tour, because it's a hidden treasure that you won't find in any other guidebook."
Tips like these felt like secrets only privy to you and other smart readers – and while you were sitting on that hidden black sand beach, you could revel in the fact that the rest of the travelling masses were stuck in a two-hour line to get into some silly tourist trap.
For better or worse, things are now very different.
The Crowdsourced Era
Today's infographic comes to us from Vouchercloud, and it shows the top rated "Thing to Do" for every single country in the world, according to Tripadvisor reviews.
In other words, the list is based on the amalgamation of millions of reviews from fellow travelers that have experienced these sights or activities first-hand.
On the upside, these reviews are coming from your peers. People just like you have rated all of the attractions in an area – from tourist trap to hidden gem – and the end result is pretty fair and democratic.
But this democratic component also has a downside. In the United Kingdom, for example, the highest rated activity is not seeing Big Ben, Ancient Roman baths, Stonehenge, or the Churchill War Rooms – it's the Harry Potter Studio Tour, with 32,000+ reviews and 83% of reviewers giving it a perfect 5-star rating.
While the Harry Potter tour is obviously a popular attraction, it's not likely representative of the type of attractions that old school travel critics may have raved about in their travel books.
Top Things to Do
In the map, the top tourist destinations are broken down based on the type of attraction.
Here's the mix of top destinations for the 197 countries and jurisdictions included in the analysis:
| Type of attraction | # of countries | % of countries |
| --- | --- | --- |
| Natural | 76 | 38.6% |
| Historic | 54 | 27.4% |
| Tourist | 38 | 19.3% |
| Religious | 29 | 14.7% |
The top category of attraction is natural (38.6%), which includes places like Canada's Niagara Falls or Norway's Geiranger Fjord. Meanwhile, historic attractions like China's Great Wall made up 27.4% of the total, and places of religious significance such as Thailand's Temple of the Reclining Buddha were the top tourist attraction for 14.7% of the countries.
The remaining category, called "Tourist" includes a much wider variety of destinations within it.
These attractions range from Central Park in the New York City to the aforementioned Harry Potter Studio Tours in the United Kingdom. The wide category also includes museums like France's Musee d'Orsay, which holds a staggering collection of impressionist art, as well as Germany's Miniatur Wunderland, which is a massive miniature railroad in Hamburg.

The World's Top Car Manufacturers by Market Capitalization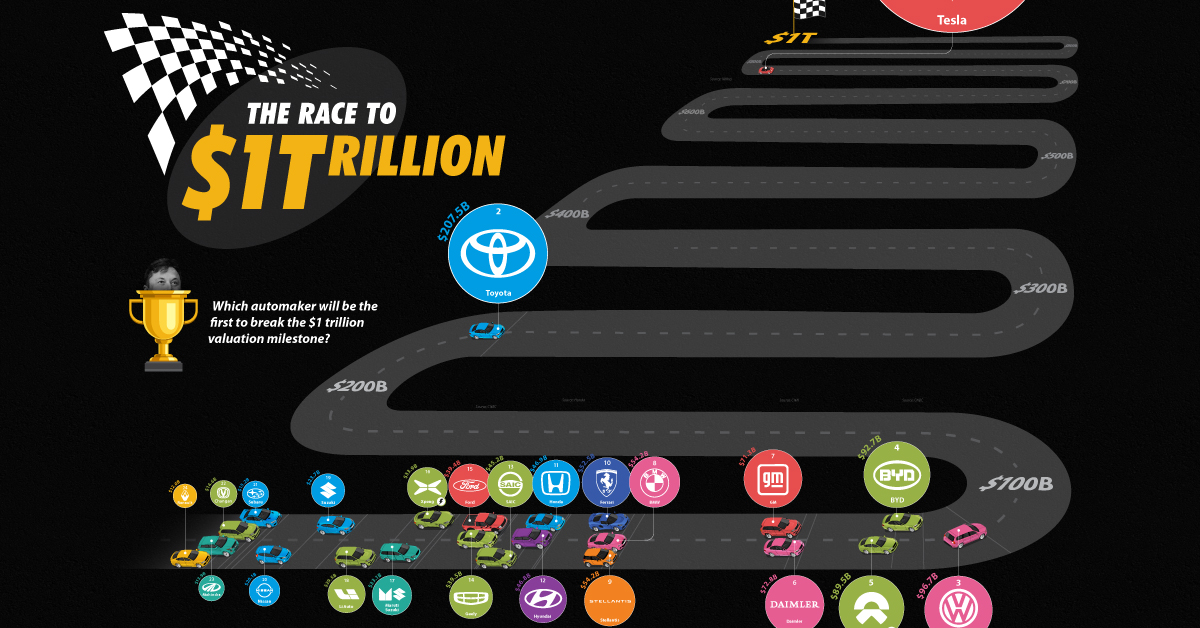 The World's Top Car Manufacturers by Market Cap
View the high-resolution of the infographic by clicking here.
Ever since Apple and other Big Tech companies hit a market capitalization of $1 trillion, many sectors are revving to follow suit—including the automotive industry.
But among those car brands racing to reach this total valuation, some are closer to the finish line than others. This visualization uses data from Yahoo Finance to rank the world's top car manufacturers by market capitalization.
What could this spell for the future of the automotive industry?
A special hat-tip to Brandon Knoblauch for compiling the original, regularly-updated spreadsheet.
The World's Top Car Manufacturers
It's clear one company is pulling far ahead of the pack. In the competition to clinch this coveted title, Tesla is the undoubted favorite so far.
The electric vehicle (EV) and clean energy company first became the world's most valuable car manufacturer in June 2020, and shows no signs of slowing its trajectory.
| Rank | Company | Market Cap (US$B) | Country |
| --- | --- | --- | --- |
| #1 | Tesla | $795.8 | 🇺🇸 U.S. |
| #2 | Toyota | $207.5 | 🇯🇵 Japan |
| #3 | Volkswagen | $96.7 | 🇩🇪 Germany |
| #4 | BYD | $92.7 | 🇨🇳 China |
| #5 | NIO | $89.5 | 🇨🇳 China |
| #6 | Daimler | $72.8 | 🇩🇪 Germany |
| #7 | General Motors | $71.3 | 🇺🇸 U.S. |
| #8 | BMW | $54.2 | 🇩🇪 Germany |
| #9 | Stellantis | $54.2 | 🇳🇱 Netherlands |
| #10 | Ferrari | $52.5 | 🇮🇹 Italy |
| #11 | Honda | $46.9 | 🇯🇵 Japan |
| #12 | Hyundai | $46.8 | 🇰🇷 South Korea |
| #13 | SAIC | $45.2 | 🇨🇳 China |
| #14 | Geely | $39.5 | 🇨🇳 China |
| #15 | Ford | $39.4 | 🇺🇸 U.S. |
| #16 | Xpeng | $33.9 | 🇨🇳 China |
| #17 | Maruti Suzuki | $33.1 | 🇮🇳 India |
| #18 | Li Auto | $29.5 | 🇨🇳 China |
| #19 | Suzuki | $23.7 | 🇯🇵 Japan |
| #20 | Nissan | $20.1 | 🇯🇵 Japan |
| #21 | Subaru | $15.2 | 🇯🇵 Japan |
| #22 | Changan | $14.6 | 🇨🇳 China |
| #23 | Mahindra | $13.9 | 🇮🇳 India |
| #24 | Renault | $12.0 | 🇫🇷 France |
All data as of January 15, 2021 (9:30AM PST)
Tesla's competitive advantage comes as a result of its dedicated emphasis on research and development (R&D). In fact, many of its rivals have admitted that Tesla's electronics far surpass their own—a teardown revealed that its batteries and AI chips are roughly six years ahead of other industry giants such as Toyota and Volkswagen.
The Green Revolution is Underway
The sheer growth of Tesla may spell the inevitability of a green revolution in the industry. Already, many major brands have followed in the company's tracks, announcing their own ambitious plans to add more EVs to their vehicle line-ups.
Here's how a selection of car manufacturers are embracing the electric future:
Toyota: Ranked #2
The second-most valuable car manufacturer in the world, Toyota is steadily ramping up its EV output. In 2020, it produced 10,000 EVs and plans to increase this to 30,000 in 2021.
Through this gradual increase, the company hopes to hit an expected target of 500,000 EVs by 2025. Toyota also aims to debut 10 new models internationally to achieve this goal.
Volkswagen: Ranked #3
By 2025, Volkswagen plans to invest $86 billion into digital and EV technologies. Considering the car manufacturer generates the most gross revenue per second of all automakers, it's no wonder Volkswagen is looking to the future in order to keep such numbers up.
The company is also well-positioned to ride the wave of a potential consumer shift towards EVs in Europe. In response to the region's strict emissions targets, Volkswagen upped its planned sales proportions for European hybrid and EV sales from 40% to 60% by 2030.
BYD and Nio: Ranked #4-5
China jumped on the electric bandwagon early. Eager to make its mark as a global leader in the emerging technology of lithium ion batteries (an essential component of any EV), the Chinese government handed out billions of dollars in subsidies—fueling the growths of domestic car manufacturers BYD and Nio alike.
BYD gained the interest and attention of its billionaire backer Warren Buffett, while Nio is China's response to Tesla and an attempt to capture the EV market locally.
General Motors: Ranked #7
Also with a 2025 target year in mind, General Motors is investing $27 billion into electric and fully autonomous vehicles. That's just the tip of the iceberg, too—the company also hopes to launch 30 new fully electric vehicles by the same year.
One particular factor is giving GM confidence: its new EV battery creations. They will be able to extend the range of its new EVs to 400 miles (644km) on a single charge, at a rate that rivals Tesla's Model S.
Stellantis: Ranked #9
In a long-anticipated move, Fiat Chrysler and Peugeot S.A. finalized their merger into Stellantis N.V. on January 16, 2021.
With the combined forces and funds of a $52 billion deal, the new Dutch-based car manufacturer hopes to rival bigger brands and race even more quickly towards the electric shift.
Honda: Ranked #11
Speaking of fast-paced races, Honda has decided to bow out of future Formula One (F1) World Championships. As these competitions were usually a way for the company to show off its engineering prowess, the move was a surprising one.
However, there's a noble reason behind this decision. Honda is choosing instead to focus on its commitment to become carbon neutral by 2050. To do so, it'll be shifting its financial resources away from F1 and towards R&D into fuel cell vehicle (FCV) and battery EV (BEV) technologies.
Ford: Ranked #15
Ford knows exactly what its fans want. In that regard, its electrification plans begin with its most popular commercial cars, such as the Mustang Mach-E SUV. This is Ford's major strategy for attracting new EV buyers, part of a larger $11.5 billion investment agenda into EVs through 2022.
While the car's specs compare to Tesla's Model Y, its engineers also drew from the iPhone and Netflix to incorporate an infotainment system and driver profiles to create a truly tech-first specimen.
Speeding into the Horizon
As more and more companies enter the racetrack, EV innovation across the entire industry may power the move to lower overall costs, extend the total range of vehicles, and put any other concerns by potential buyers to rest.
While Tesla is currently in the best position to become the first car manufacturer to reach the $1 trillion milestone, how long will it be for the others to catch up?

Visualized: The World Leaders In Positions of Power (1970-Today)
Who has led the world's 15 most powerful countries over the last 50 years? This visual looks at world leaders from 1970 to today.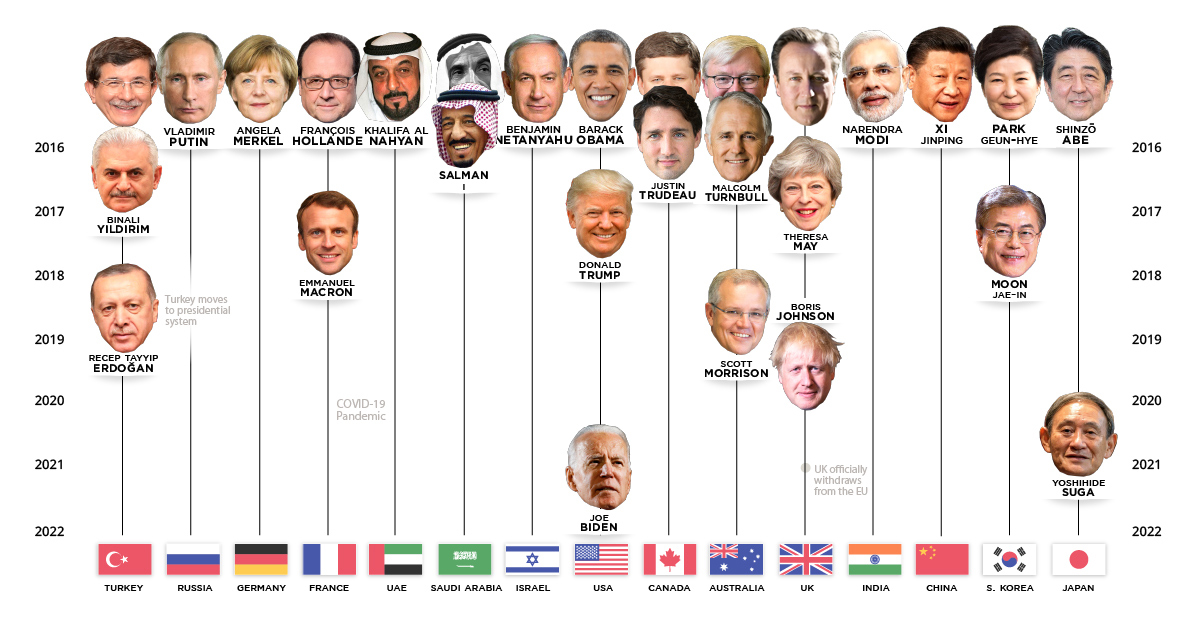 Visualized: The World Leaders In Positions of Power
Who were the world leaders when the Berlin Wall fell? How many women have been heads of state in prominent governments? And who are the newest additions to the list of world leaders?
This graphic reveals the leaders of the most influential global powers since 1970. Countries were selected based on the 2020 Most Powerful Countries ranking from the U.S. News & World Report.
Note: Switzerland has been omitted due to the swiftly changing nature of their national leadership.
The 1970s: Economic Revolutions
Our graphic starts in 1970, a year in which Leonid Brezhnev ruled the Soviet Union, while on the other side of the Iron Curtain, Willy Brandt was presiding over West Germany.
In the U.S., Richard Nixon implemented a series of economic shocks to stimulate the economy, but resigned in scandal due to the Watergate tapes in 1974. In the same time period, China was undergoing rapid industrialization and economic hardship under the final years of rule of communist revolutionary Mao Zedong, until his death in 1976.
In 1975, the King of Saudi Arabia, Faisal bin Abdulaziz Al Saud was assassinated by his nephew. The decade also marked the end of Park Chung-Hee's dictatorship in South Korea when he was assassinated in 1979.
To cap off the decade, Margaret Thatcher became the first female prime minister of the United Kingdom in 1979, transforming the British economy using a laissez-faire economic policy that would come to be known as Thatcherism.
The 1980s: Reaganomics and the Fall of the Wall
The 1980s saw Ronald Reagan elected in the U.S., beginning an era of deregulation and economic growth. Reagan would actually meet the Soviet Union's president, Mikhail Gorbachev in 1985 to discuss human rights and nuclear arms control amid the tensions of the Cold War.
The 1984 assassination of the Indian prime minister, Indira Gandhi was also a defining event of the decade. She was succeeded by her son, Rajiv Gandhi for only seven years before his own assassination in 1991.
The '80s were clearly turbulent times for world leaders, especially towards the end of the decade. In 1989, the Berlin Wall fell and Germany was reunified under chancellor Helmut Kohl. 1989 was also the year when the devastating events occurred at the Tiananmen Square protests in China, under president Deng Xiaoping. The event left a lasting mark on China's history and politics.
The 1990s: War 2.0 and the Promise of the EU
The beginning of a new decade marked the end of the Cold War and the fall of the Soviet Union, leading to Boris Yeltsin's position as the first president of the Russian Federation. A sense of peace, or at least the knowledge that a finger wasn't floating above a nuclear launch button at any given moment, brought a sense of global calm.
However, this does not mean the decade was without conflict. The Gulf War began in 1990, led by the U.S. military's Commander-in-Chief George H.W. Bush. In the mid-90s, prime minister Yitzhak Rabin of Israel was assassinated by Jewish extremists.
In spite of this, the '90s were a time of optimism for many. In 1993, the European project began. The European Union was founded with the support European leaders like the UK's prime minister John Major, France's president Francois Mitterrand, and chancellor Helmut Kohl of Germany.
The 2000s: Historic Firsts and Power Shifts
The dawn of a new century had people feeling both hopeful and scared. While Y2K didn't end the world, many transformative events did occur, such as the 9/11 attacks in New York and the subsequent war on terror led by U.S. president George W. Bush.
On the other hand, Angela Merkel made history becoming the first female chancellor of Germany in 2005. A few years later, Barack Obama also achieved a momentous 'first' as the first African-American president in the United States.
The 2000s to early 2010s also revealed rapidly changing power shifts in Japan. Shinzō Abe rose to power in 2006, and after five leadership changes in seven years, he eventually circled back, ending up as prime minister again by 2013—a position he held until late 2020.
| Country | Number of Leaders Since 1970 |
| --- | --- |
| 🇯🇵 Japan | 25 |
| 🇹🇷 Turkey | 18 |
| 🇮🇳 India | 12 |
| 🇦🇺 Australia | 12 |
| 🇬🇧 UK | 10 |
| 🇺🇸 USA | 10 |
| 🇰🇷 South Korea | 10 |
| 🇮🇱 Israel | 9 |
| 🇨🇦 Canada | 9 |
| 🇷🇺 Russia | 7 |
| 🇫🇷 France | 7 |
| 🇨🇳 China | 6 |
| 🇩🇪 Germany | 5 |
| 🇸🇦 Saudi Arabia | 5 |
| 🇦🇪 UAE | 2 |
The 2010s: World Leaders Face Uncertainty
The 2010s were more than eventful. The Hong Kong protests under Chinese president Xi Jinping, and the annexation of Crimea led by Vladimir Putin, uncovered the wavering dominance of democracy and international law.
UK Prime Minister David Cameron's move to introduce a Brexit referendum, resulted in just over half of the British population voting to leave the EU in 2016. This vote led to a rising feeling of protectionism and a shift away from globalization and multilateral cooperation.
Donald Trump's U.S. presidential election was a shocking political longshot in the same year. Trump's stint as president will likely have a longstanding impact on the course of American politics.
Two countries elected their first female leaders in this decade: president Park Geun-Hye in South Korea, and prime minister Julia Gillard in Australia. Here's a look at which global powers have been led by women in the last 50 years.
| Country | Female Leader |
| --- | --- |
| 🇦🇺 Australia | Julia Gillard |
| 🇨🇦 Canada | Kim Campbell |
| 🇩🇪 Germany | Angela Merkel |
| 🇮🇳 India | Indira Gandhi |
| 🇮🇱 Israel | Golda Meir |
| 🇰🇷 South Korea | Park Geun-Hye |
| 🇹🇷 Turkey | Tansu Ciller |
| 🇬🇧 UK | Margaret Thatcher |
| 🇬🇧 UK | Theresa May |
2020 to Today
No one can avoid talking about 2020 without talking about COVID-19. Many world leaders have been praised for their positive handling of the pandemic, such as Angela Merkel in Germany. Others on the other hand, like Boris Johnson, have received critiques for slow responses and mismanagement.
The year 2020 packed about as much punch on its own as an entire decade does, from geopolitical tensions to a nail-biting 2020 U.S. election. The world is on high alert as the now twice-impeached Trump prepares his transfer of power following the riot at the U.S. Capitol.
The newest addition to the ranks of world leaders, Joe Biden, has recently taken his place as the 46th president of the United States on January 20, 2021.
Editor's note: We'll continue to update this graphic on world leaders as time goes on. Unfortunately, we were unable to include world leaders from more countries, as we were limited by the graphic format and user experience.