Explore this Fascinating Map of Medieval Europe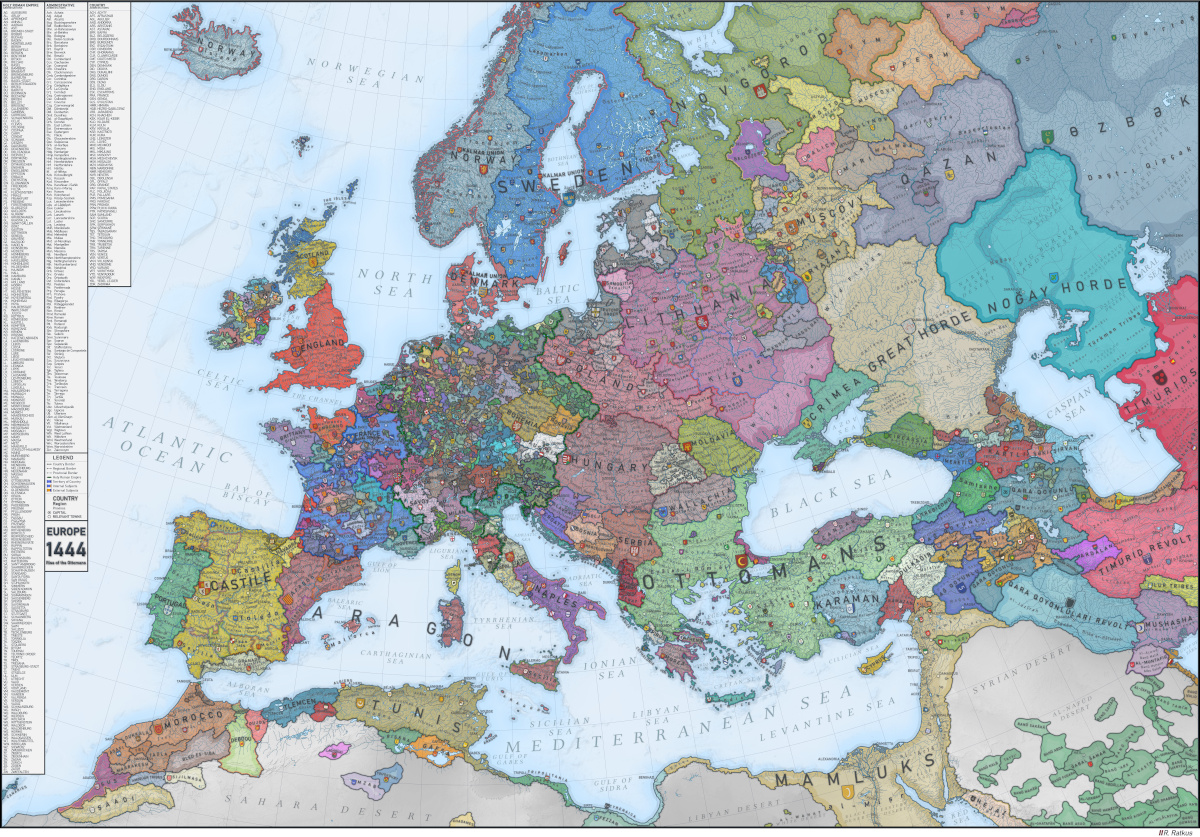 Explore this Fascinating Map of Medieval Europe
What did Europe look like in the Middle Ages? That's a tough question to answer since Europe's borders and territories were (and still are) constantly in flux.
This map, shared by Reddit user /ratkatavobratka, provides a historical snapshot of Europe in 1444—a time when European society was made up mostly of independent territories that were governed by landowners rather than a centralized authority.
Below, we'll take a closer look at some key regions on the map, and what was happening in these areas at the time.
Some Context: Why 1444?
Before we dive into the analysis, first thing's first—what's so special about the year 1444?
It was the year of the Battle of Varna. That's when the Ottoman army defeated the Hungarians and allowed the Ottoman Empire to expand its reign.
It's considered a pivotal moment for Ottoman expansion into Southern Europe. In fact, this battle is so historically significant, it was chosen as the start date for a popular video game called Europa Universalis IV.
Feudalism in Medieval Europe
One of the most immediately obvious details of this map of medieval Europe is how fragmented Western Europe was at the time.
This vast array of independent territories technically made up the Holy Roman Empire (the empire's borders are highlighted in green on the map). But why was the Holy Roman Empire so fragmented?
The empire was subdivided into individually governed entities at the time. These independent territories were governed by nobility rather than an absolute monarch. This was possible because the empire was run by the feudal system.
For the non-history buffs reading this, the feudal system was a socio-political system largely characterized by its lack of public authority. Theoretically, it was meant to have a distinct hierarchy:
Monarchs
At the top of the feudal food chain, monarchs were meant to hold absolute power over their land. However, many lords held so much power over their manors that the monarch acted more as a figurehead.
Lords and Ladies (Nobility)
The nobility was supposed to act as middle management— they were in charge of managing the land and the peasants who worked on it.
Knights
Protectors of the land, knights followed a strict code of conduct, known as chivalry. If they failed to follow their chivalry, their title and land was taken from them.
Peasants
A majority of the medieval population was made up of peasants, who did all the work on the land so lords and knights could plan and prepare for war.
Between the 1200-1400s, battles between nobles and monarchs were almost constant, and the map shows a time when estates were largely governed by the nobility. However, it's important to note that in the years following 1444, monarchs gradually began to regain their power.
Eventually, governing became more consolidated, and this gradual transition to absolute monarchy marked the early stages of what we now recognize as nation states.
Mighty Lithuania
One very prominent and perhaps surprising section of the map is the Grand Duchy of Lithuania, which today would include large portions of Poland, Belarus, and Ukraine. This snapshot depicts Lithuania at the height of its power, when their territory stretched all the way from the Baltic Sea down to the Black Sea, near Crimea.
Over time power ebbs and flows, and today Lithuania is a much more compact nation.
Staying Power
Europe's borders have shifted constantly over the long history of the continent, but one area has remained remarkably consistent. On the map above, Portugal looks nearly identical to its present day form. This is because the country's border with Spain–one of the world's oldest–has barely shifted at all since the 13th century.
Zooming in on the South: The Rise of the Ottoman Empire
While the Holy Roman Empire was highly fragmented, other empires were much more unified.
For instance, the Ottoman Empire had a much more centralized governing system. In 1444, it was ruled by Fatih Sultan Mehmed (which is Turkish for Sultan Mehmed, the Conqueror). During his reign, the Ottoman Empire conquered Constantinople (now known as Istanbul), which had been ruled by the Byzantine Empire for over a thousand years before the Ottoman army seized power.
Because the Byzantine Empire was what was left of the Roman Empire, this takeover also marked the final fall of the Roman Empire.
Maps Freeze Time
Historical maps are fascinating because they provide a snapshot of the world as it once was (but no longer is).
As previously mentioned, Europe's borders were (and still are) constantly changing. And it's interesting to look back on previous eras to remember how far we've come.
Charting Grand Theft Auto: GTA's Budget and Revenues
Dive into the GTA budget through the years, with GTA VI set to be the most expensive video game of all time.
Charting Grand Theft Auto: GTA's Budget and Revenues
Over 10 years since the launch of Grand Theft Auto V (GTA V), the second most-sold video game in history, Rockstar Games has announced its sequel GTA VI will be "coming 2025."
As the anticipation only grows for this next big entry in the franchise, we take a look at the GTA budget through the years. How much have the last two games cost to make, how much have they earned, and how do they compare with the latest entry?
Data for this visualization comes from Statista, TweakTown, and Twitch Metrics.
How Much Has GTA VI Cost to Make?
The GTA franchise has grown enormously in scale from humble beginnings as a top-down, 2D video game in 1997. Fifteen installments later, the upcoming release, GTA VI, is estimated to be the most expensive video game to be made yet.
Here's a look at how much GTA VI and the last two major releases cost, and how much revenue they've earned as of August 2023.
| Year | Title | Production Costs ($) | Revenue ($) | Copies Sold |
| --- | --- | --- | --- | --- |
| 2025 (est.) | GTA VI | $2B (rumored) | N/A | N/A |
| 2013 | GTA V | $265M | $7.7B | 185M |
| 2008 | GTA IV | $100M | $2B | 25M |
In 2008, GTA IV cost around $100 million—already a budget that rivalled big Hollywood releases. However with 25 million copies sold, the game earned nearly $2 billion—a five-fold return on its production cost.
Five years later, GTA V (2013) cost more than $200 million to make—twice GTA IV's budget. A decade after its release, GTA V has generated close to $8 billion, with hundreds of millions in annual revenue from subscriptions and in-game purchases—a model that its successor is sure to follow.
In fact, subscription fees and in-game purchases represented 78% of Take-Two Interactive's (parent of GTA developer Rockstar Games) revenues in 2023.
Analysts estimate the to-be-released GTA VI's costs at $2 billion, including marketing and other expenses. A massive open-world (set in the Miami-inspired "Vice City"), cutting edge graphics, and a reportedly brand-new game engine are all reasons for the game's outsized budget.
For comparison, the current most expensive games to have been made include Red Dead Redemption 2 (also by Rockstar) and Star Citizen, both reportedly with a $500 million budget.
Meanwhile, Take-Two Interactive shares are up more than 50% for the year.