The Look and Feel of Canadian Venture Market Bottoms (From 1981 to 2014)
The Look and Feel of Canadian Venture Market Bottoms From 1981 to 2014
Special thanks to Dajin Resources for sponsoring. Also, information on market bottoms compiled by Ron Loewen.
In December 2014, the deteriorating market for metals and a suddenly floundering oil price pulled the resource-heavy TSX Venture Index to an all-time low.
Big board indices such as the S&P 500 are still reaching new highs each week, yet this is the second longest bear market since 1932 for gold stocks according to Barron's Gold Mining Index (BGMI).
While it is difficult to discern if today's market is truly the absolute bottom, the similarities in media headlines, the tone of discussion, and overall sentiment are reminiscent of bear markets past. That is why, in this infographic, we look at some of the major headlines at market bottoms over the past 35 years including those from the most recent downturn.
When it comes to companies such as those that make up the TSX Venture, it can be incredibly hard to judge fundamentals as there are no earnings or steady revenue growth for most companies. As a result, these markets are driven by greed and fear even more so than other sectors.
It's important to be a contrarian and to go against the herd mentality. This doesn't mean going against the grain no matter what, but it means thinking and acting with conviction based on fundamental market truths – regardless of what other people say.
We know that markets, especially those tied to natural resources, tend to be highly cyclical. With the large capital investments and timelines required to advance projects, massive supply challenges must be corrected in subsequent cycles. This can lead to either a rush to buy or sell, and therefore bull and bear markets.
We also know that investor sentiment is largely a psychological phenomenon that can be tied highly with emotions rather than fundamentals. The media can be a big part in echoing or reinforcing this sentiment.
Take a look at the headlines in bear markets bottoms over the last 35 years – do you think we've reached a similar place yet in this cycle?
Visualizing Mining's Footprint in British Columbia
Mining represents 7% of British Columbia's GDP despite only accounting for 0.04% of the land use.
The following content is sponsored by BCRMA
Visualizing Mining's Footprint in British Columbia
British Columbia is considered a global leader in the development of socially and environmentally responsible resources.
An estimated 54% of the province's total land is protected, making it one of the world's greenest mining hubs.
This graphic by the B.C. Regional Mining Alliance (BCRMA) details mining's footprint in the province.
A Tier 1 Jurisdiction for Mining
British Columbia covers almost 95 million hectares (234 million acres), more than any European country except Russia, and more than any U.S. state except Alaska.
As the largest mining province in Canada, BC registered $18 billion in revenue from the industry in 2022.
British Columbia stands as Canada's sole producer of molybdenum, which finds applications in metallurgy and chemistry. Additionally, B.C. is the country's leader producer of copper and steelmaking coal, besides gold and silver.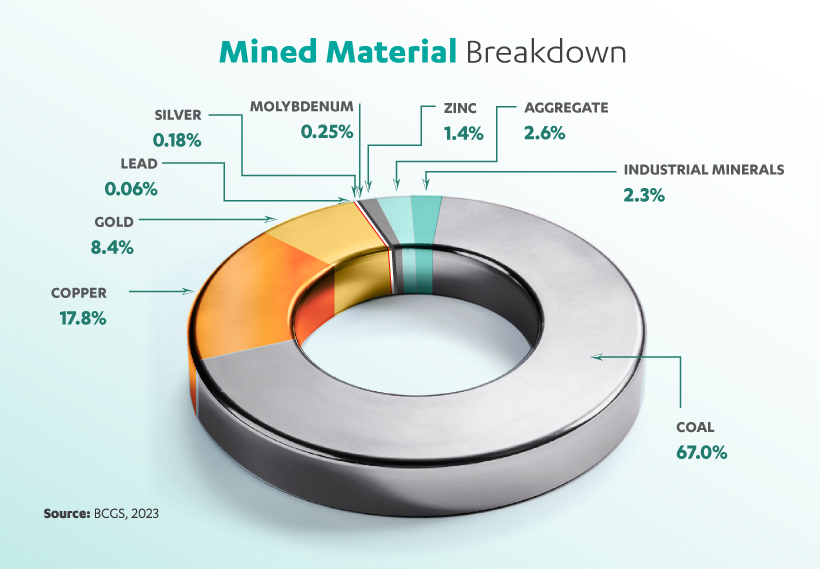 At the heart of British Columbia's mining industry lies the Golden Triangle, one of the hottest mineral exploration districts in the world.
More than 150 mines have operated in the area since prospectors first arrived at the end of the 19th century. The region alone is endowed with minerals worth more than $800 billion.
How Green is B.C. Mining
Mining represents 7% of the province's Gross Domestic Product (GDP), despite only accounting for 0.04% of the land use. In comparison, farmland demands 3% of the land, bringing $2.1 billion (0.8%) per year.
| | Land Use in B.C. | Revenue (2022, CAD $) |
| --- | --- | --- |
| Mining | 0.04% | $18.0 billion |
| Oil & Gas | 0.4% | $9.5 billion |
| Infrastructure | 1% | $25.0 billion |
| Farmland | 3% | $2.1 billion |
| Forest | 62% | $13.3 billion |
Mining operations are also supported by a stable, transparent, and effective policy environment. The province ranked as the world's least risky for mining in 2017 and 2018.
In addition, mineral exploration has received ample support from local Indigenous communities. Today, mining accounts for over two-thirds of all indigenous people employed in the extractives sector.
According to the International Energy Agency, up to six times more minerals and metals will be needed by 2040 to accelerate the energy transition.
In this scenario, British Columbia is well positioned to support the transition to a low-carbon future and make a significant contribution to climate action.
The BCRMA is a strategic partnership between indigenous groups, industry, and government representatives that aims to promote B.C.'s mining opportunities internationally.