The Least and Most Trusted News Sources in America
Which news sources are the most trustworthy?
This seems like a simple question – but in the "fake news" era, things haven't been so straightforward. As a result, the public's level of trust in mass media has fallen to a low of just 32%.
Examining The Trust Spectrum
A new survey by the Trusting News Project helps shed more light on the state of trust in media, revealing the attitudes of 8,728 people in the United States. Administered through 28 media outlets around the country, the survey asked respondents how trusting they are of the media, whether they financially support news organizations, and which outlets are the most (and least) trustworthy.
Here are results to the question about trustworthiness of specific news sources:
Before we dive into the results, it's worth noting that respondents were self-selected and tend to skew to the liberal side of the political spectrum. More on this later in the post, but keep it in mind.
High Trust, Low Trust
According to the survey respondents, The Economist is the most trustworthy news source in media.
On the far opposite side of the spectrum? It's Occupy Democrats, an extreme left advocacy group that claims to be the "new counterbalance to the Republican Tea Party".
Interestingly, both The Economist and Occupy Democrats have close to the same amount of Facebook likes (8.2 million vs. 6.7 million), which shows that despite polar opposite perceptions, people are willing to grant an audience to both groups.
Also scoring well for trust included outlets such as Reuters, NPR, The Wall Street Journal, Politico, and The Guardian. Meanwhile, bad trust scores went to Buzzfeed, Breitbart, Infowars, Yahoo, and The Huffington Post.
Trust By Political Skew
It's also worth breaking down respondents into groups based on political orientation, to see what differences this can point out regarding trust and the level of financial support being provided to news organizations.
On the following graph, the X-axis shows age groups, while the Y-axis shows levels of trust (higher is more), as well as the number of news organizations respondents claim to financially support (higher is more).
For people that identify as liberals or moderates, trust of news outlets is positively correlated with age. Interestingly, for conservatives, trust in media starts low and seems to decrease with age.
Audience Biases
As mentioned earlier, although the sample size was big (>8,000), there are a few biases worth noting:
Survey respondents were not randomly selected, and voluntarily filled out the survey.
Survey respondents tended to be geographically near the 28 newsrooms, many of which were local, that made the survey available on their websites.
In terms of political orientation, the audience skews towards liberals. (See below diagram).
And while the audience may not be fully representative of the American public, the survey definitely does provide interesting insight on trust in media. Get access to the full report by clicking here.
Interactive Map: Tracking Global Hunger and Food Insecurity
Every day, hunger affects more than 700 million people. This live map from the UN highlights where hunger is hitting hardest around the world.
Interactive Map: Tracking Global Hunger and Food Insecurity
Hunger is still one the biggest—and most solvable—problems in the world.
Every day, more than 700 million people (8.8% of the world's population) go to bed on an empty stomach, according to the UN World Food Programme (WFP).
The WFP's HungerMap LIVE displayed here tracks core indicators of acute hunger like household food consumption, livelihoods, child nutritional status, mortality, and access to clean water in order to rank countries.
After sitting closer to 600 million from 2014 to 2019, the number of people in the world affected by hunger increased during the COVID-19 pandemic.
In 2020, 155 million people (2% of the world's population) experienced acute hunger, requiring urgent assistance.
The Fight to Feed the World
The problem of global hunger isn't new, and attempts to solve it have making headlines for decades.
On July 13, 1985, at Wembley Stadium in London, Prince Charles and Princess Diana officially opened Live Aid, a worldwide rock concert organized to raise money for the relief of famine-stricken Africans.
The event was followed by similar concerts at other arenas around the world, globally linked by satellite to more than a billion viewers in 110 nations, raising more than $125 million ($309 million in today's dollars) in famine relief for Africa.
But 35+ years later, the continent still struggles. According to the UN, from 12 countries with the highest prevalence of insufficient food consumption in the world, nine are in Africa.
| Country | % Population Affected by Hunger | Population (millions) | Region |
| --- | --- | --- | --- |
| Afghanistan 🇦🇫 | 93% | 40.4 | Asia |
| Somalia 🇸🇴 | 68% | 12.3 | Africa |
| Burkina Faso 🇧🇫 | 61% | 19.8 | Africa |
| South Sudan 🇸🇸 | 60% | 11.0 | Africa |
| Mali 🇲🇱 | 60% | 19.1 | Africa |
| Sierra Leone 🇸🇱 | 55% | 8.2 | Africa |
| Syria 🇸🇾 | 55% | 18.0 | Middle East |
| Niger 🇳🇪 | 55% | 22.4 | Africa |
| Lesotho 🇱🇸 | 50% | 2.1 | Africa |
| Guinea 🇬🇳 | 48% | 12.2 | Africa |
| Benin 🇧🇯 | 47% | 11.5 | Africa |
| Yemen 🇾🇪 | 44% | 30.0 | Middle East |
Approximately 30 million people in Africa face the effects of severe food insecurity, including malnutrition, starvation, and poverty.
Wasted Leftovers
Although many of the reasons for the food crisis around the globe involve conflicts or environmental challenges, one of the big contributors is food waste.
According to the United Nations, one-third of food produced for human consumption is lost or wasted globally. This amounts to about 1.3 billion tons of wasted food per year, worth approximately $1 trillion.
All the food produced but never eaten would be sufficient to feed two billion people. That's more than twice the number of undernourished people across the globe. Consumers in rich countries waste almost as much food as the entire net food production of sub-Saharan Africa each year.
Solving Global Hunger
While many people may not be "hungry" in the sense that they are suffering physical discomfort, they may still be food insecure, lacking regular access to enough safe and nutritious food for normal growth and development.
Estimates of how much money it would take to end world hunger range from $7 billion to $265 billion per year.
But to tackle the problem, investments must be utilized in the right places. Specialists say that governments and organizations need to provide food and humanitarian relief to the most at-risk regions, increase agricultural productivity, and invest in more efficient supply chains.
Mapped: Where are the World's Ongoing Conflicts Today?
In 2021, we live in a time of relative peace, however, as this map reveals, that does not mean there are no conflicts in the world today.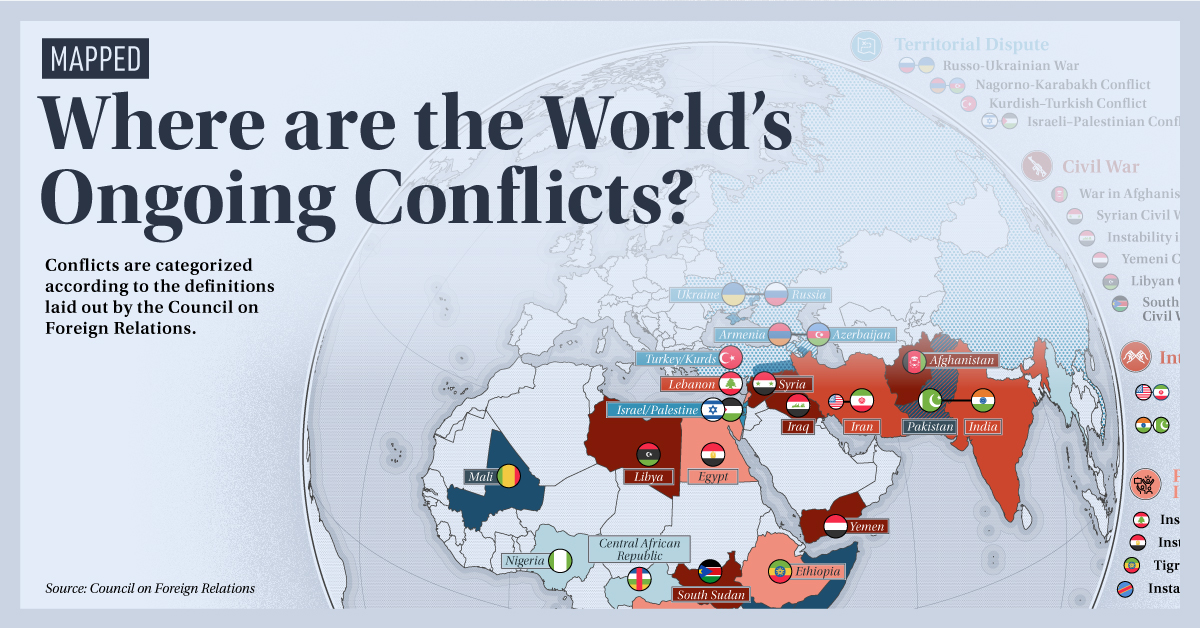 Where are the World's Ongoing Conflicts Today?
We live in an era of relative peace compared to most of history, however, this does not mean that there are no conflicts in the world today.
This map using data from the Council on Foreign Relations (CFR) reveals where the world's 27 ongoing conflicts are today, and what type of conflicts they are.
Note: conflicts are categorized by definitions laid out by the CFR.
Detailing the Conflicts
Many people alive today have never lived through a war on their country's soil, especially those in the West. But conflict, wars, and violence are by no means things of the past.
According to the Armed Conflict Location & Event Data Project (ACLED), as of Q2'2021 alone:
Violence against civilians resulted in over 5,000 deaths worldwide
Battle related deaths numbered over 18,000
Explosion/remote violence led to more than 4,000 deaths
Riots resulted in over 600 fatalities
Most of the world's conflicts are concentrated in Asia and Africa and the most common forms are territorial disputes and civil wars. While terrorism often strikes fear in people, only three of the world's ongoing conflicts are linked to terrorism, according to the CFR.
Conflict Name
Type
Countries Involved
Civil War in South Sudan
Civil War
🇸🇸 South Sudan
War in Yemen
Civil War
🇾🇪 Yemen
Civil War in Libya
Civil War
🇱🇾 Libya
War in Afghanistan
Civil War
🇦🇫 Afghanistan
Civil War in Syria
Civil War
🇸🇾 Syria
Instability in Iraq
Civil War
🇮🇶 Iraq
Criminal Violence in Mexico
Criminal
🇲🇽 Mexico
Confrontation of U.S. & Iran
Interstates
🇺🇸 United States
🇮🇷 Iran
Conflict of India & Pakistan
Interstates
🇮🇳 India
🇵🇰 Pakistan
North Korea Crisis
Interstates
🇺🇸 United States
🇰🇵 North Korea
Violence in the DRC
Political Instability
🇨🇩 DRC
Instability in Egypt
Political Instability
🇪🇬 Egypt
Political Instability in Lebanon
Political Instability
🇱🇧 Lebanon
Instability in Venezuela
Political Instability
🇻🇪 Venezuela
Tigray War in Ethiopia
Political Instability
🇪🇹 Ethiopia
Boko Haram in Nigeria
Sectarian
🇳🇬 Nigeria
Violence in Central African Republic
Sectarian
🇨🇫 Central African Republic
Rohingya Crisis in Myanmar
Sectarian
🇲🇲 Myanmar
Nagorno-Karabakh Conflict
Territorial Disputes
🇦🇲 Armenia
🇦🇿 Azerbaijan
Conflict in Ukraine
Territorial Disputes
🇺🇦 Ukraine
🇷🇺 Russia
Israeli-Palestine Conflict
Territorial Disputes
🇮🇱 Israel
🇵🇸 Palestine
Turkey & Armed Kurdish Groups
Territorial Disputes
🇹🇷 Turkey
South China Sea Disputes
Territorial Disputes
🇨🇳 China
🇻🇳 Vietnam
🇵🇭 Philippines
Tensions in East China Sea
Territorial Disputes
🇨🇳 China
🇯🇵 Japan
Destabilization in Mali
Terrorism
🇲🇱 Mali
Al-Shabab in Somalia
Terrorism
🇸🇴 Somalia
Islamist Militancy in Pakistan
Terrorism
🇵🇰 Pakistan
As an example of a more typical conflict, Myanmar's civil unrest began in February 2020 when the military overthrew the democratically elected government and arrested the country's leader Aung San Suu Kyi. The civilian population has been protesting heavily but to no avail. According to a BBC report, more than 860 people have been killed and around 5,000 have been detained.
This is just one of the many examples of persistent violence today including recent events like Mexico's midterm election violence, Ethiopia's fighting in the country's Tigray region, and the fighting between Israel and Palestine over the Sheikh Jarrah evictions.
Finally, though the United States military has now withdrawn from Afghanistan, and the Taliban has taken control of the country, the outlook for the country remains uncertain.
War and Peace
While there are conflicts today, deaths from violence and wars have and wars have decreased over time. For example, battle death rates in state-based conflicts have reduced significantly in a period from 1946 to 2016.
However, according to the UN, although battle related deaths have been decreasing, the number of conflicts occurring in the last few years has actually been on the rise (they have simply remained less deadly). Most conflicts have been waged by non-state actors, like organized criminal groups and political militias.
The UN found that the most common causes of conflict today are:
Regional tensions
Breakdowns in the rule of law
Co-opted or absent state institutions
Illicit economic gain
Scarcity of resources exacerbated by climate change
Traditional war between countries and war-related deaths may be becoming a thing of the past, but the threat of violence is still very real. Many countries know this as they continue to build up armies and spend significant amounts on military and defense.
The Future of Warfare
War and conflict are still extremely relevant in the 21st century and impact millions of people. However, traditional warfare may be changing its shape and may become less deadly as a result.
For instance, issues like climate change will create further exacerbations on conflicts, and new forms of technological and cyber warfare could threaten countries' elections and manipulate populations.