Navigating Uncertainty: Leadership Accountability in Times of Crisis
In the face of adversity, leaders may struggle to manage their teams effectively.
Before the COVID-19 outbreak, over half of all professionals globally worked remotely at least 2.5 days a week. This has since increased dramatically, with 88% of organizations now insisting their employees work from home and implement social distancing.
Leaders must adapt to a more flexible workplace and create a culture of accountability so that their organization can successfully weather the COVID-19 storm.
Leadership Accountability in Uncertain Times
Today's infographic, from bestselling author Vince Molinaro, reveals the five behaviors that leaders can adopt in order to provide thoughtful navigation through uncertainty.
>> Join Vince Molinaro's Community of Accountable Leaders
The Impact of Leadership Accountability
As the workforce pivots to remote working arrangements, the benefits of flexible working policies are coming into sharper focus.
Research shows that these policies can lower overhead costs, reduce commuting times and increase employee satisfaction—in addition to attracting top talent. Moreover, the shift to working remotely could boost the U.S. economy by $4.5 trillion annually by 2030.
But achieving these benefits requires accountability from everyone in an organization, and in an increasingly virtual world, that can become difficult to manage.
Challenges Facing Leaders Today
Leaders are already subject to an array of challenges that they must overcome, such as:
The pressure to differentiate: Leaders feel an unrelenting pressure to innovate and help their organizations stand out in a sea of ruthless competitors.
Executing the strategy: Leaders must align the organization to ensure employees are clear about what needs to get done to execute priorities seamlessly.
Leading transformational change: With so many moving parts, constant change across several aspects of a business can be difficult for leaders to manage.
Creating enduring value: Customers, boards, and shareholders have high expectations for leaders in exchange for their loyalty.
Building future talent: Leaders must build and nurture the next generation of leaders in addition to managing the day-to-day.
These mounting pressures can have a detrimental impact on a business leader's performance, so it is crucial that they get the support they need now, more than ever.
The Characteristics of Accountable Leaders
Truly accountable leadership is the only way an organization can weather uncertainty in a world that has been upended. Research reveals that among the strongest performing companies, accountable leaders consistently demonstrate five behaviors that set them apart from others.
Hold others accountable for high standards of performance


Good leaders make mutual expectations clear by consistently reinforcing what is important, and what employees should prioritize in their roles.

Tackle tough issues and make difficult decisions


Technology is hugely beneficial, but it should never replace the human element. Picking up the phone or having a Skype call is more immediate and personal, especially when it comes to problem solving and making tough decisions.

Communicate the strategy across the organization


Leaders must ensure that employees have complete clarity in terms of the company's vision to do their jobs effectively. Creating a set of well-defined goals can help people stay engaged and decrease their stress levels.

Express optimism about the company and its future


Many employees can feel isolated and disconnected in the virtual world, so leaders must provide support, positive energy, and a sense of hope for the future.

Display clarity about external trends in the business environment


Finally, it is critical to help employees make sense of the current situation right now. Leaders must provide honest and transparent communication in a way that manages fear, stress, and anxiety. This encourages employees's determination to help the organization succeed.
Leading The Future
As we embrace the unknown, it is clear that leadership accountability will become more important than ever.
In fact, it has become a crucial element for future-proofing organizations in times of crisis or drastic change. Perhaps more importantly, it is necessary for encouraging teams to emerge more connected and resilient than ever before.
Which Companies Make Up the "Magnificent Seven" Stocks?
FAANG is dead… meet the 'Magnificent Seven' stocks that now make up over 25% of the S&P 500.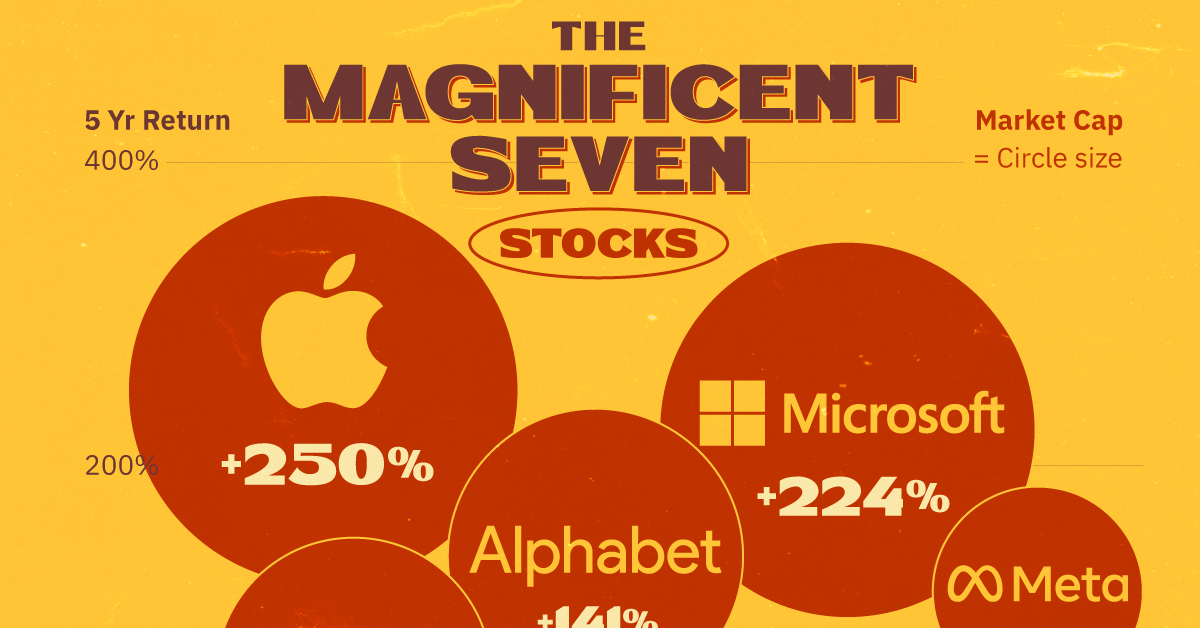 Which Companies Make Up the "Magnificent Seven" Stocks?
In 2013 CNBC analyst Jim Cramer popularized "FANG," comprised of Facebook (now Meta), Amazon, Netflix, and Google (now Alphabet), as a shorthand for the best performing technology stocks on the market. Apple, added in 2017, made it FAANG.
However, over the last year a new moniker given by Bank of America analyst Michael Hartnett highlights the most valuable and popularly-owned companies on the American stock market: the "Magnificent Seven" stocks.
We visualize the Magnificent Seven's market capitalization and 5-year stock performance as of November 2023 using data from Google Finance and CompaniesMarketCap.
The Magnificent Seven Stocks by Market Cap and 5-Year Return
The Magnificent Seven stocks are megacap companies focused and capitalizing on tech growth trends including AI, cloud computing, and cutting-edge hardware and software.
Four of the five FAANG stocks retain their place amongst the Magnificent Seven, with newcomers Nvidia, Tesla, and Microsoft joining the group. Following a poor 2022 performance and having more difficulty capitalizing on tech trends, Netflix is the sole FAANG company not included.
Here's a look at the companies ranked by their market capitalization on November 6, 2023, alongside their 5-year stock performance:
| Rank | Company | Market Cap | 5 Year Performance |
| --- | --- | --- | --- |
| 1 | Apple | $2.8 trillion | +250% |
| 2 | Microsoft | $2.6 trillion | +224% |
| 3 | Alphabet | $1.6 trillion | +141% |
| 4 | Amazon | $1.4 trillion | +63% |
| 5 | Nvidia | $1.1 trillion | +783% |
| 6 | Meta | $811 billion | +118% |
| 7 | Tesla | $690 billion | +829% |
The Magnificent Seven make up more than one-quarter of the S&P 500 and more than half of the Nasdaq 100.
Meanwhile, five of the seven are part of the rare trillion dollar club, with Nvidia being the most recent entry.
A common theme among the Magnificent Seven is their ability to collect vast amounts of customer data, create cutting-edge hardware and software, as well as harness the power of AI.
However, if Netflix gets back on track—recently announcing its new ad-supported membership tier has 15 million subscribers—we could soon see a "Magnificent Eight."