The Labrador Trough and Canada's New Iron Rush
China's increasing demand for steel is driving iron prices upwards and causing a new wave of exploration worldwide. Canada's Labrador Trough has been identified as a very promising region, and currently more than 15 billion tonnes of iron ore are being explored in the Trough.
In 2011 alone, $15 billion was invested in the Canadian iron ore sector, and Provincial and Federal governments are also taking steps to support development. Quebec has announced an $80 billion investment plan to develop the region, and the Federal government is helping to expand the Port of Sept-Iles, the largest iron ore port in North America.
With surging demand and Government support, the Labrador Trough is poised to become one of the world's major iron ore producing regions.
All the World's Metals and Minerals in One Visualization
This massive infographic reveals the dramatic scale of 2019 non-fuel mineral global production.
All the World's Metals and Minerals in One Visualization
We live in a material world, in that we rely on materials to make our lives better. Without even realizing it, humans consume enormous amounts of metals and minerals with every convenient food package, impressive building, and technological innovation.
Every year, the United States Geological Service (USGS) publishes commodity summaries outlining global mining statistics for over 90 individual minerals and materials. Today's infographic visualizes the data to reveal the dramatic scale of 2019 non-fuel mineral production.
Read all the way to the bottom; the data will surprise you.
Non-Fuel Minerals: USGS Methodology
A wide variety of minerals can be classified as "non-fuel", including precious metals, base metals, industrial minerals, and materials used for construction.
Non-fuel minerals are those not used for fuel, such as oil, natural gas and coal. Once non-fuel minerals are used up, there is no replacing them. However, many can be recycled continuously.
The USGS tracked both refinery and mine production of these various minerals. This means that some minerals are the essential ingredients for others on the list. For example, iron ore is critical for steel production, and bauxite ore gets refined into aluminum.
Top 10 Minerals and Metals by Production
Sand and gravel are at the top of the list of non-fuel mineral production.
As these materials are the basic components for the manufacturing of concrete, roads, and buildings, it's not surprising they take the lead.
| Rank | Metal/Mineral | 2019 Production (millions of metric tons) |
| --- | --- | --- |
| #1 | Sand and Gravel | 50,000 |
| #2 | Cement | 4,100 |
| #3 | Iron and Steel | 3,200 |
| #4 | Iron Ore | 2,500 |
| #5 | Bauxite | 500 |
| #6 | Lime | 430 |
| #7 | Salt | 293 |
| #8 | Phosphate Rock | 240 |
| #9 | Nitrogen | 150 |
| #10 | Gypsum | 140 |
These materials fertilize the food we eat, and they also form the structures we live in and the roads we drive on. They are the bones of the global economy.
Let's dive into some more specific categories covered on the infographic.
Base Metals
While cement, sand, and gravel may be the bones of global infrastructure, base metals are its lifeblood. Their consumption is an important indicator of the overall health of an economy.
Base metals are non-ferrous, meaning they contain no iron. They are often more abundant in nature and sometimes easier to mine, so their prices are generally lower than precious metals.
| Rank | Base Metal | 2019 Production (millions of metric tons) |
| --- | --- | --- |
| #1 | Aluminum | 64.0 |
| #2 | Copper | 20.0 |
| #3 | Zinc | 13.0 |
| #4 | Lead | 4.5 |
| #5 | Nickel | 2.7 |
| #6 | Tin | 0.3 |
Base metals are also the critical materials that will help to deliver a green and renewable future. The electrification of everything will require vast amounts of base metals to make everything from batteries to solar cells work.
Precious Metals
Gold and precious metals grab the headlines because of their rarity ⁠— and their production shows just how rare they are.
| Rank | Precious Metal | 2019 Production (metric tons) |
| --- | --- | --- |
| #1 | Silver | 27,000 |
| #2 | Gold | 3,300 |
| #3 | Palladium | 210 |
| #4 | Platinum | 180 |
While metals form the structure and veins of the global economy, ultimately it is humans and animals that make the flesh of the world, driving consumption patterns.
A Material World: A Perspective on Scale
The global economy's appetite for materials has quadrupled since 1970, faster than the population, which only doubled. On average, each human uses more than 13 metric tons of materials per year.
In 2017, it's estimated that humans consumed 100.6B metric tons of material in total. Half of the total comprises sand, clay, gravel, and cement used for building, along with the other minerals mined to produce fertilizer. Coal, oil, and gas make up 15% of the total, while metal makes up 10%. The final quarter are plants and trees used for food and fuel.
Prove Your Metal: Top 10 Strongest Metals on Earth
There are 91 elements that are defined as metals but not all are the same. Here is a breakdown of the top 10 strongest metals and their applications.
Prove Your Metal: Top 10 Strongest Metals on Earth
The use of metals and the advancement of human civilization have gone hand in hand — and throughout the ages, each metal has proved its worth based on its properties and applications.
Today's visualization from Viking Steel Structures outlines the 10 strongest metals on Earth and their applications.
What are Metals?
Metals are solid materials that are typically hard, shiny, malleable, and ductile, with good electrical and thermal conductivity. But not all metal is equal, which makes their uses as varied as their individual properties and benefits.
The periodic table below presents a simple view of the relationship between metals, nonmetals, and metalloids, which you can easily identify by color.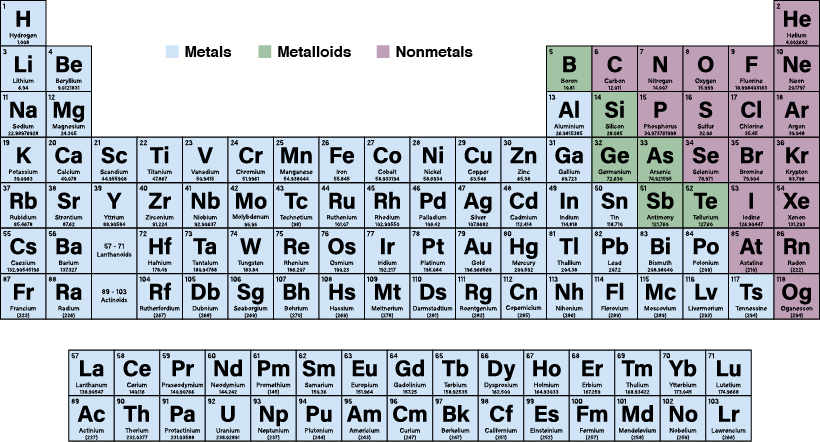 While 91 of the 118 elements of the periodic table are considered to be metals, only a few of them stand out as the strongest.
What Makes a Metal Strong?
The strength of a metal depends on four properties:
Tensile Strength: How well a metal resists being pulled apart
Compressive Strength: How well a material resists being squashed together
Yield Strength: How well a rod or beam of a particular metal resists bending and permanent damage
Impact Strength: The ability to resist shattering upon impact with another object or surface
Here are the top 10 metals based on these properties.
The Top 10 Strongest Metals
| Rank | Type of Metal | Example Use | Atomic Weight | Melting Point |
| --- | --- | --- | --- | --- |
| #1 | Tungsten | Making bullets and missiles | 183.84 u | 3422°C / 6192 °F |
| #2 | Steel | Construction of railroads, roads, other infrastructure and appliances | n/a | 1371°C / 2500°F |
| #3 | Chromium | Manufacturing stainless steel | 51.96 u | 1907°C / 3465°F, |
| #4 | Titanium | In the aerospace Industry, as a lightweight material with strength | 47.87 u | 1668°C / 3032°F |
| #5 | Iron | Used to make bridges, electricity, pylons, bicycle chains, cutting tools and rifle barrels | 55.85 u | 1536°C / 2800°F |
| #6 | Vanadium | 80% of vanadium is alloyed with iron to make steel shock and corrosion resistance | 50.942 u | 1910°C / 3470°F |
| #7 | Lutetium | Used as catalysts in petroleum production. | 174.96 u | 1663 °C / 3025°F |
| #8 | Zirconium | Used in nuclear power stations. | 91.22 u | 1850°C / 3.362°F |
| #9 | Osmium | Added to platinum or indium to make them harder. | 190.2 u | 3000°C / 5,400°F |
| #10 | Tantalum | Used as an alloy due to its high melting point and anti-corrosion. | 180.94 u | 3,017°C / 5462°F |
Out of the Forge and into Tech: Metals for the Future
While these metals help to forge the modern world, there is a new class of metals that are set to create a new future.
Rare Earth elements (REEs) are a group of metals do not rely on their strength, but instead their importance in applications in new technologies, including those used for green energy.
| Metal | Uses |
| --- | --- |
| Neodymium | Magnets containing neodymium are used in green technologies such as the manufacture of wind turbines and hybrid cars. |
| Lanthanum | Used in catalytic converters in cars, enabling them to run at high temperatures |
| Cerium | This element is used in camera and telescope lenses. |
| Praseodymium | Used to create strong metals for use in aircraft engines. |
| Gadolinium | Used in X-ray and MRI scanning systems, and also in television screens. |
| Yttrium, terbium, europium | Making televisions and computer screens and other devices that have visual displays. |
If the world is going to move towards a more sustainable and efficient future, metals—both tough and smart—are going to be critical. Each one will serve a particular purpose to build the infrastructure and technology for the next generation.
Our ability to deploy technology with the right materials will test the world's mettle to meet the challenges of tomorrow—so choose wisely.