Junior Miners: Doom, Gloom, or Boom? [Chart]
Junior Miners: Doom, Gloom, or Boom? [Chart]
PwC report recaps malaise, but recent traction may indicate signs of life
The Chart of the Week is a weekly Visual Capitalist feature on Fridays.
If it wasn't already clear, the junior companies that explore, develop, and mine the world's metals are struggling. PwC recently recapped the malaise of these companies in its latest Junior Mine 2015 report, along with highlighting some success stories of those that have been able to bypass the onslaught.
The report, which looks at the Top 100 junior mining companies traded on the TSX Venture exchange, had findings that makes junior mining executives want to bury their heads in the sand. The average market capitalization of exploration companies is down -51.2% from 2014 to 2015. The amount of money raised in equity and debt markets for exploration companies is down -33.4% over the same timeframe.
Furthermore, the average company on the Top 100 list has $7 million cash, which is down from $10 million last year. In 2011 the average cash in the bank was $22.7 million.
Remember, these are the results of the "best" companies in the space. This doesn't include the zombies or any of the other hurting companies.
Signs of Life?
Every coin has two sides, and here's the other side to this one. Over the last two months, data shows that things aren't getting worse. In fact, it could even be argued that things are getting better.
Since the end of the "flash crash" that hit markets on August 24th, when the Dow dropped 1,100 points in the first five minutes of trading, miners have been up. The TSX Venture is up 4.1%, the GDXJ (Junior Gold Miners ETF) is up 3.9%, and the HUI (Basket of Unhedged Gold Stocks) is up 8.0%. Even more spectacular is the GLDX (Global X Gold Explorers ETF), which is up a solid 17.0% since the August lows.
This is obviously not anything definitive. However, seeing all four of these major indices up at the same time is a good sign.
Now we just need a rags-to-riches story like that of Voisey's Bay to get the market really humming.
Visualizing U.S. Consumption of Fuel and Materials per Capita
Wealthy countries consume large amounts of natural resources per capita, and the U.S. is no exception. See how much is used per person.
Visualizing U.S. Consumption of Fuel and Materials per Capita
This was originally posted on Elements. Sign up to the free mailing list to get beautiful visualizations on natural resource megatrends in your email every week.
Wealthy countries consume massive amounts of natural resources per capita, and the United States is no exception.
According to data from the National Mining Association, each American needs more than 39,000 pounds (17,700 kg) of minerals and fossil fuels annually to maintain their standard of living.
Materials We Need to Build
Every building around us and every sidewalk we walk on is made of sand, steel, and cement.
As a result, these materials lead consumption per capita in the United States. On average, each person in America drives the demand of over 10,000 lbs of stone and around 7,000 lbs of sand and gravel per year.
| Material/Fossil Fuel | Pounds Per Person |
| --- | --- |
| Stone | 10,643 |
| Natural Gas | 9,456 |
| Sand, Gravel | 7,088 |
| Petroleum Products | 6,527 |
| Coal | 3,290 |
| Cement | 724 |
| Other Nonmetals | 569 |
| Salt | 359 |
| Iron Ore | 239 |
| Phosphate Rock | 166 |
| Sulfur | 66 |
| Potash | 49 |
| Soda Ash | 36 |
| Bauxite (Aluminum) | 24 |
| Other Metals | 21 |
| Copper | 13 |
| Lead | 11 |
| Zinc | 6 |
| Manganese | 4 |
| Total | 39,291 |
The construction industry is a major contributor to the U.S. economy.
Crushed stone, sand, gravel, and other construction aggregates represent half of the industrial minerals produced in the country, resulting in $29 billion in revenue per year.
Also on the list are crucial hard metals such as copper, aluminum, iron ore, and of course many rarer metals used in smaller quantities each year. These rarer metals can make a big economic difference even when their uses are more concentrated and isolated—for example, palladium (primarily used in catalytic converters) costs $54 million per tonne.
Fuels Powering our Lives
Despite ongoing efforts to fight climate change and reduce carbon emissions, each person in the U.S. uses over 19,000 lbs of fossil fuels per year.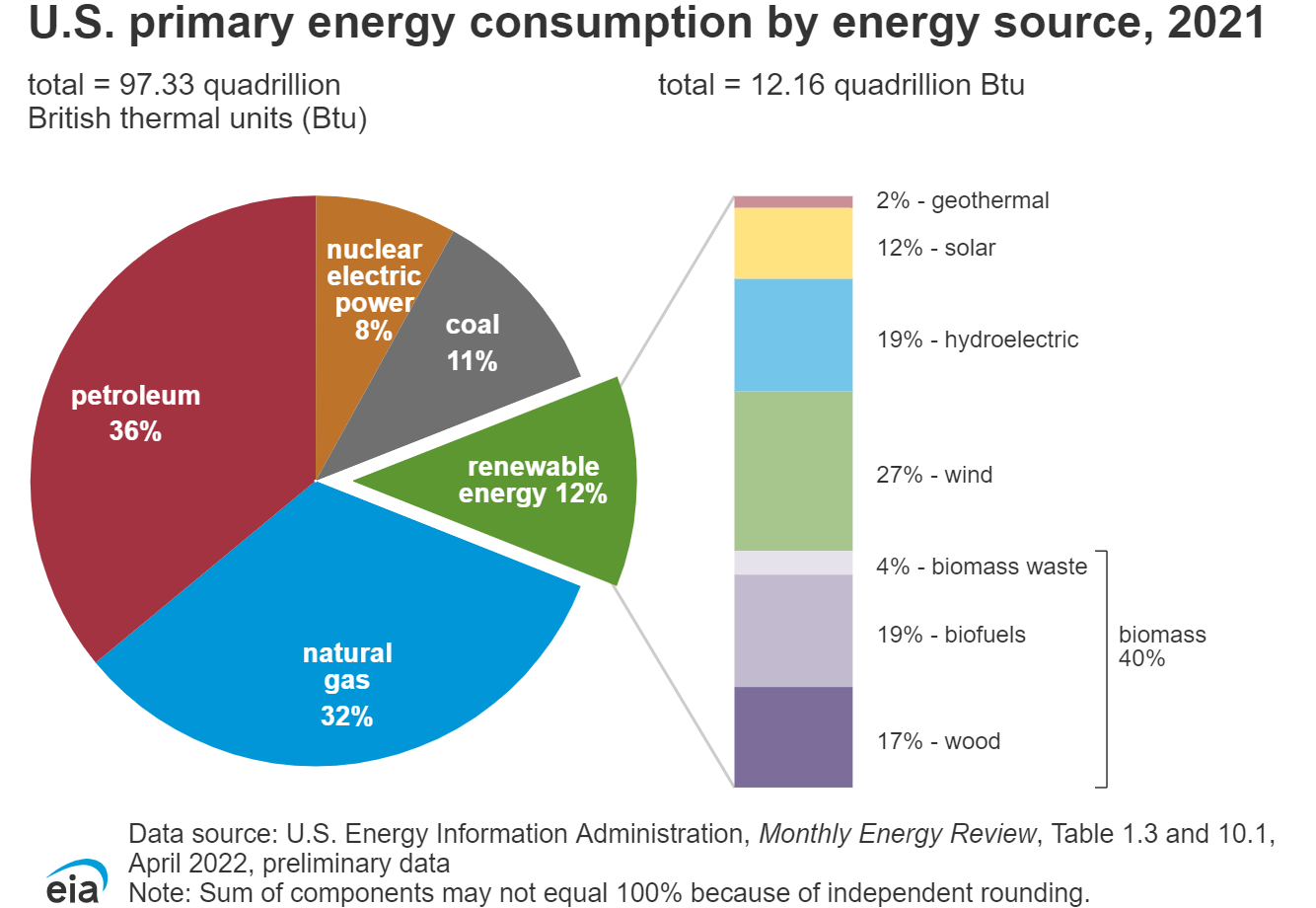 Gasoline is the most consumed petroleum product in the United States.
In 2021, finished motor gasoline consumption averaged about 369 million gallons per day, equal to about 44% of total U.S. petroleum use. Distillate fuel oil (20%), hydrocarbon gas liquids (17%), and jet fuel (7%) were the next most important uses.
Reliance on Other Countries
Over the past three decades, the United States has become reliant on foreign sources to meet domestic demand for minerals and fossil fuels. Today, the country is 100% import-reliant for 17 mineral commodities and at least 50% for 30 others.
In order to reduce the dependency on other countries, namely China, the Biden administration has been working to diversify supply chains in critical minerals. This includes strengthening alliances with other countries such as Australia, India, and Japan.
However, questions still remain about how soon these policies can make an impact, and the degree to which they can ultimately help localize and diversify supply chains.