Investor Confidence in Cloud Storage is Sky High
Image courtesy of: Raconteur
Investor Confidence in Cloud Storage is Sky High
For technology investors in 2015, cloud was king.
Money continued to flow to the cloud storage sector, where a total of 1,800 transactions were made in 2015 for a total value of more than $100 billion. The largest of these deals was between two storage giants, with SanDisk getting gobbled up by competitor Western Digital for a $19 billion price tag.
Cloud storage, which allows users and businesses to store vast amounts of data remotely, has been in heavy demand lately. With approximately 2.5 quintillion bytes of data created every day and more people seeking to stream movies, video games, and music from the cloud on a regular basis, there is no other option but to grow the industry at a breakneck pace.
Cloud Nine
Why is the cloud another level above many other tech sub-sectors competing for investment?
The answer is simple.
Cloud is already proven to be effective, and it can scale. While the true viability of trends such as the internet of things (IoT), robotics, VR/AR, and artificial intelligence are still under scrutiny, cloud storage is being used effectively by millions every day. It's why Amazon crushed its most recent earnings report with $2.57 billion in revenue (a 64% increase) just coming from its Amazon Web Services cloud play. It's also why, according to a Deloitte survey, venture capitalists are most confident investing in the cloud sector over many other technologies.
It's no surprise that quality startups focused on the cloud have had no problems raising money.
Enterprise SaaS startup Slack, which raised $160 million in 2015 and another $200 million in 2016, was selected as the "Company of the Year" according to Inc. Magazine. It has been one of the fastest growing startups ever, reaching a $1 billion valuation even before its product turned eight months old.
GitHub, a repository for software code, had the biggest raise for cloud-focused startups last year. The seven year-old company raked in $250 million at a $2 billion valuation to expand internationally and to invest in new products.
A Cloudy Horizon?
Despite a projection of $54.9 billion in annual spend going to cloud infrastructure by 2019, one major concern still remains about the future of cloud computing.
The cloud has vast amounts of sensitive data stored in a single place, making cloud providers a particularly attractive target for hackers. With the average cybercrime in the United States costing a company $15.4 million, organizations are actively seeking to shield their digital assets from the millions of cyber attacks launched each year. Cybersecurity is becoming a mission critical feature in both enterprise and government budgets moving forward.
If enterprise customers lose faith in the cloud's ability to keep data secure, there will be a ripple effect on investment and industry growth. For further reading and to get an idea of what these companies are facing, here's a recent list of the "Treacherous 12" security threats that organizations face when using cloud services.
Charted: What are Retail Investors Interested in Buying in 2023?
What key themes and strategies are retail investors looking at for the rest of 2023? Preview: AI is a popular choice.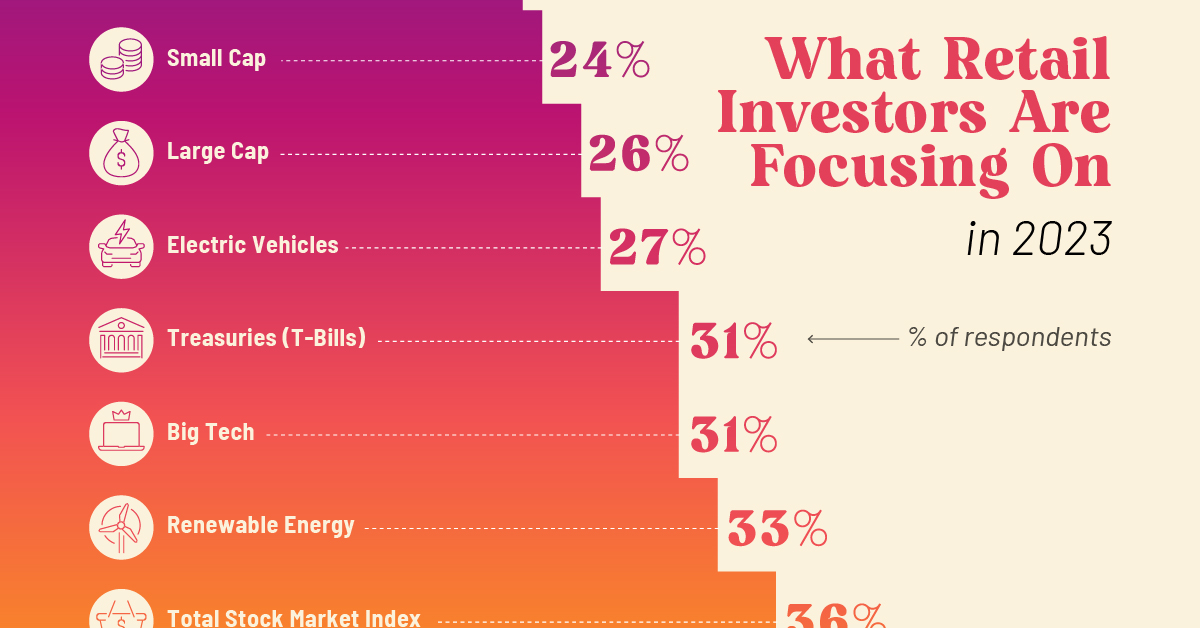 Charted: Retail Investors' Top Picks for 2023
U.S. retail investors, enticed by a brief pause in the interest rate cycle, came roaring back in the early summer. But what are their investment priorities for the second half of 2023?
We visualized the data from Public's 2023 Retail Investor Report, which surveyed 1,005 retail investors on their platform, asking "which investment strategy or themes are you interested in as part of your overall investment strategy?"
Survey respondents ticked all the options that applied to them, thus their response percentages do not sum to 100%.
Where Are Retail Investors Putting Their Money?
By far the most popular strategy for retail investors is dividend investing with 50% of the respondents selecting it as something they're interested in.
Dividends can help supplement incomes and come with tax benefits (especially for lower income investors or if the dividend is paid out into a tax-deferred account), and can be a popular choice during more inflationary times.
| Investment Strategy | Percent of Respondents |
| --- | --- |
| Dividend Investing | 50% |
| Artificial Intelligence | 36% |
| Total Stock Market Index | 36% |
| Renewable Energy | 33% |
| Big Tech | 31% |
| Treasuries (T-Bills) | 31% |
| Electric Vehicles | 27% |
| Large Cap | 26% |
| Small Cap | 24% |
| Emerging Markets | 23% |
| Real Estate | 23% |
| Gold & Precious Metals | 23% |
| Mid Cap | 19% |
| Inflation Protection | 13% |
| Commodities | 12% |
Meanwhile, the hype around AI hasn't faded, with 36% of the respondents saying they'd be interested in investing in the theme—including juggernaut chipmaker Nvidia. This is tied for second place with Total Stock Market Index investing.
Treasury Bills (30%) represent the safety anchoring of the portfolio but the ongoing climate crisis is also on investors' minds with Renewable Energy (33%) and EVs (27%) scoring fairly high on the interest list.
Commodities and Inflation-Protection stocks on the other hand have fallen out of favor.
Come on Barbie, Let's Go Party…
Another interesting takeaway pulled from the survey is how conversations about prevailing companies—or the buzz around them—are influencing trades. The platform found that public investors in Mattel increased 6.6 times after the success of the 'Barbie' movie.
Bud Light also saw a 1.5x increase in retail investors, despite receiving negative attention from their fans after the company did a beer promotion campaign with trans influencer Dylan Mulvaney.
Given the origin story of a large chunk of American retail investors revolves around GameStop and AMC, these insights aren't new, but they do reveal a persisting trend.