Visualizing Major Tech Acquisitions (1991-2018)
Launch the interactive version below, or go to our story for simpler, static images
Interactive: Visualizing Major Tech Acquisitions (1991-2018)
To stay successful in tech, companies must find a way to walk alongside the cutting edge of innovation.
Companies do this partially by devoting a large portion of their resources towards research and development (R&D) – but to hedge their bets, these companies also are in constant negotiations to gobble up new startups that could be strategic to their futures.
In this giant game of Pac-Man, most of the acquisitions are small and sequential, just like the dots that make up the arcade game's classic maze. That said, sometimes these tech giants get lucky, such as in Facebook's acquisition of Instagram, and buyouts turn into power-ups that can change the dynamics of the game entirely.
Tech Acquisitions by Company
Today's interactive infographic comes to us from IG and it allows you to compare the tech acquisitions made by dominant companies such as Facebook, Apple, IBM, or Cisco.
Acquisitions can be sorted by industry filters (i.e. e-commerce, security, etc.) and different acquiring companies can be switched in. There are also different tabs that show total M&A expenditures by company, M&A activity by CEO, and frequency of acquisitions measured in quantity per year.
The Big Picture
Before we go into specific acquisitions, let's look at the big picture using images pulled from the interactive version of the graphic.
Here is a comparison of the number of acquisitions made since 1991, for each major company on the list:
Google has made the most acquisitions, averaging about 10 to 11 per year. That adds up to a total of 214 since the company was founded.
Interestingly, while Google has had the most acquisitions, it only ranks in 6th out of this group in terms of dollars spent. Giants like Microsoft, Cisco, and IBM may make fewer acquisitions, but the companies they do buy tend to be more established with higher valuations.
As an example of this: Microsoft bought LinkedIn in 2016 for $26.2 billion. That's more than Amazon has spent on all of its acquisitions (including Whole Foods) combined.
The Big Five
Finally, here's a comparison of the big five – Amazon, Apple, Microsoft, Facebook, and Google (Alphabet) – which are also the five largest companies by market capitalization in the United States.
On the interactive version, it's possible to highlight each acquisition to get the deal value and company name.
But, even on the static version above, it's noticeable that each of the Big Five has made at least one real sizable acquisition. Those are the circles that stand out the most on the timeline:
2011: Google buys Motorola for $12.5 billion
2014: Facebook buys WhatsApp for $19 billion, and Apple buys Beats for $3 billion
2016: Microsoft buys LinkedIn for $26.2 billion
2017: Amazon buys Whole Foods for $13.7 billion
The gobbling activity for these Big Five has continued into 2018, as well.
In fact, just in June 2018, Microsoft announced the acquisition of code repository GitHub for $7.5 billion. The deal is expected to close by the end of the year.
How Big Tech Revenue and Profit Breaks Down, by Company
How do the big tech giants make their money? This series of graphics shows a breakdown of big tech revenue, using Q2 2022 income statements.

Creator Program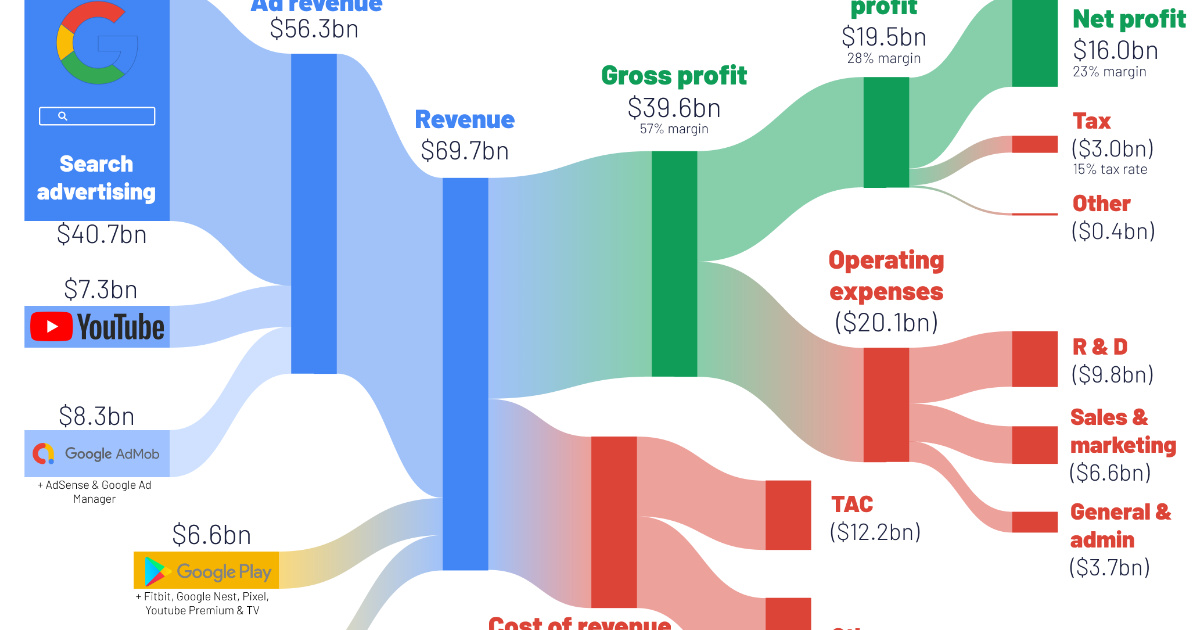 In the media and public discourse, companies like Alphabet, Apple, and Microsoft are often lumped together into the same "Big Tech" category. After all, they constitute the world's largest companies by market capitalization.
And because of this, it's easy to assume they're in direct competition with each other, fiercely battling for a bigger piece of the "Big Tech" pie. But while there is certainly competition between the world's tech giants, it's a lot less drastic than you might imagine.
This is apparent when you look into their various revenue streams, and this series of graphics by Truman Du provides a revenue breakdown of Alphabet, Amazon, Apple, and Microsoft.
How Big Tech Companies Generate Revenue
So how does each big tech firm make money? Let's explore using data from each company's June 2022 quarterly income statements.
Alphabet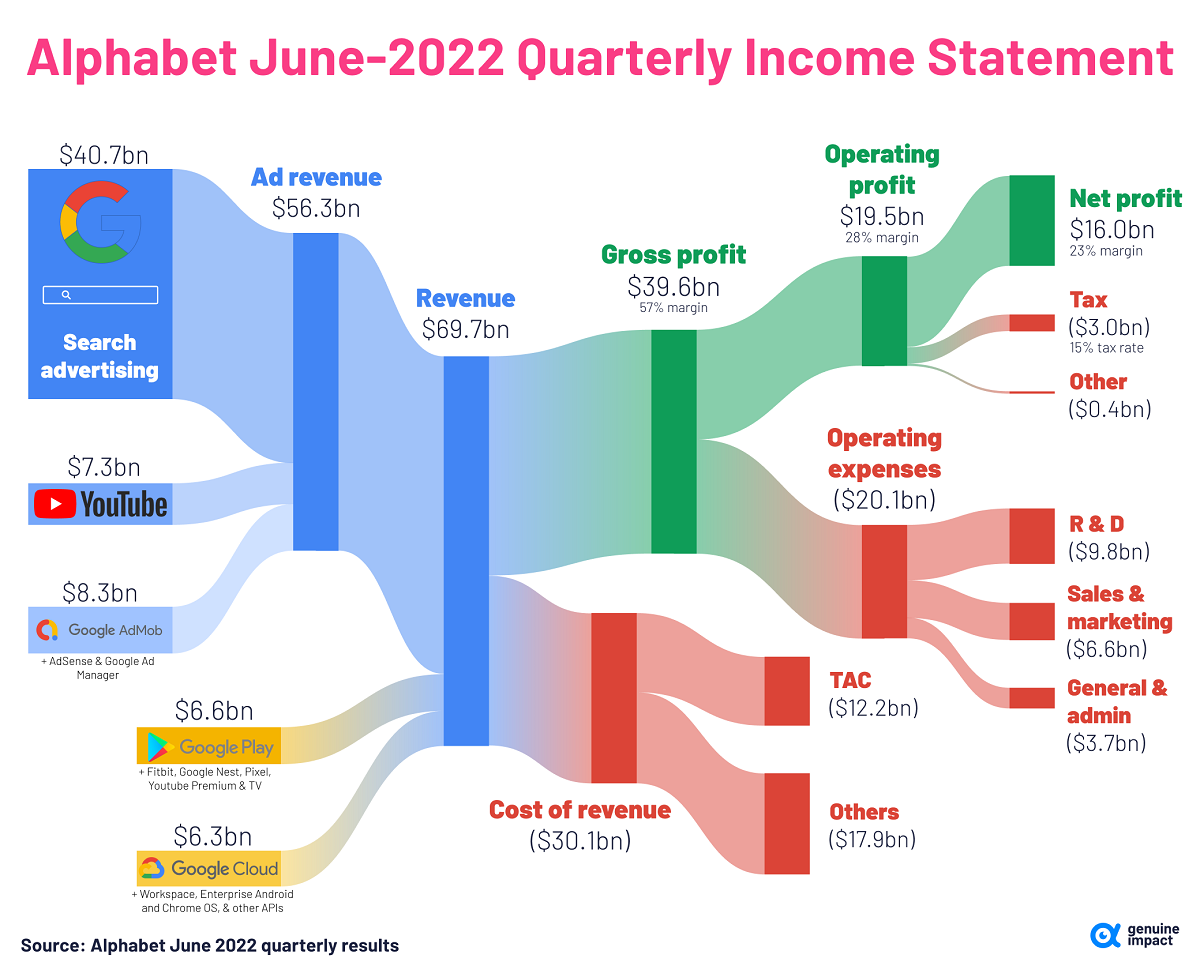 View the full-size infographic
In Q2 2022, about 72% of Alphabet's revenue came from search advertising. This makes sense considering Google and YouTube get a lot of eyeballs. Google dominates the search market—about 90% of all internet searches are done on Google platforms.
Amazon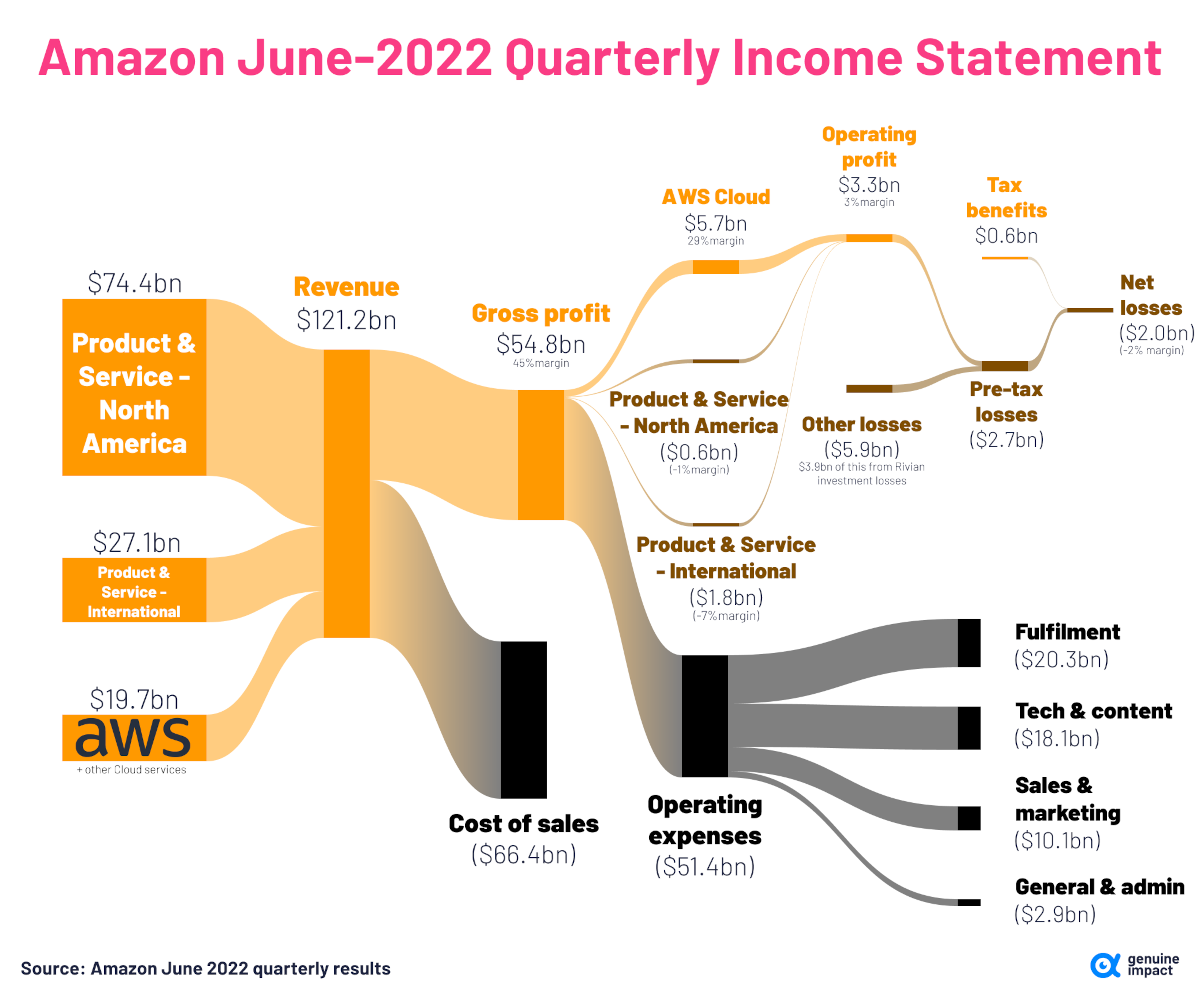 View the full-size infographic
Perhaps unsurprisingly, Amazon's biggest revenue driver is e-commerce. However, as the graphic above shows, the costs of e-commerce are so steep, that it actually reported a net loss in Q2 2022.
As it often is, Amazon Web Services (AWS) was the company's main profit-earner this quarter.
Apple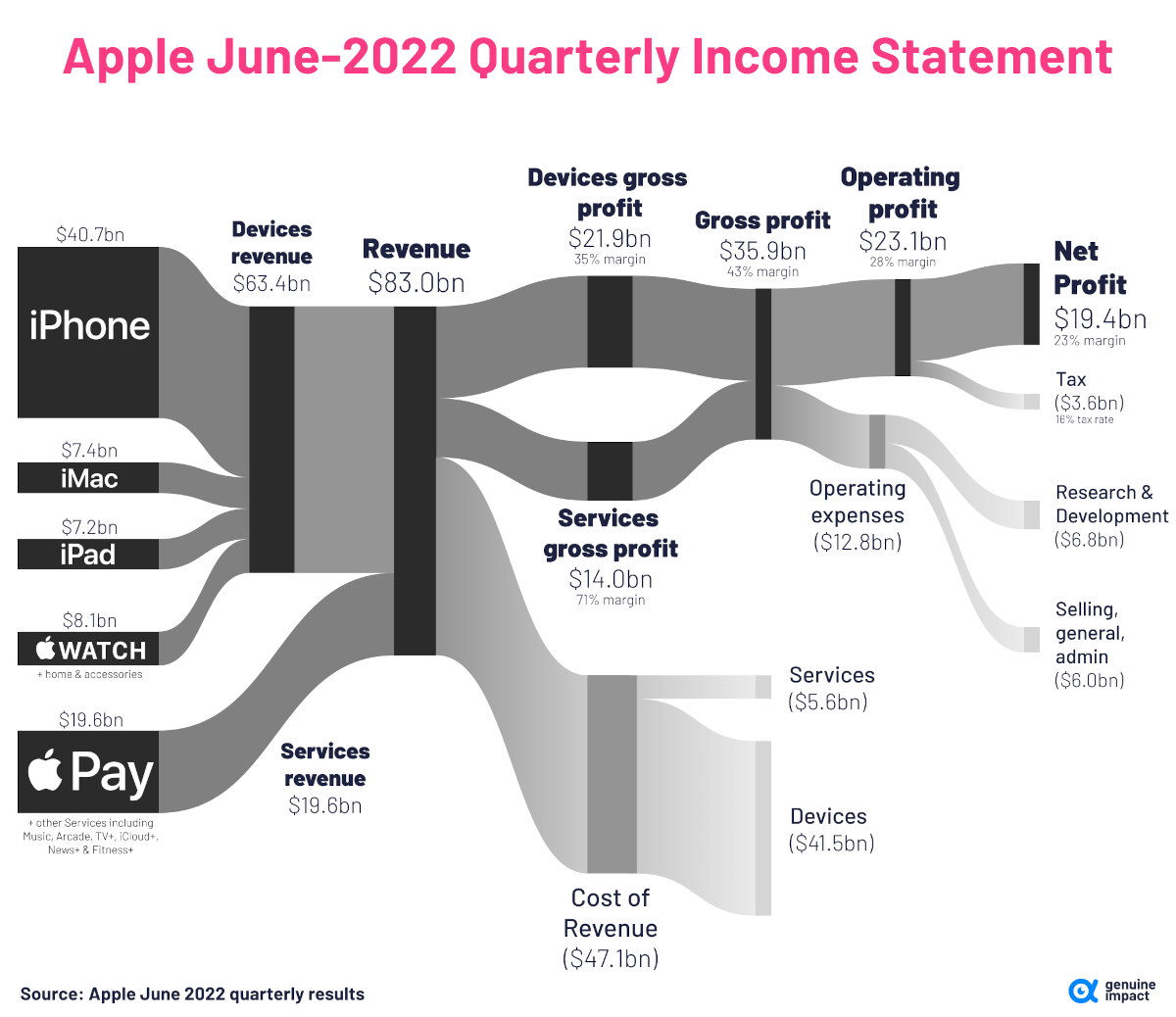 View the full-size infographic
Apple's biggest revenue driver is consumer electronics sales, particularly from the iPhone which accounts for nearly half of overall revenue. iPhones are particularly popular in the U.S., where they make up around 50% of smartphone sales across the country.
Besides devices, services like Apple Music, Apple Pay, and Apple TV+ also generate revenue for the company. But in Q2 2022, Apple's services branch accounted for only 24% of the company's overall revenue.
Microsoft
View the full-size infographic
Microsoft has a fairly even split between its various revenue sources, but similarly to Amazon its biggest revenue driver is its cloud services platform, Azure.
After AWS, Azure is the second largest cloud server in the world, capturing 21% of the global cloud infrastructure market.
Animation: The Most Popular Websites by Web Traffic (1993-2022)
This video shows the evolution of the internet, highlighting the most popular websites from 1993 until 2022.

Creator Program
The Most Popular Websites Since 1993
Over the last three decades, the internet has grown at a mind-bending pace.
In 1993, there were fewer than 200 websites available on the World Wide Web. Fast forward to 2022, and that figure has grown to 2 billion.
This animated graphic by James Eagle provides a historical look at the evolution of the internet, showing the most popular websites over the years from 1993 to 2022.
The 90s to Early 2000s: Dial-Up Internet
It was possible to go on the proto-internet as early as the 1970s, but the more user-centric and widely accessible version we think of today didn't really materialize until the early 1990s using dial-up modems.
Dial-up gave users access to the web through a modem that was connected to an active telephone line. There were several different portals in the 1990s for internet use, such as Prodigy and CompuServe, but AOL quickly became the most popular.
AOL held its top spot as the most visited website for nearly a decade. By June 2000, the online portal was getting over 400 million monthly visits. For context, there were about 413 million internet users around the world at that time.
| Rank | Website | Monthly Visits (May 2000) |
| --- | --- | --- |
| 1 | AOL | 400,891,812 |
| 2 | Yahoo | 387,573,587 |
| 3 | MSN | 354,239,803 |
| 4 | eBay | 116,101,785 |
| 5 | Lycos | 116,064,930 |
But when broadband internet hit the market and made dial-up obsolete, AOL lost its footing, and a new website took the top spot—Yahoo.
The Mid 2000s: Yahoo vs. Google
Founded in 1994, Yahoo started off as a web directory that was originally called "Jerry and David's Guide to the World Wide Web."
When the company started to pick up steam, its name changed to Yahoo, which became a backronym that stands for "Yet Another Hierarchical Officious Oracle."
Yahoo grew fast and by the early 2000s, it became the most popular website on the internet. It held its top spot for several years—by April 2004, Yahoo was receiving 5.6 billion monthly visits.
| Rank | Website | Monthly Visits (April 2004) |
| --- | --- | --- |
| 1 | Yahoo | 5,658,032,268 |
| 2 | MSN | 1,838,700,057 |
| 3 | Google | 1,318,276,780 |
| 4 | AOL | 905,009,947 |
| 5 | eBay | 805,474,705 |
But Google was close on its heels. Founded in 1998, Google started out as a simpler and more efficient search engine, and the website quickly gained traction.
Funny enough, Google was actually Yahoo's default search engine in the early 2000s until Yahoo dropped Google so it could use its own search engine technology in 2004.
For the next few years, Google and Yahoo competed fiercely, and both names took turns at the top of the most popular websites list. Then, in the 2010s, Yahoo's trajectory started to head south after a series of missed opportunities and unsuccessful moves.
This cemented Google's place at the top, and the website is still the most popular website as of January 2022.
The Late 2000s, Early 2010s: Social Media Enters the Chat
While Google has held its spot at the top for nearly two decades, it's worth highlighting the emergence of social media platforms like YouTube and Facebook.
YouTube and Facebook certainly weren't the first social media platforms to gain traction. MySpace had a successful run back in 2007—at one point, it was the third most popular website on the World Wide Web.
| Rank | Website | Monthly Visits (Jan 2007) |
| --- | --- | --- |
| 1 | Google | 7,349,521,929 |
| 2 | Yahoo | 5,169,762,311 |
| 3 | MySpace | 1,276,515,128 |
| 4 | MSN | 1,259,467,102 |
| 5 | eBay | 957,928,554 |
But YouTube and Facebook marked a new era for social media platforms, partly because of their ​​impeccable timing. Both platforms entered the scene around the same time that smartphone innovations were turning the mobile phone industry on its head. The iPhone's design, and the introduction of the App store in 2008, made it easier than ever to access the internet via your mobile device.
As of January 2022, YouTube and Facebook are still the second and third most visited websites on the internet.
The 2020s: Google is Now Synonymous With the Internet
Google is the leading search engine by far, making up about 90% of all web, mobile, and in-app searches.
What will the most popular websites be in a few years? Will Google continue to hold the top spot? There are no signs of the internet giant slowing down anytime soon, but if history has taught us anything, it's that things change. And no one should get too comfortable at the top.