Infection Trajectory: See Which Countries are Flattening Their COVID-19 Curve
NOTE: This chart updates daily with new data. Also, the search button in the lower–left corner allows filtering of specific countries.
At the outset of 2020, the world looked on as China grappled with an outbreak that seemed be spiraling out of control.
Two months later, the situation is markedly different. After aggressive testing and quarantine efforts, China's outbreak of Novel Coronavirus (COVID-19) appears to be leveling off.
Now, numerous countries around the world are in the beginning stages of managing their own outbreaks. March 15th, 2020, marked a significant statistical milestone for this, as confirmed cases of COVID-19 outside of China surpassed the Chinese total.
The tracker above, by Our World in Data, charts the trajectory of the growing number of countries with more than 100 confirmed cases of COVID-19. As the number of new infections reported around the world continues to grow, which countries are winning the battle against COVID-19, and which are still struggling to slow the rate of infection?
What's Your National Infection Trajectory?
As of publishing time, 39 countries have passed the threshold of 100 confirmed cases, with many more countries on the cusp. By comparing infection trajectories from the 100 case mark, we're able to see a clearer picture of how quickly the virus is spreading within various countries.
A rapid "doubling rate" can spell big trouble, as even countries with advanced healthcare systems can become overwhelmed by the sheer number of cases. This was the case in the Lombardy region of Italy, where hospitals were overloaded and an increasing number of medical staff are under quarantine after testing positive for the virus. Nearly 10% of COVID-19 patients in Lombardy required intensive care, which stretched resources to their breaking point.
Other countries are looking to avoid this situation by "flattening the curve" of the pandemic. In other words, preventing and delaying the spread of the virus so that large portions of the population aren't sick at the same time.
Original concept by Drew Harris
Everything's Canceled
While all the countries on this tracker are united behind a common goal – stamping out COVID-19 as soon as possible – each country has its own approach and unique challenges when it comes to keeping their population safe. Of course, countries that are just beginning to experience exponential growth in case numbers have the benefit of learning from mistakes made elsewhere, and adopting ideas that are proving successful at slowing the rate of infection.
Many jurisdictions are implementing some or all of these measures to help flatten the curve:
Quarantining
Encouraging social distancing
Encouraging working from home
Closing schools and other institutions
Placing hard limits on the size of crowds at events
The following chart explains why this last measure is critical to limiting the spread of the virus.
View the interactive Event Risk Assessment Tool here.
In scenario B above, which assumes just 20,000 active cases of COVID-19 in the U.S., there's nearly a 50% chance an infected person will be attending a 10,000 person conference or sporting event. This is precisely the reason why temporary limits on crowd size are popping up in many jurisdictions around the world.
Direct losses due to canceled tech conferences alone, such as SXSW and the Electronic Entertainment Expo, have already surpassed the $1 billion mark, but despite the short-term economic pain of cancellations and decreased entertainment spending, the costs of business-as-usual could be incalculable.
Ranked: The Best Selling Video Games in History
This chart shows the top ten best selling video games, ranked by software units sold. Six of them have been released in the last 12 years.

Creator Program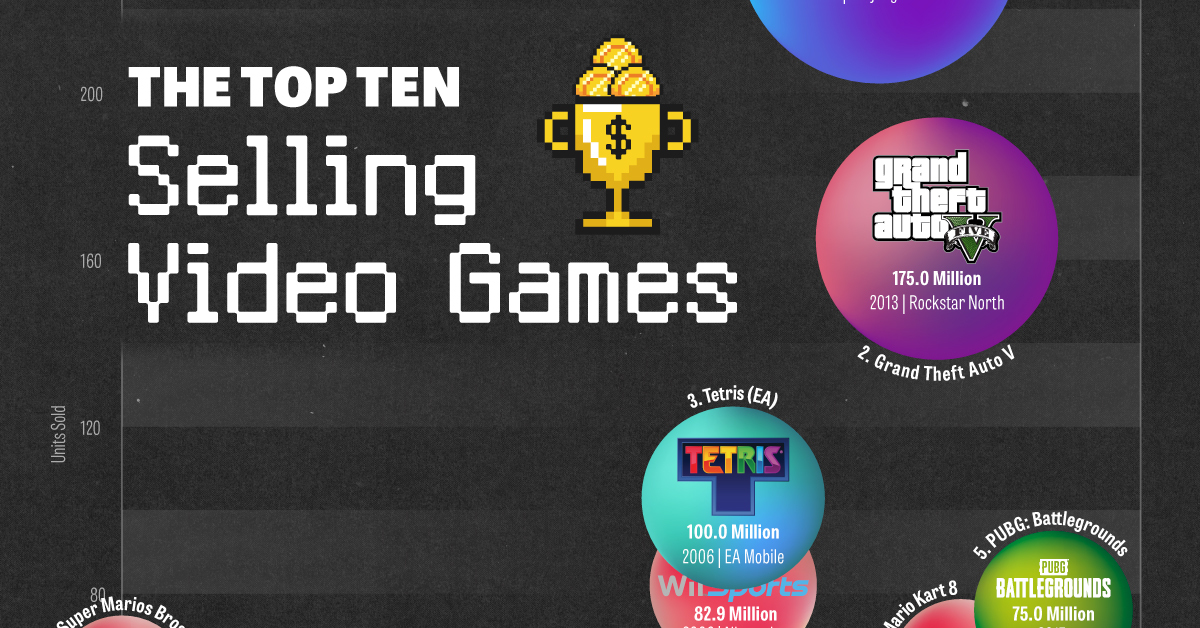 Ranked: The Best Selling Video Games in History
It's a good time to be a video game fan. Not only is the gaming industry booming and projected to grow to $320 billion by 2026, but every year is bringing new evolutions in the medium.
2022 saw massive launches in both games (Elden Ring and God of War Ragnarök) and media based on games (the films Uncharted and Sonic the Hedgehog 2). 2023 has already seen the release of major flagship TV series based on a game, HBO's The Last of Us, and the much-anticipated The Super Mario Bros. Movie is slated to release in April.
But which game is the best, or most successful? That debate may never end, but from company reports and sales data aggregated by Wikipedia, Samuel Parker's chart of the most-sold video games as of March 3, 2023 can at least tell us which ones have been the most popular.
Top Ten Video Games Sold in History
The best selling video game didn't need multimillion dollar budgets, sixty-hour narratives, or celebrity voice actors and ad spots. The independently-developed (indie) Minecraft, with its pixelated blocks, takes the top spot on this list.
| Rank | Game | Sales (units) | Year Released | Developer |
| --- | --- | --- | --- | --- |
| 1 | Minecraft | 238.0M | 2011 | Mojang Studios |
| 2 | GTA 5 | 175.0M | 2013 | Rockstar |
| 3 | Tetris (EA) | 100.0M | 2006 | EA Mobile |
| 4 | Wii Sport | 82.9M | 2006 | Nintendo |
| 5 | PUBG: Battlegrounds | 75.0M | 2017 | PUBG Corp |
| 6 | Mario Kart 8 | 60.5M | 2014 | Nintendo |
| 7 | Super Mario Bros. | 58.0M | 1985 | Nintendo |
| 8 | Read Dead Redemption 2 | 50.0M | 2018 | Rockstar |
| 9 | Pokémon Red/Green/Blue/Yellow | 47.5M | 1996 | GameFreak |
| 10 | Terraria | 44.5M | 2011 | Re-Logic |
Minecraft sold more units than the combined forces of Grand Theft Auto 5 (#2) and Red Dead Redemption 2 (#8), both made by industry giant Rockstar. Its immense popularity has been credited to its simple gameplay (no goals), creative structure (build anything), and engaged community with player-run servers and additional feature creations (known as mods).
Another simple favorite, Tetris, comes in at third place with 100 million units sold of its 2006 re-release. Millennials continue to make up a large chunk of the video game playing demographic which might explain Tetris' sales.
But newer games are making up the majority of sales records. PUBG: Battlegrounds, a battle-royale shooter game which helped popularize the genre (and eventually its competitor Fortnite) asserts its popularity at #5. That puts it well ahead of the better-known shooter Call of Duty, even despite PUBG being banned in a number of countries for the alleged impact on the mental health of gamers.
The oldest game to make the list is Super Mario Bros. (#7), apt considering it is credited with reviving the video game industry after it crashed in 1983. The original staple side-scroller has sold 58 million copies worldwide.
Developer Dominance
Though the top selling games span various series of games, a few developers managed to repeatedly find success.
| Developer | Top 20 Best-Selling Games |
| --- | --- |
| Nintendo | 11 |
| Rockstar | 2 |
| Others | 7 |
Japanese video game titan Nintendo developed three games (Super Mario Bros., Mario Kart, Wii Sport/Fitness) in the top 10 and another eight in the top 20. That's not including its co-ownership of Pokémon, the world's highest-grossing media franchise.
American publisher Rockstar Games also managed to score multiple hits, though its longer development cycle necessary to create cinematic games gives it fewer potential candidates. That might change with the much-anticipated GTA 6 reportedly in production.
Best Selling Genres
The most popular genres in the top 10 give players the freedom to impose their will upon the world and pursue objectives at their leisure:
| Genre | Games |
| --- | --- |
| Sandbox/Open World | 4 |
| Simulation | 2 |
| Others | 4 |
Two games (Minecraft, Terraria) are classic sandbox games, where worlds are procedurally generated and there are no gameplay goals. Another two (GTA 5, Red Dead Redemption 2) are in the adjacent open-world genre, with a combination of sandbox elements and a narrative structure.
However, with new games launching and selling millions of units every year, new entrants to the top 10 list of best selling video games of all-time seems likely. How will these developers, genres, and games fare over time?