The Iceberg That Sinks Organizational Culture Change
Most people are aware of the incredible power that company culture has in making or breaking a company.
While the concept of culture seems qualitative and fuzzy to many entrepreneurs or managers, the research on the impact of culture on organizations is very clear and data-driven. Companies with highly-engaged employees have low turnover, high productivity, more satisfied customers, and higher profits.
To sum it up culture's potential impact more succinctly, management guru Peter Drucker famously put it a different way: "Culture eats strategy for breakfast."
The Pitfalls of Culture Change
The benefits of a strong company culture are many – and it's no surprise to see companies all over the world aspiring to build world-class cultures within their organizations at almost any cost.
The problem is that company culture, just like the culture that permeates through society, is based on hidden sets of assumptions, social norms, traditions, and unwritten rules that represent the way things actually get done in a company. As a result, decision makers often underestimate how challenging cultural change can be.
Today's infographic comes from executive consultant Torben Rick, and it uses an iceberg analogy to show why organizational culture change sinks so many ships. At the top of the mass, there are visible indicators of a culture – but underneath is a bigger, invisible mass that holds all the ingrained cultural assumptions that are extremely difficult to affect.
As Torben Rick puts it, the iceberg represents "the way we say we get things done" in contrast to the deeply-ingrained "way that things actually get done" within an organization.
In other words, for managers to positively affect cultural change, they not only need to address the top of the iceberg (vision, mission, values, etc.) but they must also make inroads on the bottom of the iceberg, which makes up more like 90% of a company's actual culture.
Unfortunately, transforming these underlying perceptions, traditions, and shared assumptions is the real hard part of the exercise, and it can take many months or even years to see the results of such initiatives.
How to Build a Strong Company Culture
Cultural change cannot happen in one week of meetings, or through a few memos sent from higher ups. To effectively shape the bottom of the iceberg – those deeply-ingrained beliefs held throughout the organization – change must happen over a longer period of time where leading is done by example, and employees have the support they need to grow.
The following infographic from ZeroCater offers six ways to help get you started in building a strong culture.
As you embark on your voyage to build a stronger company culture, remember that organizational change is more complex and ingrained than it initially seems.
The amount of companies that are successful in these endeavors is far fewer than the amount that have tried – and this iceberg of organizational culture change has sunk many ships over time.
10 Travel Destinations for Post-Pandemic Life
Excited to get back to travelling the world? This infographic highlights the 10 most popular tourist destinations.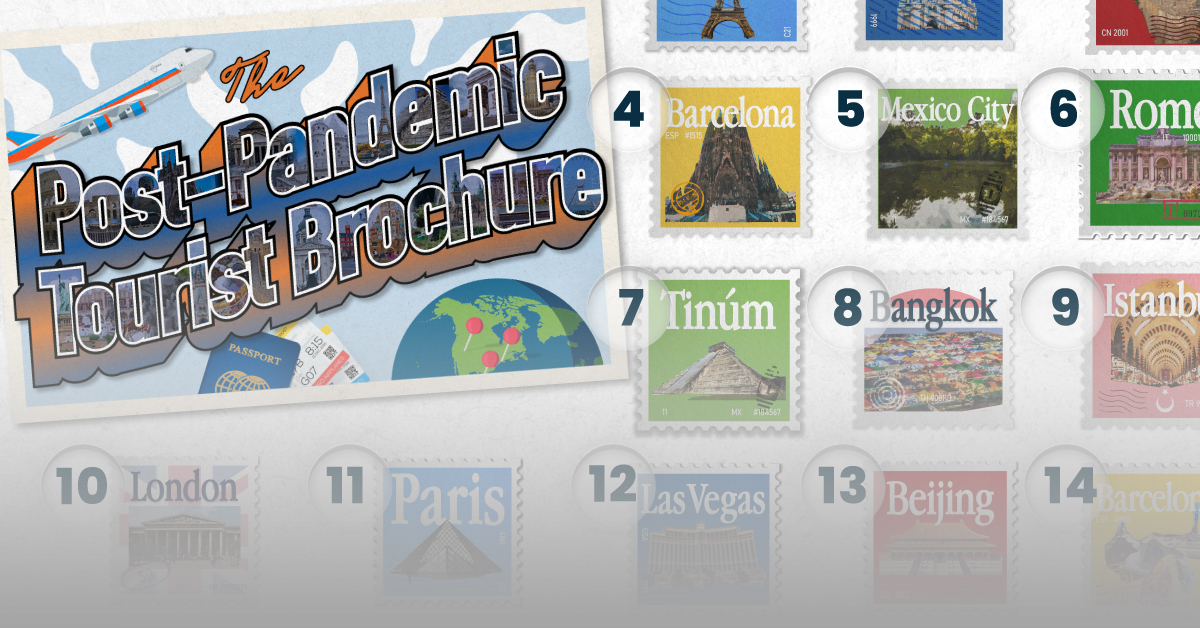 10 Travel Destinations for Post-Pandemic Life
On March 11, 2020, the World Health Organization formally classified the COVID-19 outbreak as a pandemic. The resulting travel bans decimated the tourism industry, and international air travel initially fell by as much as 98%.
Almost two years later, travel is finally back on the table, though there are many restrictions to consider. Regardless, a survey conducted in September 2021 found that, as things revert to normalcy, 82% of Americans are looking forward to international travel more than anything else.
To give inspiration for your next vacation (whenever that may be), this infographic lists the 10 most visited countries in 2019, as well as three of their top attractions according to Google Maps.
Bon Voyage
Here were the 10 most popular travel destinations in 2019, measured by their number of international arrivals.
| Country | Number of international arrivals in 2019 (millions) |
| --- | --- |
| 🇫🇷 France* | 90.0 |
| 🇪🇸 Spain | 83.5 |
| 🇺🇸 U.S. | 79.3 |
| 🇨🇳 China | 65.7 |
| 🇮🇹 Italy | 64.5 |
| 🇹🇷 Turkey | 51.2 |
| 🇲🇽 Mexico | 45.0 |
| 🇹🇭 Thailand | 39.8 |
| 🇩🇪 Germany | 39.6 |
| 🇬🇧 United Kingdom | 39.4 |
*Estimate | Source: World Bank
France was the most popular travel destination by a significant margin, and it's easy to see why. The country is home to many of the world's most renowned sights, including the Arc de Triomphe and Louvre Museum.
The Arc de Triomphe was built in the early 1800s, and honors those who died in the French Revolutionary and Napoleonic Wars. In 1944, Allied soldiers marched through the monument after Paris was liberated from the Nazis.
The Louvre Museum, on the other hand, is often recognized by its giant glass pyramid. The museum houses over 480,000 works of art, including Leonardo da Vinci's Mona Lisa.
Art isn't the only thing that France has to offer. The country has a reputation for culinary excellence, and is home to 632 Michelin-starred restaurants, the most out of any country. Japan comes in at second, with 413.
While You're There…
After seeing the sights in Paris, you may want to consider a visit to Spain. The country is the southern neighbor of France and is known for its beautiful villages and beaches.
One of its most impressive sights is the Sagrada Familia, a massive 440,000 square feet church which began construction in 1882, and is still being worked on today (139 years in the making). The video below shows the structure's striking evolution.
At a height of 172 meters, the Sagrada Familia is approximately 52 stories tall.
Another popular spot is Ibiza, an island off the coast of Spain that is famous for its robust nightlife scene. The island is frequently mentioned in pop culture—Netflix released an adventure/romance movie titled Ibiza in 2018, and the remix of Mike Posner's song I Took a Pill in Ibiza has over 1.4 billion views on YouTube.
Beaches Galore
If you're looking for something outside of Europe, consider Mexico or Thailand, which are the 7th and 8th most popular travel destinations. Both offer hot weather and an abundance of white sand beaches.
If you need even more convincing, check out these links:
Expect Turbulence
Under normal circumstances, hundreds of billions of dollars are spent each year by international tourists. According to the World Travel & Tourism Council (WTCC), this spending accounted for an impressive 10.4% of global GDP in 2019.
Travel restrictions introduced in 2020 dealt a serious blow to the industry, reducing its share of global GDP to 5.5%, and wiping out an estimated 62 million jobs. While the WTCC believes these jobs could return by 2022, the emerging Omicron variant has already prompted many countries to tighten restrictions once again.
To avoid headaches in the future, make sure you fully understand the rules and restrictions of where you're heading.
Which Values Children Should Be Encouraged to Learn, By Country
Which qualities do people think are most important for children to learn? The answer differs from country to country.

Creator Program
Many of the values we prioritize as adults were instilled in us during our childhood days.
They're called our formative years for a reason—from when we're born up until we're about eight years old, our brains are easily molded and remain highly sensitive to external influences and environments. But depending on where you grew up, you may have been exposed to different values during your childhood compared to someone from another place.
These visualizations by Anders Sundell illustrate the most important values people think children should learn at home, across more than 80 different countries.
Methodology
Sundell used data from the World Values Survey, an international survey that interviews hundreds of thousands of participants from across the globe. Respondents were asked to pick up to five qualities they believe are the most desirable for children to have:
Good manners
Independence
Hard work
Feeling of responsibility
Imagination
Tolerance and respect for other people
Thrift, saving money
Determination and perseverance
Religious faith
Unselfishness
Obedience
Sundell took the survey data and calculated the proportion of people in each country that selected each quality. From there, he took the top qualities and created three separate plot graphs to show the contrast between them.
Let's look at the importance that countries placed on different values, including (1) independence and obedience, (2) unselfishness and religious faith, and (3) hard work and imagination.
1. Independence vs Obedience
Nordic countries value independence greatly, and find obedience to be a less important quality to instill in children.
View the full-size infographic
Other available data also supports that adults in Nordic countries value independence. According to Eurostat, the most common age to leave home in Sweden is between 17 and 18—nearly a decade sooner than the average age across the EU (26 years old).
Denmark's average age to leave home is also below the European average, at 21 years old.
On the other end of the spectrum, countries like Iraq and Egypt believe obedience is much more important for children to learn.
2. Unselfishness vs Religious Faith
Bangladesh, Egypt, and Jordan all place a strong emphasis on faith, and fall on the far right of this graph.
View the full-size infographic
Islam is a strong influence in all three of these countries. In Bangladesh and Jordan, it's the official state religion. And while Egypt is a secular country, a majority of citizens identify as Muslim—about 90% of the population.
Interestingly, places like the U.S. and Hong Kong fall right in the between, placing relatively equal importance on religion and unselfishness.
3. Hard Work vs Imagination
Left-leaning Nordic countries like Sweden, Norway, Denmark, and Finland think imagination is more important for children to learn than hard work.
View the full-size infographic
Interestingly, Japan also scored high for imagination, seeing it was a more important value to teach children than hard work. This is despite the fact that the country has an international reputation for being a hardworking country, where even taking an extended vacation can be frowned upon. Then again, Japan has a reputation for producing wildly creative works of art that are popular internationally (anime, for instance).
As expected, countries and cultures contain multitudes, and can often seem paradoxical and complex to those who try to codify them.
What qualities do you think are most important, and what countries surprised you with their placements?