How Much Data is Generated Each Day?
View the full-size version of the infographic by clicking here
You've probably heard of kilobytes, megabytes, gigabytes, or even terabytes.
These data units are common everyday amounts that the average person may run into. Units this size may be big enough to quantify the amount of data sent in an email attachment, or the data stored on a hard drive, for example.
In the coming years, however, these common units will begin to seem more quaint – that's because the entire digital universe is expected to reach 44 zettabytes by 2020.
If this number is correct, it will mean there are 40 times more bytes than there are stars in the observable universe.
A Crash Course in Data
Today's infographic comes to us from Raconteur, and it gives us a picture of this new data reality.
Before we get to how much data is created each day – both now, and in the future – it's worth getting acquainted with how data scales in terms of units.
| Abbreviation | Unit | Value | Size (in bytes) |
| --- | --- | --- | --- |
| b | bit | 0 or 1 | 1/8 of a byte |
| B | bytes | 8 bits | 1 byte |
| KB | kilobytes | 1,000 bytes | 1,000 bytes |
| MB | megabyte | 1,000² bytes | 1,000,000 bytes |
| GB | gigabyte | 1,000³ bytes | 1,000,000,000 bytes |
| TB | terabyte | 1,000⁴ bytes | 1,000,000,000,000 bytes |
| PB | petabyte | 1,000⁵ bytes | 1,000,000,000,000,000 bytes |
| EB | exabyte | 1,000⁶ bytes | 1,000,000,000,000,000,000 bytes |
| ZB | zettabyte | 1,000⁷ bytes | 1,000,000,000,000,000,000,000 bytes |
| YB | yottabyte | 1,000⁸ bytes | 1,000,000,000,000,000,000,000,000 bytes |
There's no doubt that data literacy will only become more important in the future, so make sure you know your zettabytes from your yottabytes!
A Day of Data
How much data is generated in a day – and what could this look like as we enter an even more data-driven future?
Here are some key daily statistics highlighted in the infographic:
500 million tweets are sent
294 billion emails are sent
4 petabytes of data are created on Facebook
4 terabytes of data are created from each connected car
65 billion messages are sent on WhatsApp
5 billion searches are made
By 2025, it's estimated that 463 exabytes of data will be created each day globally – that's the equivalent of 212,765,957 DVDs per day!
If you think the above information is fascinating, see what happens in an internet minute.
Charted: What are Retail Investors Interested in Buying in 2023?
What key themes and strategies are retail investors looking at for the rest of 2023? Preview: AI is a popular choice.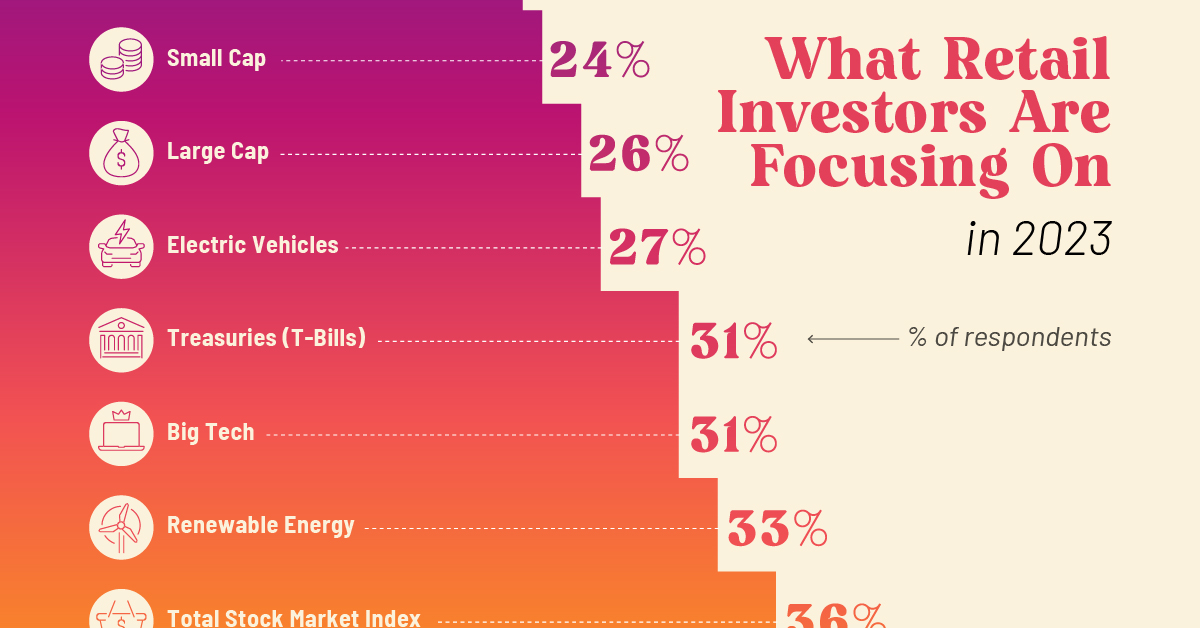 Charted: Retail Investors' Top Picks for 2023
U.S. retail investors, enticed by a brief pause in the interest rate cycle, came roaring back in the early summer. But what are their investment priorities for the second half of 2023?
We visualized the data from Public's 2023 Retail Investor Report, which surveyed 1,005 retail investors on their platform, asking "which investment strategy or themes are you interested in as part of your overall investment strategy?"
Survey respondents ticked all the options that applied to them, thus their response percentages do not sum to 100%.
Where Are Retail Investors Putting Their Money?
By far the most popular strategy for retail investors is dividend investing with 50% of the respondents selecting it as something they're interested in.
Dividends can help supplement incomes and come with tax benefits (especially for lower income investors or if the dividend is paid out into a tax-deferred account), and can be a popular choice during more inflationary times.
| Investment Strategy | Percent of Respondents |
| --- | --- |
| Dividend Investing | 50% |
| Artificial Intelligence | 36% |
| Total Stock Market Index | 36% |
| Renewable Energy | 33% |
| Big Tech | 31% |
| Treasuries (T-Bills) | 31% |
| Electric Vehicles | 27% |
| Large Cap | 26% |
| Small Cap | 24% |
| Emerging Markets | 23% |
| Real Estate | 23% |
| Gold & Precious Metals | 23% |
| Mid Cap | 19% |
| Inflation Protection | 13% |
| Commodities | 12% |
Meanwhile, the hype around AI hasn't faded, with 36% of the respondents saying they'd be interested in investing in the theme—including juggernaut chipmaker Nvidia. This is tied for second place with Total Stock Market Index investing.
Treasury Bills (30%) represent the safety anchoring of the portfolio but the ongoing climate crisis is also on investors' minds with Renewable Energy (33%) and EVs (27%) scoring fairly high on the interest list.
Commodities and Inflation-Protection stocks on the other hand have fallen out of favor.
Come on Barbie, Let's Go Party…
Another interesting takeaway pulled from the survey is how conversations about prevailing companies—or the buzz around them—are influencing trades. The platform found that public investors in Mattel increased 6.6 times after the success of the 'Barbie' movie.
Bud Light also saw a 1.5x increase in retail investors, despite receiving negative attention from their fans after the company did a beer promotion campaign with trans influencer Dylan Mulvaney.
Given the origin story of a large chunk of American retail investors revolves around GameStop and AMC, these insights aren't new, but they do reveal a persisting trend.