Great Lakes Economy: Examining the Cross-Border Supply Chain
If the region surrounding the Great Lakes was its own country, it would be the 3rd largest economy in the world with a GDP of $6 trillion. That's bigger than Japan or Germany, and certainly a force on the global stage.
However, this highly-integrated Great Lakes economic engine is different than many others – that's because it has an international border right down the middle of it. The area's five massive freshwater lakes are actually nestled right between eight U.S. states and two Canadian provinces, making frictionless trade a necessity to stay competitive in global markets.
How This Supply Chain Works
Today's infographic comes to us from the Council of the Great Lakes Region, and it details the integration of the cross-border supply chain that helps the region make goods that are competitive in international markets.
In today's extremely competitive and borderless global economy, many goods that get produced are ultimately the result of a group effort.
Both large and small companies rely heavily on highly specialized suppliers from all parts of the globe to get what they need to build the best product. Luckily, in the Great Lakes economy, one does not have to go far to find goods or services to fill these gaps.
Goods of the Great Lakes
1. Manufacturing
Both the automotive and aerospace industries are incredibly important to the United States and Canada – and within the Great Lakes region, these industries are highly integrated to compete on a global level.
In the auto sector, supply chains rely on parts to come from multiple companies in both the U.S. and Canada. In some cases, automobiles may contain components that have crossed the border up to 18 times before the finished product reaches the final car lot.
The aerospace supply chains between the United States and Canada are also highly interdependent. In 2016, for example, Canada was the fifth largest foreign market for U.S. aerospace exports, valued at approximately $8.3 billion. Meanwhile, the United States is also Canada's largest aerospace market, receiving 60% of all Canadian aerospace exports.
2. Mining and Energy
Manufacturers in the Great Lakes don't have to look far for the raw materials needed to manufacture autos and airplanes. These can be found nearby, along with other key metals and minerals.
Some key examples? Pennsylvania produces important met coal, which is used to produce steel, while Minnesota is the largest producer of iron ore in the United States. North of the border, Quebec's aluminum is becoming more important for auto and aerospace producers in both Michigan and Ontario. As a whole, the Great Lakes region produces billions of dollars worth of minerals every year.
Although the Great Lake states are not known for their crude oil production, they are home to three of the country's 10 largest refineries. Processing oil from the U.S., Canada, and other international sources, these refineries make sure fuel is abundantly close for Great Lakes industry.
3. Food and Agriculture
While goods vary greatly from place to place, the food industry is also very interconnected in the Great Lakes. For example, Pennsylvania benefits from selling chocolate products to Canada, while Minnesota and Ohio both sell animal feed.
Every year, Great Lake states ship $8.4 billion of exports to Canada, receiving $8.9 billion of imports in return.
Which Companies Make Up the "Magnificent Seven" Stocks?
FAANG is dead… meet the 'Magnificent Seven' stocks that now make up over 25% of the S&P 500.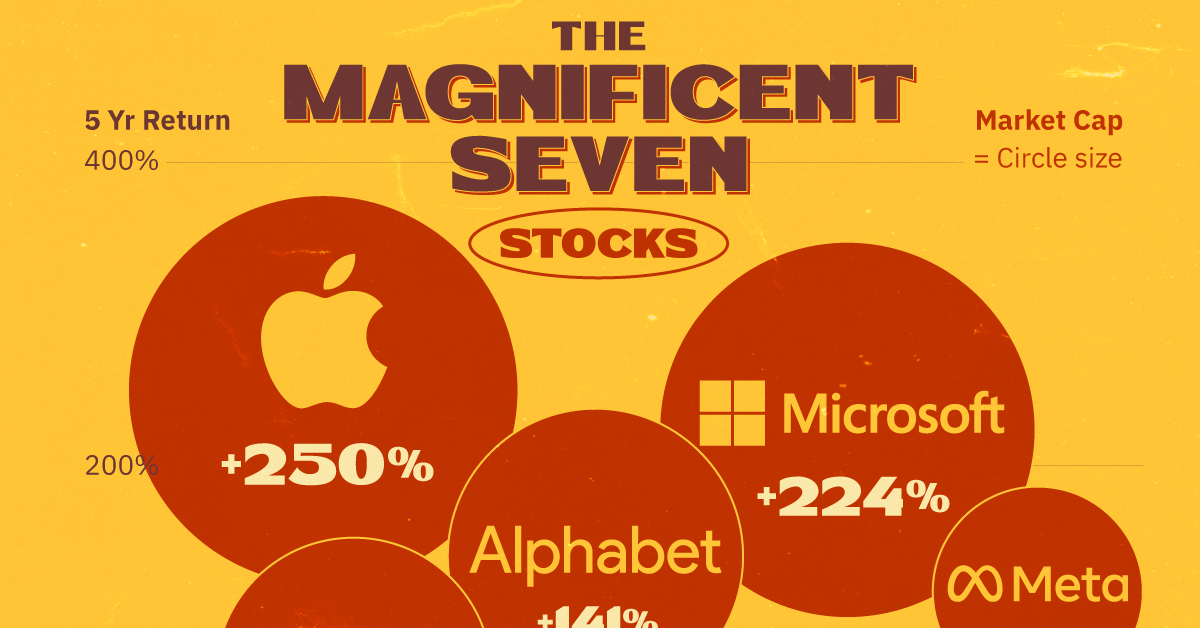 Which Companies Make Up the "Magnificent Seven" Stocks?
In 2013 CNBC analyst Jim Cramer popularized "FANG," comprised of Facebook (now Meta), Amazon, Netflix, and Google (now Alphabet), as a shorthand for the best performing technology stocks on the market. Apple, added in 2017, made it FAANG.
However, over the last year a new moniker given by Bank of America analyst Michael Hartnett highlights the most valuable and popularly-owned companies on the American stock market: the "Magnificent Seven" stocks.
We visualize the Magnificent Seven's market capitalization and 5-year stock performance as of November 2023 using data from Google Finance and CompaniesMarketCap.
The Magnificent Seven Stocks by Market Cap and 5-Year Return
The Magnificent Seven stocks are megacap companies focused and capitalizing on tech growth trends including AI, cloud computing, and cutting-edge hardware and software.
Four of the five FAANG stocks retain their place amongst the Magnificent Seven, with newcomers Nvidia, Tesla, and Microsoft joining the group. Following a poor 2022 performance and having more difficulty capitalizing on tech trends, Netflix is the sole FAANG company not included.
Here's a look at the companies ranked by their market capitalization on November 6, 2023, alongside their 5-year stock performance:
| Rank | Company | Market Cap | 5 Year Performance |
| --- | --- | --- | --- |
| 1 | Apple | $2.8 trillion | +250% |
| 2 | Microsoft | $2.6 trillion | +224% |
| 3 | Alphabet | $1.6 trillion | +141% |
| 4 | Amazon | $1.4 trillion | +63% |
| 5 | Nvidia | $1.1 trillion | +783% |
| 6 | Meta | $811 billion | +118% |
| 7 | Tesla | $690 billion | +829% |
The Magnificent Seven make up more than one-quarter of the S&P 500 and more than half of the Nasdaq 100.
Meanwhile, five of the seven are part of the rare trillion dollar club, with Nvidia being the most recent entry.
A common theme among the Magnificent Seven is their ability to collect vast amounts of customer data, create cutting-edge hardware and software, as well as harness the power of AI.
However, if Netflix gets back on track—recently announcing its new ad-supported membership tier has 15 million subscribers—we could soon see a "Magnificent Eight."