Decoding Google's AI Ambitions (and Anxiety)
Decoding Google's AI Ambitions (and Anxiety)
Anyone who's experimented with ChatGPT can get a sense of the potential of generative AI—even in the technology's earliest stages.
The hype around AI was rising throughout 2022, and has reached a fever pitch today.
We've seen hype cycles swell around specific technologies before. Blockchain, Metaverse, NFTs, the list goes on. It remains to be seen what tangible value is created after the heat dies down, but in the meantime, some of the world's biggest companies are taking it very seriously.
Google—which internally reoriented itself around AI years ago—is at the forefront of this movement, so the recent letter published by Google CEO Sundar Pichai is consequential.
After all, billions of people use Google Search to learn about the world, and Alphabet is one of the world's most valuable, powerful tech companies. But before we "read between the lines" of the letter, it's worth revisiting the larger context that this letter addresses.
OpenAI Has Entered The Chat
Artificial intelligence has been chalking up a number of wins in recent months, but it was DALL-E Mini and ChatGPT that really allowed generative AI to burst into the public consciousness. In fact, ChatGPT became so popular in a short amount of time, that Google declared an internal "code red" to address the issue. Leaders at Google were well aware of the disruptive power of conversational AI because they were already testing their own models internally.
Microsoft recognized the potential as well, and invested $10 billion in OpenAI, which runs ChatGPT as well as a number of other publicly-accessible AI tools. Microsoft's intention was to bring the magic of ChatGPT over to their Bing search engine—and perhaps steal market share away from Google.
This sets the stage for what we're seeing today. Essentially every big tech firm is singing AI's praises, and Microsoft and Google appear to be entering into an AI race.
The AI Race is Heating Up
If there were any questions about how seriously Google was taking Microsoft's new partnership with OpenAI, recent messaging should remove all doubt. The letter above, by Sundar Pichai speaks volumes while never straying far from official talking points. First, here is the high-level messaging in Pichai's letter:
Google has already been in the AI game for years now
Bard is going to make Google search more ChatGPT-like
Google is only late to the party because they've been careful
On this last point: a message from the CEO, which reaffirms the company's commitment to AI would normally coincide with a product launch, not one that will be released to the public "in the coming weeks". This messaging highlights a key barrier that Google is facing. Fearing the "reputational damage" that could come from rolling products out prematurely, the company has been forced to move slower than the market now expects.
Google has already endured a painful misstep after reporters discovered an incorrect answer in a promotional video touting the conversational AI service, Bard. This simple mistake cost Alphabet $100 billion in market value—demonstrating how high the stakes are now that Big Tech's AI progress is under the microscope.
The timing of this letter is also very telling. The letter was published the day before Bing rolled out new AI-enabled features to the public.
Let the jockeying for position begin.
Nobody Wants to be Left Behind
Google and Microsoft may be the biggest players battling it out in the AI space, but there are indicators all over that AI represents a massive technological shift that will impact a number of industries. From Fiverr's "Open Letter to AI" to Baidu's recent AI chatbot announcement, it seems that every day brings fresh news that fuels AI hype.
One thing's for sure: AI will be integrated into digital tools in more noticeable ways. And for better or worse, we'll all be participating the experiment.
Charted: What are Retail Investors Interested in Buying in 2023?
What key themes and strategies are retail investors looking at for the rest of 2023? Preview: AI is a popular choice.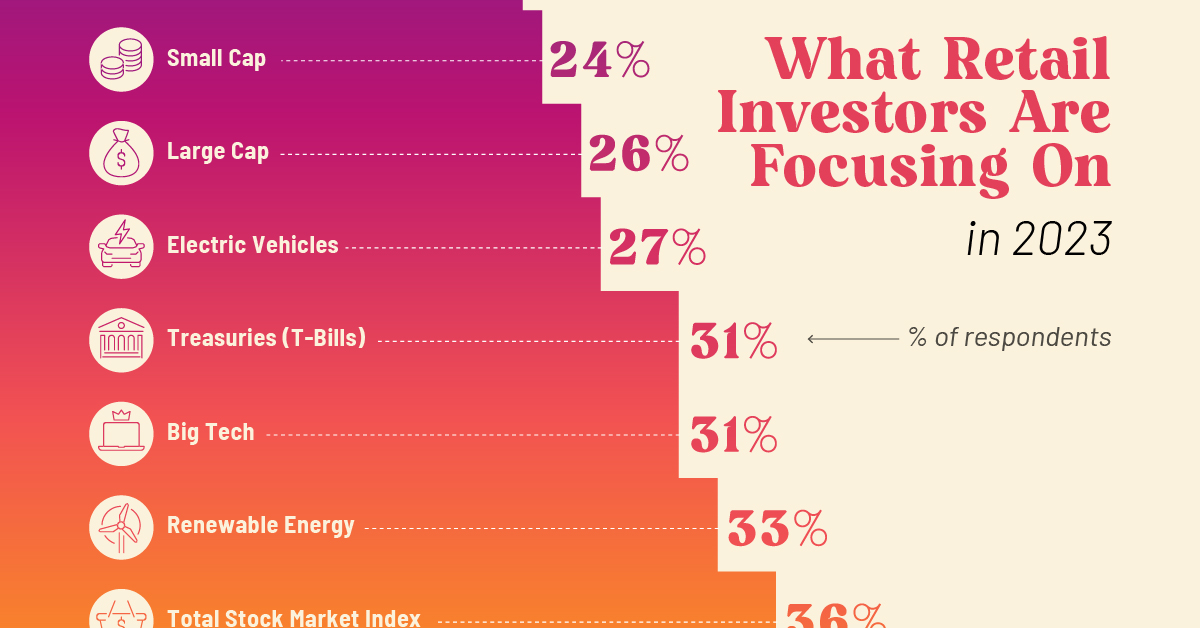 Charted: Retail Investors' Top Picks for 2023
U.S. retail investors, enticed by a brief pause in the interest rate cycle, came roaring back in the early summer. But what are their investment priorities for the second half of 2023?
We visualized the data from Public's 2023 Retail Investor Report, which surveyed 1,005 retail investors on their platform, asking "which investment strategy or themes are you interested in as part of your overall investment strategy?"
Survey respondents ticked all the options that applied to them, thus their response percentages do not sum to 100%.
Where Are Retail Investors Putting Their Money?
By far the most popular strategy for retail investors is dividend investing with 50% of the respondents selecting it as something they're interested in.
Dividends can help supplement incomes and come with tax benefits (especially for lower income investors or if the dividend is paid out into a tax-deferred account), and can be a popular choice during more inflationary times.
| Investment Strategy | Percent of Respondents |
| --- | --- |
| Dividend Investing | 50% |
| Artificial Intelligence | 36% |
| Total Stock Market Index | 36% |
| Renewable Energy | 33% |
| Big Tech | 31% |
| Treasuries (T-Bills) | 31% |
| Electric Vehicles | 27% |
| Large Cap | 26% |
| Small Cap | 24% |
| Emerging Markets | 23% |
| Real Estate | 23% |
| Gold & Precious Metals | 23% |
| Mid Cap | 19% |
| Inflation Protection | 13% |
| Commodities | 12% |
Meanwhile, the hype around AI hasn't faded, with 36% of the respondents saying they'd be interested in investing in the theme—including juggernaut chipmaker Nvidia. This is tied for second place with Total Stock Market Index investing.
Treasury Bills (30%) represent the safety anchoring of the portfolio but the ongoing climate crisis is also on investors' minds with Renewable Energy (33%) and EVs (27%) scoring fairly high on the interest list.
Commodities and Inflation-Protection stocks on the other hand have fallen out of favor.
Come on Barbie, Let's Go Party…
Another interesting takeaway pulled from the survey is how conversations about prevailing companies—or the buzz around them—are influencing trades. The platform found that public investors in Mattel increased 6.6 times after the success of the 'Barbie' movie.
Bud Light also saw a 1.5x increase in retail investors, despite receiving negative attention from their fans after the company did a beer promotion campaign with trans influencer Dylan Mulvaney.
Given the origin story of a large chunk of American retail investors revolves around GameStop and AMC, these insights aren't new, but they do reveal a persisting trend.