The Biggest Global Risks of 2023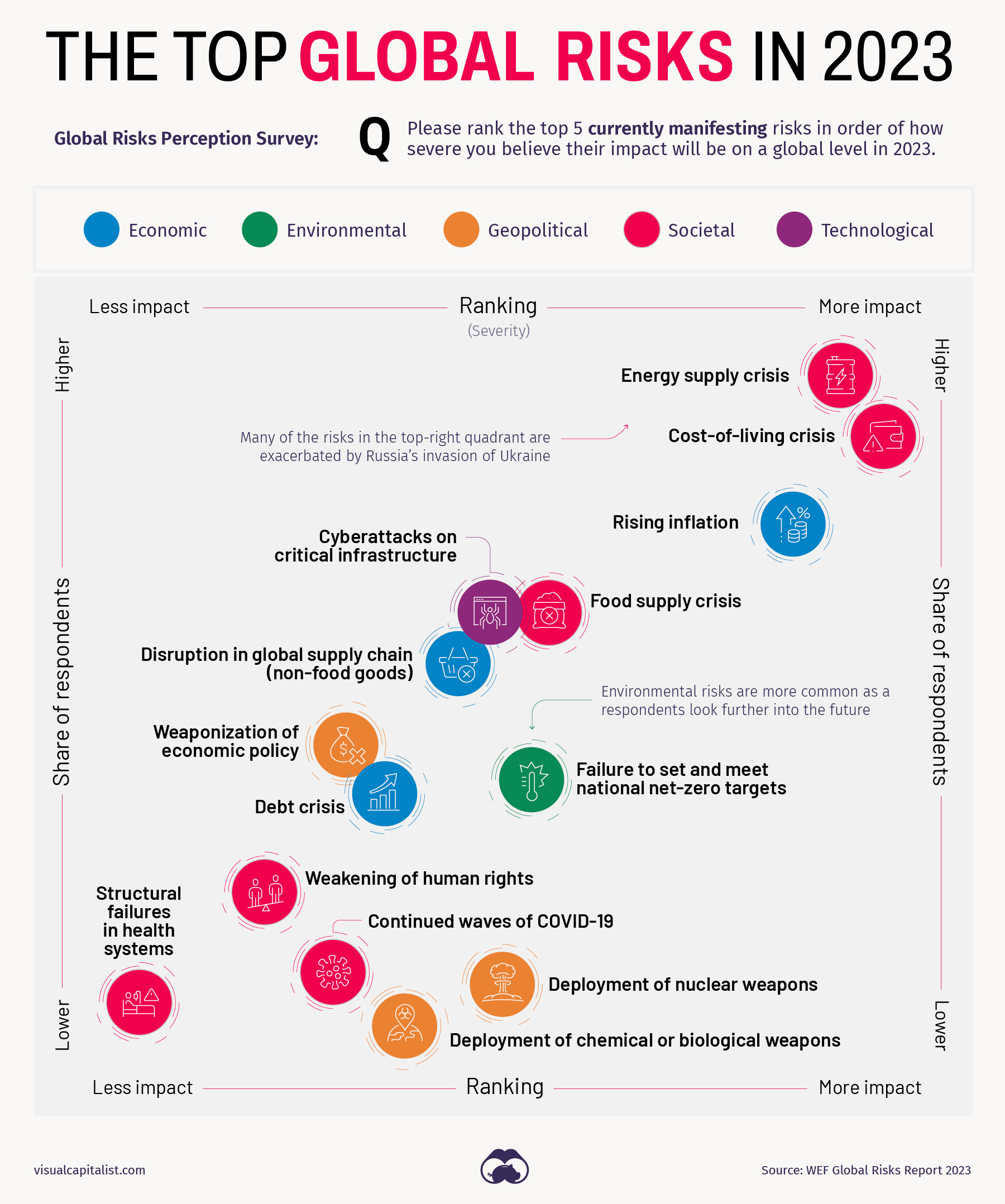 The Biggest Global Risks of 2023
The profile of risks facing the world is evolving constantly. Events like last year's invasion of Ukraine can send shockwaves through the system, radically shifting perceptions of what the biggest risks facing humanity are.
Today's graphic summarizes findings from the Global Risks Report, an annual publication produced by the World Economic Forum (WEF). It provides an overview of the most pressing global risks that the world is facing, as identified by experts and decision-makers.
These risks are grouped into five general categories: economic, environmental, geopolitical, societal, and technological.
Let's dive into this year's findings.
2023's Risk Profile
In the lower–middle portion of the chart are the risks that could have serious impacts—such as attacks involving nuclear or biological weapons—but that were highlighted by fewer experts.
Over in the top-right quadrant of the chart are the risks that a number of experts mentioned, and that are causing a strain on society. Not surprisingly, the top risks are related to issues that impact a wide variety of people, such as the rising cost of living and inflation. When staples like food and energy become more expensive, this can fuel unrest and political instability—particularly in countries that already had simmering discontent. WEF points out that increases in fuel prices alone led to protests in an estimated 92 countries.
One risk worth watching is geoeconomic confrontation, which includes sanctions, trade wars, investment screening, and other actions that have the intent of weakening the countries on the receiving end. Efforts to mitigate this risk result in some of the key themes we see for the coming year. One example is the onshoring of industries, and "friend-shoring", which is essentially moving operations to a foreign country that has more stable relations with one's home country.
How Prepared Are We?
It's one thing to be aware of risks, but it's quite another to have the ability to head off negative events when they come to fruition.
The chart below is a look at how prepared we are globally to deal with specific types of risks that could arise in the next few years.
At the top of the chart are risks that experts feel society is better equipped to handle with current plans and resources. Moving towards the bottom of the chart are risks that experts feel are more of a threat since mechanisms for handling them are weak or non-existent.
Experts are generally more confident in solutions in the military or healthcare domains. Environmental and societal challenges leave policy and decision-makers less confident.
One telling observation from the data above is that none of the risks left a majority of experts feeling confident in our ability to prevent the risk from occurring, or prepared to mitigate its impact. As the 2020s are shaping up to be a turbulent decade, that could be a cause for concern.
Where does this data come from?
Source: The Global Risks Report 2023, produced by the World Economic Forum (in partnership with Marsh McLennan and Zurich Insurance Group).
Data note: The chart in this article is based on the Global Risks Perception Survey 2022-2023. A list of 32 global risks, along with their definitions, is shown in Table A.1 of the PDF. Page 77 of the report also includes detailed information on sample sizes and demographics of respondents.
Ranked: The World's Top Diamond Mining Countries, by Carats and Value
Who are the leaders in rough diamond production and how much is their diamond output worth?

Creator Program
Ranked: World Diamond Mining By Country, Carat, and Value
Only 22 countries in the world engage in rough diamond production—also known as uncut, raw or natural diamonds—mining for them from deposits within their territories.
This chart, by Sam Parker illustrates the leaders in rough diamond production by weight and value. It uses data from Kimberly Process (an international certification organization) along with estimates by Dr. Ashok Damarupurshad, a precious metals and diamond specialist in South Africa.
Rough Diamond Production, By Weight
Russia takes the top spot as the world's largest rough diamond producer, mining close to 42 million carats in 2022, well ahead of its peers.
ℹ️ Carat is the unit of measurement for the physical weight of diamonds. One carat equals 0.200 grams, which means it takes over 2,265 carats to equal 1 pound.
Russia's large lead over second-place Botswana (24.8 million carats) and third-ranked Canada (16.2 million carats) indicates that the country's diamond production is circumventing sanctions due to the difficulties in tracing a diamond's origin.
Here's a quick breakdown of rough diamond production in the world.
Rank
Country
Rough Diamond
Production (Carats)
1
🇷🇺 Russia
41,923,910
2
🇧🇼 Botswana
24,752,967
3
🇨🇦 Canada
16,249,218
4
🇨🇩 DRC
9,908,998
5
🇿🇦 South Africa
9,660,233
6
🇦🇴 Angola
8,763,309
7
🇿🇼 Zimbabwe
4,461,450
8
🇳🇦 Namibia
2,054,227
9
🇱🇸 Lesotho
727,737
10
🇸🇱 Sierra Leone
688,970
11
🇹🇿 Tanzania
375,533
12
🇧🇷 Brazil
158,420
13
🇬🇳 Guinea
128,771
14
🇨🇫 Central
African Republic
118,044
15
🇬🇾 Guyana
83,382
16
🇬🇭 Ghana
82,500
17
🇱🇷 Liberia
52,165
18
🇨🇮 Cote D'Ivoire
3,904
19
🇨🇬 Republic of Congo
3,534
20
🇨🇲 Cameroon
2,431
21
🇻🇪 Venezuela
1,665
22
🇲🇱 Mali
92
Total
120,201,460
Note: South Africa's figures are estimated.
As with most other resources, (oil, gold, uranium), rough diamond production is distributed unequally. The top 10 rough diamond producing countries by weight account for 99.2% of all rough diamonds mined in 2022.
Diamond Mining, by Country
However, higher carat mined doesn't necessarily mean better value for the diamond. Other factors like the cut, color, and clarity also influence a diamond's value.
Here's a quick breakdown of diamond production by value (USD) in 2022.
Rank
Country
Rough Diamond
Value (USD)
1
🇧🇼 Botswana
$4,975M
2
🇷🇺 Russia
$3,553M
3
🇦🇴 Angola
$1,965M
4
🇨🇦 Canada
$1,877M
5
🇿🇦 South Africa
$1,538M
6
🇳🇦 Namibia
$1,234M
7
🇿🇼 Zimbabwe
$424M
8
🇱🇸 Lesotho
$314M
9
🇸🇱 Sierra Leone
$143M
10
🇹🇿 Tanzania
$110M
11
🇨🇩 DRC
$65M
12
🇧🇷 Brazil
$30M
13
🇱🇷 Liberia
$18M
14
🇨🇫 Central
African Republic
$15M
15
🇬🇾 Guyana
$14M
16
🇬🇳 Guinea
$6M
17
🇬🇭 Ghana
$3M
18
🇨🇲 Cameroon
$0.25M
19
🇨🇬 Republic of Congo
$0.20M
20
🇨🇮 Cote D'Ivoire
$0.16M
21
🇻🇪 Venezuela
$0.10M
22
🇲🇱 Mali
$0.06M
Total
$16,290M
Note: South Africa's figures are estimated. Furthermore, numbers have been rounded and may not sum to the total.
Thus, even though Botswana only produced 59% of Russia's diamond weight in 2022, it had a trade value of nearly $5 billion, approximately 1.5 times higher than Russia's for the same year.
Another example is Angola, which is ranked 6th in diamond production, but 3rd in diamond value.
Both countries (as well as South Africa, Canada, and Namibia) produce gem-quality rough diamonds versus countries like Russia and the DRC whose diamonds are produced mainly for industrial use.
Which Regions Produce the Most Diamonds in 2022?
Unsurprisingly, Africa is the largest rough diamond producing region, accounting for 51% of output by weight, and 66% by value.
Rank
Region
Share of Rough
Diamond Production (%)
Share of Rough
Diamond Value (%)
1
Africa
51.4%
66.4%
2
Europe
34.9%
32.9%
3
North America
13.5%
52.8%
4
South America
0.2%
2.4%
However diamond mining in Africa is a relatively recent phenomenon, fewer than 200 years old. Diamonds had been discovered—and prized—as far back as 2,000 years ago in India, later on spreading west to Egyptian pharaohs and the Roman Empire.
By the start of the 20th century, diamond production on a large scale took off: first in South Africa, and decades later in other African countries. In fact between 1889–1959, Africa produced 98% of the world's diamonds.
And in the latter half of the 20th century, the term blood diamond evolved from diamonds mined in African conflict zones used to finance insurgency or crime.