How Chinese Financing is Fueling Megaprojects Around the World
View the full-size version of this infographic.
How Chinese Financing is Fueling the World's Megaprojects
On a mountaintop a few miles north of the bustling streets of Harare, Zimbabwe, a curving, modern complex is beginning to take shape. This building, once completed, will be the home of the African country's parliament, and the centerpiece of a new section of the capital city.
Aside from the striking design, there's another unique twist to this development — the entire $140 million project is a gift from Beijing. At first glance, gifting a country a new parliament building may seem extravagant, but the project is a tiny portion of China's $270 billion in "diplomacy spending" since 2000.
AidData, a research lab at the W&M Global Research Institute, has compiled a massive database of Chinese-backed projects spanning from 2000–2017. In aggregate, it creates a comprehensive look at China's efforts to grow its influence in countries around the world, particularly in Africa and South Asia.
Beijing has ramped up the volume and sophistication of its public diplomacy overtures, […] but infrastructure as a part of its financial diplomacy dwarfs Beijing's other public diplomacy tools.
– Samantha Custer, Director of Policy Analysis, AidData
Below, we'll look at three diplomacy spending hotspots around the world, and learn about key Chinese-funded megaprojects, from power plants to railway systems.
1. Pakistan
In 2015, Chinese President Xi Jingping visited Islamabad to inaugurate the China-Pakistan Economic Corridor (CPEC), kicking off a $46 billion investment that has transformed Pakistan's transportation system and power grid. CPEC is designed to cement the strategic relationship between the two countries, and is a portion of China's massive One Belt, One Road (OBOR) initiative.
One of the largest projects financed by China was the Karachi Nuclear Power K2/K3 project. This massive power generation project is primarily bankrolled by China's state-owned Exim Bank which has kicked in over $6.6 billion over three phases of payments.
Billions of dollars in Chinese capital has also funded everything from highway construction to renewable energy projects across Pakistan. Pakistan's youth unemployment rate sits as high as 40%, so jobs created by new infrastructure investments are a welcome prospect. In 2014, Pakistan had the highest public approval rating of China in the world, with nearly 80% respondents holding a favorable view of China.
2. Ethiopia
Ethiopia has seen a number of changes within its borders thanks to Chinese financing. This is particularly evident in its capital, Addis Ababa, where a slew of transportation projects — from new ring roads to Sub-Saharan Africa's first metro system — transformed the city.
One of the most striking symbols of Chinese influence in Addis Ababa is the futuristic African Union (AU) headquarters. The $200 million complex was gifted to the city by Beijing in 2012.
Though Ethiopia is a clear example of Chinese investment transforming a country's infrastructure, a number of other African nations have experienced a similar influx of money from Beijing. This financing pipeline has increased dramatically in recent years.
3. Sri Lanka
In the wake of political turmoil, Sri Lanka is increasingly looking to China for loans. From 2000 to 2017, over $12 billion in loans and grants have poured into the deeply-indebted country.
Perhaps the most contentious symbol of the relationship between the two countries is a port on the south coast of the island nation, at a strategic point along one of the world's busiest shipping lanes. The Hambantota Port project — which was completed in 2011 — followed a now familiar path. Eschewing an open bidding process, Beijing's government financed the project and hired a state-owned firm to construct the port, primarily using Chinese workers.
By 2017, Sri Lanka's government was burdened by debt the previous administration had taken on. After months of negotiations, the port was handed over with the land around it leased to China for 99 years. This handover was a strategic victory for China, which now has a shipping foothold within close proximity of its regional rival, India.
John Adams said infamously that a way to subjugate a country is through either the sword or debt. China has chosen the latter.
– Brahma Chellaney
Playing the Long Game
Africa's economic rise will likely be a major contributor to global growth in coming years. Already, six of the 10 fastest growing economies in the world are located in Africa. China is also the top trading partner on the continent, with the United States sitting in third place.
OBOR spending has also earned China plenty of influence in the rest of Asia as well. If the ambitious megaproject continues along its current trajectory, China will be the central player in a more prosperous, interconnected Asia.
This is How Much NATO Countries Spend on Defense
How much does each country in the military alliance contribute to NATO defense spending? We break it down with this map.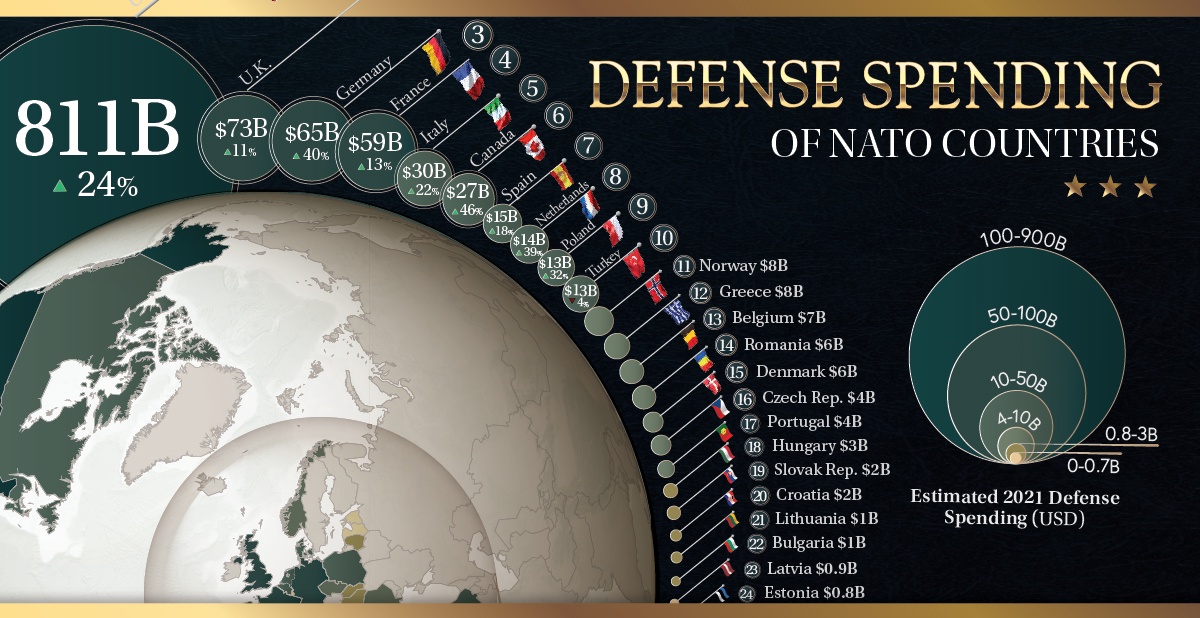 This Is How Much NATO Countries Spend on Defense
The North Atlantic Treaty Organization (NATO) exists for the sole purpose of facilitating a political and military alliance between almost 30 countries. All are obligated to one another in times of war, but some countries have much stronger militaries and defense systems than others.
Using data from NATO, this map reveals what each NATO member country spends on its own national defense.
Note: Numbers are 2021 projections.
Biggest NATO Defense Spenders
The U.S. spends more on defense than any other NATO country.
According to the 2021 estimates, U.S. defense spending will be close to $811 billion this year. On the other hand, the defense spending of all other NATO countries combined is projected to be $363 billion, meaning the U.S. will outspend all other countries by a whopping $448 billion.
| Rank | Country | Millions (USD) 2021p | Change (2014-2021) |
| --- | --- | --- | --- |
| #1 | 🇺🇸 United States | $811,140 | 24.0% |
| #2 | 🇬🇧 United Kingdom | $72,765 | 10.8% |
| #3 | 🇩🇪 Germany | $64,785 | 40.3% |
| #4 | 🇫🇷 France | $58,729 | 12.9% |
| #5 | 🇮🇹 Italy | $29,763 | 21.5% |
| #6 | 🇨🇦 Canada | $26,523 | 46.0% |
| #7 | 🇪🇸 Spain | $14,875 | 17.7% |
| #8 | 🇳🇱 Netherlands | $14,378 | 38.9% |
| #9 | 🇵🇱 Poland | $13,369 | 32.3% |
| #10 | 🇹🇷 Turkey | $13,057 | -3.8% |
| #11 | 🇳🇴 Norway | $8,292 | 7.4% |
| #12 | 🇬🇷 Greece | $8,014 | 53.1% |
| #13 | 🇧🇪 Belgium | $6,503 | 25.1% |
| #14 | 🇷🇴 Romania | $5,785 | 114.9% |
| #15 | 🇩🇰 Denmark | $5,522 | 36.1% |
| #16 | 🇨🇿 Czech Republic | $4,013 | 103.2% |
| #17 | 🇵🇹 Portugal | $3,975 | 32.2% |
| #18 | 🇭🇺 Hungary | $2,907 | 140.3% |
| #19 | 🇸🇰 Slovakia | $2,043 | 104.6% |
| #20 | 🇭🇷 Croatia | $1,846 | 73.6% |
| #21 | 🇱🇹 Lithuania | $1,278 | 198.8% |
| #22 | 🇧🇬 Bulgaria | $1,253 | 67.7% |
| #23 | 🇱🇻 Latvia | $851 | 189.9% |
| #24 | 🇪🇪 Estonia | $787 | 53.2% |
| #25 | 🇸🇮 Slovenia | $760 | 56.0% |
| #26 | 🇱🇺 Luxembourg | $474 | 87.4% |
| #27 | 🇦🇱 Albania | $239 | 33.8% |
| #28 | 🇲🇰 North Macedonia | $219 | 76.6% |
| #29 | 🇲🇪 Montenegro | $97 | 40.0% |
NATO is based on building up forces and equipment for the goal of joint security and defense. And, despite the pandemic, many members did increase their spending in 2020.
However, not all countries contribute equally. The agreed-upon target for European NATO members, for example, is to spend 2% of GDP on defense by 2024, but many countries are not on track to meet this goal.
Who Pays for NATO Itself?
One of the key pillars of NATO is collective defense: a commitment to the idea that an act of violence against one or more of its member states is an act of aggression towards all.
Collective defense, cooperative security, and crisis management are at the heart of NATO's purpose and operations.
Apart from defense spending, running a transcontinental political alliance costs around $3 billion annually. So which countries foot the bill for these expenses?
Country
Cost Share Arrangements
(2021-2024)
🇺🇸 United States
16.36%
🇩🇪 Germany
16.36%
🇬🇧 United Kingdom
11.29%
🇫🇷 France
10.50%
🇮🇹 Italy
8.79%
🇨🇦 Canada
6.88%
🇪🇸 Spain
6.00%
🇹🇷 Turkey
4.73%
🇳🇱 Netherlands
3.45%
🇵🇱 Poland
2.99%
🇧🇪 Belgium
2.11%
🇳🇴 Norway
1.78%
🇩🇰 Denmark
1.31%
🇷🇴 Romania
1.23%
🇬🇷 Greece
1.06%
🇨🇿 Czech Republic
1.06%
🇵🇹 Portugal
1.05%
🇭🇺 Hungary
0.76%
🇸🇰 Slovakia
0.52%
🇧🇬 Bulgaria
0.37%
🇭🇷 Croatia
0.30%
🇱🇹 Lithuania
0.26%
🇸🇮 Slovenia
0.23%
🇱🇺 Luxembourg
0.17%
🇱🇻 Latvia
0.16%
🇪🇪 Estonia
0.12%
🇦🇱 Albania
0.09%
🇮🇸 Iceland
0.06%
🇲🇪 Montenegro
0.03%
Total
100.00%
Members have pre-arranged mechanisms to divide NATO alliance expenses evenly.
Getting into specifics, the members are paying for:
Civilian staff wages and overhead costs of running NATO headquarters.
Running strategic commands, joint operations, early warning and radar systems, training, etc.
Defense communications systems, harbors, airfields, and fuel supplies.
The Future of NATO
While outright nation-on-nation conflict is becoming more rare, threats to the collective security of NATO allies have not disappeared.
While countries may have differing opinions over the exact amount each should contribute, rising expenditures are a sign that NATO is still a priority for the near future.
Map Explainer: Key Facts About Afghanistan
This map explainer looks at Afghanistan from a structural point of view, delving into geography and population patterns.
Map Explainer: Key Facts About Afghanistan
The country of Afghanistan has a long and complicated history of domination by foreign powers and conflict between factions within the country.
While Afghanistan is well covered in headlines and news stories, the lion's share of this coverage is directly related to conflict. As a result, Afghanistan is viewed by many in Western countries as a war-torn desert, with conflict, ideology, and geopolitical power obscuring more practical information about the country and its people.
In the Afghanistan map graphic above, we step back and examine Afghanistan from a structural point of view. How does its unique landscape influence population patterns? How does this geography influence the economy and relationships with neighboring nations? Let's dive in.
Mountain High, Valley Low
Afghanistan's rugged landscape is defined by towering snow-capped mountains, fertile valleys, and expansive deserts.
First, the country has a wide variety of climate extremes. There is more than 100ºC (180ºF) separating the record high and low temperatures.
The extremes don't stop at temperature though. Afghanistan has the sixth-highest elevation span in the world, with 7,234m (23,734 ft) between its highest and lowest point. Afghanistan is one of 44 landlocked nations in the world, which helps explain why its lowest point is so much higher than sea level.
For those living in North America, the country's terrain has been compared to Colorado, with Kabul sharing similarities with Denver.
Where Do People Live in Afghanistan?
Settlement patterns in Afghanistan are similar to other countries in the region; people cluster where there is access to fresh water.
As the cartogram below demonstrates, a large portion of the country's population is located around Kabul, and the region adjacent to the Kabul River.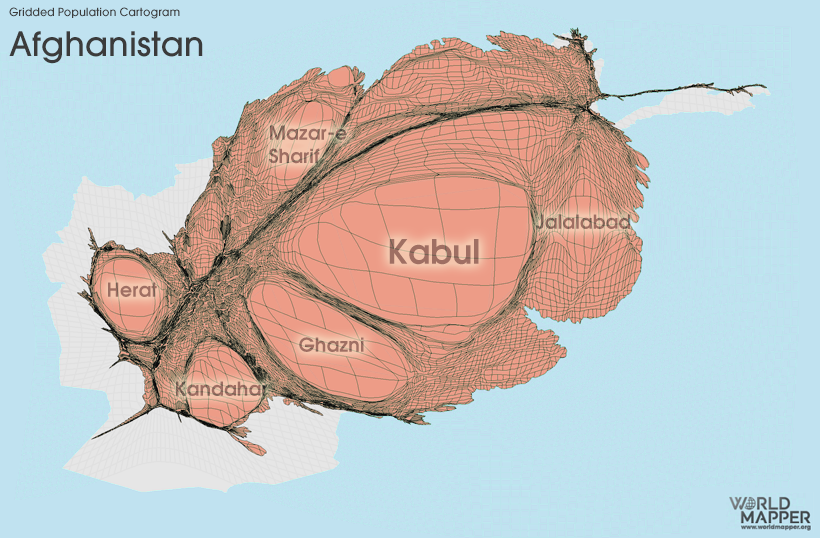 The southwestern province of Nimruz is the most sparsely populated area in the country. The Wakhan Corridor—which connects Afghanistan to China—is also very sparsely populated, with about 14,000 total residents.
Key Facts About Afghanistan's Demographics
Afghanistan has a very youthful population. The country's median age of 19 years is one of the youngest in the world, and is low compared to its neighbors Pakistan (24) and Iran (30).
Islam is the official state religion of Afghanistan. 99.7% of the Afghan population are Muslim, one of the highest proportions of the 49 Muslim-majority countries.
So far in 2021, the OCHA estimates that 550,000 people in Afghanistan are "internally displaced" due to conflict, and this number may rise still as new data tracks the final days of the Taliban's takeover of the country. The majority of those displaced persons are children.
Paving the Way
The Ring Road connecting Afghanistan's major cities began in the 1960s but was soon cut short by war. After the U.S. took control in 2001, new road construction began in earnest.
Between 2002 and 2016, USAID and the Department of Defense (DoD) spent approximately $2.8 billion building and maintaining Afghanistan's road infrastructure. This number doesn't include additional investment from other sources that poured in to improve the country's road network.
The result is a more comprehensive road network, but one that is difficult to maintain. A 2016 report found collapsed bridges and sections of road around the country that were washed out.
Resources and Relationships
Afghanistan is a critical source of fresh water for the arid region. Several major regional rivers flow from the country's mountainous eastern provinces into neighboring countries, so any new irrigation schemes and dam infrastructure will come with a geopolitical price tag as well.
Already in the recent past, tensions have increased with Iran and Pakistan over the flow of water crossing the border.
Outside countries are also very interested in Afghanistan's rich mineral resources. Decades of near-continuous conflict have made mining a tough proposition in the country, but with growing demand for resources such as lithium and rare earths, that may soon change.
Afghanistan is estimated to have over $1 trillion of untapped mineral reserves, and outside interests are taking notice.
China said it was ready for "friendly and cooperative relations" with the new Taliban regime, and it's possible that investment from China's Belt and Road Initiative (BRI) may step in to fill the vacuum left by departing Western powers.