Football Fever: Investing in the Beautiful Game
Football Fever: Investing in the Beautiful Game
The very mention of football conjures up images of cheering fans from all corners of the world.
The global appeal of the game is undeniable, and it's the strong support of fans that has propelled its growth into a multi-billion dollar industry.
Today's infographic from Swissquote tracks how the sport has reached far and wide—even onto the stock exchange.
The Timeline of the Manchester United IPO
Manchester United is the largest publicly-traded football club in the world. The journey of its initial public offering (IPO) can be traced back almost 30 years.
1991: Man United floats on the London Stock Exchange (LSE)
It aims to raise £10 million, but falls short and finally raises £6.7 million.
2003-2005: Malcolm Glazer acquires ownership of Man United
This raises the club's market capitalization to £790 million, and it delists from the LSE.
2012: Man United lists on the New York Stock Exchange
It aims to raise £62.8 million in this IPO, but surpasses this with a final raised value of £146.3 million. Interestingly, George Soros was the biggest investor in this deal, buying a nearly 2% stake in the club.
What makes a football team like Manchester United so attractive in the eyes of investors?
Over decades, a flourishing fan base from viewers to consumers has been the force behind the football industry's success as a whole.
The Big Business of Football
FIFA, the international governing body of football, organizes and promotes all major tournaments. Its total revenue between 2015-2018 can be broken down into a few main components:
| Revenue Source | Amount | % of total |
| --- | --- | --- |
| Broadcasting rights | €2,800 million | 48% |
| Marketing rights | €1,500 million | 27% |
| Accommodation and ticket sales | €600 million | 11% |
| Licensing rights | €500 million | 9% |
| Other revenue | €300 million | 5% |
| Total: €5,800 million | | |
In fact, 83% of this total revenue came from the 2018 Russia World Cup alone. This was viewed by approximately 3.6 billion people—nearly half the world's population.
The World Cup's revenue even rivals the combined strength of the top five European clubs. How do the five major clubs make their money?
| Club | Matchday | Broadcast | Commercial/ Sponsorships | 2019 Revenue |
| --- | --- | --- | --- | --- |
| FC Barcelona | €159M | €298M | €384M | €841M |
| Real Madrid | €145M | €258M | €355M | €757M |
| Man Utd | €121M | €274M | €317M | €712M |
| Bayern Munich | €92M | €211M | €357M | €660M |
| Paris Saint-German | €116M | €157M | €363M | €636M |
| Total | €633M | €1.2B | €1.8B | €3.6B |
As viewership climbs, broadcasting rights furiously grow too—presenting numerous investment opportunities in sponsorship on the pitch and on the screen.
Cashing in on Clubs
Manchester United (NYSE:MANU) set a new precedent for publicly-traded football clubs—with a market cap worth near €1.8 billion today.
Following Man United's example, other major clubs have since gone public across Europe. As well, Asia presents an emerging opportunity as the sport's regional popularity expands.
| Club | Stock Ticker | Mkt Cap (Jul 31, 2020) |
| --- | --- | --- |
| 🇮🇹 Juventus FC S.p.A | JUVE:IM | €1.19B |
| 🇩🇪 Borussia Dortmund | BVB:GR | €511M |
| 🇮🇹 AS Roma | ASR:IM | €320M |
| 🇬🇧 Celtic F.C. | CCP:LN | €108M (£97M) |
| 🇨🇳 Guangzhou Evergrande Taobao | NEEQ:834338 | N/A |
| 🇮🇩 Bali United | IDX:BOLA | €57M (Rp894B) |
China's most valuable football club—backed in part by e-commerce giant Alibaba—closely matches the valuation of Manchester United.
In Southeast Asia, Bali United was the first team to go public in June 2019. Shares jumped 69% higher than the initial listing price upon its IPO. This move is already propelling more planned IPOs for more football teams in the region, such as Persija Jakarta—the 2018 Liga 1 champion—and Thailand's Buriram United.
The Future of Football
Football has the power to stir passions and unite people—and it's reinventing itself constantly.
The 2019 Women's World Cup was the most watched in tournament history, with over 1.12 billion tuning in. FIFA plans to invest almost €454 million more into the women's game between 2019-2022, and grow the number of female players to 600 million by 2026.
Additionally, the annual esports tournament eWorld Cup is taking place in Thailand in 2020—tapping into the esports boom in Asia, which hosts 57% of esports enthusiasts.
Any football fan will tell you that the beautiful game is more than just a sport. And for investors, there are a variety of ways to gain exposure to this market—meaning fans can be both personally and financially invested as it continues to grow.

The Economics of Coffee in One Chart
What makes your cup of coffee possible, and how much does it really cost? Here's how the $200B coffee supply chain breaks down economically.
Breaking Down the Economics of Coffee
What goes into your morning cup of coffee, and what makes it possible?
The obvious answer might be coffee beans, but when you start to account for additional costs, the scope of a massive $200+ billion coffee supply chain becomes clear.
From the labor of growing, exporting, and roasting the coffee plants to the materials like packaging, cups, and even stir sticks, there are many underlying costs that factor into every cup of coffee consumed.
The above graphic breaks down the costs incurred by retail coffee production for one pound of coffee, equivalent to about 15 cups of 16 ounce brewed coffee.
The Difficulty of Pricing Coffee
Measuring and averaging out a global industry is a complicated ordeal.
Not only do global coffee prices constantly fluctuate, but each country also has differences in availability, relative costs, and the final price of a finished product.
That's why a cup of 16 oz brewed coffee in the U.S. doesn't cost the same in the U.K., or Japan, or anywhere else in the world. Even within countries, the differences of a company's access to wholesale beans will dictate the final price.
To counteract these discrepancies, today's infographic above uses figures sourced from the Specialty Coffee Association which are illustrative but based on the organization's Benchmarking Report and Coffee Price Report.
What they end up with is an estimated set price of $2.80 for a brewed cup of coffee at a specialty coffee store. Each store and indeed each country will see a different price, but that gives us the foundation to start backtracking and breaking down the total costs.
From Growing Beans to Exporting Bags
To make coffee, you must have the right conditions to grow it.
The two major types of coffee, Arabica and Robusta, are produced primarily in subequatorial countries. The plants originated in Ethiopia, were first grown in Yemen in the 1600s, then spread around the world by way of European colonialism.
Today, Brazil is far and away the largest producer and exporter of coffee, with Vietnam the only other country accounting for a double-digit percentage of global production.
| Country | Coffee Production (60kg bags) | Share of Global Coffee Production |
| --- | --- | --- |
| Brazil | 64,875,000 | 37.5% |
| Vietnam | 30,024,000 | 17.4% |
| Colombia | 13,858,000 | 8.0% |
| Indonesia | 9,618,000 | 5.6% |
| Ethiopia | 7,541,000 | 4.4% |
| Honduras | 7,328,000 | 4.2% |
| India | 6,002,000 | 3.5% |
| Uganda | 4,704,000 | 2.7% |
| Peru | 4,263,000 | 2.5% |
| Other | 24,629,000 | 14.2% |
How much money do growers make on green coffee beans? With prices constantly fluctuating each year, they can range from below $0.50/lb in 2001 to above $2.10/lb in 2011.
But if you're looking for the money in coffee, you won't find it at the source. Fairtrade estimates that 125 million people worldwide depend on coffee for their livelihoods, but many of them are unable to earn a reliable living from it.
Instead, one of the biggest profit margins is made by the companies exporting the coffee. In 2018 the ICO Composite price (which tracks both Arabica and Robusta coffee prices) averaged $1.09/lb, while the SCA lists exporters as charging a price of $3.24/lb for green coffee.
Roasting Economics
Roasters might be charged $3.24/lb for green coffee beans from exporters, but that's far from the final price they pay.
First, beans have to be imported, adding shipping and importer fees that add $0.31/lb. Once the actual roasting begins, the cost of labor and certification and the inevitable losses along the way add an additional $1.86/lb before general business expenses.
By the end of it, roasters see a total illustrated cost of $8.73/lb.
| Roaster Economics | ($/lb) |
| --- | --- |
| Sales Price | $9.40 |
| Total Cost | $8.73 |
| Pre-tax Profit | $0.67 |
| Taxes | $0.23 |
| Net Profit | $0.44 |
| Net Profit (%) | 7.1% |
When it comes time for their profit margin, roasters quote a selling price of around $9.40/lb. After taxes, roasters see a net profit of roughly $0.44/lb or 7.1%.
Retail Margins
For consumers purchasing quality, roasted coffee beans directly through distributors, seeing a 1lb bag of roasted whole coffee for $14.99 and higher is standard. Retailers, however, are able to access coffee closer to the stated wholesale prices and add their own costs to the equation.
One pound of roasted coffee beans will translate into about 15 cups of 16 ounce (475 ml) brewed coffee for a store. At a price of $2.80/cup, that translates into a yield of $42.00/lb of coffee.
That doesn't sound half bad until you start to factor in the costs. Material costs include the coffee itself, the cups and lids (often charged separately), the stir sticks and even the condiments. After all, containers of half-and-half and ground cinnamon don't pay for themselves.
Factoring them all together equals a retail material cost of $13.00/lb. That still leaves a healthy gross profit of $29.00/lb, but running a retail store is an expensive business. Add to that the costs of operations, including labor, leasing, marketing, and administrative costs, and the total costs quickly ramp up to $35.47/lb.
In fact, when accounting for additional costs for interest and taxes, the SCA figures give retailers a net profit of $2.90/lb or 6.9%, slightly less than that of roasters.
A Massive Global Industry
Coffee production is a big industry for one reason: coffee consumption is truly a universal affair with 2.3 million cups of coffee consumed globally every minute. By total volume sales, coffee is the fourth most-consumed beverage in the world.
That makes the retail side of the market a major factor. Dominated by companies like Nestlé and Jacobs Douwe Egberts, global retail coffee sales in 2017 reached $83 billion, with an average yearly expenditure of $11 per capita globally.
Of course, some countries are bigger coffee drinkers than others. The largest global consumers by tonnage are the U.S. and Brazil (despite also being the largest producer and exporter), but per capita consumption is significantly higher in European countries like Norway and Switzerland.
The next time you sip your coffee, consider the multilayered and vast global supply chain that makes it all possible.

Charting 20 Years of Home Price Changes in Every U.S. City
This interactive visualization tracks two decades of home price changes in hundreds of cities in the United States.
At the turn of the century, the average U.S. home value was $126,000. Today, that figure is at a record high $259,000 – a 106% increase in just two decades.
Of course, the path from A to B was anything but linear with a financial crisis, housing bubbles in major cities, and now COVID-19, which is drastically altering market dynamics.
How has the housing market evolved, on a city-by-city basis?
Two Decades of Housing Prices
The interactive visual below – created by Avison Young Global, using data from Zillow – is a comprehensive look at U.S. home price data over the past two decades.
Editor's note: Click the circles at the top of the visualization to see other versions of the data, including price changes at the state and zip code level.
The Lay of the Land
A number of things become apparent when looking at historical data of hundreds of U.S. cities.
First, the trajectory of home prices is defined by the 2008 Financial Crisis. After prices took a steep dive, it took a full decade for the average home price to rise back up to the 2007 peak.
Next, broadly speaking, the U.S. average is being "pulled up" by the hottest regional markets. The majority of housing markets have seen between a 50% and 100% increase in price over the past 20 years. This is also true at the state level, where booming markets such as Hawaii saw price increases double the U.S. average.
Going West
The West Coast has seen dramatic home price appreciation in over the last two decades, a trend that permeated the entire region. Every single city tracked in this database beat the U.S. average.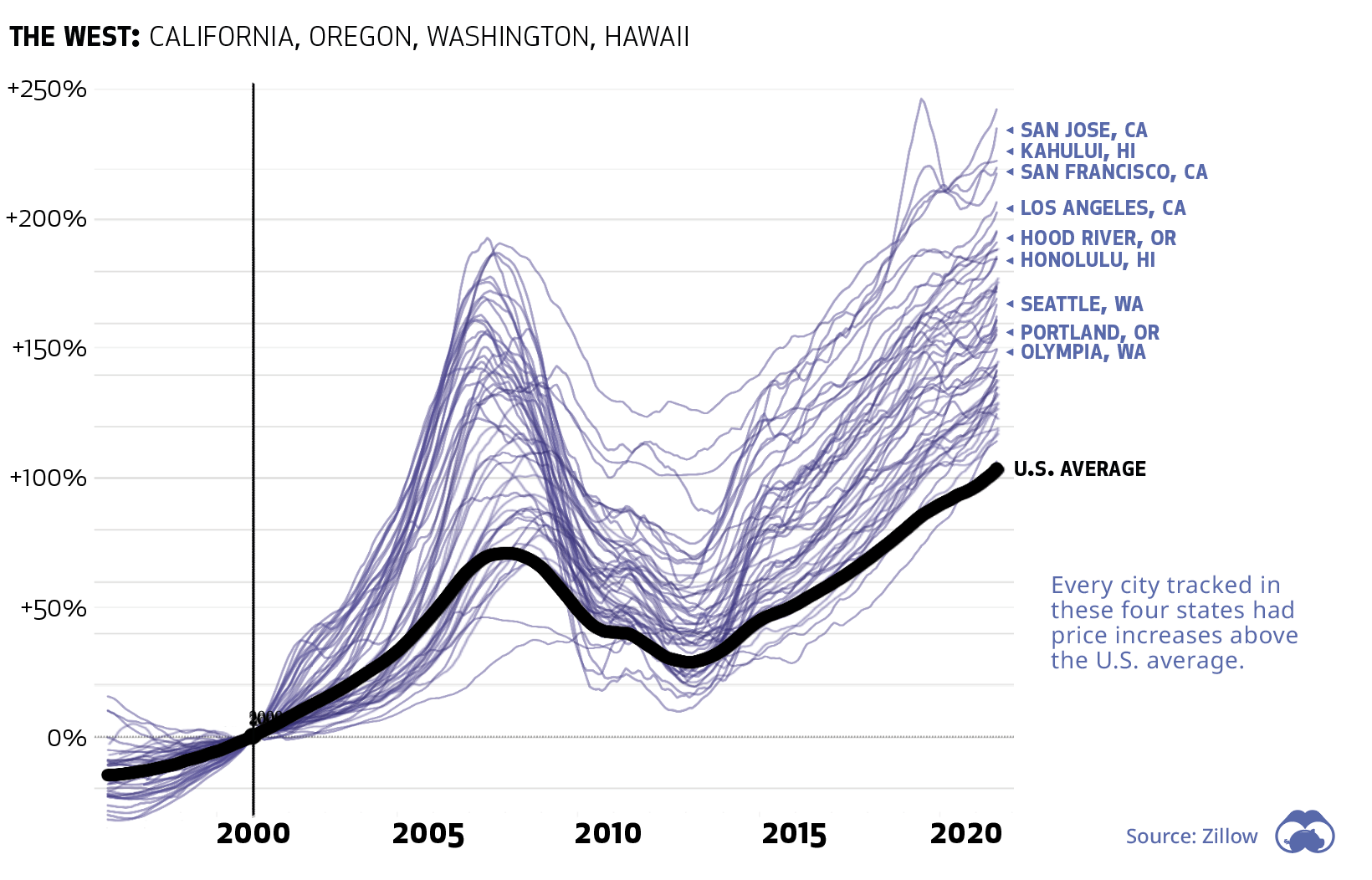 California and Hawaii saw the biggest gains, with a number of cities ending up with a 200%+ increase over prices in 2000.
The biggest gains in the entire country over the time period was Madera, California, which is located just north of Fresno. The nearby cities of San Jose and San Francisco rose by an impressive 235% and 219%, respectively. As a practical example – during the meteoric rise of Silicon Valley, average prices in San Francisco shot up from $364,000 to $1.12 million.
Even the bottom city (Yakima, Washington) on the left coast saw an increase of 114%.
Slower Home Price Changes
In general, cities located in America's "Rust Belt" states saw slower home price growth. In fact, every city in these five states saw price growth below the U.S. average.
Of the top 20 U.S. metros, Detroit and Chicago saw the slowest price growth over the past two decades. Flint, Michigan, was the only city in the country to see a price decline.
At the state level, Illinois, Michigan, and Ohio were the bottom three in terms of home price appreciation.
A Useful Barometer
Looking at country or state level data fails to capture the incredible nuance of home values around the country.
That said, since the value of a primary residence makes a significant portion of wealth for most Americans, these price movements serve as a useful barometer of the health of the real estate market, and the economy as a whole.