Visualizing the Evolution of Vision and the Eye
Roadmapping the Evolution of the Eye
Throughout history, numerous creatures have evolved increasingly complex eyes in response to different selective pressures.
Not all organisms, however, experience the same pressures. It's why some creatures today still have eyes that are quite simple, or why some have no eyes at all. These organisms exemplify eyes that are "frozen" in time. They provide snapshots of the past, or "checkpoints" of how the eye has transformed throughout its evolutionary journey.
Scientists study the genes, anatomy, and vision of these creatures to figure out a roadmap of how the eye came to be. And so, we put together an evolutionary graphic timeline of the eye's different stages using several candidate species.
Let's take a look at how the eye has formed throughout time.
Where Vision Comes From
The retina is a layer of nerve tissue, often at the back of the eye, that is sensitive to light.
When light hits it, specialized cells called photoreceptors transform light energy into electrical signals and send them to the brain. Then the brain processes these electrical signals into images, creating vision.
The earliest form of vision arose in unicellular organisms. Containing simple nerve cells that can only distinguish light from dark, they are the most common eye in existence today.
The ability to detect shapes, direction, and color comes from all of the add-ons evolution introduces to these cells.
Two Major Types of Eyes
Two major eye types are dominant across species. Despite having different shapes or specialized parts, improved vision in both eye types is a product of small, gradual changes that optimize the physics of light.
Simple Eyes
Simple eyes are actually quite complex, but get their name because they consist of one individual unit.
Some mollusks and all of the higher vertebrates, like birds, reptiles, or humans, have simple eyes.
Simple eyes evolved from a pigment cup, slowly folding inwards with time into the shape we recognize today. Specialized structures like the lens, cornea, and pupil arose to help improve the focus of light on the retina. This helps create sharper, clearer images for the brain to process.
Compound Eyes
Compound eyes are formed by repeating the same basic units of photoreceptors called ommatidia. Each ommatidium is similar to a simple eye, composed of lenses and photoreceptors.
Grouped together, ommatidia form a geodesic pattern that is commonly seen in insects and crustaceans.
Our understanding of the evolution of the compound eye is a bit murky, but we know that rudimentary ommatidia evolved into larger, grouped structures that maximize light capture.
In environments like caves, the deep subsurface, or the ocean floor where little to no light exists, compound eyes are useful for producing vision that gives even the slightest advantage over other species.
How Will Vision Evolve?
Our increasing dependency on technology and digital devices may be ushering in the advent of a new eye shape.
The muscles around the eye stretch to shift the lens when staring at something close by. The eye's round shape elongates in response to this muscle strain.
Screen time with cellphones, tablets, and computers has risen dramatically over the years, especially during the COVID-19 pandemic. Recent studies are already reporting rises in childhood myopia, the inability to see far away. Since the pandemic, cases have increased by 17%, affecting almost 37% of schoolchildren.
Other evolutionary opportunities for our eyes are currently less obvious. It remains to be seen whether advanced corrective therapies, like corneal transplants or visual prosthetics, will have any long-term evolutionary impact on the eye.
For now, colored contacts and wearable tech may be our peek into the future of vision.
Complete Sources
Fernald, Russell D. "Casting a Genetic Light on the Evolution of Eyes." Science, vol. 313, no. 5795, 29 Sept. 2006, pp. 1914–1918
Gehring, W. J. "New Perspectives on Eye Development and the Evolution of Eyes and Photoreceptors." Journal of Heredity, vol. 96, no. 3, 13 Jan. 2005, pp. 171–184. Accessed 18 Dec. 2019.
"The Evolution of Sight | PHOS."
Land, Michael F, and Dan-Eric Nilsson. Animal Eyes. Oxford ; New York, Oxford University Press, 2002.
"The Major Topics of the Research Work of Prof. Dan-E. Nilsson: Vision-Research.eu – the Gateway to European Vision Research." Accessed 3 Oct. 2022.
Visualizing Population Density Patterns in Six Countries
These maps show the population density of several countries, using 3D spikes to denote where more people live.

Creator Program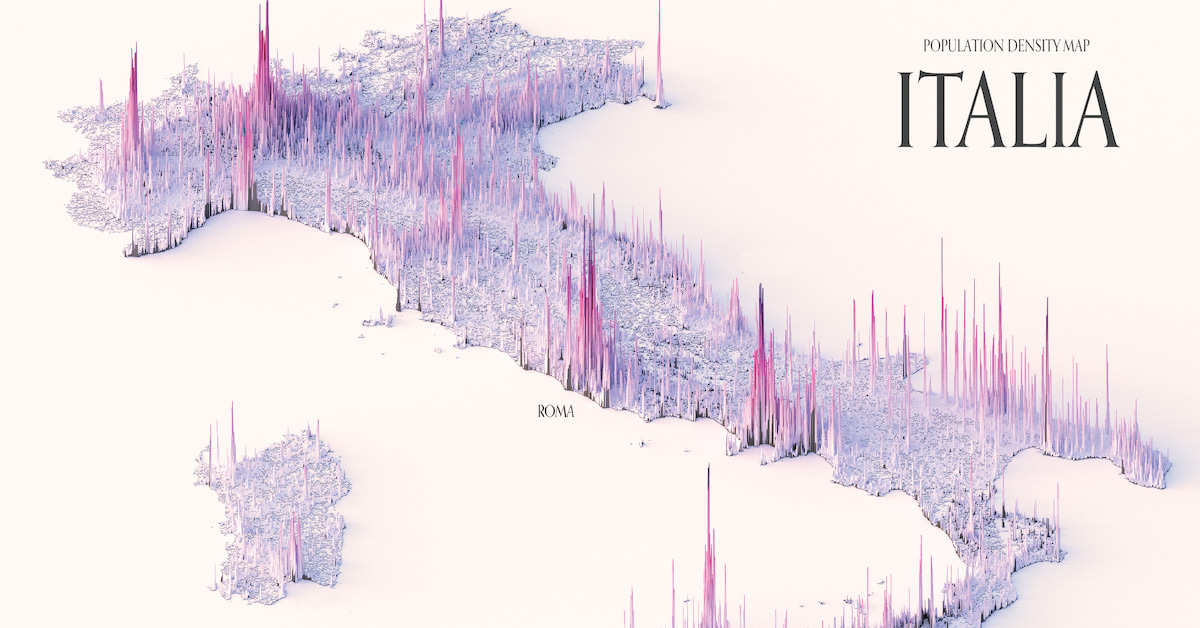 As of 2022, Earth has 8 billion humans. By 2050, the population is projected to grow to 10 billion.
In the last 100 years, the global population more than quadrupled. But none of this growth has been evenly spread out, including within countries.
This series of 3D maps from Terence Teo, an associate professor at Seton Hall University, renders the population density of six countries using open-source data from Kontur Population. He used popular programming language R and a path-tracing package, Rayshader, to create the maps.
France and Germany: Population Density Spikes and Troughs
Let's take a look at how the population spreads out in different countries around the world. Click the images to explore higher-resolution versions.
France is the world's 7th largest economy and second-most-populous country in the EU with 65 million people. But a staggering one-fifth of the French population lives in Paris and its surrounding metro—the most populous urban area in Europe.
Many residents in the Paris metropolitan area are employed in the service sector, which makes up one-third of France's $2.78 trillion gross domestic product.
Unlike France, Germany has many dense cities and regions, with Berlin, Munich, Stuttgart, and Cologne all having over a million residents. Berlin is the most populated at 3.5 million residents in the city proper, and 6 million in the wider urban area.
That said, the relatively recent reunification of West and East Germany in 1991 meant that post-WWII growth was mostly concentrated in West Germany (and West Berlin).
Italy and Chile: Coast to Coast
In Italy, another phenomenon affects population density and urban development—a sprawling coastline.
Despite having a large population of 59 million and large metropolitan areas throughout, Italy's population spikes are closer to the water.
The port cities of Genoa, Napoli, and Palermo all have large spikes relative to the rest of the country, as does the capital, Rome. Despite its city center located 15 miles inland from the sea, it extends to the shore through the district of Ostia, where the ancient port of Rome existed.
Meanwhile in Chile, stuck between the Andes to the east and the Pacific Ocean to the west, population spikes corroborate with its many port towns and cities.
However, the country is more concentrated than Italy, with 40% of its residents congregating around the capital of Santiago.
Turkey and Canada: Marred by Mountains and Climes
Though Chile has difficulties with terrain, it is relatively consistent. Other countries have to attempt to settle many different climes—regions defined by their climates.
Mountains to the south and east, a large, semi-arid plateau, and even a small desert leave few centers of urban growth in Türkiye.
Predictably, further west, as the elevation comes down to the Aegean and Mediterranean Seas, population spikes begin to heighten. The largest of course is the economic and cultural hub of Istanbul, though the capital Ankara is also prominent with more than 5 million residents.
In Canada, the Rocky Mountains to the west and freezing cold temperatures in the center and north account for the large country's relative emptiness.
Though population spikes in Western Canada are growing rapidly, highly populous urban centers are noticeably concentrated along the St. Lawrence River, with the Greater Toronto Area accounting for more than one-sixth of the country's 39 million people.
Increasing Urbanization
According to the World Bank, more than half of the world's population currently lives in cities, and that trend is only growing.
By 2050, 7 out of 10 people are projected to live in cities. This congregation makes cities a beehive of productivity and innovation—with more than 80% of the world's GDP being generated at these population centers.
It's in this context that mapping and studying urban development becomes all the more important, particularly as policymakers try their hand at sustainable urban planning.
As Teo puts it:
"By showing where people are (and are not), they show us where political and economic power is concentrated, and perhaps where and who our governments represent."