Why Markets are Worried About the Yield Curve
Explainer: Why Markets are Worried About the Yield Curve
If you pay any attention to financial media, chances are that you've heard increased chatter about the flattening "yield curve" in the past few weeks.
For professional investors, talking about the yield curve is close to second nature – but to most regular folks, the words probably sound very abstract or esoteric.
What's a Yield Curve?
The yield curve is a curve showing several yields or interest rates across different bond contract lengths.
In a normal credit environment, the premise is that yields are higher for longer maturity bonds.
In a way, this is similar to what you'd expect if you went to the bank and put your money into a time deposit. For example, if you put your money in for five years, you'd expect a higher return per year than if you put your money in for six months.
Why? You're taking on more risk, and therefore deserve a higher rate of compensation.
Out of Whack
Sometimes the market gets out of whack, and yield curves do some interesting things.
As you can see above, sometimes long-term interest rates can be equal to those of short-term rates. This is called a "flat" yield curve.
Or, when long-term rates fall below short-term rates, that is an "inverted" yield curve. As you'll see shortly, this can be a signal of trouble in credit markets and the greater economy as a whole.
The Curve Everyone is Talking about
While a yield curve can be shown for any bond, there is one particular yield curve that you'll often see referenced by financial journalists and analysts.
That would be the yield curve for U.S. Treasuries, the bonds issued by the U.S. federal government to fund its activities. More specifically, the difference between 10-year and 2-year bonds has been a historical indicator of the health of the economy and markets.
And despite this curve looking pretty normal since the financial crisis, it has been flattening over time:
| | 2-yr | 3-yr | 5-yr | 7-yr | 10-yr | Difference (10yr - 2yr) |
| --- | --- | --- | --- | --- | --- | --- |
| 2014 | 0.54% | 1.02% | 1.72% | 2.16% | 2.48% | 1.94% |
| 2015 | 0.74% | 1.05% | 1.53% | 1.92% | 2.20% | 1.46% |
| 2016 | 0.74% | 0.86% | 1.12% | 1.39% | 1.54% | 0.80% |
| 2017 | 1.27% | 1.38% | 1.63% | 1.88% | 2.05% | 0.78% |
| 2018 | 2.64% | 2.71% | 2.76% | 2.83% | 2.88% | 0.24% |
Source: U.S. Treasury Dept (Each year's data corresponds to this day in September)
In 2014, the difference for 10-year and 2-year bonds was 1.94%. Today, the difference is just 0.24%!
Why It Matters
There are various interpretations out there of what an inverted yield curve could mean for markets.
There are also pundits out there who say things are different this time around. There is some validity to this, as things are never cut and dry in economics. Besides, this wouldn't be the first time that global credit markets have acted in strange ways since the crisis.
That all said, the reason the inverted yield curve is a topic of conversation is simple: inverted yield curves have preceded every post-war U.S. recession.
So now you know what the fuss is about – and maybe, just maybe, you're more inclined to dive deeper into the exciting world of yield curves.
Which Companies Make Up the "Magnificent Seven" Stocks?
FAANG is dead… meet the 'Magnificent Seven' stocks that now make up over 25% of the S&P 500.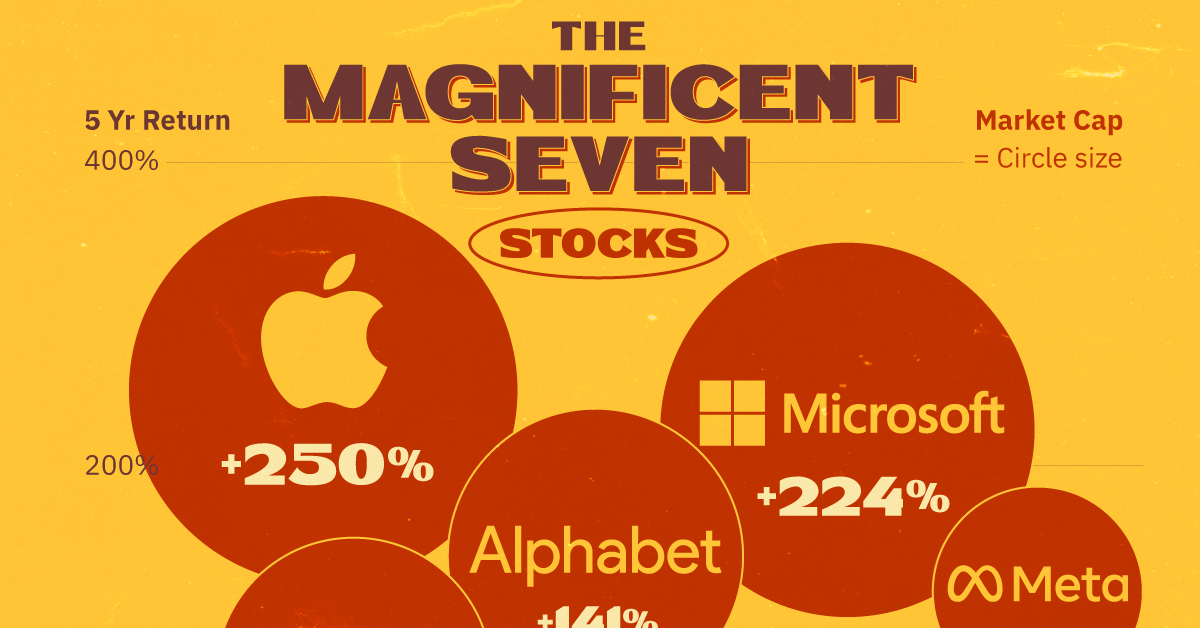 Which Companies Make Up the "Magnificent Seven" Stocks?
In 2013 CNBC analyst Jim Cramer popularized "FANG," comprised of Facebook (now Meta), Amazon, Netflix, and Google (now Alphabet), as a shorthand for the best performing technology stocks on the market. Apple, added in 2017, made it FAANG.
However, over the last year a new moniker given by Bank of America analyst Michael Hartnett highlights the most valuable and popularly-owned companies on the American stock market: the "Magnificent Seven" stocks.
We visualize the Magnificent Seven's market capitalization and 5-year stock performance as of November 2023 using data from Google Finance and CompaniesMarketCap.
The Magnificent Seven Stocks by Market Cap and 5-Year Return
The Magnificent Seven stocks are megacap companies focused and capitalizing on tech growth trends including AI, cloud computing, and cutting-edge hardware and software.
Four of the five FAANG stocks retain their place amongst the Magnificent Seven, with newcomers Nvidia, Tesla, and Microsoft joining the group. Following a poor 2022 performance and having more difficulty capitalizing on tech trends, Netflix is the sole FAANG company not included.
Here's a look at the companies ranked by their market capitalization on November 6, 2023, alongside their 5-year stock performance:
| Rank | Company | Market Cap | 5 Year Performance |
| --- | --- | --- | --- |
| 1 | Apple | $2.8 trillion | +250% |
| 2 | Microsoft | $2.6 trillion | +224% |
| 3 | Alphabet | $1.6 trillion | +141% |
| 4 | Amazon | $1.4 trillion | +63% |
| 5 | Nvidia | $1.1 trillion | +783% |
| 6 | Meta | $811 billion | +118% |
| 7 | Tesla | $690 billion | +829% |
The Magnificent Seven make up more than one-quarter of the S&P 500 and more than half of the Nasdaq 100.
Meanwhile, five of the seven are part of the rare trillion dollar club, with Nvidia being the most recent entry.
A common theme among the Magnificent Seven is their ability to collect vast amounts of customer data, create cutting-edge hardware and software, as well as harness the power of AI.
However, if Netflix gets back on track—recently announcing its new ad-supported membership tier has 15 million subscribers—we could soon see a "Magnificent Eight."