How Automaker Logos Have Evolved Over the Past Century
How Automaker Logos Have Evolved Over the Past Century
Can you picture Ford's blue oval, or Mercedes' three-pointed star? These are some of the most recognizable logos in the world, thanks to a number of reasons.
For starters, automakers are some of the world's biggest advertisers. In 2020, the automotive industry spent $33 billion on advertising in the U.S. alone.
Automakers also maintain a strong physical presence by placing their logo on every car they produce. This form of self-promotion is an automotive tradition, and because of it, car logos are designed to be eye-catching and memorable.
To learn more, we've illustrated the histories of six brands of interest.
Editor's note: There are obviously many automotive brands with strong histories, but for this visualization we selected brands that we thought had the most interesting stories and graphical decisions behind their emblems. In the future, we may add more or create a follow-up post if readers express interest.
A Closer Look at Car Logos
Automakers often pack hidden meanings and details into their logos.
For example, Mazda's current logo, introduced in 1997 and updated in 2015, depicts a pair of wings that represent the brand's desire to "drive powerful, continuous growth." The concept of flight is believed to embody the company's pursuit of ongoing improvement. Of course, the wings also resemble a capital "M" for Mazda, similar to Honda's "H" logo.
An interesting design choice of the Mazda lettering is that all of the letters except "D" are in lowercase. This was done because Mazda wanted to express precision, and a lower case "d" would have protruded above the upper line of the other letters.
Another logo with deeper meaning is Mercedes-Benz's 3-pointed star, adopted in 1909. This symbol was based off a postcard that Paul and Adolf Daimler, sons of the company founder, got from their father in which the location of their home was marked by a 3-pointed star.
Today, the three points are believed to represent the strength of Mercedes' engines across land, sea, and air.
Going Minimal
Over the past decade, many brands have taken their logos in a more minimalist direction. Many recently redesigned car logos are devoid of any 3D effects or color.
Audi is one of the most prominent examples of this trend. In 2016, it removed the chrome effect on its "four rings" and opted for a flat black version instead. This clean and modern emblem is better suited for digital media and appears more bold. Furthermore, the name "Audi" is no longer included at the bottom—a statement of the four rings' strength.
BMW took a similar approach with its logo in 2020, stripping away the black outer ring and 3D effect. This minimalist and transparent logo is for "brand communication" only, meaning the logos on its cars will remain unchanged.
Finally, there's Cadillac, which unveiled its own minimalist logo in 2021. This logo is being used to represent the brand's full-electric future, and features a monochromatic version of the classic Cadillac Crest.
An Opportunity to Reinvent
The race for EV dominance has provided automakers with the chance to update or reinvent their brands. In addition to the companies mentioned previously, Volkswagen and General Motors (GM) have also rolled out recent updates.
You may have already noticed Volkswagen's new branding, which was updated in 2019. On trend with the rest of the industry, the company now uses a 2D logo which offers "outstanding flexibility in digital media".
More importantly, the company's branding is intended to feel much more colorful and natural, symbolizing a fresh start from Volkswagen's 2015 diesel-gate scandal.
Shortly after, GM revealed a new logo as part of a campaign to promote its future electric vehicles. Unlike its minimalist competitors, GM's new logo features a gradient of light blues that evokes "the clean skies of a zero-emissions future".
Sharpen Your Thinking with These 10 Powerful Cognitive Razors
Here are 10 razors, or rules of thumb, that help simplify decision-making, inspired by a list curated by the investor and thought leader Sahil Bloom.
Improve Your Decision-Making with These 10 Cognitive Razors
The average adult makes about 35,000 conscious decisions each day.
Given this sheer volume of choice, how do we ensure we're making the right decisions, day in and day out, without becoming exhausted?
Using insights from investor and thought leader Sahil Bloom, this graphic shares 10 cognitive razors, or rules of thumb, that can help you simplify your decision-making.
We've organized Bloom's favorite cognitive razors into three overarching categories, which we dive into in further detail below.
Location, Location, Location
The first theme is location, and the importance of being at the right place at the right time.
The Luck Razor falls into this category because it highlights the importance of putting yourself out there. According to the Luck Razor, when choosing between two paths, pick the one with the largest "luck surface area," or the path that offers you the most opportunity to get lucky.
This is because when you're networking, meeting people, and building new relationships, you're much more likely to stumble upon an opportunity than if you were sitting on your couch, not taking action.
The Rooms Razor follows a similar theme because it emphasizes the importance of your surroundings. It stresses that, if you have a choice between two rooms to walk into, choose the one where you're most likely to be the dumbest person in the room.
While it's a bit of an uncomfortable situation, it provides a greater opportunity for growth, as long as you check your ego at the door and listen to what others have to say.
Lastly, the Arena Razor reminds us that when we want something, we need to take the necessary steps to make it happen.
For instance, if you want to become a social media influencer, you need to start creating content and posting it online. It's not easy to put yourself out there and take action, but if you want to play the game, you need to be in the arena.
The Power of Positive Thinking
The next theme is the power of mindset and positive thinking. This relates to how you view your life, the people you choose to surround yourself with, and how you interpret the actions and opinions of others.
According to the Gratitude Razor, when in doubt, don't hesitate to show your gratitude to people who have supported you, or given you advice or opportunities.
Research studies have shown that expressing gratitude and giving thanks can be correlated with greater happiness, improved health, and stronger more meaningful relationships. So make sure to say thank you regularly, and tell your loved ones how much you appreciate their support.
It's not just your mindset that's important, though. The Optimist Razor recommends surrounding yourself with optimists, rather than pessimists. Pessimists may point out everything that could go wrong in a scenario, which might discourage you to break out of your comfort zone.
Optimism, on the other hand, will emphasize everything that could go right—and may even help you problem solve if you encounter problems along the way.
Keep Decision-Making Simple, Silly
The last one is quite simple, really: don't overcomplicate things.
Occam's Razor, which is named after the 14th-century scholar Franciscan friar William of Ockham, is generally interpreted as the following: when faced with a decision between two competing theories that generate the same outcome, the simplest theory is often the best one.
As Bloom says in this blog post, "simple assumptions [over] complex assumptions. If you have to believe a complex, intertwined series of assumptions in order to reach one specific conclusion, always ask whether there is a simple alternative assumption that fits."
The ability to make things simple is also a good indicator of how deeply you understand something. According to the Feynman Razor, if you can't explain a concept simply, then you don't really understand it. So, if someone uses a ton of jargon or complexity to explain something, they could be masking a lack of deeper knowledge on the topic.
Editor's note: For more information on cognitive razors and simplifying your decision-making, check out Sahil Bloom's newsletter, or listen to his podcast episode where he talks about the most powerful razors he's discovered so far in life.
Every Mission to Mars in One Visualization
This graphic shows a timeline of every mission to Mars since 1960, highlighting which ones have been successful and which ones haven't.

Creator Program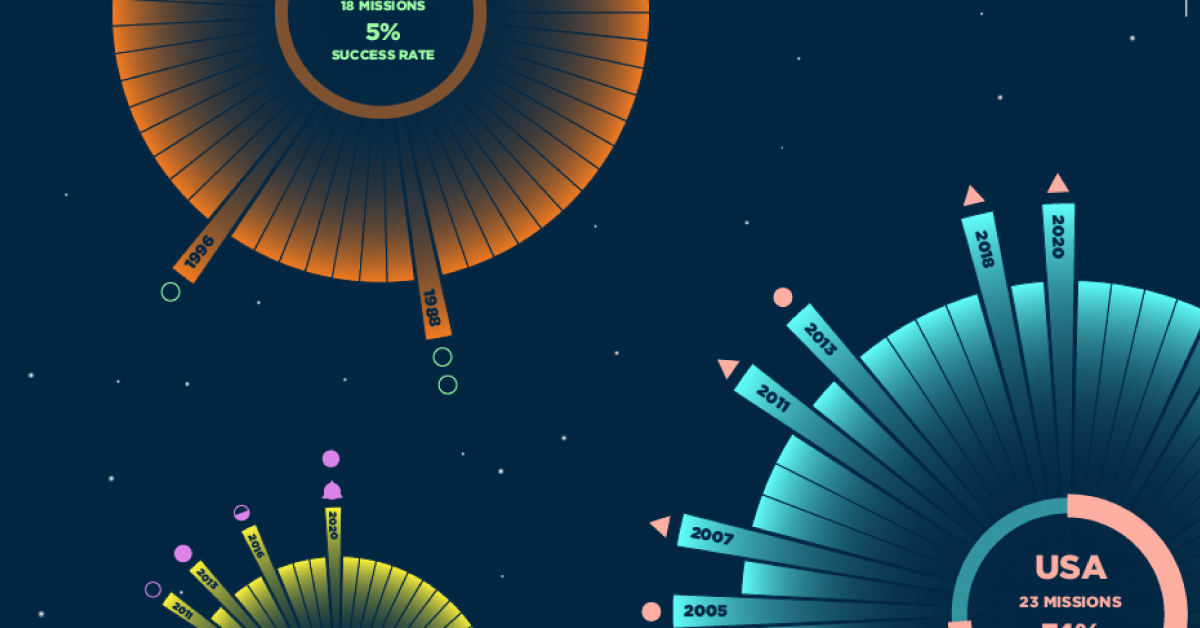 Timeline: A Historical Look at Every Mission to Mars
Within our Solar System, Mars is one of the most similar planets to Earth—both have rocky landscapes, solid outer crusts, and cores made of molten rock.
Because of its similarities to Earth and proximity, humanity has been fascinated by Mars for centuries. In fact, it's one of the most explored objects in our Solar System.
But just how many missions to Mars have we embarked on, and which of these journeys have been successful? This graphic by Jonathan Letourneau shows a timeline of every mission to Mars since 1960 using NASA's historical data.
A Timeline of Mars Explorations
According to a historical log from NASA, there have been 48 missions to Mars over the last 60 years. Here's a breakdown of each mission, and whether or not they were successful:
| # | Launch | Name | Country | Result |
| --- | --- | --- | --- | --- |
| 1 | 1960 | Korabl 4 | USSR (flyby) | Failure |
| 2 | 1960 | Korabl 5 | USSR (flyby) | Failure |
| 3 | 1962 | Korabl 11 | USSR (flyby) | Failure |
| 4 | 1962 | Mars 1 | USSR (flyby) | Failure |
| 5 | 1962 | Korabl 13 | USSR (flyby) | Failure |
| 6 | 1964 | Mariner 3 | US (flyby) | Failure |
| 7 | 1964 | Mariner 4 | US (flyby) | Success |
| 8 | 1964 | Zond 2 | USSR (flyby) | Failure |
| 9 | 1969 | Mars 1969A | USSR | Failure |
| 10 | 1969 | Mars 1969B | USSR | Failure |
| 11 | 1969 | Mariner 6 | US (flyby) | Success |
| 12 | 1969 | Mariner 7 | US (flyby) | Success |
| 13 | 1971 | Mariner 8 | US | Failure |
| 14 | 1971 | Kosmos 419 | USSR | Failure |
| 15 | 1971 | Mars 2 Orbiter/Lander | USSR | Failure |
| 16 | 1971 | Mars 3 Orbiter/Lander | USSR | Success/Failure |
| 17 | 1971 | Mariner 9 | US | Success |
| 18 | 1973 | Mars 4 | USSR | Failure |
| 19 | 1973 | Mars 5 | USSR | Success |
| 20 | 1973 | Mars 6 Orbiter/Lander | USSR | Success/Failure |
| 21 | 1973 | Mars 7 Lander | USSR | Failure |
| 22 | 1975 | Viking 1 Orbiter/Lander | US | Success |
| 23 | 1975 | Viking 2 Orbiter/Lander | US | Success |
| 24 | 1988 | Phobos 1 Orbiter | USSR | Failure |
| 25 | 1988 | Phobos 2 Orbiter/Lander | USSR | Failure |
| 26 | 1992 | Mars Observer | US | Failure |
| 27 | 1996 | Mars Global Surveyor | US | Success |
| 28 | 1996 | Mars 96 | Russia | Failure |
| 29 | 1996 | Mars Pathfinder | US | Success |
| 30 | 1998 | Nozomi | Japan | Failure |
| 31 | 1998 | Mars Climate Orbiter | US | Failure |
| 32 | 1999 | Mars Polar Lander | US | Failure |
| 33 | 1999 | Deep Space 2 Probes (2) | US | Failure |
| 34 | 2001 | Mars Odyssey | US | Success |
| 35 | 2003 | Mars Express Orbiter/Beagle 2 Lander | ESA | Success/Failure |
| 36 | 2003 | Mars Exploration Rover - Spirit | US | Success |
| 37 | 2003 | Mars Exploration Rover - Opportunity | US | Success |
| 38 | 2005 | Mars Reconnaissance Orbiter | US | Success |
| 39 | 2007 | Phoenix Mars Lander | US | Success |
| 40 | 2011 | Mars Science Laboratory | US | Success |
| 41 | 2011 | Phobos-Grunt/Yinghuo-1 | Russia/China | Failure |
| 42 | 2013 | Mars Atmosphere and Volatile Evolution | US | Success |
| 43 | 2013 | Mars Orbiter Mission (MOM) | India | Success |
| 44 | 2016 | ExoMars Orbiter/Schiaparelli EDL Demo Lander | ESA/Russia | Success/Failure |
| 45 | 2018 | Mars InSight Lander | US | Success |
| 46 | 2020 | Hope Orbiter | UAE | Success |
| 47 | 2020 | Tianwen-1 Orbiter/Zhurong Rover | China | Success |
| 48 | 2020 | Mars 2020 Perseverance Rover | US | Success |
The first mission to Mars was attempted by the Soviets in 1960, with the launch of Korabl 4, also known as Mars 1960A.
As the table above shows, the voyage was unsuccessful. The spacecraft made it 120 km into the air, but its third-stage pumps didn't generate enough momentum for it to stay in Earth's orbit.
For the next few years, several more unsuccessful Mars missions were attempted by the USSR and then NASA. Then, in 1964, history was made when NASA launched the Mariner 4 and completed the first-ever successful trip to Mars.
The Mariner 4 didn't actually land on the planet, but the spacecraft flew by Mars and was able to capture photos, which gave us an up-close glimpse at the planet's rocky surface.
Then on July 20, 1976, NASA made history again when its spacecraft called Viking 1 touched down on Mars' surface, making it the first space agency to complete a successful Mars landing. Viking 1 captured panoramic images of the planet's terrain, and also enabled scientists to monitor the planet's weather.
Vacation to Mars, Anyone?
To date, all Mars landings have been done without crews, but NASA is planning to send humans to Mars by the late 2030s.
And it's not just government agencies that are planning missions to Mars—a number of private companies are getting involved, too. Elon Musk's aerospace company SpaceX has a long-term plan to build an entire city on Mars.
Two other aerospace startups, Impulse and Relativity, also announced an unmanned joint mission to Mars in July 2022, with hopes it could be ready as soon as 2024.
As more players are added to the mix, the pressure is on to be the first company or agency to truly make it to Mars. If (or when) we reach that point, what's next is anyone's guess.