The Evolution of Instant Messaging
The concept of instant messaging crossed into the mainstream in the 1990s, allowing friends, acquaintances, colleagues, and like-minded thinkers from all over the world to connect in real-time.
Since then, instant messaging has revolutionized how we communicate, and today over 2.5 billion people are signed up for at least one messaging app. The present IM experience is seamless, and it intuitively integrates features like video, photos, voice, e-commerce, and gaming with plain-old messaging.
However, despite the impressive features of dominant apps like Snapchat, Facebook Messenger, and Whatsapp, today's technology would simply not be possible without the earlier breakthroughs of their more rudimentary predecessors.
Instant Messaging: Past, Present, and Future
The following infographic from Hello Pal, a messaging app allowing for instant translation, shows the evolution of instant messaging. It pays homage to the advancements made in the early days by apps such as ICQ or AIM, while also looking at the trends in IM that will surface in the coming years.
While messaging is commonplace today, it was only two decades ago that chatting with friends and strangers online was a revolutionary concept.
The History of Instant Messaging
1961 – MIT's Compatible Time-Sharing System (CTSS), along with other multi-user operating systems, helps to pioneer instant messaging by allowing up to 30 users to chat in real-time.
1988 – Internet Relay Chat (IRC) allows users to connect to networks with client software to chat with groups in real-time. IRC peaked in popularity in the 1990s, but still has hundreds of thousands of users today.
The late 1990s sees the first major competing IM platforms arrive: ICQ, AIM, MSN, and Yahoo all fight for market share in the new instant messaging market.
1992 – The first SMS message, "Merry Christmas", is sent over the Vodafone GSM network in the U.K. in December.
1996 – Israeli company Mirabilis launches ICQ, which allowed users to chat one-on-one or in groups, exchange files, and search for other users. At its peak in 2001, ICQ had over 100 million accounts registered.
1997 – AOL launches AOL Instant Messenger (AIM), which pioneers the "Buddy List" concept. By the mid-2000s, AIM has the largest share of the instant messaging market in North America with 52%.
1998 – Yahoo! Messenger launches, allowing users with a Yahoo! ID to connect.
1999 – Microsoft releases MSN Messenger, a competitor to AIM and Yahoo. By 2005, roughly 2.5 billion messages are sent each day on the platform.
1999 – Across the Pacific Ocean, Tencent Holdings launches its first successful app. It's called QQ, and it is initially a near-exact clone of ICQ.
To many, the 2000s is a Golden Age for instant messaging. Sharing photos, making video calls, and playing games are now common platform features
2001: By this time, only 30 million SMS text messages are sent per month in the United States.
2002: Apple launches iChat for its Mac OS X operating system, which is compatible with AIM.
2003: Skype allows Internet users to communicate with others through video, voice and instant messaging.
2005: Google Talk, available in a Gmail user's window, is launched to allow easy communication between email contacts.
2006: MySpace launches the first instant messaging platform built within a social network: MySpaceIM.
2006: Market Snapshot (US Market)
AIM: 53 million
MSN: 27 million
Yahoo: 22 million
Google: 866,000
2006: By this time, 12.5 billion SMS text messages were sent each month in the United States
2008: Facebook Chat is released, allowing Facebook users to message friends or groups of friends on the social network. (Later on, Facebook would release a standalone mobile app version called Facebook Messenger in 2011.)
2009: An upstart WhatsApp allows users to text, send video, and audio for free.
Instant messaging undergoes a renaissance in the 2010s, as new apps like Snapchat, WhatsApp, and WeChat change how the game is played.
The popularity of new platforms change the concept of messaging entirely:
WeChat (2011)
Initially started by Tencent as a clone of WhatsApp, WeChat is now much more than a chat app. It's a fully integrated mobile platform with shopping, payments, games, and much more.
WeChat processed $46 billion in payments in January 2016 – that's about as twice as much as Paypal.
Snapchat (2011)
Snapchat, which is popular with millennials, allows users to send "snaps" which disappear after an allotted amount of time.
The app has evolved into a mix of private and public content, including brand networks and coverage of live events.
Slack (2013)
Slack's workplace collaboration software allows teams to communicate easily and efficiently.
Slack was the fastest company to hit "unicorn" status ever, taking just 1.25 years to be worth over $1 billion.
Bitcoin is Near All-Time Highs and the Mainstream Doesn't Care…Yet
As bitcoin charges towards all-time highs, search interest is relatively low. How much attention has bitcoin's recent rally gotten?
Bitcoin Near All-Time Highs vs. Search Interest
Just about every financial asset saw a huge drop in March, but few have had the spectacular recovery that bitcoin has had since then.
Up more than 300% from the March lows, bitcoin is within $1,000 of its all-time high ($19,891) established three years ago. While 2017's run-up saw a huge surge in Google searches, interest this time around is less than a quarter of what it was back then.
This graphic overlays bitcoin's price changes against Google search interest for "bitcoin" between 2017-Nov 2020, showing the muted relative search interest for its recent rally. Despite Google search interest being low, it is turning upwards, potentially hinting at a rise to cap off 2020.
Nobody's Searching? Maybe Bitcoin is Already Mainstream
Bitcoin's mainstream attention in 2017 was exceptional, and was likely the first time many people had even heard about the digital asset.
After doing all of their Google research back then, it's possible that the general population is now well aware of the cryptocurrency and doesn't need to search up the basics again. Add to this that bitcoin is now easily purchasable through popular services like Robinhood and Paypal, and you have fewer people who need Google to figure out the intricacies of bitcoin wallets and transactions.
While people might not be searching for information on bitcoin, the media has certainly picked up on its movement over the past year. Mainstream coverage regarding the cryptocurrency is currently at a relative all-time high for the past 12 months.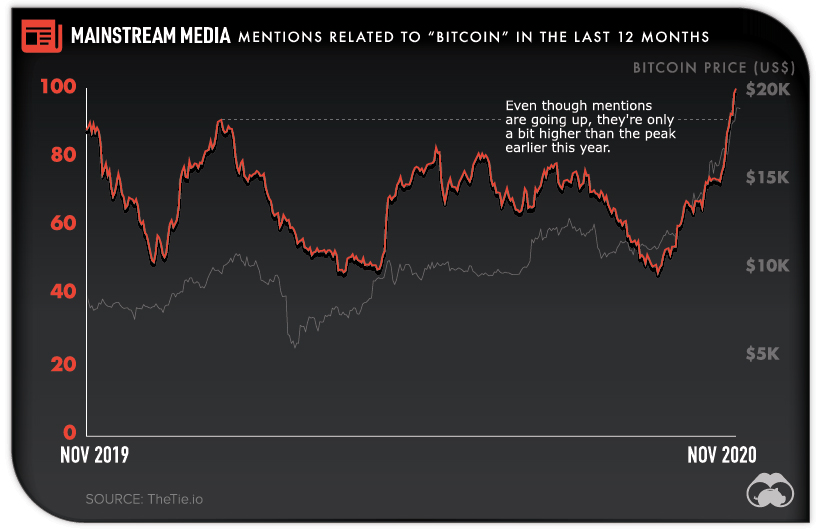 Even if current mainstream coverage isn't far from previous peaks, it's still likely that people are seeing an increase in bitcoin content in their news feeds following the recent surge.
This rally is also attracting increased talk on social media sites like Twitter. That said, while there has been a rise in the volume of bitcoin-related tweets in November 2020, numbers are still quite low compared to the amount of tweets in 2017.
Daily tweet volume reached above 60,000 recently, but is still far from the +100,000 daily tweets that were being sent at the top of 2017's bull run.
Where in the World is Google Search Interest for Bitcoin?
Even if worldwide search interest isn't as high as it was in 2017, there is one country where bitcoin is being googled more now: Nigeria.
Since 2015, the Nigerian Naira has lost more than 50% of its value against the U.S. dollar. This, coupled with the country's high share of unbanked citizens means that alternative currencies and payment methods have steadily risen in popularity and utility.
FinTech startups like Chipper Cash are providing Nigeria and other African nations with no-fee P2P payment services, along with the ability to trade bitcoin. The service is also beta testing the buying and selling of fractional shares of popular U.S. stocks.
Started up in 2018, Chipper Cash's monthly payment values are now over $100 million, and the company has attracted investment from top VC funds like Bezos Expeditions as they provide a valuable service in an emerging market.
If Bitcoin is Mainstream, Where Does It Go From Here?
While bitcoin is proving itself to be a useful medium of exchange around the world, it's still primarily a speculative asset. As 2020 saw massive increases in money supply across the board, bitcoin reacted best compared to other speculative assets, with its ascent to $19,000 almost completely uninterrupted since the $10,000 price area.
Time will tell if 2017 is set to repeat itself, or if bitcoin is getting ready to set new all-time highs going into 2021.

50 Years of Gaming History, by Revenue Stream (1970-2020)
Visualizing 50 years of gaming history, from the first wave of arcades and home consoles to a tsunami of mobile gaming.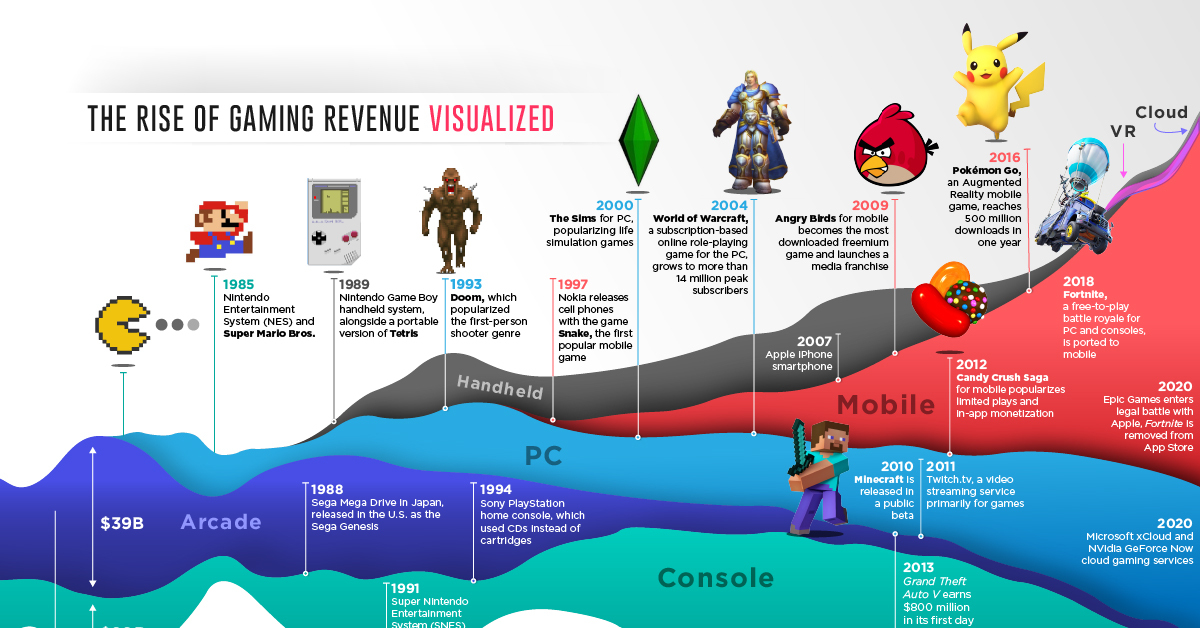 50 Years of Gaming History, by Revenue Stream (1970-2020)
View a more detailed version of the above by clicking here
Every year it feels like the gaming industry sees the same stories—record sales, unfathomable market reach, and questions of how much higher the market can go.
We're already far past the point of gaming being the biggest earning media sector, with an estimated $165 billion revenue generated in 2020.
But as our graphic above helps illustrate, it's important to break down shifting growth within the market. Research from Pelham Smithers shows that while the tidal wave of gaming has only continued to swell, the driving factors have shifted over the course of gaming history.
1970–1983: The Pre-Crash Era
At first, there was Atari.
Early prototypes of video games were developed in labs in the 1960s, but it was Atari's release of Pong in 1972 that helped to kickstart the industry.
The arcade table-tennis game was a sensation, drawing in consumers eager to play and companies that started to produce their own knock-off versions. Likewise, it was Atari that sold a home console version of Pong in 1975, and eventually its own Atari 2600 home console in 1977, which would become the first console to sell more than a million units.
In short order, the arcade market began to plateau. After dwindling due to a glut of Pong clones, the release of Space Invaders in 1978 reinvigorated the market.
Arcade machines started to be installed everywhere, and new franchises like Pac-Man and Donkey Kong drove further growth. By 1982, arcades were already generating more money than both the pop music industry and the box office.
1985–2000: The Tech Advancement Race
Unfortunately, the gaming industry grew too quickly to maintain.
Eager to capitalize on a growing home console market, Atari licensed extremely high budget ports of Pac-Man and a game adaptation of E.T. the Extra Terrestrial. They were rushed to market, released in poor quality, and cost the company millions in returns and more in brand damage.
As other companies also looked to capitalize on the market, many other poor attempts at games and consoles caused a downturn across the industry. At the same time, personal computers were becoming the new flavor of gaming, especially with the release of the Commodore 64 in 1982.
It was a sign of what was to define this era of gaming history: a technological race. In the coming years, Nintendo would release the Nintendo Entertainment System (NES) home console in 1985 (released in Japan as the Famicom), prioritizing high quality games and consistent marketing to recapture the wary market.
On the backs of games like Duck Hunt, Excitebike, and the introduction of Mario in Super Mario Bros, the massive success of the NES revived the console market.
Estimated Total Console Sales by Manufacturer (1970-2020)
| Manufacturer | Home Console sales | Handheld Console Sales | Total Sales |
| --- | --- | --- | --- |
| Nintendo | 318 M | 430 M | 754 M |
| Sony | 445 M | 90 M | 535 M |
| Microsoft | 149 M | - | 149 M |
| Sega | 64-67 M | 14 M | 81 M |
| Atari | 31 M | 1 M | 32 M |
| Hudson Soft/NEC | 10 M | - | 10 M |
| Bandai | - | 3.5 M | 3.5 M |
Source: Wikipedia
Nintendo looked to continue its dominance in the field, with the release of the Game Boy handheld and the Super Nintendo Entertainment System. At the same time, other competitors stepped in to beat them at their own game.
In 1988, arcade company Sega entered the fray with the Sega Mega Drive console (released as the Genesis in North America) and then later the Game Gear handheld, putting its marketing emphasis on processing power.
Electronics maker Sony released the PlayStation in 1994, which used CD-ROMs instead of cartridges to enhance storage capacity for individual games. It became the first console in history to sell more than 100 million units, and the focus on software formats would carry on with the PlayStation 2 (DVDs) and PlayStation 3 (Blu-rays).
Even Microsoft recognized the importance of gaming on PCs and developed the DirectX API to assist in game programming. That "X" branding would make its way to the company's entry into the console market, the Xbox.
2001–Present: The Online Boom
It was the rise of the internet and mobile, however, that grew the gaming industry from tens of billions to hundreds of billions in revenue.
A primer was the viability of subscription and freemium services. In 2001, Microsoft launched the Xbox Live online gaming platform for a monthly subscription fee, giving players access to multiplayer matchmaking and voice chat services, quickly becoming a must-have for consumers.
Meanwhile on PCs, Blizzard was tapping into the Massive Multiplayer Online (MMO) subscription market with the 2004 release of World of Warcraft, which saw a peak of more than 14 million monthly paying subscribers.
All the while, companies saw a future in mobile gaming that they were struggling to tap into. Nintendo continued to hold onto the handheld market with updated Game Boy consoles, and Nokia and BlackBerry tried their hands at integrating game apps into their phones.
But it was Apple's iPhone that solidified the transition of gaming to a mobile platform. The company's release of the App Store for its smartphones (followed closely by Google's own store for Android devices) paved the way for app developers to create free, paid, and pay-per-feature games catered to a mass market.
Now, everyone has their eyes on that growing $85 billion mobile slice of the gaming market, and game companies are starting to heavily consolidate.
Major Gaming Acquisitions Since 2014
| Date | Acquirer | Target and Sector | Deal Value (US$) |
| --- | --- | --- | --- |
| Apr. 2014 | Facebook | Oculus - VR | $3 Billion |
| Aug. 2014 | Amazon | Twitch - Streaming | $970 Million |
| Nov. 2014 | Microsoft | Mojang - Games | $2.5 Billion |
| Feb. 2016 | Activision Blizzard | King - Games | $5.9 Billion |
| Jun. 2016 | Tencent | Supercell - Games | $8.6 Billion |
| Feb. 2020 | Embracer Group | Saber Interactive - Games | $525 Million |
| Sep. 2020 | Microsoft | ZeniMax Media - Games | $7.5 Billion |
| Nov. 2020 | Take-Two Interactive | Codemasters - Games | $994 Million |
Console makers like Microsoft and Sony are launching cloud-based subscription services even while they continue to develop new consoles. Meanwhile, Amazon and Google are launching their own services that work on multiple devices, mobile included.
After seeing the success that games like Pokémon Go had on smartphones—reaching more than $1 billion in yearly revenue—and Grand Theft Auto V's record breaking haul of $1 billion in just three days, companies are targeting as much of the market as they can.
And with the proliferation of smartphones, social media games, and streaming services, they're on the right track. There are more than 2.7 billion gamers worldwide in 2020, and how they choose to spend their money will continue to shape gaming history as we know it.