Every Visible Star in the Night Sky, in One Map
View the full-size version of this infographic.
Every Visible Star in the Night Sky, in One Map
View the high resolution version of this incredible map by clicking here.
The stars have fascinated humanity since the beginning of civilization, from using them to track the different seasons, to relying on them to navigate thousands of miles on the open ocean.
Today, travelers trek to the ends of the Earth to catch a glimpse of the Milky Way, untouched by light pollution. However, if you're in the city and the heavens align on a clear night, you might still be able to spot somewhere between 2,500 to 5,000 stars scattered across your field of vision.
This stunning star map was created by Eleanor Lutz, under the Reddit pseudonym /hellofromthemoon, and is a throwback to all the stars and celestial bodies that could be seen by the naked eye on Near Year's Day in 2000.
Star Light, Star Bright
Stars have served as a basis for navigation for thousands of years. Polaris, also dubbed the North Star in the Ursa Minor constellation, is arguably one of the most influential, even though it sits 434 light years away.
Because of its relative location to the Earth's axis, Polaris is reliably found in the same spot throughout the year—on this star map, it can be spotted in the top right corner. The Polynesian people famously followed the path of the North Star, along with wave currents, in all their way-finding journeys.
Interestingly, Polaris' dependability is why it is commonly mistaken as the brightest star, but Sirius actually takes that crown—find it below the Gemini constellation, at the 7HR latitude and -20° longitude coordinates on the visualization. Located in the Canis Majoris constellation, Sirius burns bluish-white, and is one of the hottest objects in the universe with a surface temperature of 17,400°F (9,667°C). Sirius is nearly 40 times brighter than our Sun.
The Egyptians associated Sirius with the goddess Isis, and used its location to predict the annual flooding of the Nile. This also isn't the only way humans have used visible stars to "predict" the future, as evidenced by the ancient practice of astrology.
Seeking Answers in the Stars
In the star map above, the orange lines denote the twelve signs of the Zodiac, each found roughly along the same band from 10° to -30° longitude. These Zodiac alignments, along with planetary movements, form the basis of astrology, which has been practiced across cultures to predict significant events. While the scientific method has widely demonstrated that astrology doesn't hold much validity, many people still believe in it today.
The red lines on the visualization signify the constellations officially recognized by the International Astronomical Union (IAU) in 1922. Its ancient Greek origins are recorded on the same map as the blue lines, from which the modern constellation boundaries are based. Here's a deeper dive into all 88 IAU constellations:

| Constellation | English Name | Category | Brightest star |
| --- | --- | --- | --- |
| Andromeda | Chained Maiden/ Princess | Creature/ Character | Alpheratz |
| Antlia | Air Pump | Object | α Antliae |
| Apus  | Bird of Paradise | Animal | α Apodis |
| ♒ Aquarius | Water Bearer | Creature/ Character | Sadalsuud |
| Aquila | Eagle | Animal | Altair |
| Ara | Altar | Object | β Arae |
| ♈ Aries | Ram | Animal | Hamal |
| Auriga | Charioteer | Creature/ Character | Capella |
| Boötes | Herdsman | Creature/ Character | Arcturus |
| Caelum | Engraving Tool | Object | α Caeli |
| Camelopardalis | Giraffe | Animal | β Camelopardalis |
| ♋ Cancer | Crab | Animal | Tarf |
| Canes Venatici | Hunting Dogs | Animal | Cor Caroli |
| Canis Major | Great Dog | Animal | Sirius |
| Canis Minor | Lesser Dog | Animal | Procyon |
| ♑ Capricornus | Sea Goat | Creature/ Character | Deneb Algedi |
| Carina | Keel | Object | Canopus |
| Cassiopeia | Seated Queen | Creature/ Character | Schedar |
| Centaurus | Centaur | Creature/ Character | Rigil Kentaurus |
| Cepheus | King | Creature/ Character | Alderamin |
| Cetus | Sea Monster | Creature/ Character | Diphda |
| Chamaeleon | Chameleon | Animal | α Chamaeleontis |
| Circinus | Compass | Object | α Circini |
| Columba | Dove | Animal | Phact |
| Coma Berenices | Bernice's Hair | Creature/ Character | β Comae Berenices |
| Corona Australis | Southern Crown | Object | Meridiana |
| Corona Borealis | Northern Crown | Object | Alphecca |
| Corvus | Crow | Animal | Gienah |
| Crater | Cup | Object | δ Crateris |
| Crux | Southern Cross | Object | Acrux |
| Cygnus | Swan | Animal | Deneb |
| Delphinus | Dolphin | Animal | Rotanev |
| Dorado | Swordfish | Animal | α Doradus |
| Draco | Dragon | Creature/ Character | Eltanin |
| Equuleus | Little Horse | Animal | Kitalpha |
| Eridanus | River | Object | Achernar |
| Fornax | Furnace | Object | Dalim |
| ♊ Gemini | Twins | Creature/ Character | Pollux |
| Grus | Crane | Animal | Alnair |
| Hercules | Hercules | Creature/ Character | Kornephoros |
| Horologium | Pendulum Clock | Object | α Horologii |
| Hydra | Female Water Snake | Creature/ Character | Alphard |
| Hydrus | Male Water Snake | Creature/ Character | β Hydri |
| Indus | Indian | Creature/ Character | α Indi |
| Lacerta | Lizard | Animal | α Lacertae |
| ♌ Leo | Lion | Animal | Praecipua |
| Leo Minor | Lesser Lion | Animal | Regulus |
| Lepus | Hare | Animal | Arneb |
| Libra | Scales | Object | Zubeneschamali |
| Lupus | Wolf | Animal | α Lupi |
| Lynx | Lynx | Animal | α Lyncis |
| Lyra | Lyre | Object | Vega |
| Mensa | Table Mountain | Object | α Mensae |
| Microscopium | Microscope | Object | γ Microscopii |
| Monoceros | Unicorn | Creature/ Character | β Monocerotis |
| Musca | Fly | Animal | α Muscae |
| Norma | Carpenter's Square | Object | γ2 Normae |
| Octans | Octant | Object | ν Octantis |
| Ophiuchus | Serpent Bearer | Creature/ Character | Rasalhague |
| Orion | Hunter | Creature/ Character | Rigel |
| Pavo | Peacock | Animal | Peacock |
| Pegasus | Winged Horse | Creature/ Character | Enif |
| Perseus | Hero | Creature/ Character | Mirfak |
| Phoenix | Phoenix | Creature/ Character | Ankaa |
| Pictor | Painter's Easel | Object | α Pictoris |
| ♓ Pisces | Fishes | Animal | Alpherg |
| Piscis Austrinus | Southern Fish | Creature/ Character | Fomalhaut |
| Puppis | Stern | Object | Naos |
| Pyxis | Mariner's Compass | Object | α Pyxidis |
| Reticulum | Reticle (Eyepiece) | Object | α Reticuli |
| Sagitta | Arrow | Object | γ Sagittae |
| ♐ Sagittarius | Archer | Creature/ Character | Kaus Australis |
| ♏ Scorpius | Scorpion | Animal | Antares |
| Sculptor | Sculptor | Creature/ Character | α Sculptoris |
| Scutum | Shield | Object | α Scuti |
| Serpens | Serpent | Animal | Unukalhai |
| Sextans | Sextant | Object | α Sextantis |
| ♉ Taurus | Bull | Animal | Aldebaran |
| Telescopium | Telescope | Object | α Telescopii |
| Triangulum | Triangle | Object | Atria |
| Triangulum Australe | Southern Triangle | Object | β Trianguli |
| Tucana | Toucan | Animal | α Tucanae |
| Ursa Major | Great Bear | Animal | Alioth |
| Ursa Minor | Little Bear | Animal | Polaris |
| Vela | Sails | Object | γ2 Velorum |
| ♍ Virgo | Maiden | Creature/ Character | Spica |
| Volans | Flying Fish | Animal | β Volantis |
| Vulpecula | Fox | Animal | Anser |
(Source: International Astronomical Union)
Into the Depths of Deep Space
The quirk of naming stars after flora and fauna doesn't end there. Our night sky also reveals visible galaxies, nebulae, and clusters far, far away—but they're named after familiar birds, natural objects, and mythical creatures. See if you can find some of these interesting names:
Open Cluster: Wild Duck Cluster
Open Cluster: Eagle Nebula
Open Cluster: Beehive Cluster
Open Cluster: Butterfly Cluster
Emission Nebula: North American
Emission Nebula: Trifid Nebula
Emission Nebula: Lagoon Nebula
Emission Nebula: Orion Nebula
Open Cluster with Emission Nebula: Swan Nebula
Open Cluster with Emission Nebula: Christmas Tree Cluster
Open Cluster with Emission Nebula: Rosette Nebula
Globular Cluster: Hercules Cluster
There's an interesting concentration of unnamed open and globular clusters just above the Sagittarius constellation, between 18-20HR latitude and -20° to -30° longitude. Another one can be seen next to Cassiopeia, just below Polaris between 1HR-3HR latitude, at 60° longitude. The only two visible spiral galaxies, Andromeda and Pinwheel, are located close between 0-2HR latitude and 30°-40° longitude.
The Relentless Passage of Time
We now know that the night sky isn't as static as people used to believe. Although it's Earth's major pole star today, Polaris was in fact off-kilter by roughly 8° a few thousand years ago. Our ancestors saw the twin northern pole stars, Kochab and Pherkad, where Polaris is now.
This difference is due to the Earth's natural axial tilt. Eight degrees may not seem like much, but because of this angle, the constellations we gaze at today are the same, yet completely different from the ones our ancestors looked up at.
If you liked exploring this star map, be sure to check out the geology of Mars from the same designer.
Visualizing the Human Impact on the Earth's Surface
Nearly 95% of the Earth's surface shows some form of human modification, with 85% bearing evidence of multiple forms of human impact.
Visualizing the Human Impact on the Earth's Surface
View the high resolution version of this map by clicking here.
There is little doubt that human activity has impacted the Earth, but to what extent?
As it turns out, nearly 95% of the Earth's surface shows some form of human modification, with 85% bearing evidence of multiple forms of human impact.
This map by data scientist Hannah Ker outlines the extent of humanity's modification on terrestrial land ecosystems.
Measuring the Human Impact
This map relies on the Global Human Modification of Terrestrial Systems data set, which tracks the physical extent of 13 anthropogenic stressors across five categories.
Human settlement: population density, built‐up areas
Agriculture: cropland, livestock
Transportation: major roads, minor roads, two tracks, railroads
Mining and energy production: mining, oil wells, wind turbines
Electrical infrastructure: powerlines, nighttime lights
Researchers compiled all these stress factors and scaled their impact from 0 to 1. Then, in order to map the impacts spatially, the surface of land was organized into cells of 1 kilometer in length creating "edges" of varying impact.
These impacts are further organized by biomes—distinct biological communities that have formed in response to a shared physical climate.
Digging into the Data
Only 5% of the world's lands are unaffected by humans, which amounts to nearly 7 million km² of the Earth's land, and 44% (59 million km²) is categorized as low modification.
The remainder of land has a moderate to high degree of modification: with 34% categorized as moderate (46 million km²), 13% categorized as high (17 million km²), and 4% categorized as very high modification (5.5 million km²). This latter category is the most visible on the map, with portions of China, India, and Italy serving as focal points.
Below is a look at how Earth's various biomes fare under this ranking system:
Out of the 14 biomes studied, the least modified biomes are tundra, boreal forests, deserts, temperate coniferous forests, and montane grasslands. Tropical dry broadleaf forests, temperate broadleaf forests, Mediterranean forests, mangroves, and temperate grasslands are the most modified biomes.
Dense human settlements, agricultural land uses, networks of infrastructure, and industrial activities dominate the more highly modified biomes. These lands are commonly subject to five or more human stressors simultaneously, threatening naturally-occurring ecosystem services.
What are Ecosystem Services?
An ecosystem service is any positive benefit that wildlife or ecosystems provide to people, and they can be sorted into four categories:
Provisioning Services: This is the primary benefit of nature. Humans derive their food, water, and resources from nature.
Regulating: Plants clean air and filter water, tree roots help to keep soil in place to prevent erosion, bees pollinate flowers, and bacterial colonies help to decompose waste.
Cultural Services: Humans have long interacted with the "wild" and it in turn has influenced our social, intellectual, and cultural development. However, the built environment of a city or town separates man from nature and ancient patterns of life. Ecosystems have long served as inspiration for music, art, architecture, and recreation.
Supporting Services: Ecosystems contain the fundamental natural processes that make life possible such as photosynthesis, nutrient cycling, soil creation, and the water cycle. These natural processes bring the Earth to life. Without these supporting services, provisional, regulating, and cultural services wouldn't exist.
A Delicate Balance
With each encroachment upon habitat, the potential increases for humans to inadvertently upset the careful balance of ecosystem services that have nourished the processes of life on Earth.
As we become more aware of the human impact on the plant, we can make smarter decisions about how our society and economies function—ultimately ensuring that the same ecosystem services are there for future generations.

50 Years of Gaming History, by Revenue Stream (1970-2020)
Visualizing 50 years of gaming history, from the first wave of arcades and home consoles to a tsunami of mobile gaming.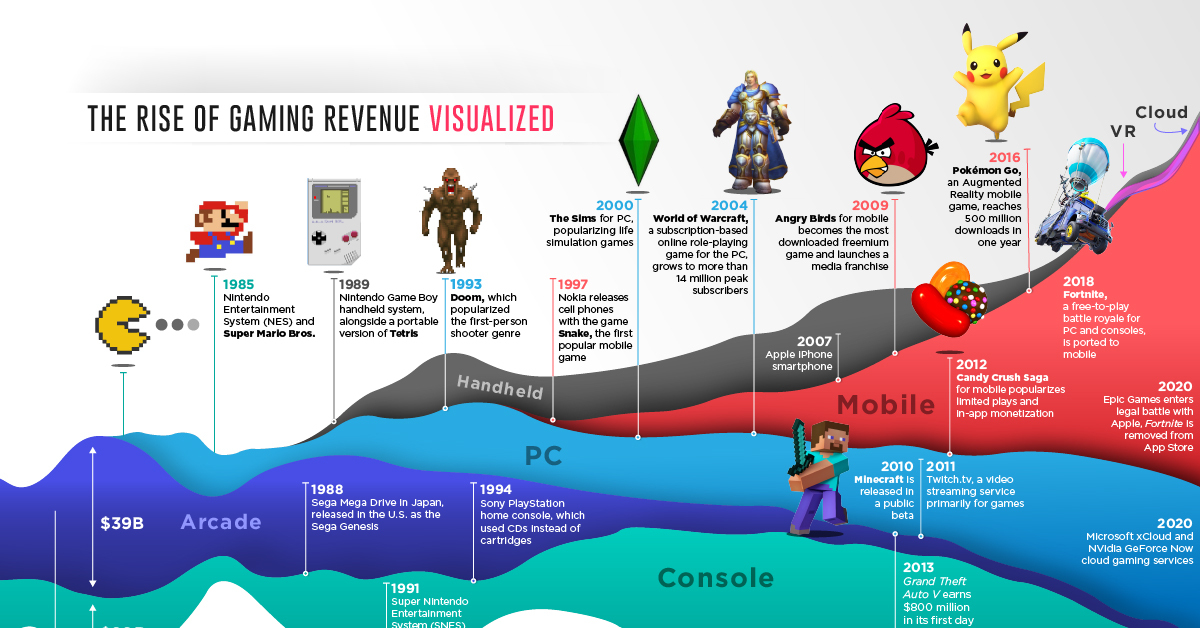 50 Years of Gaming History, by Revenue Stream (1970-2020)
View a more detailed version of the above by clicking here
Every year it feels like the gaming industry sees the same stories—record sales, unfathomable market reach, and questions of how much higher the market can go.
We're already far past the point of gaming being the biggest earning media sector, with an estimated $165 billion revenue generated in 2020.
But as our graphic above helps illustrate, it's important to break down shifting growth within the market. Research from Pelham Smithers shows that while the tidal wave of gaming has only continued to swell, the driving factors have shifted over the course of gaming history.
1970–1983: The Pre-Crash Era
At first, there was Atari.
Early prototypes of video games were developed in labs in the 1960s, but it was Atari's release of Pong in 1972 that helped to kickstart the industry.
The arcade table-tennis game was a sensation, drawing in consumers eager to play and companies that started to produce their own knock-off versions. Likewise, it was Atari that sold a home console version of Pong in 1975, and eventually its own Atari 2600 home console in 1977, which would become the first console to sell more than a million units.
In short order, the arcade market began to plateau. After dwindling due to a glut of Pong clones, the release of Space Invaders in 1978 reinvigorated the market.
Arcade machines started to be installed everywhere, and new franchises like Pac-Man and Donkey Kong drove further growth. By 1982, arcades were already generating more money than both the pop music industry and the box office.
1985–2000: The Tech Advancement Race
Unfortunately, the gaming industry grew too quickly to maintain.
Eager to capitalize on a growing home console market, Atari licensed extremely high budget ports of Pac-Man and a game adaptation of E.T. the Extra Terrestrial. They were rushed to market, released in poor quality, and cost the company millions in returns and more in brand damage.
As other companies also looked to capitalize on the market, many other poor attempts at games and consoles caused a downturn across the industry. At the same time, personal computers were becoming the new flavor of gaming, especially with the release of the Commodore 64 in 1982.
It was a sign of what was to define this era of gaming history: a technological race. In the coming years, Nintendo would release the Nintendo Entertainment System (NES) home console in 1985 (released in Japan as the Famicom), prioritizing high quality games and consistent marketing to recapture the wary market.
On the backs of games like Duck Hunt, Excitebike, and the introduction of Mario in Super Mario Bros, the massive success of the NES revived the console market.
Estimated Total Console Sales by Manufacturer (1970-2020)
| Manufacturer | Home Console sales | Handheld Console Sales | Total Sales |
| --- | --- | --- | --- |
| Nintendo | 318 M | 430 M | 754 M |
| Sony | 445 M | 90 M | 535 M |
| Microsoft | 149 M | - | 149 M |
| Sega | 64-67 M | 14 M | 81 M |
| Atari | 31 M | 1 M | 32 M |
| Hudson Soft/NEC | 10 M | - | 10 M |
| Bandai | - | 3.5 M | 3.5 M |
Source: Wikipedia
Nintendo looked to continue its dominance in the field, with the release of the Game Boy handheld and the Super Nintendo Entertainment System. At the same time, other competitors stepped in to beat them at their own game.
In 1988, arcade company Sega entered the fray with the Sega Mega Drive console (released as the Genesis in North America) and then later the Game Gear handheld, putting its marketing emphasis on processing power.
Electronics maker Sony released the PlayStation in 1994, which used CD-ROMs instead of cartridges to enhance storage capacity for individual games. It became the first console in history to sell more than 100 million units, and the focus on software formats would carry on with the PlayStation 2 (DVDs) and PlayStation 3 (Blu-rays).
Even Microsoft recognized the importance of gaming on PCs and developed the DirectX API to assist in game programming. That "X" branding would make its way to the company's entry into the console market, the Xbox.
2001–Present: The Online Boom
It was the rise of the internet and mobile, however, that grew the gaming industry from tens of billions to hundreds of billions in revenue.
A primer was the viability of subscription and freemium services. In 2001, Microsoft launched the Xbox Live online gaming platform for a monthly subscription fee, giving players access to multiplayer matchmaking and voice chat services, quickly becoming a must-have for consumers.
Meanwhile on PCs, Blizzard was tapping into the Massive Multiplayer Online (MMO) subscription market with the 2004 release of World of Warcraft, which saw a peak of more than 14 million monthly paying subscribers.
All the while, companies saw a future in mobile gaming that they were struggling to tap into. Nintendo continued to hold onto the handheld market with updated Game Boy consoles, and Nokia and BlackBerry tried their hands at integrating game apps into their phones.
But it was Apple's iPhone that solidified the transition of gaming to a mobile platform. The company's release of the App Store for its smartphones (followed closely by Google's own store for Android devices) paved the way for app developers to create free, paid, and pay-per-feature games catered to a mass market.
Now, everyone has their eyes on that growing $85 billion mobile slice of the gaming market, and game companies are starting to heavily consolidate.
Major Gaming Acquisitions Since 2014
| Date | Acquirer | Target and Sector | Deal Value (US$) |
| --- | --- | --- | --- |
| Apr. 2014 | Facebook | Oculus - VR | $3 Billion |
| Aug. 2014 | Amazon | Twitch - Streaming | $970 Million |
| Nov. 2014 | Microsoft | Mojang - Games | $2.5 Billion |
| Feb. 2016 | Activision Blizzard | King - Games | $5.9 Billion |
| Jun. 2016 | Tencent | Supercell - Games | $8.6 Billion |
| Feb. 2020 | Embracer Group | Saber Interactive - Games | $525 Million |
| Sep. 2020 | Microsoft | ZeniMax Media - Games | $7.5 Billion |
| Nov. 2020 | Take-Two Interactive | Codemasters - Games | $994 Million |
Console makers like Microsoft and Sony are launching cloud-based subscription services even while they continue to develop new consoles. Meanwhile, Amazon and Google are launching their own services that work on multiple devices, mobile included.
After seeing the success that games like Pokémon Go had on smartphones—reaching more than $1 billion in yearly revenue—and Grand Theft Auto V's record breaking haul of $1 billion in just three days, companies are targeting as much of the market as they can.
And with the proliferation of smartphones, social media games, and streaming services, they're on the right track. There are more than 2.7 billion gamers worldwide in 2020, and how they choose to spend their money will continue to shape gaming history as we know it.