Ethical Supply: The Search for Cobalt Beyond the Congo
The following content is sponsored by Fuse Cobalt.
Ethical Supply: The Search for Cobalt Beyond the Congo
Each new generation finds new uses for materials, and cobalt is no exception.
Historically, potters and painters used cobalt as dye to color their work. Today, a new cobalt supply chain is emerging to build the next generation of clean energy.
However, there is lack of transparency surrounding the current supply chain for cobalt, as the metal is subject to a number of ethical issues from its main country of production—the Democratic Republic of Congo (DRC).
Today's infographic comes to us from Fuse Cobalt and uncovers the potential for new sources of cobalt beyond the Congo.
Cobalt's Growing Demand
Cobalt's specialized properties make it crucial for rechargeable batteries, metal alloys, and EVs:
Thermal stability
High energy storage
Corrosion resistance
Aesthetic appeal
As the markets for EVs and rechargeable batteries grow, the demand for cobalt is expected to surge to 220,000 metric tons by 2025, a 63% increase since 2017.
But can industry meet its demand with a supply of ethically mined cobalt?
A Precarious Supply Chain
In 2019, the DRC produced 70% of global mined cobalt—a majority of which went to China, the leading importer of mined cobalt and an exporter of refined cobalt.
Moreover, 8 of the 14 largest cobalt mines in the DRC are owned by Chinese companies, resulting in a highly controlled supply chain.
Why the Democratic Republic of Congo?
When it comes to cobalt reserves and concentrations, DRC looms over the rest of the world as a clear leader.
| Country | Cobalt reserves as of 2019 (tons) |
| --- | --- |
| Congo (Kinshasa) | 3,600,000 |
| Australia | 1,200,000 |
| Cuba | 500,000 |
| Philippines | 260,000 |
| Russia | 250,000 |
| Canada | 230,000 |
| Madagascar | 120,000 |
| China | 80,000 |
| Papua New Guinea | 56,000 |
| United States | 55,000 |
| South Africa | 50,000 |
| Morocco | 18,000 |
| Rest of the World | 500,000 |
| World total (rounded) | 7,000,000 |
The African Copper Belt hosts the majority of the DRC's cobalt deposits, where it is primarily mined as a by-product of copper and nickel mining.
Low labor costs, loose regulations, and poor governance in the DRC allow for the flourishing of artisanal mining and cheap sources of cobalt.
However, cobalt from the DRC is tainted by ethical and humanitarian issues, including:
Child labor
Corruption
Crime
Poverty
Hazardous artisanal mining
With the current supply chain of cobalt facing scrutiny and criticism, a transformation in the cobalt universe is well underway.
Cobalt's Changing Landscape
As consumers become aware of the dirty costs of cobalt mining in the DRC, battery and EV manufacturing companies are looking for ethical sources.
Tesla, BMW, Ford, and Volkswagen are part of more than 380 companies that have committed to responsible sourcing through the Responsible Minerals Initiative. Responsible sourcing entails increasing supply chain transparency and searching for sources of cobalt outside the DRC.
Here's how some companies are leading the way:
Ford, Huayou Cobalt, IBM, LG Chem, and RCS Global are using blockchain technology to improve transparency and trace the sources of cobalt.
BMW signed a $110 million deal for cobalt from Morocco's Bou Azzar Mine, in an effort to avoid cobalt sourced from the DRC.
Tesla agreed to buy 6,000 tonnes of cobalt annually from Glencore, a multinational company financing North America's first cobalt refinery.
The U.S. recently added cobalt to its list of critical minerals—minerals for which it seeks independence from imports. The effort aims to reduce its net import reliance of 78% for cobalt, encouraging more localized and reliable production.
As a result of these shifts, the entire supply chain is beginning to reconsider cobalt sources in better-managed jurisdictions.
Cobalt Beyond the Congo: Why Not North America?
North America has comparable sources of cobalt to what is found in the Congo. As of 2019, Canada had 230,000 tons in cobalt reserves, whereas the U.S. had 55,000 tons.
Canadian Opportunity
Ontario hosts some high-grade cobalt deposits such as the Cobalt Silver Queen, Nova Scotia, Drummond, Nipissing, and Cobalt Lode mines.
In fact, Bill Gates, Jeff Bezos, and other billionaires from the Breakthrough Energy Fund are already fueling the exploration and development of cobalt deposits in North America.
Unsung North American Potential
The United States is home to 60 identified deposits of cobalt. These sources along with Canada's deposits, should provide explorers and miners with a massive opportunity to develop cobalt mining in North America.
As the EV industry booms with gigafactories in construction, will North American carmakers and other battery makers be able to pivot to ethical, local raw materials?

Visualizing Copper's Global Supply Chain
Copper is a global industry, from the mines of South America to refineries in Asia. However copper's supply chain has several inherent risks.
Copper is all around us: in our homes, electronic devices, and transportation.
But before copper ends up in these products and technologies, the industry must mine, refine and transport this copper all over the globe.
Copper's Supply Chain
This infographic comes to us from Trilogy Metals and it outlines copper's supply chain from the mine to the refinery.
Copper Deposits Around the World
Copper is a mineral that comes from the Earth's crust. However, natural history did not evenly distribute it around the world. There are certain geological conditions that need to happen to make an economic deposit of copper.
There are two primary types of copper deposits:
Porphyry Copper Deposits

These copper ore deposits form from hydrothermal fluids coming from magma chambers below the copper deposit. These are currently the largest source of copper in the world.

Sediment-hosted Copper Deposits

These are copper deposits that occur in sedimentary rocks that are bound by layers. They are formed by the cooling of copper-bearing hydrothermal fluids.
Copper-containing rock or ore only has a small percentage of copper. Most of the rock is uneconomic material, known as gangue. There are two main copper ore types in mining: copper oxide ores and copper sulfide ores.
Both ore types can be economic, however, the most common source of copper ore is the sulfide ore mineral chalcopyrite, which accounts for ~50% of copper production.
Sulfide copper ores are the most profitable ores because they have high copper content, and refiners easily separate copper from the gangue. Sulfide ores are not as abundant as the oxide ores.
Copper Trade Flows
While copper is a global business, there are clear leaders in the production and refinement of copper based on geology and demand. Chile is the major source for copper, exporting both mined and refined copper.
In a list of the 20 biggest copper mines, 11 reside in Chile and Peru accounting for 40% of mined copper. Meanwhile, China is a leading importer and exporter of refined copper, and it's home to 9 of the 20 biggest copper smelters in the world.
However, this concentrated geography of supply creates risks for the the copper trade.
Inherent Risks
While Chile is one of the richest sources of copper in the world, the mining industry has exploited copper deposits to the point where the grade or quality of the copper ore is declining.
Codelco, the national copper miner of Chile and the world's largest producer of copper, plans to spend $32B by 2027 to extend the life of its current mines and maintain its copper output.
In addition to declining grades, the geography of copper mining exposes the risk of supply disruption by natural forces.
The borders of Chile and Peru overlap the intersection of the Nazca and the South American Tectonic plates. Movement of these plates can produce powerful earthquakes.
According to one study, regions in Chile and Peru face a greater than 85% chance of a serious earthquake in the next 50 years, potentially disrupting copper mining operations. And according to Wood Mackenzie, a 15-day closure of copper mines in Chile and Peru could wipe out 1.5% of global annual production, or 300,000 tons of copper.
Falling grades and tectonic risk suggest that mining costs are likely to increase, making copper production more expensive and new discoveries more valuable.
Copper for the Future: New Discoveries
As economies grow and infrastructure needs increase, the demand for copper will grow. However, without new discoveries and sources of production, the world could face a shortage of the red metal.
According to data from S&P and the London Metals Exchange, the discovery of copper has not kept up with investment in copper exploration. If this trend persists, there will not be enough copper to replace current resources. On top of this, production from already producing copper mines face resource exhaustion and declining grades.
In order to maintain copper's supply chain, the world needs new copper discoveries to ensure everyone has access to the materials and products that make modern life.

The Evolution of Higher Education: 5 Global Trends To Watch
Higher education is facing a new wave of change during the pandemic. What are the new priorities of 2,200 students and staff worldwide?
Higher education has gone through tremendous change during the COVID-19 pandemic.
In the face of uncertainty, it's become evident that institutions with prior investment in digital technologies are emerging more agile and resilient. For example, online communities have helped 30% of students feel more connected with other students during this time.
Below we look at key data from the Global Higher Education Research Snapshot from Salesforce.org—in partnership with market research firm Ipsos—which reflects the new attitudes and priorities of 2,200 students and higher education staff worldwide.
To understand the shifting landscape across higher education, the survey explores five key trends: connection, trust, wellbeing, flexibility, and career.
1. Communications Help Students Feel Connected
In a typically isolating time, 75% of students wanted to receive weekly (or even more frequent) pandemic-related updates.
Why? These consistent communications from institutions actually help students feel more close and connected than in previous years.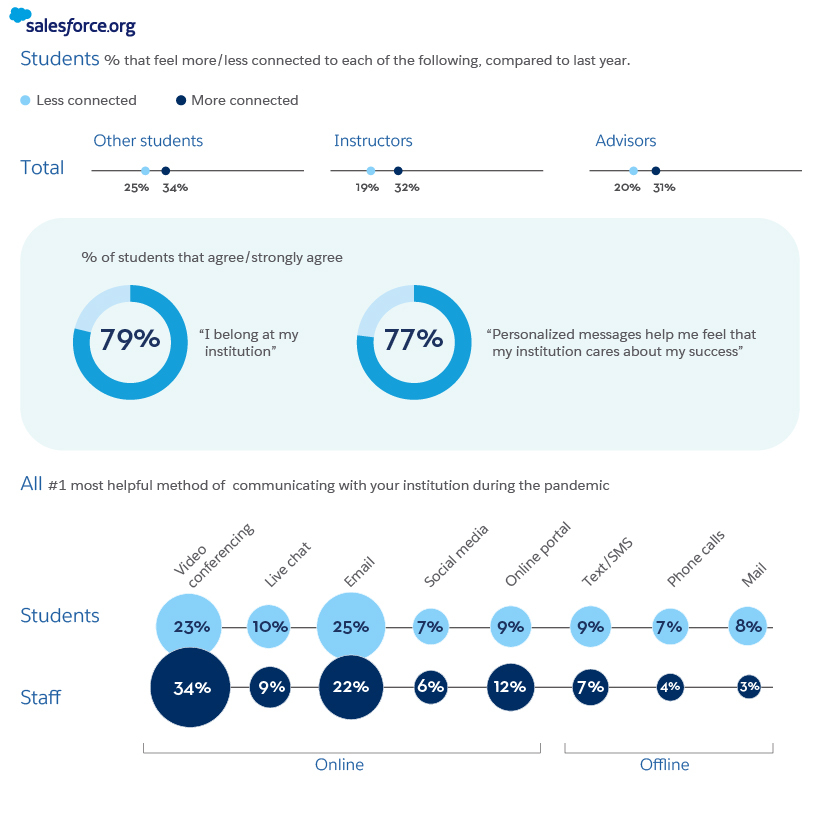 This valuable sense of belonging is increasingly happening through online communities and other digital channels, but institutions have significant room left to grow in this area.
2. Has The Pandemic Fractured Trust?
The pandemic has worsened existing trust gaps that exist between university leadership, students, and staff. Part of this may be due to a lack of resources provided during imposed COVID-19 restrictions.
From personal protective equipment such as masks/hand sanitizer to transparent COVID-19 response plans, students also expect a myriad of resources from their universities to help put them at ease.
3. Juggling Wellbeing Concerns
Months of lockdowns and persistent social distancing have understandably shaken up students' university experiences.
This is further compounded by various well-being challenges, from financial anxieties to juggling familial responsibilities.
On the bright side, such demand creates an opportunity for institutions to provide more tailored well-being support through digital-first channels.
4. Students Are Drawn to Online Learning
As the pandemic seemingly creates new challenges by the day, many students are seeking more flexible options for when and how they learn.
The good news? There's already evidence of this shift. Over half (57%) of staff say their institutions are investing in new modalities or revenue streams to attract new students, including more flexible learning options.
5. Uncertainties Remain Around Future Plans
Economic changes are causing over half (51%) of students to reconsider their education plans. In addition, of the staff that expect to see an increase in adult learners' enrollment, a majority believe it will come from pandemic-influenced needs to reskill or upskill in this climate.
This uncertainty also affects students' future plans—60% are concerned about finding employment after graduation. They want to be set up for career success in all areas, yet only a handful of them have the appropriate resources available.
How The Trends Intersect
These above trends aren't disparate to the student and staff experience. Rather, they are intricately linked with one another, as the following question illustrates.
The pandemic has reshaped expectations of higher education—but it's also created an opportunity for institutions to accelerate their digital transformation.
By providing more wellbeing resources, career support, and flexibility, universities can drive trust and support their students' needs in the new normal.
Want more details?
Visit Salesforce.org's Global Higher Education Research Snapshot to learn more.