The Energy and Mineral Riches of the Arctic
The Energy and Mineral Riches of the Arctic
The Arctic has been the fascination of many people for centuries.
Hundreds of years ago, the Europeans saw the Arctic's frigid waters as a potential gateway to the Pacific. The region has also been home to many unique native cultures such as the Inuits and Chukchi. Lastly, it goes without saying that the Arctic is unsurpassed in many aspects of its natural beauty, and lovers of the environment are struck by the region's millions of acres of untouched land and natural habitats.
However, the Arctic is also one of the last frontiers of natural resource discovery, and underneath the tundra and ice are vast amounts of undiscovered oil, natural gas, and minerals. That's why there is a high-stakes race for Arctic domination between countries such as the United States, Norway, Russia, Denmark, and Canada.
Today's infographic highlights the size of some of these resources in relation to global reserves to help create context around the potential significance of this untapped wealth.
In terms of oil, it's estimated that the Arctic has 90 billion barrels of oil that is yet to be discovered. That's equal to 5.9% of the world's known oil reserves – about 110% of Russia's current oil reserves, or 339% of U.S. reserves.
For natural gas, the potential is even higher: the Arctic has an estimated 1,669 trillion cubic feet of gas, equal to 24.3% of the world's current known reserves. That's equal to 500% of U.S. reserves, 99% of Russia's reserves, or 2,736% of Canada's natural gas reserves.
Most of these hydrocarbon resources, about 84%, are expected to lay offshore.
There are also troves of metals and minerals, including gold, diamonds, copper, iron, zinc, and uranium. However, these are not easy to get at. Starting a mine in the Arctic can be an iceberg of costs: short shipping seasons, melting permafrost, summer swamps, polar bears, and -50 degree temperatures make the Arctic tough to be economic.
Original graphic by: 911 Metallurgist
Ranked: Nuclear Power Production, by Country
Nuclear power accounted for 10% of global electricity generated in 2020. Here's a look at the largest nuclear power producers.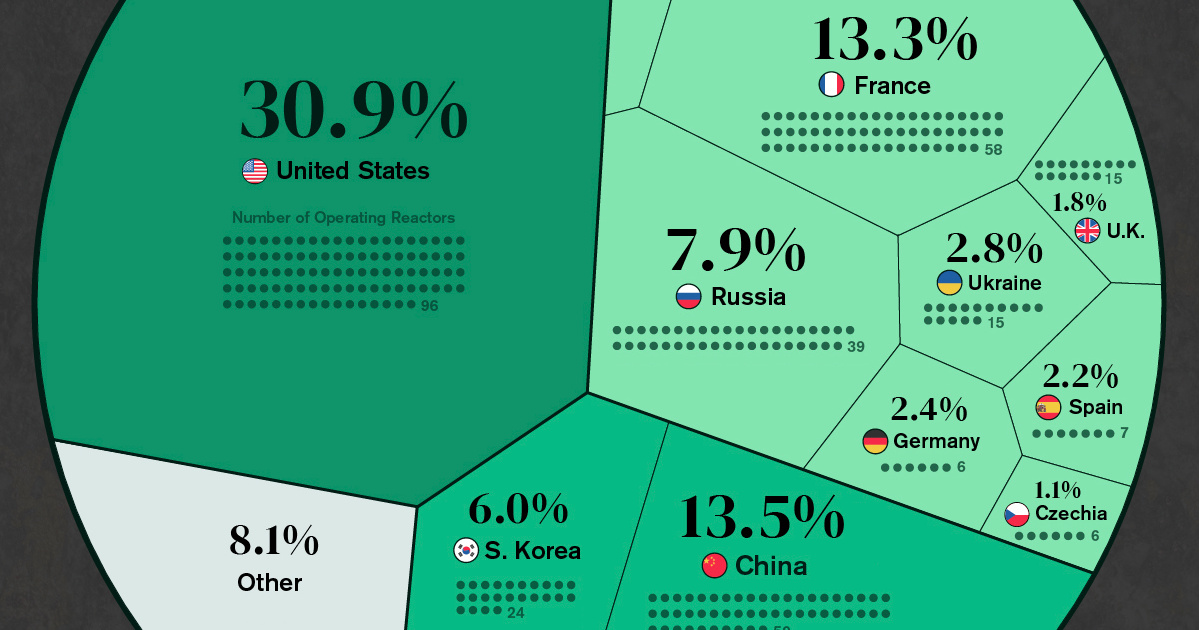 Nuclear Power Production by Country
This was originally posted on Elements. Sign up to the free mailing list to get beautiful visualizations on natural resource megatrends in your email every week.
Nearly 450 reactors around the world supply various nations with nuclear power, combining for about 10% of the world's electricity, or about 4% of the global energy mix.
But while some countries are turning to nuclear as a clean energy source, nuclear energy generation overall has seen a slowdown since its peak in the 1990s.
The above infographic breaks down nuclear electricity generation by country in 2020 using data from the Power Reactor Information System (PRIS).
Ranked: The Top 15 Countries for Nuclear Power
Just 15 countries account for more than 91% of global nuclear power production. Here's how much energy these countries produced in 2020:
Rank
Country
Number of Operating Reactors
Nuclear Electricity Supplied
[GWh]
% share
#1
U.S. 🇺🇸
96
789,919
30.9%
#2
China 🇨🇳
50
344,748
13.5%
#3
France 🇫🇷
58
338,671
13.3%
#4
Russia 🇷🇺
39
201,821
7.9%
#5
South Korea 🇰🇷
24
152,583
6.0%
#6
Canada 🇨🇦
19
92,166
3.6%
#7
Ukraine 🇺🇦
15
71,550
2.8%
#8
Germany 🇩🇪
6
60,918
2.4%
#9
Spain 🇪🇸
7
55,825
2.2%
#10
Sweden 🇸🇪
7
47,362
1.9%
#11
U.K. 🇬🇧
15
45,668
1.8%
#12
Japan 🇯🇵
33
43,099
1.7%
#13
India 🇮🇳
22
40,374
1.6%
#14
Belgium 🇧🇪
7
32,793
1.3%
#15
Czechia 🇨🇿
6
28,372
1.1%
Rest of the World 🌎
44
207,340
8.1%
Total
448
2,553,208
100.0%
In the U.S., nuclear power produces over 50% of the country's clean electricity. Additionally, 88 of the country's 96 operating reactors in 2020 received approvals for a 20-year life extension.
China, the world's second-largest nuclear power producer, is investing further in nuclear energy in a bid to achieve its climate goals. The plan, which includes building 150 new reactors by 2035, could cost as much as $440 billion.
On the other hand, European opinions on nuclear energy are mixed. Germany is the eighth-largest on the list but plans to shutter its last operating reactor in 2022 as part of its nuclear phase-out. France, meanwhile, plans to expand its nuclear capacity.
Which Countries Rely Most on Nuclear Energy?
Although total electricity generation is useful for a high-level global comparison, it's important to remember that there are some smaller countries not featured above where nuclear is still an important part of the electricity mix.
Here's a breakdown based on the share of nuclear energy in a country's electricity mix:
| Rank | Country | Nuclear Share of Electricity Mix |
| --- | --- | --- |
| #1 | France 🇫🇷 | 70.6% |
| #2 | Slovakia 🇸🇰 | 53.1% |
| #3 | Ukraine 🇺🇦 | 51.2% |
| #4 | Hungary 🇭🇺 | 48.0% |
| #5 | Bulgaria 🇧🇬 | 40.8% |
| #6 | Belgium 🇧🇪 | 39.1% |
| #7 | Slovenia 🇸🇮 | 37.8% |
| #8 | Czechia 🇨🇿 | 37.3% |
| #9 | Armenia 🇦🇲 | 34.5% |
| #10 | Finland 🇫🇮 | 33.9% |
| #11 | Switzerland 🇨🇭 | 32.9% |
| #12 | Sweden 🇸🇪 | 29.8% |
| #13 | South Korea 🇰🇷 | 29.6% |
| #14 | Spain 🇪🇸 | 22.2% |
| #15 | Russia 🇷🇺 | 20.6% |
| #16 | Romania 🇷🇴 | 19.9% |
| #17 | United States 🇺🇸 | 19.7% |
| #18 | Canada 🇨🇦 | 14.6% |
| #19 | United Kingdom 🇬🇧 | 14.5% |
| #20 | Germany 🇩🇪 | 11.3% |
European countries dominate the leaderboard with 14 of the top 15 spots, including France, where nuclear power is the country's largest source of electricity.
It's interesting to note that only a few of these countries are top producers of nuclear in absolute terms. For example, in Slovakia, nuclear makes up 53.6% of the electricity mix—however, the country's four reactors make up less than 1% of total global operating capacity.
On the flipside, the U.S. ranks 17th by share of nuclear power in its mix, despite producing 31% of global nuclear electricity in 2020. This discrepancy is largely due to size and population. European countries are much smaller and produce less electricity overall than larger countries like the U.S. and China.
The Future of Nuclear Power
The nuclear power landscape is constantly changing.
There were over 50 additional nuclear reactors under construction in 2020, and hundreds more are planned primarily in Asia.
As countries turn away from fossil fuels and embrace carbon-free energy sources, nuclear energy might see a resurgence in the global energy mix despite the phase-outs planned in several countries around the globe.
The Periodic Table of Commodity Returns (2012-2021)
Energy fuels led the way as commodity prices surged in 2021, with only precious metals providing negative returns.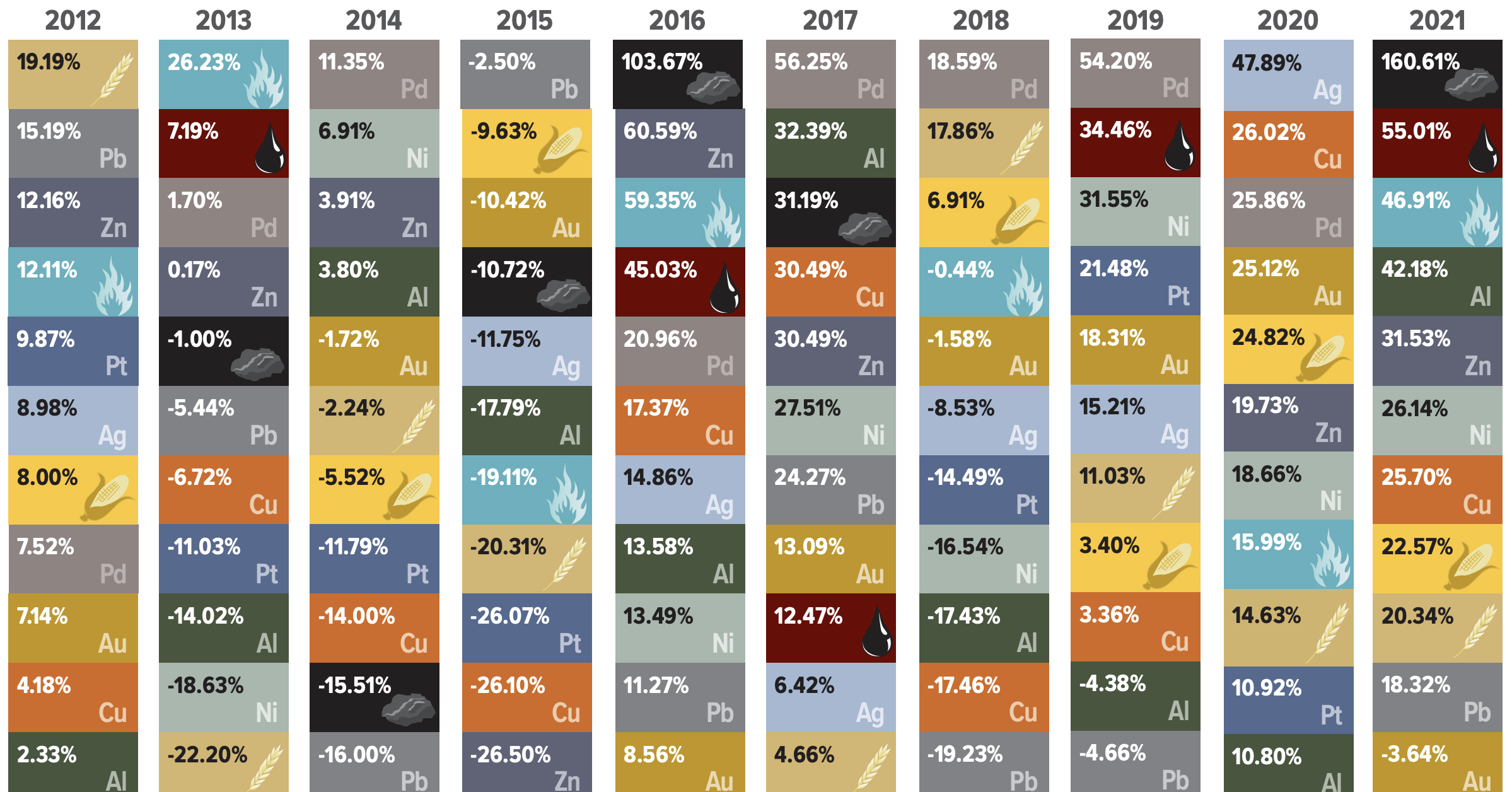 The Periodic Table of Commodity Returns (2022 Edition)
For investors, 2021 was a year in which nearly every asset class finished in the green, with commodities providing some of the best returns.
The S&P Goldman Sachs Commodity Index (GSCI) was the third best-performing asset class in 2021, returning 37.1% and beating out real estate and all major equity indices.
This graphic from U.S. Global Investors tracks individual commodity returns over the past decade, ranking them based on their individual performance each year.
Commodity Prices Surge in 2021
After a strong performance from commodities (metals especially) in the year prior, 2021 was all about energy commodities.
The top three performers for 2021 were energy fuels, with coal providing the single best annual return of any commodity over the past 10 years at 160.6%. According to U.S. Global Investors, coal was also the least volatile commodity of 2021, meaning investors had a smooth ride as the fossil fuel surged in price.
| Commodity | 2021 Returns |
| --- | --- |
| Coal | 160.61% |
| Crude Oil | 55.01% |
| Gas | 46.91% |
| Aluminum | 42.18% |
| Zinc | 31.53% |
| Nickel | 26.14% |
| Copper | 25.70% |
| Corn | 22.57% |
| Wheat | 20.34% |
| Lead | 18.32% |
| Gold | -3.64% |
| Platinum | -9.64% |
| Silver | -11.72% |
| Palladium | -22.21% |
Source: U.S. Global Investors
The only commodities in the red this year were precious metals, which failed to stay positive despite rising inflation across goods and asset prices. Gold and silver had returns of -3.6% and -11.7% respectively, with platinum returning -9.6% and palladium, the worst performing commodity of 2021, at -22.2%.
Aside from the precious metals, every other commodity managed double-digit positive returns, with four commodities (crude oil, coal, aluminum, and wheat) having their best single-year performances of the past decade.
Energy Commodities Outperform as the World Reopens
The partial resumption of travel and the reopening of businesses in 2021 were both powerful catalysts that fueled the price rise of energy commodities.
After crude oil's dip into negative prices in April 2020, black gold had a strong comeback in 2021 as it returned 55.01% while being the most volatile commodity of the year.
Natural gas prices also rose significantly (46.91%), with the UK and Europe's natural gas prices rising even more as supply constraints came up against the winter demand surge.
Despite being the second worst performer of 2020 with the clean energy transition on the horizon, coal was 2021's best commodity.
High electricity demand saw coal return in style, especially in China which accounts for one-third of global coal consumption.
Base Metals Beat out Precious Metals
2021 was a tale of two metals, as precious metals and base metals had opposing returns.
Copper, nickel, zinc, aluminum, and lead, all essential for the clean energy transition, kept up last year's positive returns as the EV batteries and renewable energy technologies caught investors' attention.
Demand for these energy metals looks set to continue in 2022, with Tesla having already signed a $1.5 billion deal for 75,000 tonnes of nickel with Talon Metals.
On the other end of the spectrum, precious metals simply sunk like a rock last year.
Investors turned to equities, real estate, and even cryptocurrencies to preserve and grow their investments, rather than the traditionally favorable gold (-3.64%) and silver (-11.72%). Platinum and palladium also lagged behind other commodities, only returning -9.64% and -22.21% respectively.
Grains Bring Steady Gains
In a year of over and underperformers, grains kept up their steady track record and notched their fifth year in a row of positive returns.
Both corn and wheat provided double-digit returns, with corn reaching eight-year highs and wheat reaching prices not seen in over nine years. Overall, these two grains followed 2021's trend of increasing food prices, as the UN Food and Agriculture Organization's food price index reached a 10-year high, rising by 17.8% over the course of the year.
As inflation across commodities, assets, and consumer goods surged in 2021, investors will now be keeping a sharp eye for a pullback in 2022. We'll have to wait and see whether or not the Fed's plans to increase rates and taper asset purchases will manage to provide price stability in commodities.