The 'Doomsday Vault' is a Backup Plan to Save the World's Most Vital Crops
Imagine that the unthinkable has happened.
A massive asteroid impact triggers a "nuclear winter" effect, or one of the world's most dangerous supervolcanos erupts. Maybe Donald Trump gets in an epic Twitter feud with Kim Jong-Un that initiates World War 3.
Either way, things are going sideways, and the fate of human civilization itself is at stake. Will everything be lost?
Enter the 'Doomsday Vault'
Well, besides the fact that the world's cities have been replaced by smoking craters, there is some good news for the humans that survive a potentially apocalyptic scenario.
On a remote island that is just 800 miles (1,300 km) from the North Pole, the Norwegian government has built a failsafe in the freezing cold that protects thousands of the most vital crops from extinction. Officially called the Svalbard Global Seed Vault, it already holds close to a million samples of crops around the world, with each sample holding about 500 seeds.
Today's infographic, from Futurism, has more on this Doomsday Vault that could one day help to save civilization:
Carved 390 ft (120 m) into a sandstone mountain in a Norwegian archipelago, the vault keeps the temperature of seeds well below freezing while also limiting humidity. This minimizes metabolic activity, which means that the seed vault will likely be able to preserve seeds for most major crops for thousands of years.
Already Handy Once
Despite remaining a pragmatic backup plan for the worst case global scenarios, the Doomsday Vault has already come in handy just a few years into its existence. In 2015, war-torn Syria was the first country to withdraw seeds from the vault in order to replace those lost in Aleppo due to the ongoing civil conflict.
The wheat, barley, and grass seeds from the Aleppo bank are thought to have important traits resistant to drought, which researchers think could be increasingly important in the face of climate change.
Charted: What are Retail Investors Interested in Buying in 2023?
What key themes and strategies are retail investors looking at for the rest of 2023? Preview: AI is a popular choice.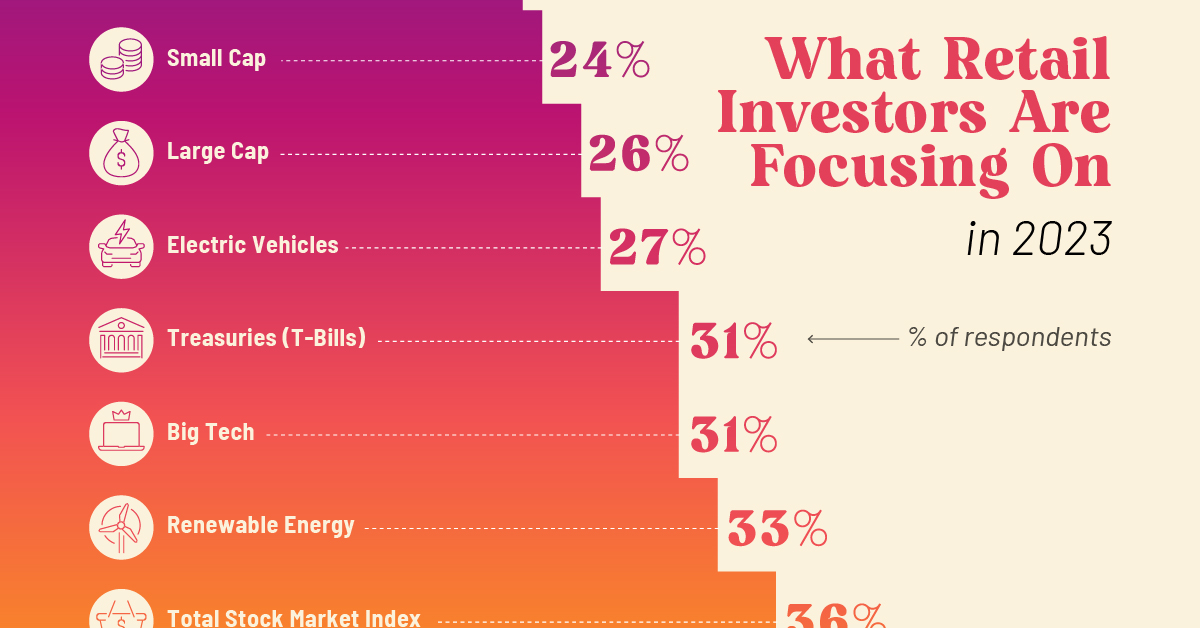 Charted: Retail Investors' Top Picks for 2023
U.S. retail investors, enticed by a brief pause in the interest rate cycle, came roaring back in the early summer. But what are their investment priorities for the second half of 2023?
We visualized the data from Public's 2023 Retail Investor Report, which surveyed 1,005 retail investors on their platform, asking "which investment strategy or themes are you interested in as part of your overall investment strategy?"
Survey respondents ticked all the options that applied to them, thus their response percentages do not sum to 100%.
Where Are Retail Investors Putting Their Money?
By far the most popular strategy for retail investors is dividend investing with 50% of the respondents selecting it as something they're interested in.
Dividends can help supplement incomes and come with tax benefits (especially for lower income investors or if the dividend is paid out into a tax-deferred account), and can be a popular choice during more inflationary times.
| Investment Strategy | Percent of Respondents |
| --- | --- |
| Dividend Investing | 50% |
| Artificial Intelligence | 36% |
| Total Stock Market Index | 36% |
| Renewable Energy | 33% |
| Big Tech | 31% |
| Treasuries (T-Bills) | 31% |
| Electric Vehicles | 27% |
| Large Cap | 26% |
| Small Cap | 24% |
| Emerging Markets | 23% |
| Real Estate | 23% |
| Gold & Precious Metals | 23% |
| Mid Cap | 19% |
| Inflation Protection | 13% |
| Commodities | 12% |
Meanwhile, the hype around AI hasn't faded, with 36% of the respondents saying they'd be interested in investing in the theme—including juggernaut chipmaker Nvidia. This is tied for second place with Total Stock Market Index investing.
Treasury Bills (30%) represent the safety anchoring of the portfolio but the ongoing climate crisis is also on investors' minds with Renewable Energy (33%) and EVs (27%) scoring fairly high on the interest list.
Commodities and Inflation-Protection stocks on the other hand have fallen out of favor.
Come on Barbie, Let's Go Party…
Another interesting takeaway pulled from the survey is how conversations about prevailing companies—or the buzz around them—are influencing trades. The platform found that public investors in Mattel increased 6.6 times after the success of the 'Barbie' movie.
Bud Light also saw a 1.5x increase in retail investors, despite receiving negative attention from their fans after the company did a beer promotion campaign with trans influencer Dylan Mulvaney.
Given the origin story of a large chunk of American retail investors revolves around GameStop and AMC, these insights aren't new, but they do reveal a persisting trend.