Chart: Debt-to-GDP Continues to Rise Around the World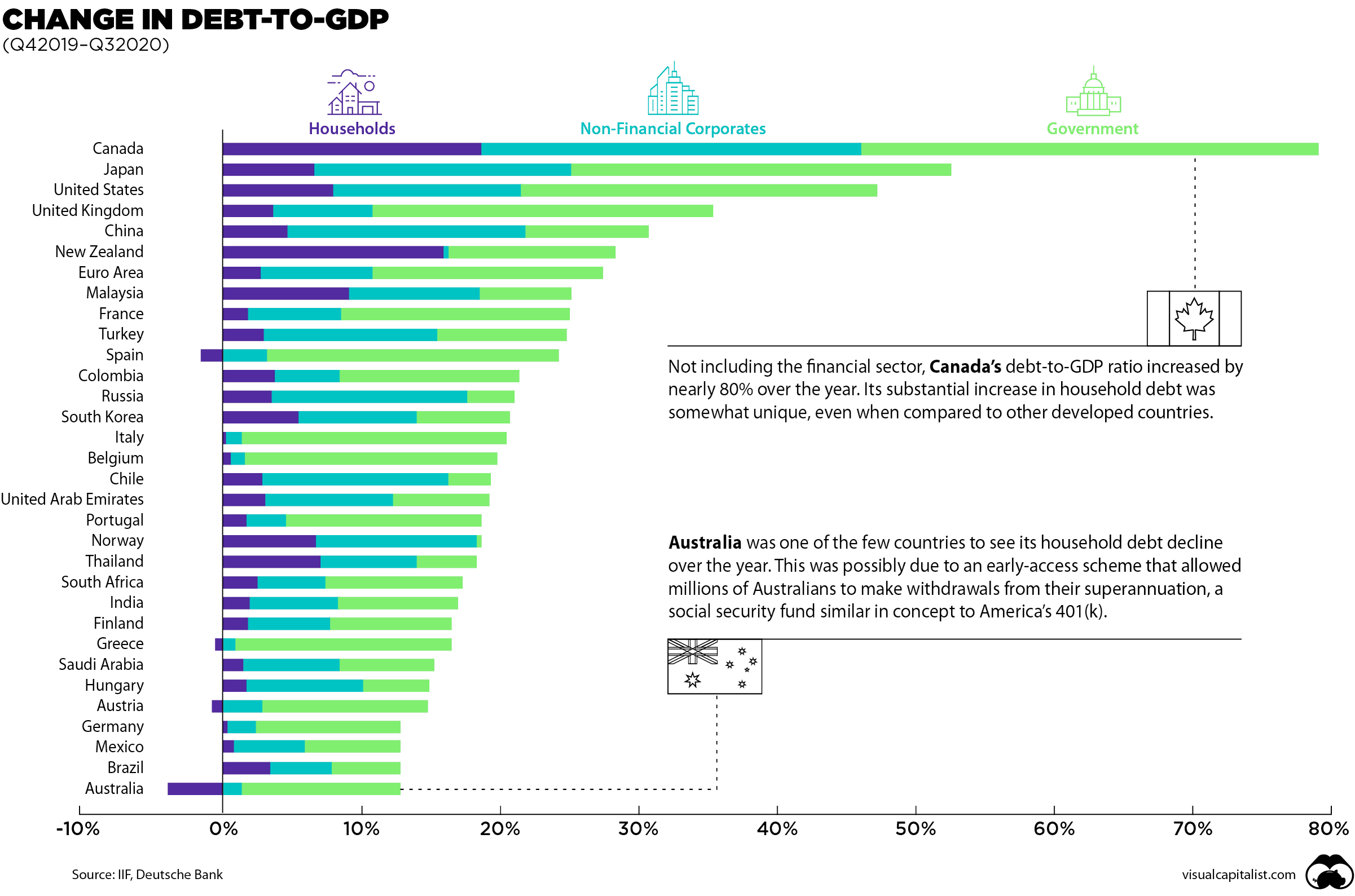 Chart: Debt-to-GDP Continues to Rise Around the World
With vaccines slowly obtaining approval in various countries, the world may finally be on the path to overcoming the COVID-19 pandemic.
The economic situation, on the other hand, is unlikely to improve anytime soon. Falling revenues combined with costly pandemic relief measures have increased global debt by $20 trillion since the third quarter of 2019. By the end of 2020, economists expect global debt to reach $277 trillion, or 365% of world GDP.
Today's chart uses data from the Institute of International Finance (IIF) to provide an overview of where debt, relative to GDP, has increased the most.
Comparing Developed and Emerging Markets
Developed economies represent four of the five countries seeing the largest increases in debt-to-GDP, but looking from a more macro angle reveals that debt levels are rising at a similar pace around the world.
| | Q3 2019 ($ trillions) | Q3 2020 ($ trillions) | % Increase |
| --- | --- | --- | --- |
| Developed markets | $181.8 | $196.3 | 8.0% |
| Emerging markets | $70.9 | $76.4 | 7.7% |
| Global total | $252.7 | $272.7 | 7.9% |
Source: IIF, BIS, IMF, Haver, National Sources
To put these figures into perspective, economists often use the debt-to-GDP metric, which compares a country's debt to its economic output. As the name implies, it's calculated by taking a country's total debts and dividing them by its annual GDP. Having a low debt-to-GDP ratio suggests that a country will have little issues paying off its debts, while a high ratio can be interpreted as a sign of higher default risk.
The actual definition of a "low" or "high" ratio is quite loose, though the World Bank believes there is a threshold for government debt at 77% of GDP. Every percentage point beyond this threshold has been found to detract 0.017 percentage points from annual growth.
Comparing Debt-to-GDP by Sector
To see how COVID-19 has affected the global economy since Q3 2019, let's take a look at each sector's debt as a percentage of GDP.
| | Households (Q3 '19) | Households (Q3 '20) | Non-financials*  (Q3 '19) | Non-financials*  (Q3 '20) | Government (Q3 '19) | Government (Q3 '20)  |
| --- | --- | --- | --- | --- | --- | --- |
| Developed markets average | 72% | 78% | 91% | 102% | 110% | 131% |
| U.S. | 74% | 81% | 75% | 88% | 102% | 127% |
| Euro Area | 58% | 61% | 108% | 114% | 102% | 115% |
| UK | 84% | 88% | 73% | 78% | 110% | 130% |
| Emerging markets average | 40% | 44% | 93% | 104% | 53% | 60% |
| China | 54% | 60% | 150% | 166% | 53% | 63% |
| Russia | 19% | 23% | 78% | 91% | 15% | 18% |
| Global total | 60% | 65% | 92% | 103% | 89% | 105% |
*Corporations that are not in the financial industry.
Source: IIF, BIS, Haver, National Sources

Within developed markets, government debt-to-GDP grew by 21 percentage points compared to 11 for non-financial corporates, and 6 for households. This is unsurprising as governments have supplied billions (or in some cases, trillions) of economic stimulus while also pulling in less tax revenue.
The story in emerging markets is slightly different, with non-financial corporates experiencing the largest increase at 11 percentage points. The sector's debt is now at 104% of GDP, making it the most highly-leveraged in the region.
Highlights from Today's Chart
Today's chart boils this data down to the individual country level, allowing us to identify two outliers: Canada and Australia.
Excluding the financial sector, Canada's debt-to-GDP ratio increased by nearly 80%, the highest of any developed country. Government borrowing surged as the Canada Emergency Response Benefit (CERB), which provided struggling Canadians with roughly $1,500 a month, rang up a bill of $60 billion over 7 months.
An increase in debt wasn't the only reason for the country's worsening debt-to-GDP ratios. In Q2 2020, Canada's GDP declined at an annualized rate of 38%, its worst three-month performance on record.
Australia was another outlier, but for a different reason; the country's household debt decreased by almost 5% relative to GDP. This was likely due to an early-access scheme that allowed millions of Australians to make withdrawals from their superannuation, a social security fund similar to America's 401(k).
We know that almost 60 per cent of those accessing their [superannuation] early have used it…to meet essential day-to-day expenses, including paying down debts.
—Josh Frydenberg, Treasurer of the Commonwealth of Australia

Officials have exercised caution around the prolonged use of these programs, as superannuation funds are meant to support people through retirement. Of the 2.6 million Australians that accessed their superannuations early, 500,000 are believed to have completely emptied their accounts.
Debt-to-GDP is Set to Fall…Or is it?
A global roll out of COVID-19 vaccines is likely to end the ongoing health crisis and allow the economy to return to pre-pandemic levels, though delays are to be expected.
Regardless, this spells good news for governments and financial institutions around the world—economic output will recover, shrinking debt-to-GDP ratios. Whether or not borrowing will also slow down, however, is much harder to predict.
Government borrowing has been relied on to stimulate growth since 2008, and with 75% of Americans in favor of a second COVID-19 relief bill, public debt is likely to accumulate further. Private sector debt is following a similar trend, with non-financial U.S. corporations owing $10.9 trillion as of Q2 2020, up from $6.4 trillion at the start of 2008.
These growing debts have been manageable thanks to an extended period of low interest rates and loose monetary policy, but whether or not this is sustainable remains to be seen.
Timeline: 150 Years of U.S. National Debt
This interactive visual shows how the U.S. national debt has fluctuated since 1900, as well as projections all the way to 2050.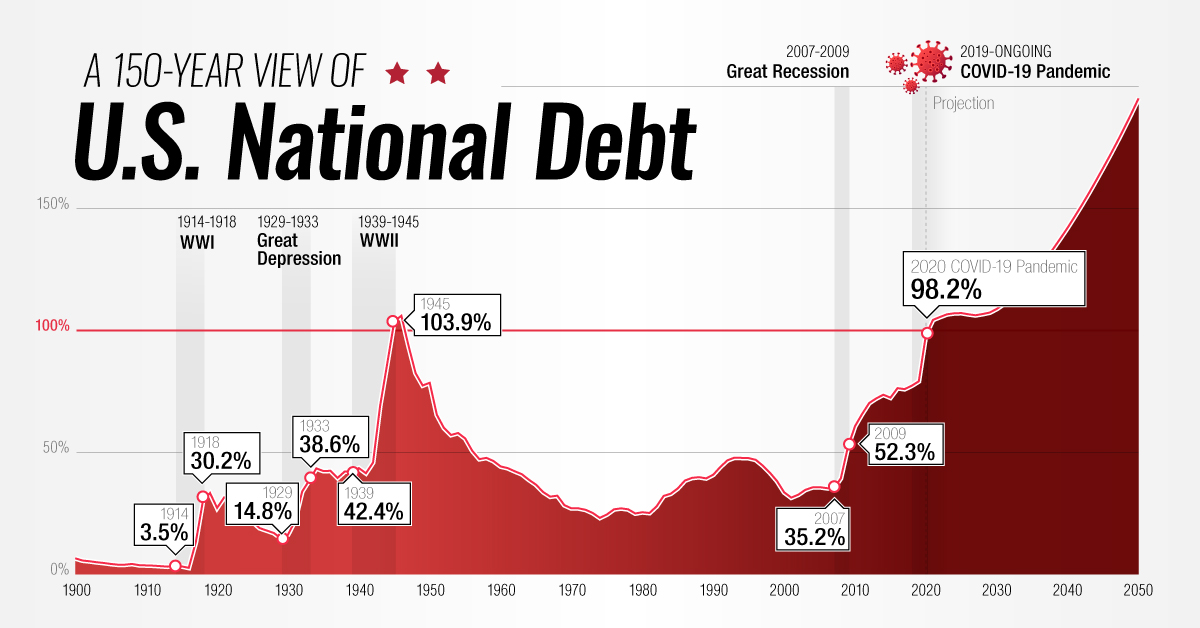 Looking Back at 150 Years of U.S. Debt
The total U.S. national debt reached an all-time high of $28 trillion* in March 2021, the largest amount ever recorded.
Recent increases to the debt have been fueled by massive fiscal stimulus bills like the CARES Act ($2.2 trillion in March 2020), the Consolidated Appropriations Act ($2.3 trillion in December 2020), and most recently, the American Rescue Plan ($1.9 trillion in March 2021).
To see how America's debt has gotten to its current point, we've created an interactive timeline using data from the Congressional Budget Office (CBO). It's crucial to note that the data set uses U.S. national debt held by the public, which excludes intergovernmental holdings.
*Editor's note: This top level figure includes intragovernmental holdings, or the roughly $6 trillion of debt owed within the government to itself.
What Influences U.S. Debt?
It's worth pointing out that the national debt hasn't always been this large.
Looking back 150 years, we can see that its size relative to GDP has fluctuated greatly, hitting multiple peaks and troughs. These movements generally correspond with events such as wars and recessions.
Decade
Gross debt at start
of decade
(USD billions)
Avg. Debt Held By Public
Throughout Decade
(% of GDP)
Major Events
1900
-
4.8%
-
1910
-
10.0%
World War I
1920
-
22.9%
The Great Depression
1930
$16
36.4%
President Roosevelt's New Deal
1940
$40
75.1%
World War II
1950
$257
56.8%
Korean War
1960
$286
37.3%
Vietnam War
1970
$371
26.1%
Stagflation (inflation + high unemployment)
1980
$908
33.7%
President Reagan's tax cuts
1990
$3,233
44.7%
Gulf War
2000
$5,674
36.6%
9/11 attacks & Global Financial Crisis
2010
$13,562
72.4%
Debt ceiling is raised by Congress
2020
$27,748
105.6%
COVID-19 pandemic
2030P
-
121.8%
-
2040P
-
164.7%
-
2050P
-
195.2%
-
Source: CBO, The Balance
To gain further insight into the history of the U.S. national debt, let's review some key economic events in America's history.
The Great Depression
After its WWI victory, the U.S. enjoyed a period of post-war prosperity commonly referred to as the Roaring Twenties.
This led to the creation of a stock market bubble which would eventually burst in 1929, causing massive damage to the U.S. economy. The country's GDP was cut in half (partially due to deflation), while the unemployment rate rose to 25%.
Government revenues dipped as a result, pushing debt held by the public as a % of GDP from its low of 15% in 1929, to a high of 44% in 1934.
World War II
WWII quickly brought the U.S. back to full employment, but it was an incredibly expensive endeavor. The total cost of the war is estimated to be over $4 trillion in today's dollars.
To finance its efforts, the U.S. relied heavily on war bonds, a type of bond that is marketed to citizens during armed conflicts. These bonds were sold in various denominations ranging from $25-$10,000 and had a 2.9% interest rate compounded semiannually.
Over 85 million Americans purchased these bonds, helping the U.S. government to raise $186 billion (not adjusted for inflation). This pushed debt above 100% of GDP for the first time ever, but was also enough to cover 63% of the war's total cost.
The Postwar Period
Following World War II, the U.S. experienced robust economic growth.
Despite involvement in the Korea and Vietnam wars, debt-to-GDP declined to a low of 23% in 1974—largely because these wars were financed by raising taxes rather than borrowing.
The economy eventually slowed in the early 1980s, prompting President Reagan to slash taxes on corporations and high earning individuals. Income taxes on the top bracket, for example, fell from 70% to 50%.
2008 Global Financial Crisis
The Global Financial Crisis served as a precursor for today's debt landscape.
Interest rates were reduced to near-zero levels to speed up the economic recovery, enabling the government to borrow with relative ease. Rates remained at these suppressed levels from 2008 to 2015, and debt-to-GDP grew from 39% to 73%.
It's important to note that even before 2008, the U.S. government had been consistently running annual budget deficits. This means that the government spends more than it earns each year through taxes.
The National Debt Today
The COVID-19 pandemic damaged many areas of the global economy, forcing governments to drastically increase their spending. At the same time, many central banks once again reduced interest rates to zero.
This has resulted in a growing snowball of government debt that shows little signs of shrinking, even though the worst of the pandemic is already behind us.
In the U.S., federal debt has reached or surpassed WWII levels. When excluding intragovernmental holdings, it now sits at 104% of GDP—and including those holdings, it sits at 128% of GDP. But while the debt is expected to grow even further, the cost of servicing this debt has actually decreased in recent years.
This is because existing government bonds, which were originally issued at higher rates, are now maturing and being refinanced to take advantage of today's lower borrowing costs.
The key takeaway from this is that the U.S. national debt will remain manageable for the foreseeable future. Longer term, however, interest expenses are expected to grow significantly—especially if interest rates begin to rise again.
Visualizing the Snowball of Government Debt
After an unprecedented borrowing spree in response to COVID-19, what does government debt look like around the world?
Visualizing the Snowball of Government Debt in 2021
As we approach the second half of 2021, many countries around the world are beginning to relax their COVID-19 restrictions.
And while this signals a return to normalcy for much of the global economy, there's one subject that's likely to remain controversial: government debt.
To see how each country is faring in the aftermath of an unprecedented global borrowing spree, this graphic from HowMuch.net visualizes debt-to-GDP ratios using April 2021 data from the International Monetary Fund (IMF).
Ranking the Top 10 in Government Debt
Government debt is often analyzed through the debt-to-GDP metric because it contextualizes an otherwise massive number.
Take for example the U.S. national debt, which currently sits at over $27 trillion. In isolation this figure sounds daunting, but when expressed as a % of U.S. GDP, it works out to a more relatable 133%. This format also allows us to make a better comparison between countries, especially when their economies differ in size.
With that being said, here are the top 10 countries in terms of debt-to-GDP. For further context, we've included their 2019 and 2020 values as well.
| Rank (2021) | Country | Debt-to-GDP (2019) | Debt-to-GDP (2020) | Debt-to-GDP (April 2021) |
| --- | --- | --- | --- | --- |
| #1 | 🇯🇵 Japan | 235% | 256% | 257% |
| #2 | 🇸🇩 Sudan | 200% | 262% | 212% |
| #3 | 🇬🇷 Greece | 185% | 213% | 210% |
| #4 | 🇪🇷 Eritrea | 189% | 185% | 176% |
| #5 | 🇸🇷 Suriname | 93% | 166% | 157% |
| #6 | 🇮🇹 Italy | 135% | 156% | 157% |
| #7 | 🇧🇧 Barbados | 127% | 149% | 143% |
| #8 | 🇲🇻 Maldives | 78% | 143% | 140% |
| #9 | 🇨🇻 Cape Verde | 125% | 139% | 138% |
| #10 | 🇧🇿 Belize | 98% | 127% | 135% |
Source: IMF
Japan tops the list with a ratio of 257%, though this isn't really a surprise—the country's debt-to-GDP ratio first surpassed 100% in the 1990s, and in 2010, it became the first advanced economy to reach 200%.
Such significant debt burdens are the result of non-traditional monetary policies, many of which were first implemented by Japan, then adopted by others. In the late 1990s, for instance, the Bank of Japan (BoJ) set interest rates at 0% to counter deflation and promote economic growth.
This low cost of borrowing enables businesses and governments to accumulate debt much more freely, and has seen widespread use among other developed nations post-2008.
What are the Risks?
Given that a majority of countries in this visual are red (meaning their debt-to-GDP ratios are over 50%), it's safe to say that government borrowing is common practice.
But are large government debts a cause for concern?
Some believe that excessive borrowing will lead to higher interest costs in the long run, which could detract from economic growth and public sector investment. This theory is unlikely to become a reality anytime soon, however.
A recent report by RBC Wealth Management reported that the cost of servicing U.S. federal debt actually decreased in 2020, thanks to the low borrowing costs mentioned previously.
Perhaps a more prescient question would be: how long can the world's central banks keep interest rates at near-zero levels?