Deal Flow: The Technologies Receiving the Most Investment from VCs
Deal Flow: The Technologies Receiving the Most Investment from VCs
Angel investors and venture capitalists put up with a lack of liquidity in there investments for a good reason. The ability to fund private, early-stage ventures allows these investors to get a pulse on industry trends before they fully materialize in front of the general public. If they play their cards right, it allows this group to get in on an Uber or an Airbnb years before anyone even knows it exists to receive a lucrative return.
Those in the retail crowd should play close attention. The sectors that are receiving the most private investment today may be coming down the pipeline through the next IPO or RTO to a market near you.
The above infographic highlights some of the technologies receiving the most investment last year, taking into account deal flow between February 2014 and February 2015. Notable investment areas in dollar terms continue to include Marketplaces ($9.8 bn) and E-commerce software ($6.1 bn). The Health sector was also hot (175 deals to a tune of $1.9 bn) along with the Finance and Payments segments.
Here's the geographic breakdown of venture capital by continent:
Lastly, the majority of deals were led by the same usual suspects such as Sequoia, KPCB, and Andreessen Horowitz.:
Original graphic by: Raconteur
Which Companies Make Up the "Magnificent Seven" Stocks?
FAANG is dead… meet the 'Magnificent Seven' stocks that now make up over 25% of the S&P 500.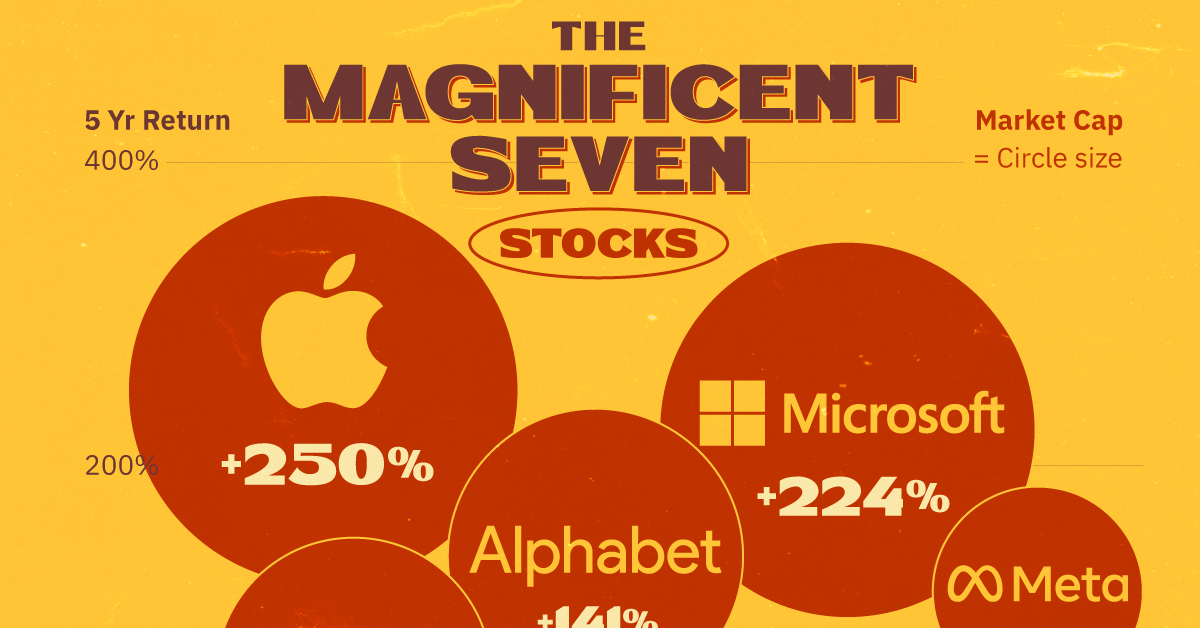 Which Companies Make Up the "Magnificent Seven" Stocks?
In 2013 CNBC analyst Jim Cramer popularized "FANG," comprised of Facebook (now Meta), Amazon, Netflix, and Google (now Alphabet), as a shorthand for the best performing technology stocks on the market. Apple, added in 2017, made it FAANG.
However, over the last year a new moniker given by Bank of America analyst Michael Hartnett highlights the most valuable and popularly-owned companies on the American stock market: the "Magnificent Seven" stocks.
We visualize the Magnificent Seven's market capitalization and 5-year stock performance as of November 2023 using data from Google Finance and CompaniesMarketCap.
The Magnificent Seven Stocks by Market Cap and 5-Year Return
The Magnificent Seven stocks are megacap companies focused and capitalizing on tech growth trends including AI, cloud computing, and cutting-edge hardware and software.
Four of the five FAANG stocks retain their place amongst the Magnificent Seven, with newcomers Nvidia, Tesla, and Microsoft joining the group. Following a poor 2022 performance and having more difficulty capitalizing on tech trends, Netflix is the sole FAANG company not included.
Here's a look at the companies ranked by their market capitalization on November 6, 2023, alongside their 5-year stock performance:
| Rank | Company | Market Cap | 5 Year Performance |
| --- | --- | --- | --- |
| 1 | Apple | $2.8 trillion | +250% |
| 2 | Microsoft | $2.6 trillion | +224% |
| 3 | Alphabet | $1.6 trillion | +141% |
| 4 | Amazon | $1.4 trillion | +63% |
| 5 | Nvidia | $1.1 trillion | +783% |
| 6 | Meta | $811 billion | +118% |
| 7 | Tesla | $690 billion | +829% |
The Magnificent Seven make up more than one-quarter of the S&P 500 and more than half of the Nasdaq 100.
Meanwhile, five of the seven are part of the rare trillion dollar club, with Nvidia being the most recent entry.
A common theme among the Magnificent Seven is their ability to collect vast amounts of customer data, create cutting-edge hardware and software, as well as harness the power of AI.
However, if Netflix gets back on track—recently announcing its new ad-supported membership tier has 15 million subscribers—we could soon see a "Magnificent Eight."