What are the Most Produced Cash Crops in Africa?
Agriculture makes up nearly 20% of Sub-Saharan Africa's economy—a higher percentage than any other region worldwide.
From Nigeria to the fertile land across the East African Rift Valley, the continent is home to 60% of the world's uncultivated arable land.
Given the massive role of agriculture across the region, this infographic from Zainab Ayodimeji shows the most produced cash crops in Africa and their share of total global production.
The Top 20 Cash Crops in Africa
Cash crops, such as coffee or rice, are crops that are produced for a salable market.
With data from the Food and Agriculture Organization Corporate Statistical Database (FAOSTAT), here are the most produced cash crops in Africa:
| Cash Crop | Tonnes Produced 2019 | % of World Production |
| --- | --- | --- |
| Cassava | 192.1M | 63% |
| Sugar cane | 97.3M | 5% |
| Maize | 81.9M | 7% |
| Yams | 72.4M | 97% |
| Rice, paddy | 38.8M | 5% |
| Sorghum | 28.6M | 49% |
| Rice, paddy (rice milled equivalent) | 25.9M | 5% |
| Sweet potatoes | 27.9M | 30% |
| Wheat | 26.9M | 4% |
| Plantains | 26.7M | 64% |
| Potatoes | 26.5M | 7% |
| Fresh vegetables | 22.0M | 7% |
| Oil palm fruit | 21.9M | 5% |
| Tomatoes | 21.7M | 12% |
| Bananas | 21.5M | 18% |
| Groundnuts, with shell | 16.6M | 34% |
| Sugar beet | 14.3M | 5% |
| Onions, dry | 13.9M | 14% |
| Millet | 13.7M | 48% |
| Oranges | 9.8M | 12% |
Cassava, also referred to as yuca, is the most produced cash crop by a wide margin. With nearly 200 million tonnes of it produced annually, Africa's production of cassava makes up a majority (63%) of the global total.
While cassavas are not well known in the Western world, they feed 800 million people globally. Cassavas are an essential root vegetable that has similar uses to potatoes.
Sugar cane, maize, and yams are also significant cash crops.
Notably, Africa's yam production is 97% of the global total. West Africa is known as the "yam belt," covering Nigeria, Ghana, Benin, and Côte d'Ivoire. With over 60 million people across the yam belt directly or indirectly involved in its production, yam cultivation is an important component of the region's economic vitality.
Agriculture Composition of GDP, by Region
While agriculture plays a significant role in Africa's GDP, what role does it play across other regions around the world?
Like Sub-Saharan Africa, agriculture is a major part of South Asia's economy. India produces nearly 24% of rice around the world, while Bangladesh produces over 7% of total global production. Meanwhile, over 14% of the global wheat supply is also produced by India.
On the other hand, agriculture makes up just 1% of North America's GDP. The number of farms in the U.S. peaked in the 1930s and has sharply declined from almost 7 million to 2 million in 2020.
The Future of Africa's Cash Crops
Despite Africa's expansive agriculture sector, there remain bottlenecks to productivity.
In light of these challenges, several technological advances have the potential to improve farmers' bottom lines. For instance, precision technology measures rainfall, soil information, and soil productivity. At the same time, remote sensing technology can provide information on weather and climate.
This, coupled with the majority of the world's uncultivated arable land, presents a significant opportunity for cash crops going forward. By one estimate, cereal and grain production has the potential to increase threefold.

This article was published as a part of Visual Capitalist's Creator Program, which features data-driven visuals from some of our favorite Creators around the world.
Ranked: The World's Top Cotton Producers
As the most-used natural fiber, cotton has become the most important non-food agricultural product.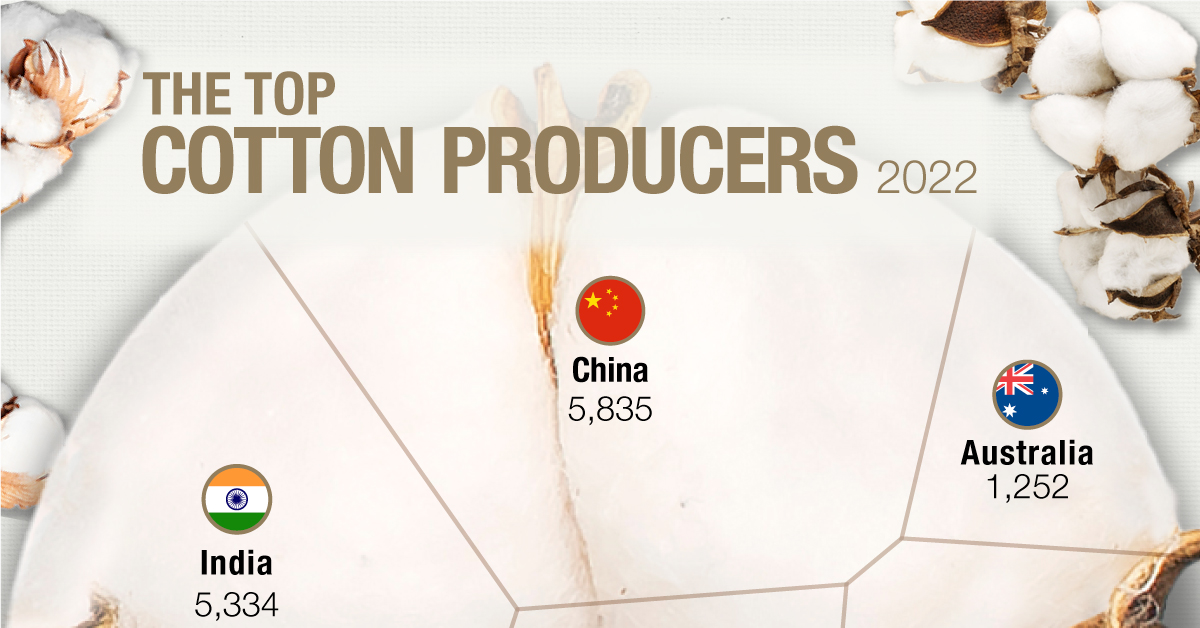 Ranked: The World's Top Cotton Producers
This was originally posted on Elements. Sign up to the free mailing list to get beautiful visualizations on natural resource megatrends in your email every week.
Cotton is present in our everyday life, from clothes to coffee strainers, and more recently in masks to control the spread of COVID-19.
As the most-used natural fiber, cotton has become the most important non-food agricultural product. Currently, approximately half of all textiles require cotton fibers.
The above infographic lists the world's top cotton producers, using data from the United States Department of Agriculture.
Fancy Fabric
Originating from the Arabic word "quton," meaning fancy fabric, cotton is a staple fiber made up of short fibers twisted together to form yarn.
The earliest production of cotton was around 5,000 B.C. in India, and today, around 25 million tons of cotton are produced each year.
Currently, five countries make up around 75% of global cotton production, with China being the world's biggest producer. The country is responsible for over 23% of global production, with approximately 89 million cotton farmers and part-time workers. Cotton's importance cannot be understated, as it is the primary input for the Chinese textile industry along with many other nations' textile industries.
| Top Cotton Producers | 2020/2021 (metric tons) | 2021/2022 (metric tons) |
| --- | --- | --- |
| 🇨🇳 China | 6,445,000 | 5,835,000 |
| 🇮🇳 India | 6,009,000 | 5,334,000 |
| 🇺🇸 United States | 3,181,000 | 3,815,000 |
| 🇧🇷 Brazil | 2,356,000 | 2,504,000 |
| 🇦🇺 Australia | 610,000 | 1,252,000 |
| 🇵🇰 Pakistan | 980,000 | 1,306,000 |
| 🇹🇷 Turkey | 631,000 | 827,000 |
| 🌐 Other | 4,059,000 | 4,282,000 |
| Total | 24,271,000 | 25,155,000 |
The United States is the leading global exporter of cotton, exporting three-fourths of its crop with China as the top buyer.
Despite its importance for the global economy, cotton production faces significant sustainability challenges.
The Controversy Over Cotton
Cotton is one of the largest users of water among all agricultural commodities, and production often involves applying pesticides that threaten soil and water quality.
Along with this, production often involves forced and child labor. According to the European Commission, child labor in the cotton supply chain is most common in Africa and Asia, where it comes from small-holder farmers.
In 2020, U.S. apparel maker Patagonia stopped sourcing cotton from the autonomous territory of Xinjiang because of reports about forced labor and other human rights abuses against Uighurs and other ethnic minorities.
L Brands, the parent company of Victoria's Secret, has also committed to eliminating Chinese cotton from its supply chain. Whether these changes in supply chains impact China's cotton production and its practices, cotton remains essential to materials found across our daily lives.