Visualizing Human Evolution with a New Ancient Human Species
A New Member of Human Evolution
The next step in understanding human evolution has brought forth the reclassification of some old names.
Mirjana Roksandic, Predrag Radovic, and their team of researchers propose a new human species called Homo bodoensis.
H. bodoensis isn't a discovery of new fossils but a re-examination of old ones. This reclassification is an attempt to clean up long-standing confusion about our ancestors and how humans evolved.
The Muddle in the Middle
The Middle Pleistocene was a period spanning 780,000 to 126,000 years ago and had a lot of different human species existing at the time. These species included:
European Neanderthals (Homo neanderthalensis)
Asian Denisovans
African Homo heidelbergensis
African Homo rhodesiensis
African Homo erectus
The Middle Pleistocene was a lively time for human evolution, as it eventually spawned our species, Homo sapiens. Despite this bountiful presence of activity, our knowledge of human evolution during this age is lacking. This problem is known as "the Muddle in the Middle."
Age-Old Thinking about Human Evolution
Human fossils from the Middle Pleistocene in Africa and Eurasia are usually classified as either Homo heidelbergensis or Homo rhodesiensis.
Homo heidelbergensis
H. heidelbergensis is an extinct species of human whose first fossil was found in a gravel pit in Germany in 1907. Since then, new-found fossils that did not fit the classification criteria of Neanderthals, H. sapiens, or the older H. erectus have been classified as H. heidelbergensis.
Roksandic and her team argue that this 'lumping' is a misattribution that muddles our understanding of which species H. sapiens originated from.
In addition, newer DNA evidence suggests that some H. heidelbergensis fossils from Europe originated from early Neanderthals. The name is, thus, redundant.
Homo rhodesiensis
Some believe that H. rhodesiensis is an extinct species of humans and the most recent ancestor of H. sapiens and Neanderthals.
Despite its importance, it never gained popularity in the paleoanthropology communities. This is because of its poor definition, but Roksandic supports its removal because it is also an alleged namesake to Rhodesia's violent and aggressive colonizer, Cecil Rhodes.
It was high time for both H. heidelbergensis and H. rhodesiensis to go.
Homo bodoensis and What Changes in Human Evolution
Roksandic and her team suggest dissolving the two species to introduce a new merged species, H. bodoensis. The name derives from a 600,000-year-old skull discovered in 1976 in Bodo D'ar, Ethiopia.
All fossils previously classified as H. heidelbergensis and H. rhodesiensis originating in Africa are reclassified as H. bodoensis. As such, this now makes H. bodoensis our direct ancestor.
Fossils from Western Europe are reclassified as H. neanderthalensis to reflect the early appearance of Neanderthal-like traits. Asian fossils, like those from China, may belong to a different lineage.
A Doubted Legacy?
Despite its merits, not everyone agrees with this new proposal.
Renowned anthropologist Chris Stringer from the Natural History Museum of London says that the reshuffling of species is unnecessary.
While he agrees that the name H. heidelbergensis is used too loosely and should be confined to a few select fossils, he is happy to continue using H. rhodesiensis. He argues its namesake comes from the country, not from Cecil Rhodes himself.
In addition, Stinger says there are a variety of other species names to choose from before creating a new one. If H. rhodesiensis must be renamed, species like Homo saldanensis, named by Matthew Drennan in the 1950s from a fossilized skull, should take precedence.
Roksandic and her team reclassified H. saldanensis into H. bodoensis.

This article was published as a part of Visual Capitalist's Creator Program, which features data-driven visuals from some of our favorite Creators around the world.
10 Travel Destinations for Post-Pandemic Life
Excited to get back to travelling the world? This infographic highlights the 10 most popular tourist destinations.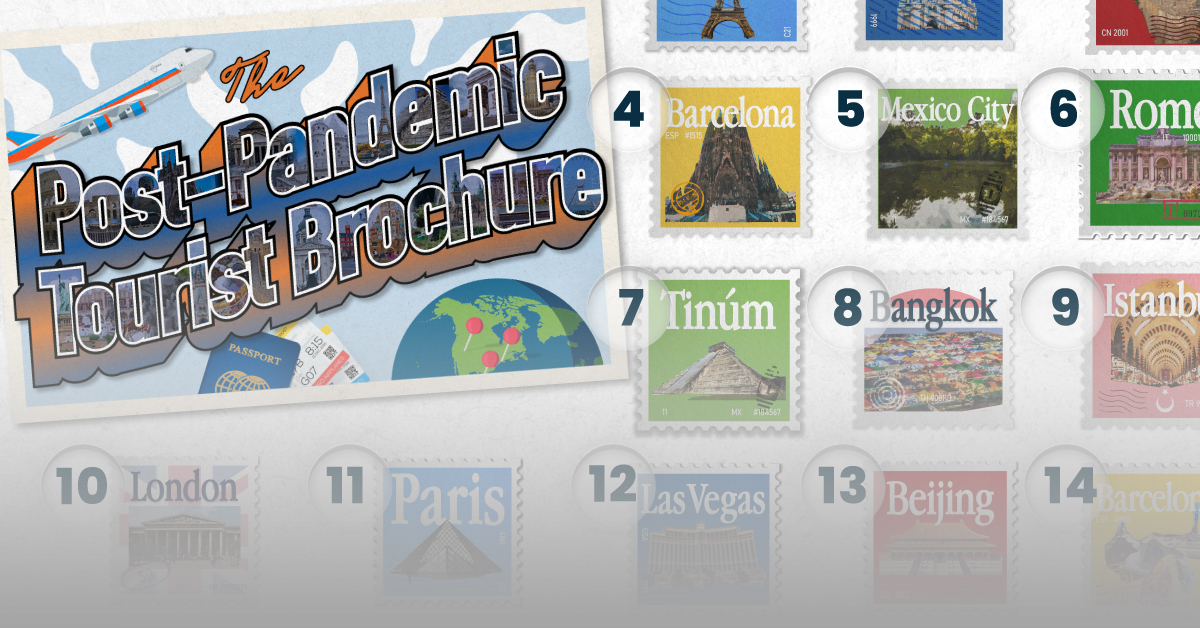 10 Travel Destinations for Post-Pandemic Life
On March 11, 2020, the World Health Organization formally classified the COVID-19 outbreak as a pandemic. The resulting travel bans decimated the tourism industry, and international air travel initially fell by as much as 98%.
Almost two years later, travel is finally back on the table, though there are many restrictions to consider. Regardless, a survey conducted in September 2021 found that, as things revert to normalcy, 82% of Americans are looking forward to international travel more than anything else.
To give inspiration for your next vacation (whenever that may be), this infographic lists the 10 most visited countries in 2019, as well as three of their top attractions according to Google Maps.
Bon Voyage
Here were the 10 most popular travel destinations in 2019, measured by their number of international arrivals.
| Country | Number of international arrivals in 2019 (millions) |
| --- | --- |
| 🇫🇷 France* | 90.0 |
| 🇪🇸 Spain | 83.5 |
| 🇺🇸 U.S. | 79.3 |
| 🇨🇳 China | 65.7 |
| 🇮🇹 Italy | 64.5 |
| 🇹🇷 Turkey | 51.2 |
| 🇲🇽 Mexico | 45.0 |
| 🇹🇭 Thailand | 39.8 |
| 🇩🇪 Germany | 39.6 |
| 🇬🇧 United Kingdom | 39.4 |
*Estimate | Source: World Bank
France was the most popular travel destination by a significant margin, and it's easy to see why. The country is home to many of the world's most renowned sights, including the Arc de Triomphe and Louvre Museum.
The Arc de Triomphe was built in the early 1800s, and honors those who died in the French Revolutionary and Napoleonic Wars. In 1944, Allied soldiers marched through the monument after Paris was liberated from the Nazis.
The Louvre Museum, on the other hand, is often recognized by its giant glass pyramid. The museum houses over 480,000 works of art, including Leonardo da Vinci's Mona Lisa.
Art isn't the only thing that France has to offer. The country has a reputation for culinary excellence, and is home to 632 Michelin-starred restaurants, the most out of any country. Japan comes in at second, with 413.
While You're There…
After seeing the sights in Paris, you may want to consider a visit to Spain. The country is the southern neighbor of France and is known for its beautiful villages and beaches.
One of its most impressive sights is the Sagrada Familia, a massive 440,000 square feet church which began construction in 1882, and is still being worked on today (139 years in the making). The video below shows the structure's striking evolution.
At a height of 172 meters, the Sagrada Familia is approximately 52 stories tall.
Another popular spot is Ibiza, an island off the coast of Spain that is famous for its robust nightlife scene. The island is frequently mentioned in pop culture—Netflix released an adventure/romance movie titled Ibiza in 2018, and the remix of Mike Posner's song I Took a Pill in Ibiza has over 1.4 billion views on YouTube.
Beaches Galore
If you're looking for something outside of Europe, consider Mexico or Thailand, which are the 7th and 8th most popular travel destinations. Both offer hot weather and an abundance of white sand beaches.
If you need even more convincing, check out these links:
Expect Turbulence
Under normal circumstances, hundreds of billions of dollars are spent each year by international tourists. According to the World Travel & Tourism Council (WTCC), this spending accounted for an impressive 10.4% of global GDP in 2019.
Travel restrictions introduced in 2020 dealt a serious blow to the industry, reducing its share of global GDP to 5.5%, and wiping out an estimated 62 million jobs. While the WTCC believes these jobs could return by 2022, the emerging Omicron variant has already prompted many countries to tighten restrictions once again.
To avoid headaches in the future, make sure you fully understand the rules and restrictions of where you're heading.
From Greek to Latin: Visualizing the Evolution of the Alphabet
The Greek alphabet is just one part of the modern alphabet's long evolution.
From Greek to Latin: Visualizing the Evolution of the Alphabet
Over the course of 2021, the Greek alphabet was a major part of the news cycle.
COVID-19 variants, which are labeled with Greek letters when becoming a variant of concern, normalized their usage. From the Alpha variant in the UK, to the Delta variant that spread from India to become the dominant global strain, the Greek alphabet was everywhere. Seemingly overnight, the Omicron variant discovered in South Africa has now taken the mantle as the most discussed variant.
But the Greek alphabet is used in other parts of our lives as well. For example, Greek letters are commonly used in mathematics and science, like Sigma (Σ) denoting a sum or Lambda (λ) used to represent the half-life of radioactive material.
And the study of linguistics shows us why using Greek letters in English isn't completely farfetched. This visualization from Matt Baker at UsefulCharts.com demonstrates how the modern Latin script used in English evolved from Greek, and other, alphabets.
It's All Proto-Sinaitic to Me
Before there was English, or Latin, or even Greek, there was Proto-Sinaitic.
Considered the first alphabet ever used, the Proto-Sinaitic script was derived in Canaan, around the biblical Land of Israel. It was repurposed from Egyptian hieroglyphs that were commonly seen in the area (its name comes from Mount Sinai), and used to describe sounds instead of meanings.
| Proto-Sinaitic Letter (Reconstructed Name) | Original Meaning |
| --- | --- |
| ʾalp | ox |
| bayt | house |
| gaml  | throwstick |
| dag | fish |
| haw/hillul | praise |
| waw/uph | fowl |
| zayn/zayt | oxhide ingot/sword |
| ḏiqq | manacle |
| ḥaṣr  | courtyard |
| ḫayt | thread |
| ṭab  | good |
| yad | hand |
| kap | palm |
| lamd | goad |
| maym | water |
| naḥaš | snake |
| ṡamk | peg |
| ʿayn | eye |
| ġabi | calyx |
| pʿit | corner |
| ṣaday | plant |
| qoba | needle/nape/monkey |
| raʾš | head |
| šimš | sun |
| śadeh | field |
| ṯann | bow |
| tāw | mark |
As the first Semitic script, Proto-Sinaitic soon influenced other Semitic languages. It was the precursor to the Phoenician alphabet, which was used in the area of modern-day Lebanon and spread across the Mediterranean and became the basis for Arabic, Cyrillic, Hebrew, and of course, Greek.
Evolving into the Greek, Roman, and Latin Alphabets
Over time, the alphabet continued to become adopted and evolve across different languages.
The first forms of the Archaic Greek script are dated circa 750 BCE. Many of the letters remained in Modern Greek, including Alpha, Beta, Delta, and even Omicron, despite first appearing more than 2,500 years ago.
Soon the Greek alphabet (and much of its culture) was borrowed into Latin, with Archaic Latin script appearing circa 500 BCE. The evolution into Roman script, with the same recognizable letters used in modern English, occurred 500 years later in 1 CE.
| Alphabet | Usage (Year) |
| --- | --- |
| Proto-Sinaitic | ~ 1,750 BCE |
| Phoenician | ~ 1,000 BCE |
| Archaic Greek | ~ 750 BCE |
| Archaic Latin | ~ 500 BCE |
| Roman | ~ 1 CE |
| Modern Latin | Today |
Many of the letters which first came from Egyptian hieroglyphs made their way into modern English, but they took a long and convoluted journey. As the graphic above highlights, some letters evolved into multiple forms, while others fell out of use entirely.
And this is just a snapshot of the many scripts and languages that the modern English alphabet evolved from. Lowercase letters came from Roman cursive, which evolved into the Insular and Carolingian scripts before becoming modern lowercase English.
Like many things in the long arc of human culture, alphabets are not as far removed from each other as you might think.