Which Countries Produce the Most Wheat?
Visualizing Global Wheat Production by Country (2000-2020)
Wheat is a dietary staple for millions of people around the world.
After rice and corn (maize), wheat is the third most-produced cereal worldwide, and the second-most-produced for human consumption. And considering wheat's importance in the global food system, any impact on major producers such as droughts, wars, or other events, can impact the entire world.
Which countries are the largest producers of wheat? This graphic by Kashish Rastogi visualizes the breakdown of 20 years of global wheat production by country.
Top 10 Wheat Producing Countries
While more than 80 different countries produce wheat around the world, the majority of global wheat production comes from just a handful of countries, according to data from The Food and Agriculture Organization of the United Nations (FAO).
Here's a look at the top 10 wheat-producing countries worldwide, based on total yield in tonnes from 2000-2020:
| Rank | Country | Continent | Total yield (tonnes, 2000-2020) | % of total (2000-2020) |
| --- | --- | --- | --- | --- |
| #1 | 🇨🇳 China | Asia & Oceania | 2.4 B | 17.0% |
| #2 | 🇮🇳 India | Asia & Oceania | 1.8 B | 12.5% |
| #3 | 🇷🇺 Russia | Asia & Oceania | 1.2 B | 8.4% |
| #4 | 🇺🇸 U.S. | Americas | 1.2 B | 8.4% |
| #5 | 🇫🇷 France | Europe | 767 M | 5.4% |
| #6 | 🇨🇦 Canada | Americas | 571 M | 4.0% |
| #7 | 🇩🇪 Germany | Europe | 491 M | 3.5% |
| #8 | 🇵🇰 Pakistan | Asia & Oceania | 482 M | 3.4% |
| #9 | 🇦🇺 Australia | Asia & Oceania | 456 M | 3.2% |
| #10 | 🇺🇦 Ukraine | Europe | 433 M | 3.1% |
China, the world's largest wheat producer, has yielded more than 2.4 billion tonnes of wheat over the last two decades, making up roughly 17% of total production from 2000-2020.
A majority of China's wheat is used domestically to help meet the country's rising food demand. China is the world's largest consumer of wheat—in 2020/2021, the country accounted for approximately 19% of global wheat consumption.
The second-largest wheat-producing country is India. Over the last two decades, India has produced 12.5% of the world's wheat. Like China, India keeps most of its wheat domestic because of significant food demand across the country.
Russia, the world's third-largest wheat producer, is also the largest global exporter of wheat. The country exported more than $7.3 billion worth of wheat in 2021, accounting for approximately 13.1% of total wheat exports that year.
Russia-Ukraine Impact on Global Wheat Market
Because Russia and Ukraine are both significant global wheat producers, the ongoing conflict between the two countries has caused massive disruptions to the global wheat market.
The conflict has had an impact on adjacent industries as well. For instance, Russia is one of the world's major fertilizer suppliers, and the conflict has led to a global fertilizer shortage which could lead to food shortages worldwide.

This article was published as a part of Visual Capitalist's Creator Program, which features data-driven visuals from some of our favorite Creators around the world.
Ranked: The World's Top Cotton Producers
As the most-used natural fiber, cotton has become the most important non-food agricultural product.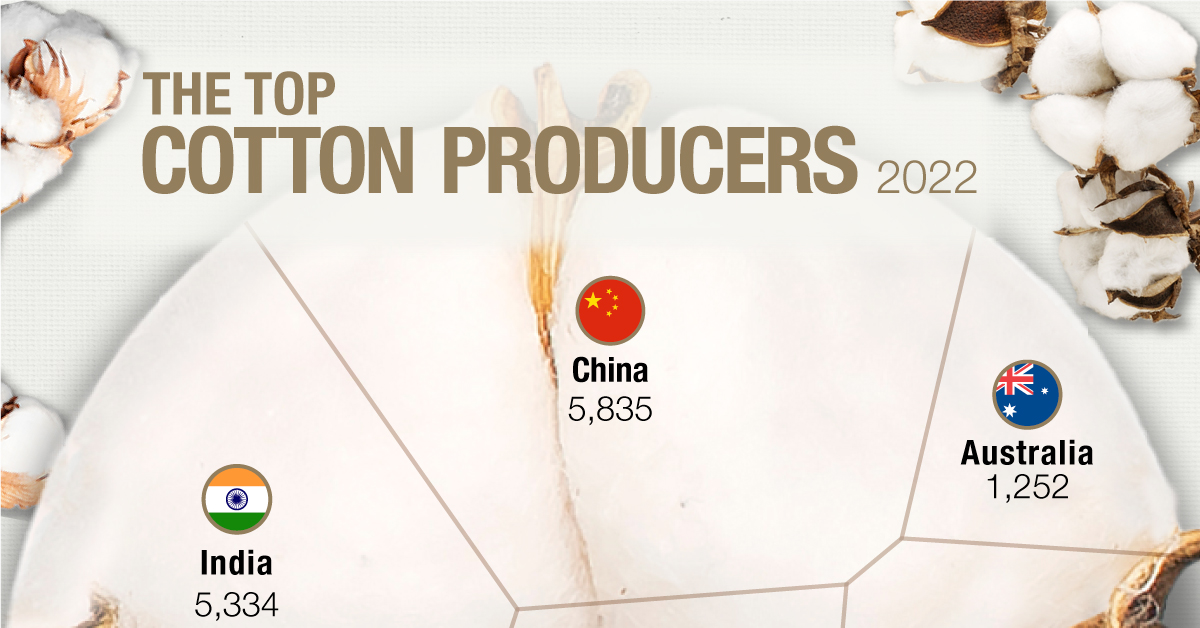 Ranked: The World's Top Cotton Producers
This was originally posted on Elements. Sign up to the free mailing list to get beautiful visualizations on natural resource megatrends in your email every week.
Cotton is present in our everyday life, from clothes to coffee strainers, and more recently in masks to control the spread of COVID-19.
As the most-used natural fiber, cotton has become the most important non-food agricultural product. Currently, approximately half of all textiles require cotton fibers.
The above infographic lists the world's top cotton producers, using data from the United States Department of Agriculture.
Fancy Fabric
Originating from the Arabic word "quton," meaning fancy fabric, cotton is a staple fiber made up of short fibers twisted together to form yarn.
The earliest production of cotton was around 5,000 B.C. in India, and today, around 25 million tons of cotton are produced each year.
Currently, five countries make up around 75% of global cotton production, with China being the world's biggest producer. The country is responsible for over 23% of global production, with approximately 89 million cotton farmers and part-time workers. Cotton's importance cannot be understated, as it is the primary input for the Chinese textile industry along with many other nations' textile industries.
| Top Cotton Producers | 2020/2021 (metric tons) | 2021/2022 (metric tons) |
| --- | --- | --- |
| 🇨🇳 China | 6,445,000 | 5,835,000 |
| 🇮🇳 India | 6,009,000 | 5,334,000 |
| 🇺🇸 United States | 3,181,000 | 3,815,000 |
| 🇧🇷 Brazil | 2,356,000 | 2,504,000 |
| 🇦🇺 Australia | 610,000 | 1,252,000 |
| 🇵🇰 Pakistan | 980,000 | 1,306,000 |
| 🇹🇷 Turkey | 631,000 | 827,000 |
| 🌐 Other | 4,059,000 | 4,282,000 |
| Total | 24,271,000 | 25,155,000 |
The United States is the leading global exporter of cotton, exporting three-fourths of its crop with China as the top buyer.
Despite its importance for the global economy, cotton production faces significant sustainability challenges.
The Controversy Over Cotton
Cotton is one of the largest users of water among all agricultural commodities, and production often involves applying pesticides that threaten soil and water quality.
Along with this, production often involves forced and child labor. According to the European Commission, child labor in the cotton supply chain is most common in Africa and Asia, where it comes from small-holder farmers.
In 2020, U.S. apparel maker Patagonia stopped sourcing cotton from the autonomous territory of Xinjiang because of reports about forced labor and other human rights abuses against Uighurs and other ethnic minorities.
L Brands, the parent company of Victoria's Secret, has also committed to eliminating Chinese cotton from its supply chain. Whether these changes in supply chains impact China's cotton production and its practices, cotton remains essential to materials found across our daily lives.
How Big is the U.S. Cheese Stockpile?
The U.S. has 1.5 billion pounds of cheese in cold storage across the country—around $3.4 billion worth of cheese.
How Big is the U.S. Cheese Stockpile?
As of August 2022, the U.S. had 1.5 billion pounds of cheese in cold storage across the country. That's around $3.4 billion worth of cheese.
Using data from USDA, this graphic looks at just how big the U.S. cheese stockpile has gotten over the last few years, and compares it to notable landmarks to help put things into perspective.
But before diving into the data, we'll take a step back to quickly explain why America's cheese stockpile has gotten so big in the first place.
Why So Much Cheese?
Over the last 30 years, milk production in the U.S. has increased by 50%.
Yet, while milk production has climbed, milk consumption has declined. In 2004, Americans consumed the equivalent of about 0.57 cups of milk per day. By 2018, average milk consumption had dropped to 0.33 cup-equivalents.
In response to this predicament, the U.S. government and dairy companies have been purchasing the extra milk and storing it as cheese for years.
So, where does one store such a large amount of cheese? A sizable portion of the stockpile is stored in a massive underground warehouse (a former limestone quarry) outside of Springfield, Missouri.
The Stockpile Keeps Growing
Apart from a small dip in 2021 during the global pandemic, America's stockpile of cheese has increased steadily over the last five years:
| Date | Total cheese in cold storage (billion pounds) | Y-o-y change (%) |
| --- | --- | --- |
| April 2018 | 1.35 | 3.8% |
| April 2019 | 1.40 | 3.7% |
| April 2020 | 1.48 | 5.7% |
| April 2021 | 1.45 | -2.0% |
| April 2022 | 1.48 | 2.1% |
Between April 2018 and April 2022, U.S. cheese holdings increased by 130 million pounds to reach 1.48 billion pounds. After climbing up to 1.52 billion pounds in July, the stockpile settled once again at 1.48 billion pounds at the end of August 2022.
Now, the U.S. cheese stockpile weighs more than the Eiffel Tower, Statue of Liberty, Tower of Pisa, and the Great Sphinx of Giza—combined.
Is the Cheese Stockpile Here to Stay?
Attempts have been made to get rid of the cheese stockpile. Over the years, the government has established federal food welfare programs and encouraged milk consumption in schools throughout the country.
Yet, despite their best efforts to decrease the surplus, America's cheese stockpile continues to grow.
As domestic consumers continue to decrease their milk consumption, and switch out their dairy milk for milk alternatives like almond or oat milk, how much bigger will this cheese stockpile get before the government comes up with an alternative solution to deal with its surplus of dairy?