Animated Map: Visualizing Earth's Seasons
Animated Map: Visualizing Earth's Seasons
Why does Earth have seasons?
Many people think the seasons are dictated by Earth's proximity to the Sun, but this isn't the case. It's the Earth's tilt, not its closeness to the Sun, that influences our seasons.
This animated map by Eleanor Lutz visualizes Earth's seasons, showing how the temperature changes impact ice levels in the Arctic as well as vegetation more broadly. It also highlights the cloud cover and sunlight each hemisphere receives throughout the year, with each frame in the animation representing a month of time.
Why is Earth Tilted?
Unlike some of the planets that sit completely upright and rotate perpendicularly, Earth rotates on a 23.5-degree axis.
But why? A commonly accepted theory among the scientific community is the giant impact hypothesis. According to this theory, a celestial object called Theia collided with Earth many years ago, when the planet was still forming. This collision not only knocked Earth into its tilted position—some believe that the dust and debris from this impact ended up forming our moon.
Ever since, our planet has been rotating with a slight tilt (which itself is not fixed, as it "wobbles" in cycles), giving us our varying seasons throughout the year.
How Earth's Tilt Influences our Seasons
As our planet orbits the Sun, it's always leaning in the same direction. Because of its tilt, the different hemispheres receive varying amounts of sunlight at different times of the year.
In December, Earth is technically closer to the Sun than it is in June or July. However, because the Northern Hemisphere is tilted away from the Sun during December, that part of the planet experiences winter during that time.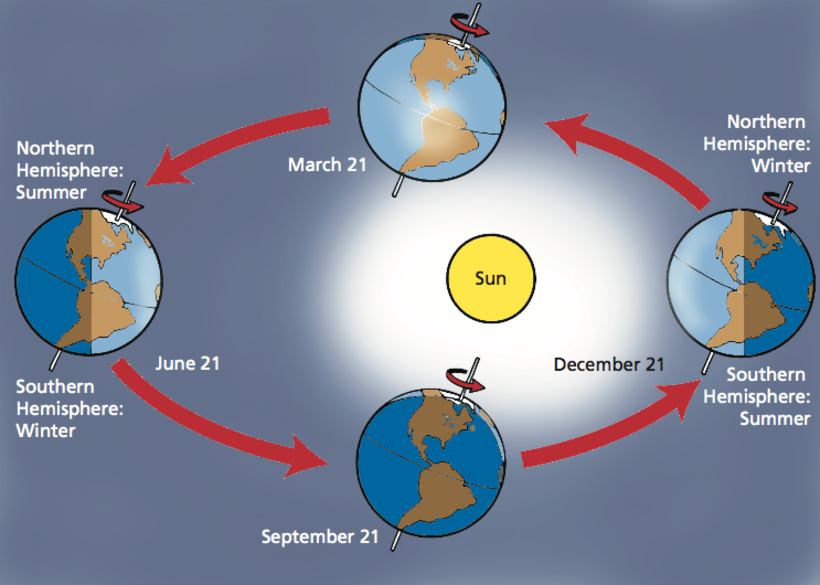 The graphic above by the Smithsonian Science Education Center (SSEC) visualizes Earth's orbit throughout the year, showing when each hemisphere receives the most direct sunlight (and thus, experiences summer).
The Climate Change Impact
While our seasons have always varied, it's worth noting that climate change has impacted our seasons, and changed how much Arctic ice we lose each summer.
In the past, millions of miles of ice remained frozen throughout the summer months. In the 1980s, there were 3.8 million square miles of ice in July—that's roughly the same size as Australia.
Over the years, Arctic ice cover has steadily declined. In July 2020, the ice cover was only 2.8 million square miles—a million less than the amount four decades ago.
Some scientists are predicting that we could lose our summer sea ice entirely by 2035, which would have a devastating impact on the Artic's wildlife and the indigenous people who live there.

This article was published as a part of Visual Capitalist's Creator Program, which features data-driven visuals from some of our favorite Creators around the world.
Charting Grand Theft Auto: GTA's Budget and Revenues
Dive into the GTA budget through the years, with GTA VI set to be the most expensive video game of all time.
Charting Grand Theft Auto: GTA's Budget and Revenues
Over 10 years since the launch of Grand Theft Auto V (GTA V), the second most-sold video game in history, Rockstar Games has announced its sequel GTA VI will be "coming 2025."
As the anticipation only grows for this next big entry in the franchise, we take a look at the GTA budget through the years. How much have the last two games cost to make, how much have they earned, and how do they compare with the latest entry?
Data for this visualization comes from Statista, TweakTown, and Twitch Metrics.
How Much Has GTA VI Cost to Make?
The GTA franchise has grown enormously in scale from humble beginnings as a top-down, 2D video game in 1997. Fifteen installments later, the upcoming release, GTA VI, is estimated to be the most expensive video game to be made yet.
Here's a look at how much GTA VI and the last two major releases cost, and how much revenue they've earned as of August 2023.
| Year | Title | Production Costs ($) | Revenue ($) | Copies Sold |
| --- | --- | --- | --- | --- |
| 2025 (est.) | GTA VI | $2B (rumored) | N/A | N/A |
| 2013 | GTA V | $265M | $7.7B | 185M |
| 2008 | GTA IV | $100M | $2B | 25M |
In 2008, GTA IV cost around $100 million—already a budget that rivalled big Hollywood releases. However with 25 million copies sold, the game earned nearly $2 billion—a five-fold return on its production cost.
Five years later, GTA V (2013) cost more than $200 million to make—twice GTA IV's budget. A decade after its release, GTA V has generated close to $8 billion, with hundreds of millions in annual revenue from subscriptions and in-game purchases—a model that its successor is sure to follow.
In fact, subscription fees and in-game purchases represented 78% of Take-Two Interactive's (parent of GTA developer Rockstar Games) revenues in 2023.
Analysts estimate the to-be-released GTA VI's costs at $2 billion, including marketing and other expenses. A massive open-world (set in the Miami-inspired "Vice City"), cutting edge graphics, and a reportedly brand-new game engine are all reasons for the game's outsized budget.
For comparison, the current most expensive games to have been made include Red Dead Redemption 2 (also by Rockstar) and Star Citizen, both reportedly with a $500 million budget.
Meanwhile, Take-Two Interactive shares are up more than 50% for the year.