Animated Map: Visualizing Earth's Seasons
Animated Map: Visualizing Earth's Seasons
Why does Earth have seasons?
Many people think the seasons are dictated by Earth's proximity to the Sun, but this isn't the case. It's the Earth's tilt, not its closeness to the Sun, that influences our seasons.
This animated map by Eleanor Lutz visualizes Earth's seasons, showing how the temperature changes impact ice levels in the Arctic as well as vegetation more broadly. It also highlights the cloud cover and sunlight each hemisphere receives throughout the year, with each frame in the animation representing a month of time.
Why is Earth Tilted?
Unlike some of the planets that sit completely upright and rotate perpendicularly, Earth rotates on a 23.5-degree axis.
But why? A commonly accepted theory among the scientific community is the giant impact hypothesis. According to this theory, a celestial object called Theia collided with Earth many years ago, when the planet was still forming. This collision not only knocked Earth into its tilted position—some believe that the dust and debris from this impact ended up forming our moon.
Ever since, our planet has been rotating with a slight tilt (which itself is not fixed, as it "wobbles" in cycles), giving us our varying seasons throughout the year.
How Earth's Tilt Influences our Seasons
As our planet orbits the Sun, it's always leaning in the same direction. Because of its tilt, the different hemispheres receive varying amounts of sunlight at different times of the year.
In December, Earth is technically closer to the Sun than it is in June or July. However, because the Northern Hemisphere is tilted away from the Sun during December, that part of the planet experiences winter during that time.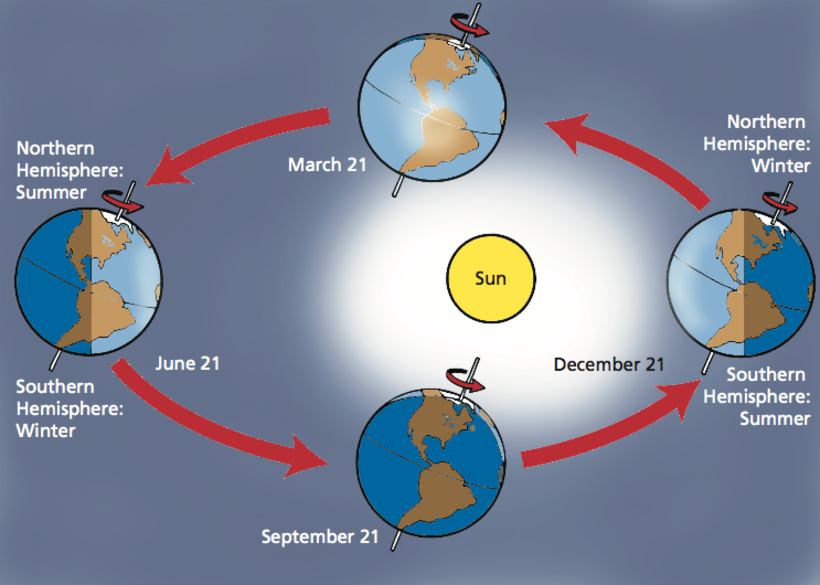 The graphic above by the Smithsonian Science Education Center (SSEC) visualizes Earth's orbit throughout the year, showing when each hemisphere receives the most direct sunlight (and thus, experiences summer).
The Climate Change Impact
While our seasons have always varied, it's worth noting that climate change has impacted our seasons, and changed how much Arctic ice we lose each summer.
In the past, millions of miles of ice remained frozen throughout the summer months. In the 1980s, there were 3.8 million square miles of ice in July—that's roughly the same size as Australia.
Over the years, Arctic ice cover has steadily declined. In July 2020, the ice cover was only 2.8 million square miles—a million less than the amount four decades ago.
Some scientists are predicting that we could lose our summer sea ice entirely by 2035, which would have a devastating impact on the Artic's wildlife and the indigenous people who live there.

This article was published as a part of Visual Capitalist's Creator Program, which features data-driven visuals from some of our favorite Creators around the world.
Mapped: Renewable Energy and Battery Installations in the U.S. in 2023
This graphic describes new U.S. renewable energy installations by state along with nameplate capacity, planned to come online in 2023.
Renewable and Battery Installations in the U.S. in 2023
This was originally posted on Elements. Sign up to the free mailing list to get beautiful visualizations on real assets and resource megatrends each week.
Renewable energy, in particular solar power, is set to shine in 2023. This year, the U.S. plans to get over 80% of its new energy installations from sources like battery, solar, and wind.
The above map uses data from EIA to highlight planned U.S. renewable energy and battery storage installations by state for 2023.
Texas and California Leading in Renewable Energy
Nearly every state in the U.S. has plans to produce new clean energy in 2023, but it's not a surprise to see the two most populous states in the lead of the pack.
Even though the majority of its power comes from natural gas, Texas currently leads the U.S. in planned renewable energy installations. The state also has plans to power nearly 900,000 homes using new wind energy.
California is second, which could be partially attributable to the passing of Title 24, an energy code that makes it compulsory for new buildings to have the equipment necessary to allow the easy installation of solar panels, battery storage, and EV charging.
New solar power in the U.S. isn't just coming from places like Texas and California. In 2023, Ohio will add 1,917 MW of new nameplate solar capacity, with Nevada and Colorado not far behind.

| Top 10 States | Battery (MW) | Solar (MW) | Wind (MW) | Total (MW) |
| --- | --- | --- | --- | --- |
| Texas | 1,981 | 6,462 | 1,941 | 10,385 |
| California | 4,555 | 4,293 | 123 | 8,970 |
| Nevada | 678 | 1,596 | 0 | 2,274 |
| Ohio | 12 | 1,917 | 5 | 1,934 |
| Colorado | 230 | 1,187 | 200 | 1,617 |
| New York | 58 | 509 | 559 | 1,125 |
| Wisconsin | 4 | 939 | 92 | 1,034 |
| Florida | 3 | 978 | 0 | 980 |
| Kansas | 0 | 0 | 843 | 843 |
| Illinois | 0 | 363 | 477 | 840 |
The state of New York is also looking to become one of the nation's leading renewable energy providers. The New York State Energy Research & Development Authority (NYSERDA) is making real strides towards this objective with 11% of the nation's new wind power projects expected to come online in 2023.
According to the data, New Hampshire is the only state in the U.S. that has no new utility-scale renewable energy installations planned for 2023. However, the state does have plans for a massive hydroelectric plant that should come online in 2024.
Decarbonizing Energy
Renewable energy is considered essential to reduce global warming and CO2 emissions.
In line with the efforts by each state to build new renewable installations, the Biden administration has set a goal of achieving a carbon pollution-free power sector by 2035 and a net zero emissions economy by no later than 2050.
The EIA forecasts the share of U.S. electricity generation from renewable sources rising from 22% in 2022 to 23% in 2023 and to 26% in 2024.