Visualizing Design: 196 Flags of Countries Around the World
Visualizing Design: 196 Flags of Countries Around the World
Historically, flags primarily served as means of identification in warfare, but today, national flags are flown to represent a country both on the international stage and domestically.
Every flag incorporates design elements and colors that symbolize certain aspects of each country's history and identity. And as you've likely noticed, many of them fall under similar color conventions or patterns, with the exception of a few rare outliers.
This visualization by Giulia De Amicis shows flags of 196 countries recognized by international standards, grouped according to the main design characteristics—color and pattern.
It includes 193 United Nations Member States, two permanent non-member observer states—Vatican City and Palestine, and Taiwan, a self-ruled democracy and an ex-member of the UN.
Flags of Countries: Common Shapes and Aspect Ratio
Most countries have flags in a quadrilateral shape—a four-sided polygon with four edges and four corners—mainly with a 2:3 or 1:2 aspect ratio.
In contrast, the flag of Nepal stands out with its unique layout. It consists of two triangular shapes with a white moon on the top and a white sun on the bottom section.
The unusual flag's design has at times caused difficulties for large-scale reproduction.
In the 2016 Summer Olympics, for example, the Nepalese flag was placed on a white rectangular cloth shaped the same as other flags.
What are the Most Popular Colors in Flags?
By far, the most popular color used in national flags is red, with 20% of listed countries featuring it in their flag design. In vexillology—the study of flags—it is believed that red is a symbol of power, bravery, revolution, and vibrancy, as well as war in reference to past bloodshed.
Green comes as the second most used flag color with 15% of countries incorporating it, followed by black (14%), purple (12%), white (11.5%), light blue (11%), and blue (9.5%). Yellow was the least popular with just 7% of countries using it in their national flags.
Certain regions share a distinct mix of colors that neighboring countries have adopted. For example, red, white, green, and black are seen in several Arab nation flags. Similarly, green, red, and yellow combinations are often symbolic of Pan-African countries.
Patterns and Symbolism Behind Flag Designs
A simple tricolor design, in either a vertical and horizontal orientation, is the most frequent pattern with 68 countries displaying it on their flags. Stars follow with 40 country flags, while 29 flags had either a seal or stripes.
But there are many other flag designs to consider, such as the geometrical designs used by Cuba and South Africa, crosses like the Union Jack of the UK, and circles like those of Japan and South Korea. And not every flag fits one single design category, such as Pakistan's white and green flag with a crescent and star, or the many flags that include a Union Jack within their design.
Symbolism ascribed to flag design can range from abstract to more literal explanations. The meaning of flag designs can change over time, too, often influenced by major political shifts.
For example, the red flag of the People's Republic of China has one prominent yellow star, which used to stand for the Chinese Communist Party, while the smaller stars were previously associated with the four social classes making up the society. Today, the large star represents China itself, while the smaller stars stand for the country's many national minorities.
In a similar manner, other nations have made changes to their flag designs to reflect major political changes, or people have ascribed their own revised meanings to the elements depicted in their country's flag.
Which nation's flag catches your eye? Are there any other flags that are memorable or unique but not featured on this list?

This article was published as a part of Visual Capitalist's Creator Program, which features data-driven visuals from some of our favorite Creators around the world.
33 Problems With Media in One Chart
In this infographic, we catalog 33 problems with the social and mass media ecosystem.
33 Problems With Media in One Chart
One of the hallmarks of democratic society is a healthy, free-flowing media ecosystem.
In times past, that media ecosystem would include various mass media outlets, from newspapers to cable TV networks. Today, the internet and social media platforms have greatly expanded the scope and reach of communication within society.
Of course, journalism plays a key role within that ecosystem. High quality journalism and the unprecedented transparency of social media keeps power structures in check—and sometimes, these forces can drive genuine societal change. Reporters bring us news from the front lines of conflict, and uncover hard truths through investigative journalism.
That said, these positive impacts are sometimes overshadowed by harmful practices and negative externalities occurring in the media ecosystem.
The graphic above is an attempt to catalog problems within the media ecosystem as a basis for discussion. Many of the problems are easy to understand once they're identified. However, in some cases, there is an interplay between these issues that is worth digging into. Below are a few of those instances.
Editor's note: For a full list of sources, please go to the end of this article. If we missed a problem, let us know!
Explicit Bias vs. Implicit Bias
Broadly speaking, bias in media breaks down into two types: explicit and implicit.
Publishers with explicit biases will overtly dictate the types of stories that are covered in their publications and control the framing of those stories. They usually have a political or ideological leaning, and these outlets will use narrative fallacies or false balance in an effort to push their own agenda.
Unintentional filtering or skewing of information is referred to as implicit bias, and this can manifest in a few different ways. For example, a publication may turn a blind eye to a topic or issue because it would paint an advertiser in a bad light. These are called no fly zones, and given the financial struggles of the news industry, these no fly zones are becoming increasingly treacherous territory.
Misinformation vs. Disinformation
Both of these terms imply that information being shared is not factually sound. The key difference is that misinformation is unintentional, and disinformation is deliberately created to deceive people.
Fake news stories, and concepts like deepfakes, fall into the latter category. We broke down the entire spectrum of fake news and how to spot it, in a previous infographic.
Simplify, Simplify
Mass media and social feeds are the ultimate Darwinistic scenario for ideas.
Through social media, stories are shared widely by many participants, and the most compelling framing usually wins out. More often than not, it's the pithy, provocative posts that spread the furthest. This process strips context away from an idea, potentially warping its meaning.
Video clips shared on social platforms are a prime example of context stripping in action. An (often shocking) event occurs, and it generates a massive amount of discussion despite the complete lack of context.
This unintentionally encourages viewers to stereotype the persons in the video and bring our own preconceived ideas to the table to help fill in the gaps.
Members of the media are also looking for punchy story angles to capture attention and prove the point they're making in an article. This can lead to cherrypicking facts and ideas. Cherrypicking is especially problematic because the facts are often correct, so they make sense at face value, however, they lack important context.
Simplified models of the world make for compelling narratives, like good-vs-evil, but situations are often far more complex than what meets the eye.
The News Media Squeeze
It's no secret that journalism is facing lean times. Newsrooms are operating with much smaller teams and budgets, and one result is 'churnalism'. This term refers to the practice of publishing articles directly from wire services and public relations releases.
Churnalism not only replaces more rigorous forms of reporting—but also acts as an avenue for advertising and propaganda that is harder to distinguish from the news.
The increased sense of urgency to drive revenue is causing other problems as well. High-quality content is increasingly being hidden behind paywalls.
The end result is a two-tiered system, with subscribers receiving thoughtful, high-quality news, and everyone else accessing shallow or sensationalized content. That everyone else isn't just people with lower incomes, it also largely includes younger people. The average age of today's paid news subscriber is 50 years old, raising questions about the future of the subscription business model.
For outlets that rely on advertising, desperate times have called for desperate measures. User experience has taken a backseat to ad impressions, with ad clutter (e.g. auto-play videos, pop-ups, and prompts) interrupting content at every turn. Meanwhile, in the background, third-party trackers are still watching your every digital move, despite all the privacy opt-in prompts.
How Can We Fix the Problems with Media?
With great influence comes great responsibility. There is no easy fix to the issues that plague news and social media. But the first step is identifying these issues, and talking about them.
The more media literate we collectively become, the better equipped we will be to reform these broken systems, and push for accuracy and transparency in the communication channels that bind society together.
Sources and further reading:
Veils of Distortion: How the News Media Warps our Minds by John Zada
Hate Inc. by Matt Taibbi
The Truth Matters: A Citizen's Guide to Separating Facts from Lies and Stopping Fake News in its Tracks by Bruce Bartlett
Active Measures: The Secret History of Disinformation and Political Warfare by Thomas Rid
The Twittering Machine by Richard Seymour
After the Fact by Nathan Bomey
Ten Arguments for Deleting Your Social Media Accounts Right Now by Jaron Lanier
Zucked by Roger McNamee
Antisocial: Online Extremists, Techno-Utopians, and the Highjacking of the American Conversation by Andrew Marantz
Social media is broken by Sara Brown
The U.S. Media's Problems Are Much Bigger than Fake News and Filter Bubbles by Bharat N. Anand
What's Wrong With the News? by FAIR
Is the Media Doomed? by Politico
The Implied Truth Effect by Gordon Pennycook, Adam Bear, Evan T. Collins, David G. Rand
Mapped: The World's Major Religions
Today, 84% of the world's population identifies with a religious group. Here we visualize the distribution of the major religions worldwide.
Religious Composition of Countries
The world has become increasingly more secular in the last few decades. However, religion remains an integral part of many people's lives, and 84% of the world's population identifies with a religious group.
The religious profile of the world is rapidly changing, driven primarily by differences in fertility rates and the size of youth populations among the world's major religions, as well as by people switching faiths.
With the help of data from Pew Research Center, we break down the religious composition of the major religions in countries worldwide.
Religious Makeup of the World by Major Religions
Determining the exact number of religions across the world is a daunting task. Many religions can be difficult to categorize or to tell apart for those not intimately familiar with their doctrine.
Pew Research Center organizes the world's religions into seven major categories, which includes five major religions (Christianity, Islam, Buddhism, Hinduism, and Judaism), one category that broadly includes all Folk/Traditional religions, and an unaffiliated category.
Globally, Christianity has the largest following of these categories. Around 31% of the world's population are Christians, closely followed by Muslims at 25%. Jews have the smallest population of major religions, with only 0.2% of the world identifying as Jewish.
Let's take a look at the religious composition of the world when accounting for regions:
| Region | Christians | Muslims | Unaffiliated | Hindus | Jews | Buddhists | Folk |
| --- | --- | --- | --- | --- | --- | --- | --- |
| North America | 74.6% | 1.3% | 19.2% | 0.8% | 1.6% | 1.2% | 0.4% |
| Latin America-Caribbean | 89.7% | 0.1% | 8.0% | 0.1% | 0.1% | 0.1% | 1.8% |
| Europe | 72.2% | 6.8% | 20.0% | 0.2% | 0.2% | 0.2% | 0.1% |
| Middle East-North Africa | 3.6% | 93.1% | 0.6% | 0.6% | 1.6% | 0.2% | 0.3% |
| Sub-Saharan Africa | 62.0% | 31.4% | 3.0% | 0.2% | 0.1% | 0.1% | 3.2% |
| Asia-Pacific | 7.2% | 25.7% | 20.0% | 26.0% | 0.1% | 11.3% | 8.6% |
| World | 31.0% | 25.0% | 15.6% | 15.2% | 0.2% | 6.6% | 5.6% |
From Islam being the dominant religion in the Middle East to over 95% of Cambodians and Thais following Buddhism, here's how prevalent every major religion in the world is.
Christianity
The world's largest religion, Christianity, is practiced by about 2.4 billion people.
The country with the highest number of practicing Christians is the United States, with a Christian population of 253 million. Brazil and Mexico follow closely with 185 million and 118 million Christians, respectively.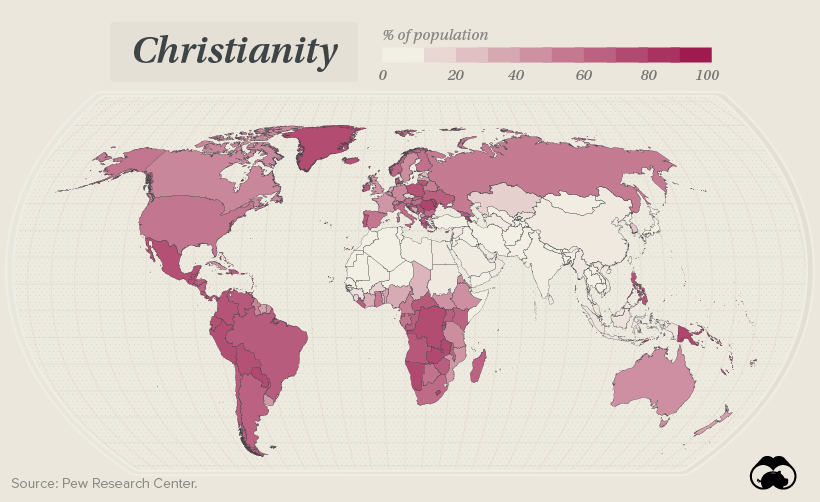 Christianity has historically spread around the globe and today it remains a geographically widespread religion. Over the past century, it has become less concentrated in Europe while becoming more evenly distributed throughout the Americas, sub-Saharan Africa, and the Asia-Pacific region.
Islam
Even though it's the predominant religion of countries in the Middle East and Northern Africa, by sheer number, countries in Asia have the highest percentage of practicing Muslims in the world.
It may surprise you to know that 14.2% of Indians are Muslim. As a result, the country is home to one of the world's largest Muslim populations, surpassed only by Indonesia.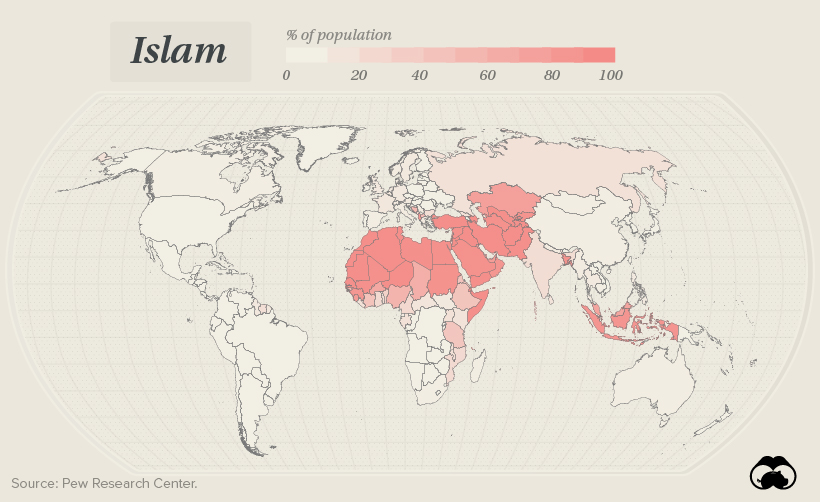 Islam is also the world's fastest-growing major religion. The number of Muslims is expected to increase by 70%, from 1.8 billion in 2015 to nearly 3 billion in 2060. The fact that they have the youngest median age, at 24, also helps this population growth.
Judaism
While Jews historically have been found all around the globe, Judaism is highly geographically concentrated today. More than four-fifths of all Jews live in just two countries: the United States and Israel. Israel is the only country with a Jewish majority, with 76% of the population being practicing Jews.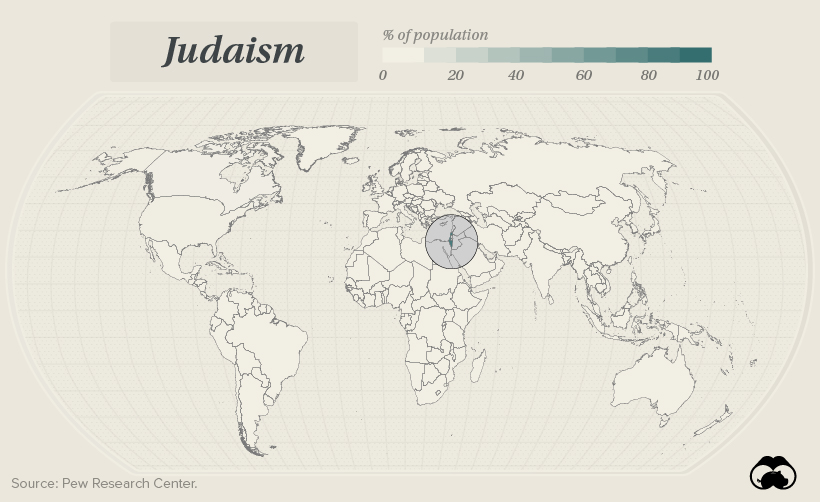 The largest remaining shares of the global Jewish population apart from the U.S. and Israel are in Canada (about 3% of the country's population), France (2%), the United Kingdom (2%), Germany (2%), Russia (2%) and Argentina (between 1% and 2%).
Unaffiliated
The religiously unaffiliated population includes atheists, agnostics, and people who do not identify with any particular religion. 720 million of the Chinese population consider themselves religiously unaffiliated, while 78% of Czechs feel the same way.
However, it is worth noting that many of the religiously unaffiliated hold some religious or spiritual beliefs. For example, surveys have found that faith in God or a higher power is shared by 7% of unaffiliated Chinese adults, 30% of unaffiliated French adults, and 68% of unaffiliated U.S. adults.
Hinduism
Hinduism is the third-largest religion worldwide, with approximately 1.2 billion Hindus in many countries. Interestingly, however, Hinduism is the dominant religion in only three countries, India with 79%, Nepal with 80%, and Mauritius with 48%.
Although Hinduism is rarely a country's primary religion, it still enjoys a global presence. Many regions around the world support significant populations of Hindus, including the Caribbean, Southeast Asia, North America, and South America.
Buddhism
According to estimates, half the world's Buddhists live in China. Still, they make up only 18% of the country's population. Most of the rest of the world's Buddhists live in East and South Asia, including 13% in Thailand (where 93% of the population is Buddhist).
Buddhism in Asia is a matter of both identity and practice. Scholars and journalists have documented that many Asian countries may engage in Buddhist practices without considering themselves part of any organized religion.
Folk Religion
Folk religion is any ethnic or cultural religious practice that falls outside the doctrine of organized religion. Grounded on popular beliefs and sometimes called popular or vernacular religion, the term refers to how people experience and practice religion in their daily lives.
As of 2020, an estimated 429 million people, about 6% of the world's total population, were adherents of folk or traditional religions. Some notable folk religions include African traditional religions, Chinese folk religions, Native American religions, and Australian aboriginal religions.