Visualizing the Impact of Rising Sea Levels, by Country
Climate change is already causing sea levels to rise across the globe. In the 20th century alone, it's estimated that the mean global sea level rose by 11-16 cm.
How much will sea levels change in the coming years, and how will it affect our population?
In the below series of visualizations by Florent Lavergne, we can see how rising sea levels could impact countries in terms of flood risk by the year 2100.
These graphics use data from a 2019 study by Scott Kulp and Benjamin Strauss. Their study used CoastalDEM—a 3D graphics tool used to measure a population's potential exposure to extreme coastal water levels—and examined rising sea levels under different levels of greenhouse gas (GHG) emissions.
Flood Risk By Region
Which countries will be most severely affected by rising sea levels?
If things continue as they are, roughly 360 million people around the world could be at risk of annual flood events by 2100. Here's what those figures look like across each region:
Africa
On the continent of Africa, one of the countries with the highest number of people at risk of coastal flooding is Egypt.
Over 95% of Egypt's population lives along the Nile river, with some areas situated at extremely low elevations. The country's lowest point is 133 m below sea level.
Asia
Asia's population will be more heavily impacted by flooding than any other region included in the dataset.
According to the projections, 70% of the people that will be affected by rising sea levels are located in just eight Asian countries: China, Bangladesh, India, Vietnam, Indonesia, Thailand, the Philippines, and Japan.
Europe
One of the most high-risk populations in Europe is the Netherlands. The country has a population of about 17 million, and as of 2019, about half of its population lives in areas below sea level.
The country's lowest point, the town Nieuwekerk aan den Ijssel, is 6.8 m below sea level.
North America
In North America, the U.S., Canada, and Mexico are expected to see the highest numbers of impacted people, due to the size of their populations.
But as a percentage of population, other countries in Central America and the Caribbean are more greatly at risk, especially in high emission scenarios. One country worth highlighting is the Bahamas. Even based on moderate emission levels, the country is expected to see a significant surge in the number of people at risk of flood.
According to the World Bank, this is because land in the Bahamas is relatively flat, making the island especially vulnerable to sea level rises and flooding.
South America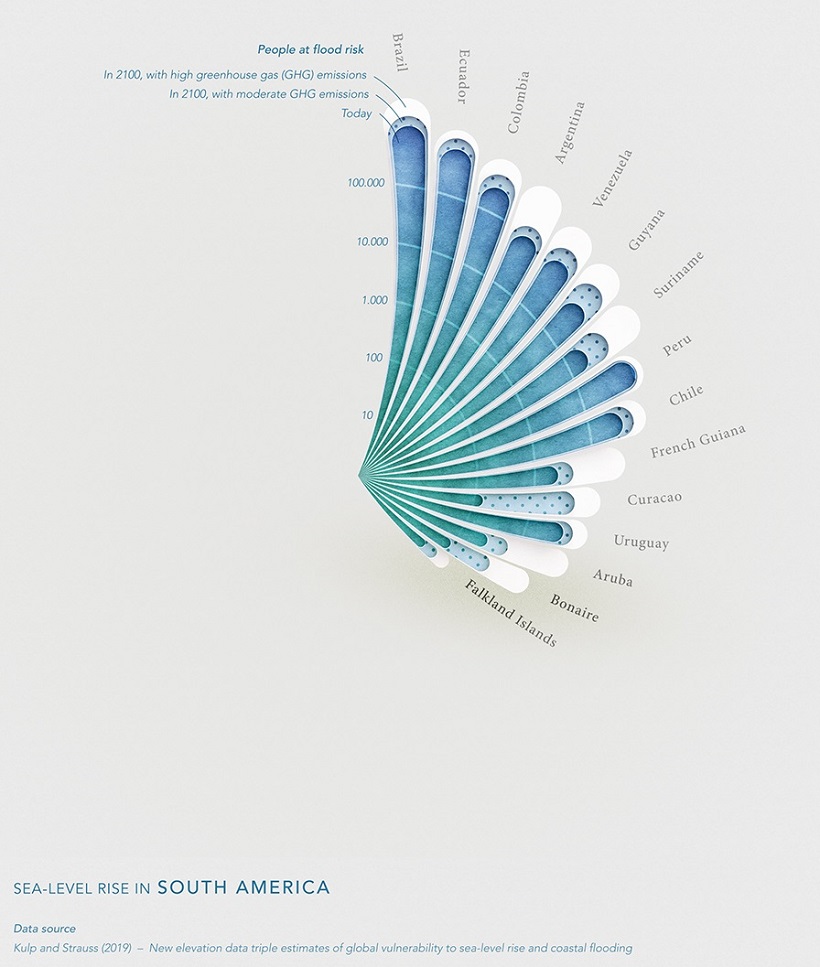 As South America's largest country by population and with large coastal cities, Brazil's population is the most at risk for flood caused by rising sea levels.
Notably, thanks to a lot of mountainous terrain and municipalities situated on high elevation, no country in South America faces a flood risk impacting more than 1 million people.
Oceania
By 2100, Polynesian countries like Tonga are projected to see massive increases in the number of people at risk of flooding, even at moderate GHG emissions.
According to Reuters, sea levels in Tonga have been rising by 6 mm each year, which is nearly double the average global rate. The reason for this is because the islands sit in warmer waters, where sea level changes are more noticeable than at the poles.
What's Causing Sea Levels to Rise?
Since 1975, average temperatures around the world have risen 0.15 to 0.20°C each decade, according to research by NASA.
This global heating has caused polar ice caps to begin melting—in just over two decades, we've lost roughly 28 trillion tonnes of our world's ice. Over that same timeframe, global sea levels have risen by an average of 36 mm. These rising sea levels pose a number of risks, including soil contamination, loss of habitat, and flooding.
As countries are affected by climate change in different ways, and at different levels, the question becomes how they will respond in turn.

This article was published as a part of Visual Capitalist's Creator Program, which features data-driven visuals from some of our favorite Creators around the world.
Ranked: The World's Top Cotton Producers
As the most-used natural fiber, cotton has become the most important non-food agricultural product.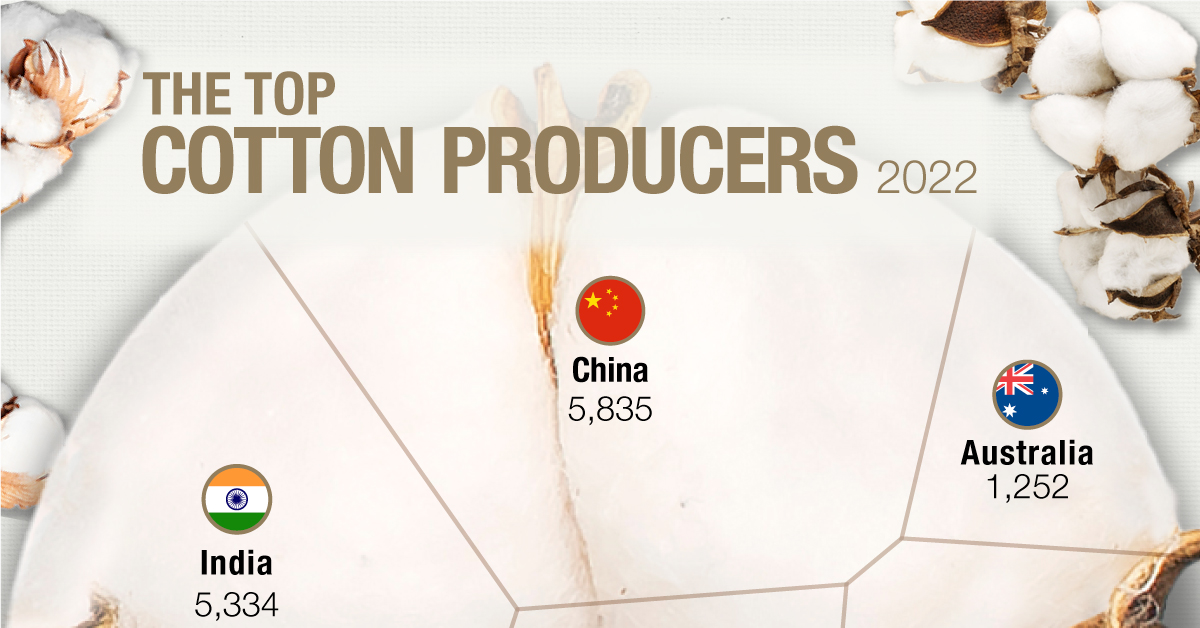 Ranked: The World's Top Cotton Producers
This was originally posted on Elements. Sign up to the free mailing list to get beautiful visualizations on natural resource megatrends in your email every week.
Cotton is present in our everyday life, from clothes to coffee strainers, and more recently in masks to control the spread of COVID-19.
As the most-used natural fiber, cotton has become the most important non-food agricultural product. Currently, approximately half of all textiles require cotton fibers.
The above infographic lists the world's top cotton producers, using data from the United States Department of Agriculture.
Fancy Fabric
Originating from the Arabic word "quton," meaning fancy fabric, cotton is a staple fiber made up of short fibers twisted together to form yarn.
The earliest production of cotton was around 5,000 B.C. in India, and today, around 25 million tons of cotton are produced each year.
Currently, five countries make up around 75% of global cotton production, with China being the world's biggest producer. The country is responsible for over 23% of global production, with approximately 89 million cotton farmers and part-time workers. Cotton's importance cannot be understated, as it is the primary input for the Chinese textile industry along with many other nations' textile industries.
| Top Cotton Producers | 2020/2021 (metric tons) | 2021/2022 (metric tons) |
| --- | --- | --- |
| 🇨🇳 China | 6,445,000 | 5,835,000 |
| 🇮🇳 India | 6,009,000 | 5,334,000 |
| 🇺🇸 United States | 3,181,000 | 3,815,000 |
| 🇧🇷 Brazil | 2,356,000 | 2,504,000 |
| 🇦🇺 Australia | 610,000 | 1,252,000 |
| 🇵🇰 Pakistan | 980,000 | 1,306,000 |
| 🇹🇷 Turkey | 631,000 | 827,000 |
| 🌐 Other | 4,059,000 | 4,282,000 |
| Total | 24,271,000 | 25,155,000 |
The United States is the leading global exporter of cotton, exporting three-fourths of its crop with China as the top buyer.
Despite its importance for the global economy, cotton production faces significant sustainability challenges.
The Controversy Over Cotton
Cotton is one of the largest users of water among all agricultural commodities, and production often involves applying pesticides that threaten soil and water quality.
Along with this, production often involves forced and child labor. According to the European Commission, child labor in the cotton supply chain is most common in Africa and Asia, where it comes from small-holder farmers.
In 2020, U.S. apparel maker Patagonia stopped sourcing cotton from the autonomous territory of Xinjiang because of reports about forced labor and other human rights abuses against Uighurs and other ethnic minorities.
L Brands, the parent company of Victoria's Secret, has also committed to eliminating Chinese cotton from its supply chain. Whether these changes in supply chains impact China's cotton production and its practices, cotton remains essential to materials found across our daily lives.
Visualizing Mismanaged Plastic Waste by Country
About 22% of the world's annual plastic waste generation is mismanaged. Here's a break down of mismanaged plastic waste by country.
Visualizing Mismanaged Plastic Waste by Country
Plastic is one of the most useful materials around, but its proliferating use has created a ballooning heap of plastic waste, with more than 350 million tonnes generated each year.
Only a fraction of plastic waste is recycled, and about one-fifth ends up in the mismanaged category, meaning that it is dumped or littered without proper waste management practices. Mismanaged plastic waste threatens the land and marine environments, and most of it doesn't decompose, polluting the environment for hundreds of years.
The above infographic visualizes the largest contributors of mismanaged plastic waste in 2019, based on data from a study by Meijer et al. published in the Science Advances journal.
The Largest Contributors of Mismanaged Plastic Waste
Asian countries account for the majority of global mismanaged plastic waste (MPW), and many of the top plastic-emitting rivers are concentrated in the region.
India and China are the only countries to account for over 10 million tonnes of MPW, although that could partly be driven by their sheer population numbers.
| Country/Region | MPW created in 2019 (tonnes) | % of total |
| --- | --- | --- |
| India 🇮🇳 | 12,994,100 | 21% |
| China 🇨🇳 | 12,272,200 | 20% |
| Philippines 🇵🇭 | 4,025,300 | 7% |
| Brazil 🇧🇷 | 3,296,700 | 5% |
| Nigeria 🇳🇬 | 1,948,950 | 3% |
| North America 🌎 | 1,927,484 | 3% |
| Tanzania 🇹🇿 | 1,716,400 | 3% |
| Turkey 🇹🇷 | 1,656,110 | 3% |
| Egypt 🇪🇬 | 1,435,510 | 2% |
| DR Congo 🇨🇩 | 1,369,730 | 2% |
| Thailand 🇹🇭 | 1,361,690 | 2% |
| Pakistan 🇵🇰 | 1,346,460 | 2% |
| Europe 🌍 | 1,179,881 | 2% |
| Vietnam 🇻🇳 | 1,112,790 | 2% |
| Bangladesh 🇧🇩 | 1,021,990 | 2% |
| Indonesia 🇮🇩 | 824,234 | 1% |
| Malaysia 🇲🇾 | 814,454 | 1% |
| Sudan 🇸🇩 | 781,625 | 1% |
| Algeria 🇩🇿 | 764,578 | 1% |
| South Africa 🇿🇦 | 708,467 | 1% |
| Venezuela 🇻🇪 | 671,431 | 1% |
| Cameroon 🇨🇲 | 578,798 | 1% |
| Oceania 🌎 | 136,506 | 0.2% |
| Other 🗺 | 7,828,312 | 13% |
| Total | 61,773,700 | 100% |
Generally, the top countries in the above table are developing economies that tend to have inadequate waste management infrastructure.
The Philippines is the third-largest contributor and accounts for 37% of all MPW released into the ocean at over 350,000 tonnes per year. Solid waste management remains a major environmental issue in the Philippines. The country recently closed down 335 illegal dumpsites to encourage the use of sanitary landfills and proper waste segregation.
The three continents of North America, Europe, and Oceania together account for just 5% of global mismanaged plastic waste. However, it's important to note that these figures do not reflect the amount of waste that is exported overseas, and many rich nations are known to export some portions of their waste to poorer nations.
The State of Plastic Waste Trade
In 2019, the Philippines famously shipped back 69 containers of dumped garbage back to Canada, joining other nations in rejecting waste from rich countries.
Until 2017, China was the largest importer of overseas plastic waste, accounting for roughly 50% of global plastic waste imports. Then, it imposed an import ban on almost all types of plastic waste, resulting in a decline in the overall global plastic scrap trade.
​​
In 2021, global plastic waste imports were just over one-third of 2017 levels. However, countries including Malaysia, Indonesia, and Vietnam have been importing more plastic waste since China's ban, slightly offsetting the impact.
Mismanaged Plastic Waste Per Capita
On a per capita basis, the archipelago of Comoros in East Africa tops the list. Its per capita MPW is equivalent to over 4,500 empty 500ml plastic bottles per person, per year.
| Country | MPW per capita | GDP per capita (2021, current US$) |
| --- | --- | --- |
| Comoros 🇰🇲 | 150lbs (68kg) | $1,495 |
| Trinidad and Tobago 🇹🇹 | 115lbs (52kg) | $15,243 |
| Suriname 🇸🇷 | 86lbs (39kg) | $4,836 |
| Philippines 🇵🇭 | 81lbs (37kg) | $3,549 |
| Zimbabwe 🇿🇼 | 78lbs (35kg) | $1,737 |
While there isn't much information available on waste management in Comoros, it is one of the world's least-developed nations. In fact, household consumption accounts for almost 100% of its annual gross domestic product.
Trinidad and Tobago is an outlier due to its high-income status, but a lack of waste segregation among households, alongside inefficient waste management systems, contributes to its high per capita figure.
The Impact of Plastic Waste
Plastic waste has various negative implications for the environment, especially as it can take hundreds of years to decompose.
Millions of tonnes of plastic waste flows into the oceans every year, accounting for at least 85% of all marine garbage. This poses a major threat to aquatic life because fish and other organisms can get entangled in plastic waste and ingest plastics.
On land, plastic waste threatens the quality of the soil and its surrounding ecosystem. Additionally, burning plastic waste releases toxic particles that have a detrimental impact on air quality.
If current trends continue, over 12 billion tonnes of plastic waste is expected to end up in landfills by 2050. Although recycling rates are expected to improve, increasing the availability of adequate waste management systems will be important in preventing plastic waste from entering the environment.