Visualizing the Impact of Rising Sea Levels, by Country
Climate change is already causing sea levels to rise across the globe. In the 20th century alone, it's estimated that the mean global sea level rose by 11-16 cm.
How much will sea levels change in the coming years, and how will it affect our population?
In the below series of visualizations by Florent Lavergne, we can see how rising sea levels could impact countries in terms of flood risk by the year 2100.
These graphics use data from a 2019 study by Scott Kulp and Benjamin Strauss. Their study used CoastalDEM—a 3D graphics tool used to measure a population's potential exposure to extreme coastal water levels—and examined rising sea levels under different levels of greenhouse gas (GHG) emissions.
Flood Risk By Region
Which countries will be most severely affected by rising sea levels?
If things continue as they are, roughly 360 million people around the world could be at risk of annual flood events by 2100. Here's what those figures look like across each region:
Africa
On the continent of Africa, one of the countries with the highest number of people at risk of coastal flooding is Egypt.
Over 95% of Egypt's population lives along the Nile river, with some areas situated at extremely low elevations. The country's lowest point is 133 m below sea level.
Asia
Asia's population will be more heavily impacted by flooding than any other region included in the dataset.
According to the projections, 70% of the people that will be affected by rising sea levels are located in just eight Asian countries: China, Bangladesh, India, Vietnam, Indonesia, Thailand, the Philippines, and Japan.
Europe
One of the most high-risk populations in Europe is the Netherlands. The country has a population of about 17 million, and as of 2019, about half of its population lives in areas below sea level.
The country's lowest point, the town Nieuwekerk aan den Ijssel, is 6.8 m below sea level.
North America
In North America, the U.S., Canada, and Mexico are expected to see the highest numbers of impacted people, due to the size of their populations.
But as a percentage of population, other countries in Central America and the Caribbean are more greatly at risk, especially in high emission scenarios. One country worth highlighting is the Bahamas. Even based on moderate emission levels, the country is expected to see a significant surge in the number of people at risk of flood.
According to the World Bank, this is because land in the Bahamas is relatively flat, making the island especially vulnerable to sea level rises and flooding.
South America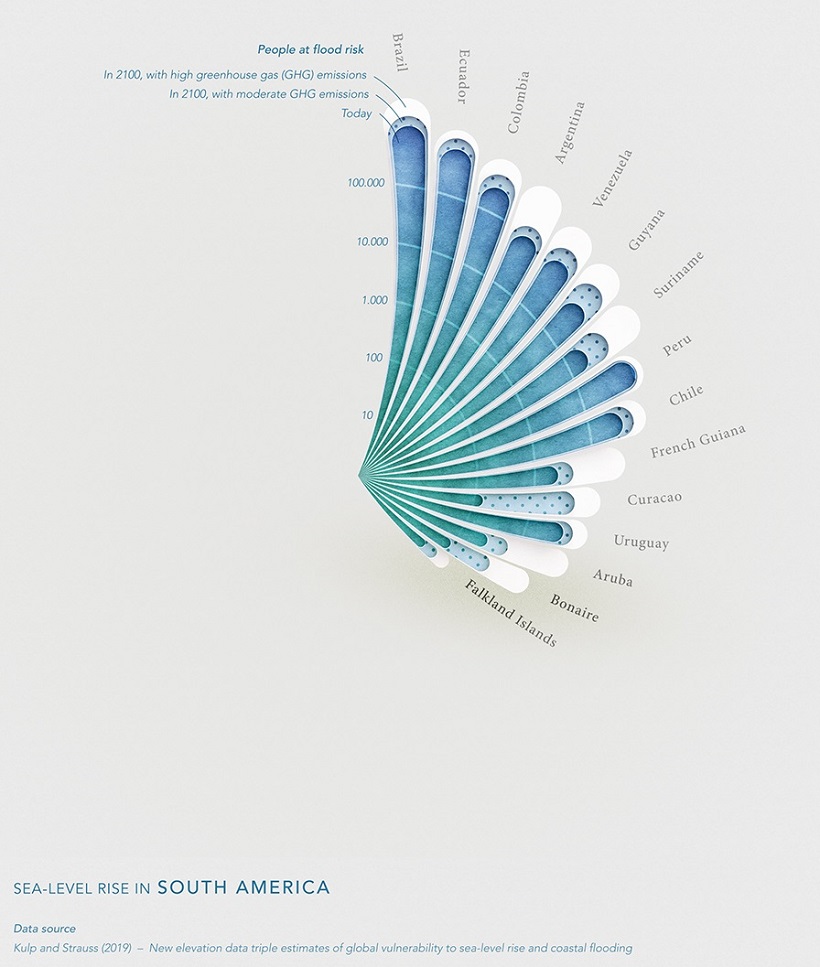 As South America's largest country by population and with large coastal cities, Brazil's population is the most at risk for flood caused by rising sea levels.
Notably, thanks to a lot of mountainous terrain and municipalities situated on high elevation, no country in South America faces a flood risk impacting more than 1 million people.
Oceania
By 2100, Polynesian countries like Tonga are projected to see massive increases in the number of people at risk of flooding, even at moderate GHG emissions.
According to Reuters, sea levels in Tonga have been rising by 6 mm each year, which is nearly double the average global rate. The reason for this is because the islands sit in warmer waters, where sea level changes are more noticeable than at the poles.
What's Causing Sea Levels to Rise?
Since 1975, average temperatures around the world have risen 0.15 to 0.20°C each decade, according to research by NASA.
This global heating has caused polar ice caps to begin melting—in just over two decades, we've lost roughly 28 trillion tonnes of our world's ice. Over that same timeframe, global sea levels have risen by an average of 36 mm. These rising sea levels pose a number of risks, including soil contamination, loss of habitat, and flooding.
As countries are affected by climate change in different ways, and at different levels, the question becomes how they will respond in turn.

This article was published as a part of Visual Capitalist's Creator Program, which features data-driven visuals from some of our favorite Creators around the world.
Chart: Automakers' Adoption of Fuel-Saving Technologies
See how 14 major automakers have adopted various fuel-saving technologies in this infographic based on EPA data.
Automakers' Adoption of Fuel-Saving Technologies
Over the past few decades, automakers have invested plenty of time and money into various fuel-saving technologies. This includes innovations such as direct injection, cylinder deactivation, and auto start-stop features.
Keeping track of which companies have adopted these technologies can be difficult. Thankfully, the EPA's 2022 Automotive Trends Report includes data that shows which automakers have adopted what technologies.
Understanding the Data
The percentages in this infographic show how 14 major automakers have adopted various fuel-saving technologies into their lineups. The report did not specify if this data is for North American models only.
| Brand | Turbo | Direct Injection | Cylinder Deact. | CVT | 7+ Gears | Start-Stop | Hybrid | PHEV/EV/FC |
| --- | --- | --- | --- | --- | --- | --- | --- | --- |
| Subaru | 22% | 99% | 0% | 95% | 0% | 80% | 0% | 0% |
| Nissan | 5% | 72% | 0% | 87% | 12% | 0% | 0% | 1% |
| Honda | 53% | 79% | 25% | 61% | 38% | 24% | 7% | 0% |
| Mazda | 27% | 100% | 45% | 0% | 0% | 0% | 0% | 0% |
| Toyota | 3% | 0% | 0% | 36% | 38% | 19% | 22% | 2% |
| Kia | 26% | 47% | 0% | 42% | 45% | 50% | 2% | 0% |
| Hyundai | 18% | 44% | 0% | 23% | 46% | 21% | 4% | 2% |
| BMW | 99% | 99% | 0% | 0% | 98% | 64% | 25% | 7% |
| Volkswagen | 77% | 94% | 3% | 0% | 90% | 71% | 20% | 7% |
| Mercedes-Benz | 94% | 100% | 8% | 0% | 100% | 77% | 22% | 0% |
| Tesla | 0% | 0% | 0% | 0% | 0% | 0% | 0% | 100% |
| Ford | 80% | 56% | 21% | 2% | 92% | 83% | 5% | 3% |
| GM | 37% | 91% | 54% | 9% | 74% | 75% | 0% | 1% |
| Stellantis | 13% | 10% | 22% | 1% | 96% | 45% | 15% | 3% |
There are several geographical trends hidden within this dataset. To make them more obvious, we color-coded the 14 automakers by their nationality.
Asian Automakers
Starting from the top of the graphic, we can see that Japanese automakers are big proponents of gasoline direct injection (GDI) engines, as well as continuously variable transmissions (CVT).
With a GDI engine, fuel is injected directly into the combustion chamber at high pressure. This is more precise than the traditional method known as port injection, which results in greater fuel efficiency and lower emissions.
CVT transmissions use pulleys instead of gears to improve fuel efficiency. CVTs are best paired with smaller, lower output engines, which may explain why Japanese automakers (who have a history of building smaller cars) have adopted them so widely.
Note that Toyota is listed as having 0% adoption of direct injection, but this isn't exactly true. The automaker uses its D4-S system, which is a combination of both port and direct fuel injection.
South Korean automakers, on the other hand, have a more balanced technology profile, adopting a wider number of technologies, but each to a lesser degree.
German Automakers
German automakers are well-known for their expertise in building combustion engines, so it's no surprise they use turbocharging and direct injection in nearly every model.
They've also heavily adopted high gear-count transmissions (7 or more gears), which can not only enable better fuel efficiency, but also faster acceleration. The downside to these transmissions is that they can be very heavy and complex.
Furthermore, German automakers utilize the auto start-stop feature in many of their vehicles, and are tied with Toyota in terms of hybrid adoption.
American & Other Automakers
Ford and GM's technology profile is similar to the Germans, using turbocharging and direct injection combined with 7+ gear transmissions.
GM uses turbocharging less frequently, but stands out with its high usage of cylinder deactivation technology, at 54% of models. Referred to by GM as Active Fuel Management (AFM), this feature shuts down half of the engine's cylinders during light driving.
GM is known for its small-block V8 engines, which can be had in many of the company's models. Given the high cylinder count of a V8, AFM is a clever trick for improving fuel efficiency.
Stellantis, which is a merger between Italian-American Fiat Chrysler and French Peugeot, has not widely adopted many technologies except for the 7+ gear transmission.
Finally there's Tesla, which does not use any of the aforementioned technologies due to it being a pure electric automaker.
Going The Way of the Dinosaur
The technologies shown in this infographic have helped to bring the average mpg of a new car to record highs in recent years.
Many of these innovations could become obsolete as automakers slowly phase out gasoline engines. In 2021, six major automakers including Ford, Mercedes-Benz, and GM pledged to phase out the sale of new gasoline and diesel-powered cars by 2040.
Other companies such as Porsche believe that the combustion engine still has a future, pointing to synthetic fuels as a means of significantly reducing CO2 emissions.