Ranked: The Best-Selling Video Game Consoles of All Time
Ranked: The Best-Selling Video Game Consoles of All Time
In 1972, the first-ever commercially available home video game console hit the market—the Magnavox Odyssey. Players of the Odyssey had a choice between two built-in games that were stored directly in the device, and would use a joystick and dials as a controller.
Video game consoles have come a long way since then, and the console market has grown into a multi-billion dollar industry that's expected to reach $72.67 billion in value by the end of 2022.
This graphic by Enrique Mendoza uses data from VGChartz to show the market leaders in the industry, by highlighting the top-selling video consoles of all time, as of May 8, 2022.
Nine Generations of Video Game Consoles
Before diving into the top-selling consoles, it's worth taking a step back to touch on the evolution of home consoles to show how they've changed over the years.
We dug into the literature on the history of video game consoles, and found that most articles and blog posts on the topic cite nine different generations of devices.
Here's a breakdown of each generation, and some of their most noteworthy systems:
1972: Gen One, Where it Began
Consoles in the first generation had pre-built games that were stored directly on the device. They include the Magnavox Odyssey and Atari's Pong.
1976: Gen Two Emerges
In this generation, games were sold separately, rather than programmed into the device. Consoles of this gen include the Fairchild Channel F and the Atari 2600.
1983: Gen Three, the "8-bit Generation"
This era's consoles typically had 8-bit processes which allowed for more advanced graphics for the time. A few notable consoles during this gen were ​​the Sega SG-1000 and the Nintendo Famicom, released outside Japan as the Nintendo Entertainment System (NES).
1987: Gen Four Elevates Handheld Gaming
Home consoles were released with 16-bit systems, meaning that audio and graphics improved even more in this era. But an arguably bigger moment for this gen was the emergence of the Nintendo Game Boy.
1993: The 3D Start of Gen Five
This generation saw the move away from pixels and towards 3D polygons. Some consoles like the Sony PlayStation started using CD-ROMs instead of cartridges, which stored more data at a cheaper cost and changed the industry.
1998: Gen Six and the Internet
At the start of this generation, the three major players in the console space were Sony, Sega, and Nintendo. By the end, Sega would be replaced with Microsoft as it launched the Xbox and helped popularize online console gaming.
2005: HD Graphics and Motion Controls of Gen Seven
On one side of the market, Microsoft and Sony were competing with high-definition graphics, faster processers, and different forms (Blu-rays or DVDs). But Nintendo's motion-sensing Nintendo Wii arguably defined this generation, and the handheld Nintendo DS swept the market as well.
2012: Gen Eight's Modern Consoles
Consoles of this era started having increased connectivity and processing power, with full HD an expectation. It was also an extremely long generation, starting with Nintendo's unsuccessful Wii U and ending with the ultra-successful Nintendo Switch, widely considered the first hybrid console with three different ways to play: TV mode, handheld mode, or tabletop mode.
2020: Gen Nine and Beyond
So far, this generation has brought upgraded graphics (up to 8K resolution), larger games, and game-streaming capabilities. Devices in this gen include the Xbox Series X/S and PlayStation 5, which both use solid state drives to increase speed and performance, while Nintendo has yet to introduce a 9th generation device.
The Best-Selling Game Consoles
The best-selling video game console of all time is Sony's PlayStation 2 (PS2). More than 157 million systems have been sold around the world since its launch in March 2000.
| Rank | Console | Manufacturer | Global lifetime sales (millions) |
| --- | --- | --- | --- |
| 1 | PlayStation 2 (PS2) | Sony | 157.68 |
| 2 | Nintendo DS (DS) | Nintendo | 154.90 |
| 3 | Game Boy (GB) | Nintendo | 118.69 |
| 4 | PlayStation 4 (PS4) | Sony | 116.97 |
| 5 | Nintendo Switch (NS) | Nintendo | 107.21 |
| 6 | PlayStation (PS) | Sony | 102.50 |
| 7 | Nintendo Wii (Wii) | Nintendo | 101.64 |
| 8 | PlayStation 3 (PS3) | Sony | 87.41 |
| 9 | Xbox 360 (X360) | Microsoft | 85.8 |
| 10 | Game Boy Advance (GBA) | Nintendo | 81.51 |
| 11 | PlayStation Portable (PSP) | Sony | 81.09 |
| 12 | Nintendo 3DS (3DS) | Nintendo | 75.95 |
| 13 | Nintendo Entertainment System (NES) | Nintendo | 61.91 |
| 14 | Xbox One (XOne) | Microsoft | 50.57 |
| 15 | Super Nintendo Entertainment System (SNES) | Nintendo | 49.10 |
| 16 | Nintendo 64 (N64) | Nintendo | 32.93 |
| 17 | Sega Genesis (GEN) | Sega | 29.54 |
| 18 | Atari 2600 (2600) | Atari | 27.64 |
| 19 | Xbox (XB) | Microsoft | 24.65 |
| 20 | GameCube (GC) | Nintendo | 21.74 |
| 21 | PlayStation 5 (PS5) | Sony | 19.32 |
| 22 | PlayStation Vita (PSV) | Sony | 16.21 |
| 23 | Xbox Series X/S (XS) | Microsoft | 14.32 |
| 24 | Nintendo Wii U (WiiU) | Nintendo | 13.97 |
| 25 | GameGear (GG) | Sega | 10.62 |
| 26 | Sega Saturn (SAT) | Sega | 8.82 |
| 27 | Dreamcast (DC) | Sega | 8.20 |
| 28 | Atari 7800 (7800) | Atari | 4.30 |
Despite the fact the PS2's been discontinued since 2013, no other gaming console has managed to top it—in fact, the next closest actively-sold consoles, the PS4 and Nintendo Switch, are each more than 40 million units behind.
One major factor for the PS2's success was its built-in DVD player. At the time, DVD players were very expensive, and in many places a PS2 was a cheaper and effective alternative. It was also one of the first devices to be "backward compatible," meaning users could play most of their PS1 games on the PS2. This meant players didn't have to buy a whole new library of games when they made the switch to a PS2, and Sony could tap into its existing customer base.
But while Sony's PS2 is the top-selling console on the list, Nintendo has more top-selling consoles on the list—almost half of the consoles on the list are manufactured by Nintendo (11), while only seven are made by Sony.
What Will it Take to Out-Sell the PS2?
As the PS4 has started taking a backseat to the PS5 in sales and promotion, the current most-likely contender for the best-selling console crown is the Nintendo Switch. Early in 2022, it was the fastest console to sell 100 million units.
With lots of hype around the possibilities of AR and VR, it'll be interesting to see what new features come with the next generation of gaming consoles.
Will future devices ever beat the PS2's record-breaking sales? Time will tell. But for now, the 22-year-old console continues to hold its well-earned spot at the top.

This article was published as a part of Visual Capitalist's Creator Program, which features data-driven visuals from some of our favorite Creators around the world.
Charted: What are Retail Investors Interested in Buying in 2023?
What key themes and strategies are retail investors looking at for the rest of 2023? Preview: AI is a popular choice.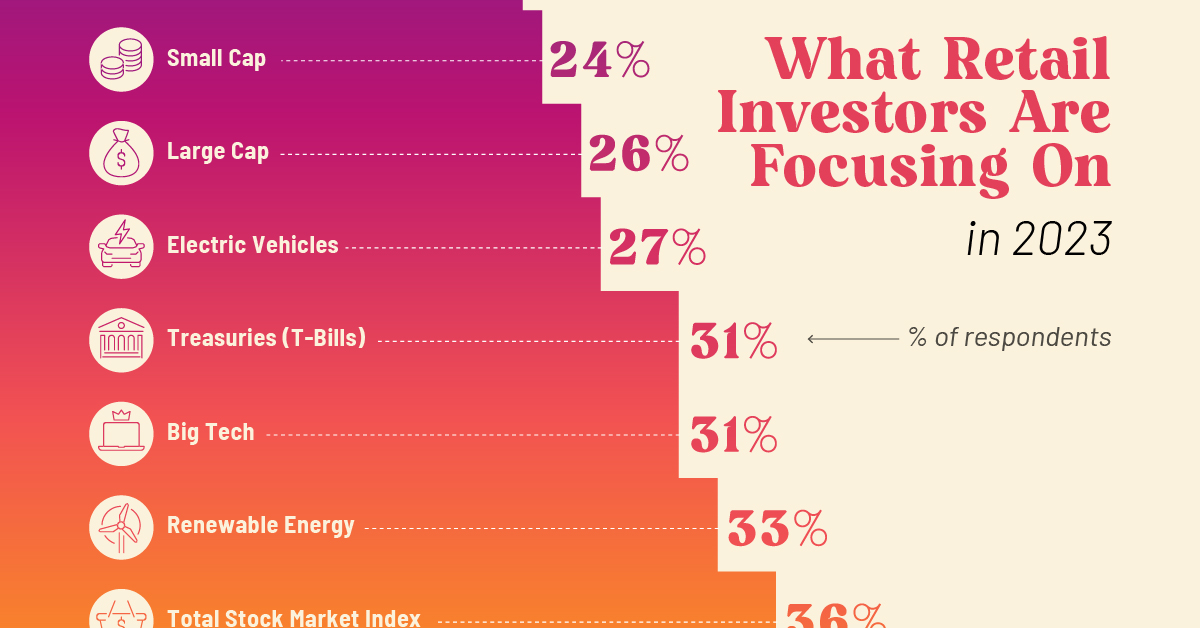 Charted: Retail Investors' Top Picks for 2023
U.S. retail investors, enticed by a brief pause in the interest rate cycle, came roaring back in the early summer. But what are their investment priorities for the second half of 2023?
We visualized the data from Public's 2023 Retail Investor Report, which surveyed 1,005 retail investors on their platform, asking "which investment strategy or themes are you interested in as part of your overall investment strategy?"
Survey respondents ticked all the options that applied to them, thus their response percentages do not sum to 100%.
Where Are Retail Investors Putting Their Money?
By far the most popular strategy for retail investors is dividend investing with 50% of the respondents selecting it as something they're interested in.
Dividends can help supplement incomes and come with tax benefits (especially for lower income investors or if the dividend is paid out into a tax-deferred account), and can be a popular choice during more inflationary times.
| Investment Strategy | Percent of Respondents |
| --- | --- |
| Dividend Investing | 50% |
| Artificial Intelligence | 36% |
| Total Stock Market Index | 36% |
| Renewable Energy | 33% |
| Big Tech | 31% |
| Treasuries (T-Bills) | 31% |
| Electric Vehicles | 27% |
| Large Cap | 26% |
| Small Cap | 24% |
| Emerging Markets | 23% |
| Real Estate | 23% |
| Gold & Precious Metals | 23% |
| Mid Cap | 19% |
| Inflation Protection | 13% |
| Commodities | 12% |
Meanwhile, the hype around AI hasn't faded, with 36% of the respondents saying they'd be interested in investing in the theme—including juggernaut chipmaker Nvidia. This is tied for second place with Total Stock Market Index investing.
Treasury Bills (30%) represent the safety anchoring of the portfolio but the ongoing climate crisis is also on investors' minds with Renewable Energy (33%) and EVs (27%) scoring fairly high on the interest list.
Commodities and Inflation-Protection stocks on the other hand have fallen out of favor.
Come on Barbie, Let's Go Party…
Another interesting takeaway pulled from the survey is how conversations about prevailing companies—or the buzz around them—are influencing trades. The platform found that public investors in Mattel increased 6.6 times after the success of the 'Barbie' movie.
Bud Light also saw a 1.5x increase in retail investors, despite receiving negative attention from their fans after the company did a beer promotion campaign with trans influencer Dylan Mulvaney.
Given the origin story of a large chunk of American retail investors revolves around GameStop and AMC, these insights aren't new, but they do reveal a persisting trend.