Animated Chart: Nuclear Warheads by Country (1945-2022)
Visualizing The Nuclear Warheads of Countries Since 1945
Despite significant progress in reducing nuclear weapon arsenals since the Cold War, the world's combined inventory of warheads remains at an uncomfortably high level.
Towards the late 1980s, the world reached its peak of stockpiled warheads, numbering over 64,000. In modern times, nine countries—the U.S., Russia, France, China, the UK, Pakistan, India, Israel, and North Korea—are estimated to possess roughly 12,700 nuclear warheads.
The animated chart above by creator James Eagle shows the military stockpile of nuclear warheads that each country has possessed since 1945.
Nuclear Warheads Currently in Possession by Countries
The signing of the Treaty on the Non-Proliferation of Nuclear Weapons (NPT) brought about a rapid disarmament of nuclear warheads. Though not immediately successful in stopping nuclear proliferation, it eventually led to countries retiring most of their nuclear arsenals.
As of 2022, about 12,700 nuclear warheads are still estimated to be in use, of which more than 9,400 are in military stockpiles for use by missiles, aircraft, ships and submarines.
Here's a look at the nine nations that currently have nuclear warheads in their arsenal:
| Country | Military Stockpile | Retired Weapons | Total Inventory |
| --- | --- | --- | --- |
| 🇷🇺 Russia | 4,477 | 1,500 | 5,977 |
| 🇺🇸 United States | 3,708 | 1,720 | 5,428 |
| 🇫🇷 France | 290 | 0 | 290 |
| 🇨🇳 China | 350 | 0 | 350 |
| 🇬🇧 United Kingdom | 180 | 45 | 225 |
| 🇮🇱 Israel | 90 | 0 | 90 |
| 🇵🇰 Pakistan | 165 | 0 | 165 |
| 🇮🇳 India | 160 | 0 | 160 |
| 🇰🇵 North Korea | 20 | 0 | 20 |
| Total | 9,440 | | 12,705 |
The U.S. and Russia are by far the two countries with the most nuclear warheads in military stockpiles, with each having close to 4,000 in possession.
Timeline: Key Events in the Nuclear Arms Race
At the dawn of the nuclear age, the U.S. hoped to maintain a monopoly on nuclear weapons, but the secret technology and methodology for building the atomic bomb soon spread. Only 10 countries have since possessed or deployed any nuclear weapons.
Here are a few key dates in the timeline of the nuclear arms race from 1945 to 2022:
August 6 & 9, 1945:
The U.S. drops two atomic bombs on Hiroshima and Nagasaki, Japan, decimating the cities and forcing the country's surrender, ending the Second World War.
August 29, 1949:
The Soviet Union tests its first nuclear bomb, code-named First Lightning in Semipalatinsk, Kazakhstan. It becomes the second country to develop and successfully test a nuclear device.
October 3, 1952:
The UK conducts its first nuclear test at Montebello Islands off the coast of Western Australia, and later additional tests at Maralinga and Emu Fields in South Australia.
February 13, 1960:
France explodes its first atomic bomb in the Sahara Desert, with a yield of 60–70 kilotons. It moves further nuclear tests to the South Pacific, which continue up until 1996.
October 16–29, 1962:
A tense stand-off known as the Cuban Missile Crisis begins when the U.S. discovers Soviet missiles in Cuba. The U.S. intiaties a naval blockade of the island, with the crisis bringing the two superpowers to the brink of nuclear war.
October 16, 1964:
China becomes the fifth country to test an atomic bomb in 1964, code-named Project 596. The country would conduct an additional 45 atomic bomb tests at the Lop Nor testing site in Sinkiang Province through 1996.
July 1, 1968:
The NPT opens for signatures. Under the treaty, non-nuclear-weapon states agree to never acquire nuclear weapons, and nuclear powers must make a legal undertaking to disarm.
May 18, 1974:
India conducts an underground nuclear test at Pokhran in the Rajasthan desert, code-named the Smiling Buddha. Since conducting its first nuclear test, India has refused to sign the NPT or any subsequent treaties.
September 30, 1986:
Through the information provided by Israeli whistleblower and nuclear technician Mordechai Vanunu, The Sunday Times publishes a story that leads experts to conclude that Israel may have up to 200 nuclear weapons.
October 9, 2006:
After previously signing onto the NPT, North Korea breaks from the treaty and begins testing nuclear weapons in 2006. It has since gathered 20 nuclear warheads, though the actual number and their efficacy are unknown.
Though the threat of nuclear weapons never left, the latest growing tensions in Ukraine have brought the topic back into focus. Even as work towards disarmament continues, many of the top nuclear states hesitate to fully reduce their arsenals to zero.

This article was published as a part of Visual Capitalist's Creator Program, which features data-driven visuals from some of our favorite Creators around the world.
Ranked: Share of Global Arms Exports in 2022
The U.S. is the biggest weapons exporter in the world, but which other countries take up a significant share of global arms exports in 2022? And how has that share changed over time?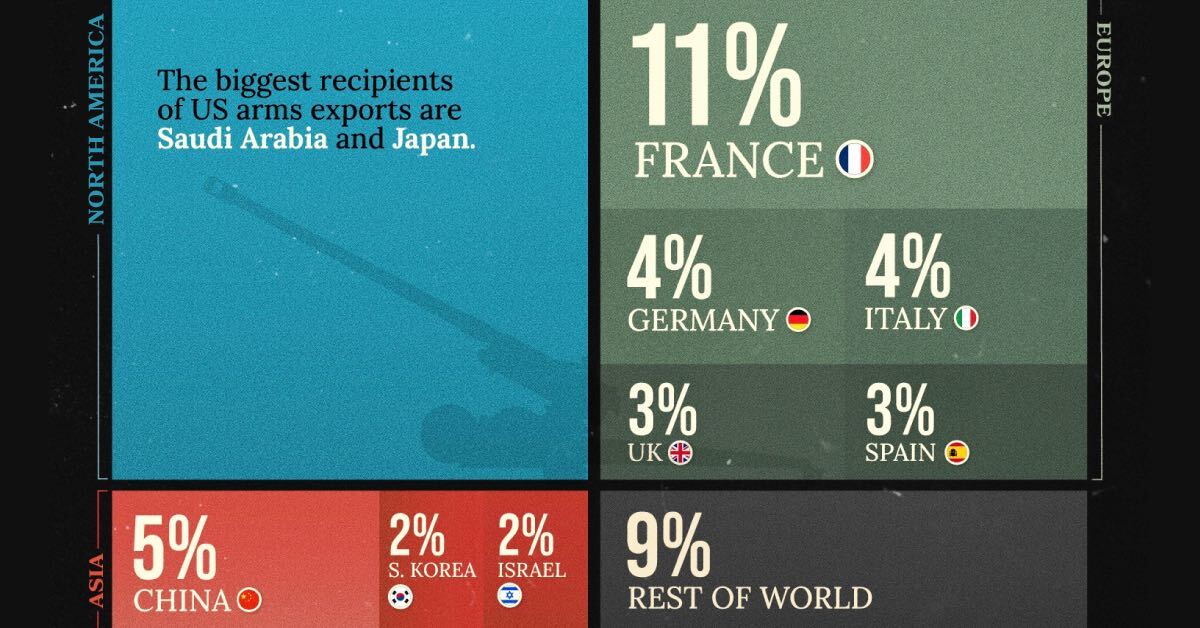 Ranked: Share of Global Arms Exports 2018–2022
In 2022, global military budgets hit $2.2 trillion, an eighth consecutive year of increase.
Part of those budgets were used for the procurement of arms, but which countries are major weapons suppliers, and how do they influence the global arms trade?
We chart out the top 10 countries with the biggest share of global arms exports using data from the Stockholm International Peace Research Institute (SIPRI).
Which Country Exports the Most Weapons?
The U.S. is the biggest weapons exporter, accounting for 40% of the total volume of international arms transfers between 2018–2022. Nearly one-fifth of these exports headed to Saudi Arabia, and other significant amounts went to Japan (8.6%) and Australia (8.4%).
Below we rank the biggest weapons exporters by share of total volume traded in 2018–2022, as well as their growth or decline from trends recorded in 2013–2017.
Rank
Country
% share of global arms exports
(2018-2022)
% change between
2013-17 & 2018-22
1
🇺🇸 U.S.
40%
+14%
2
🇷🇺 Russia
16%
-31%
3
🇫🇷 France
11%
+44%
4
🇨🇳 China
5%
-23%
5
🇩🇪 Germany
4%
-35%
6
🇮🇹 Italy
4%
+45%
7
🇬🇧 UK
3%
-35%
8
🇪🇸 Spain
3%
-4%
9
🇰🇷 South Korea
2%
+74%
10
🇮🇱 Israel
2%
-15%
N/A
🌐 Rest of World
9%
N/A
Russia (16%) and France (11%) rank close together, followed by China (5%) and Germany (4%) to round out the top five major arms exporters.
However France's export volumes grown considerably (+44%) from the previous five-year period, thanks to big sales to India, which included 62 combat aircraft and four submarines, one-third of all French weapons trade. This has resulted in France leapfrogging the U.S. as India's second-largest weapons supplier after Russia.
On the other hand, Russia's exports by volume has decreased (-31%) even before sanctions kicked in after the invasion of Ukraine. Its biggest trade partners, India and China, have prioritized developing their own weapons industries.
South Korea's Surging Weapons Exports
Another country whose arms sales are skyrocketing is South Korea, which ranks 9th in the overall share of global arms exports, but has seen a 74% increase in its export volumes. Key recipients include the Philippines, India, and Thailand.
South Korean president Yoon Suk Yeol has pledged to grow his country into the world's fourth largest arms exporter by 2027.
Interestingly, South Korea is one of three countries which is both a top-10 arms exporter and importer (along with China and the U.S.) as it has many takers for domestically produced military equipment, while simultaneously being reliant on American-produced long-range missiles and advanced combat aircraft.