Netflix vs Disney: Who's Winning the Streaming War?
Netflix vs Disney: Who's Winning the Streaming War?
Netflix is well-known as one of the pioneers of mass-market video streaming. The service has become so ubiquitous that the word "Netflix" is now synonymous with watching a movie or television show.
But, while it's one of the most recognized streaming platforms in the world, has it been able to maintain its dominant position in the industry now that more competitors have entered the fray?
This graphic by Truman Du shows how Disney's streaming empire (Disney+, Hulu, and ESPN+) has quickly gained subscribers and is giving Netflix a run for its money.
Netflix: The Beginning
Founded in 1997, Netflix started out as mail-order DVD rental company. One of the co-founders Reed Hastings told Fortune Magazine that he got the idea for Netflix after he was charged a $40 late fee for a VHS he'd rented out.
By 2007, Netflix had evolved from a relatively modest DVD rental company into a ground-breaking subscription-based streaming service. While there were a few other streaming platforms at the time, Netflix had a significant first mover's advantage, operating on a subscription model and acquiring a wide pool of distribution rights from different studios.
This allowed the company to grow rapidly and establish itself as an industry leader. From 2007 to 2022, Netflix's subscriber base grew from 7 million to 221 million, nearly 3,000%.
When Did Disney Enter the Scene?
The Walt Disney Company got involved in the streaming industry in 2009 when it first joined Hulu as a minor stakeholder, but became more directly invested in 2016 when it bought a 33% stake in BAMTECH Media, a video streaming technology company.
Disney eventually bought a majority stake in BAMTECH Media and in 2018, the company rebranded to Disney Streaming Services. In addition to launching Disney+ and ESPN+, Disney's acquisition of 21 Century Fox gave the company a majority stake in other streaming platforms including Hulu and Star+.
While Disney arrived much later on the scene compared to Netflix, it didn't take long for Disney's platforms to gain traction. And as of Q2 2022, Disney's streaming empire (Disney+, Hulu, and ESPN+) has more combined subscribers than Netflix, and are gaining at a rapid pace.
Netflix

| Platform | Subscribers (Q2 2022) | % Growth (y-o-y) |
| --- | --- | --- |
| Netflix | 220.7 million | 5.5% |
| Netflix Total | 220.7 million | 5.5% |
Disney

| Platform | Subscribers (Q2 2022) | % Growth (y-o-y) |
| --- | --- | --- |
| Disney+ | 152.1 million | 31.1% |
| Hulu | 46.2 million | 7.9% |
| ESPN | 22.8 million | 53.0% |
| Disney Total | 221.1 million | 27.3% |
Other streaming services like HBO Max and Amazon Prime Video also continue to pick up steam, which begs the question: has the Netflix empire started to tumble?
Recent Trouble With Netflix
In April 2022, Netflix shared its Q1 results which showed a loss of 200,000 subscribers. Though barely a fraction of its 200+ million subscribers, it was Netflix's first drop in subscribers in over 10 years.
This sent the company's share price plummeting below $200, the lowest since 2017. As October 10, 2022, its share price still sits at $230, over 30% down from before the Q1 announcement in April 2022.
But change for the company is on the horizon. Netflix has announced that it plans to launch a cheaper, ad-supported service in November—something that other streaming platforms like Peacock and Paramount+ have already been offering customers for a few years.

This article was published as a part of Visual Capitalist's Creator Program, which features data-driven visuals from some of our favorite Creators around the world.
Charted: What are Retail Investors Interested in Buying in 2023?
What key themes and strategies are retail investors looking at for the rest of 2023? Preview: AI is a popular choice.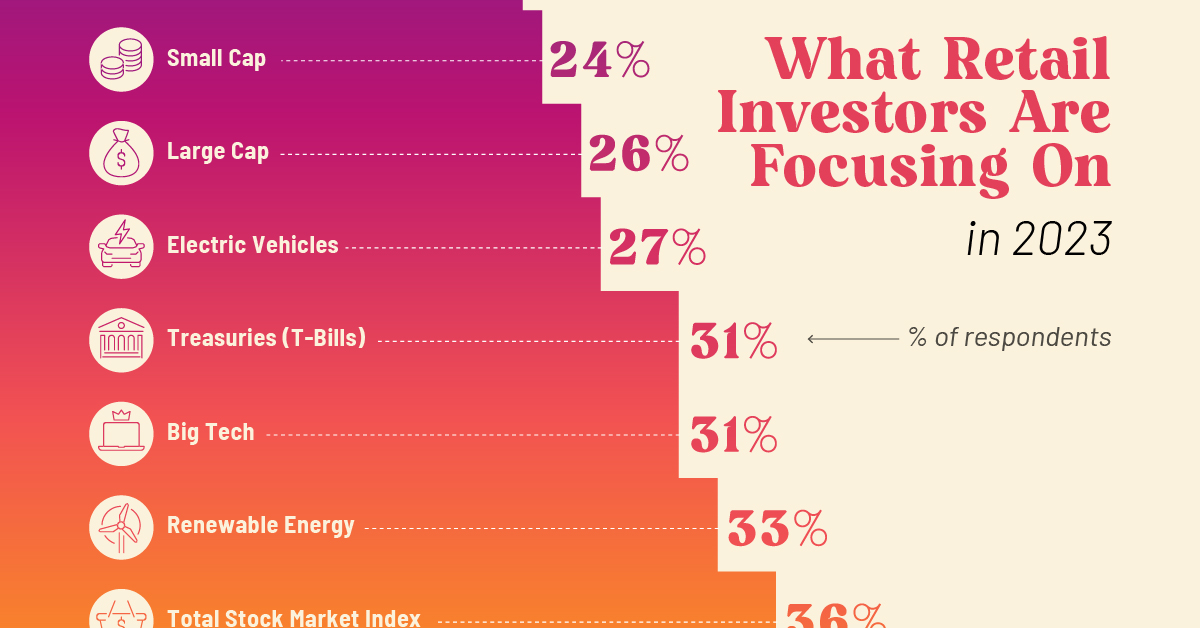 Charted: Retail Investors' Top Picks for 2023
U.S. retail investors, enticed by a brief pause in the interest rate cycle, came roaring back in the early summer. But what are their investment priorities for the second half of 2023?
We visualized the data from Public's 2023 Retail Investor Report, which surveyed 1,005 retail investors on their platform, asking "which investment strategy or themes are you interested in as part of your overall investment strategy?"
Survey respondents ticked all the options that applied to them, thus their response percentages do not sum to 100%.
Where Are Retail Investors Putting Their Money?
By far the most popular strategy for retail investors is dividend investing with 50% of the respondents selecting it as something they're interested in.
Dividends can help supplement incomes and come with tax benefits (especially for lower income investors or if the dividend is paid out into a tax-deferred account), and can be a popular choice during more inflationary times.
| Investment Strategy | Percent of Respondents |
| --- | --- |
| Dividend Investing | 50% |
| Artificial Intelligence | 36% |
| Total Stock Market Index | 36% |
| Renewable Energy | 33% |
| Big Tech | 31% |
| Treasuries (T-Bills) | 31% |
| Electric Vehicles | 27% |
| Large Cap | 26% |
| Small Cap | 24% |
| Emerging Markets | 23% |
| Real Estate | 23% |
| Gold & Precious Metals | 23% |
| Mid Cap | 19% |
| Inflation Protection | 13% |
| Commodities | 12% |
Meanwhile, the hype around AI hasn't faded, with 36% of the respondents saying they'd be interested in investing in the theme—including juggernaut chipmaker Nvidia. This is tied for second place with Total Stock Market Index investing.
Treasury Bills (30%) represent the safety anchoring of the portfolio but the ongoing climate crisis is also on investors' minds with Renewable Energy (33%) and EVs (27%) scoring fairly high on the interest list.
Commodities and Inflation-Protection stocks on the other hand have fallen out of favor.
Come on Barbie, Let's Go Party…
Another interesting takeaway pulled from the survey is how conversations about prevailing companies—or the buzz around them—are influencing trades. The platform found that public investors in Mattel increased 6.6 times after the success of the 'Barbie' movie.
Bud Light also saw a 1.5x increase in retail investors, despite receiving negative attention from their fans after the company did a beer promotion campaign with trans influencer Dylan Mulvaney.
Given the origin story of a large chunk of American retail investors revolves around GameStop and AMC, these insights aren't new, but they do reveal a persisting trend.