Mapped: Average Wind Speed Across the U.S.
Click to view a larger version of the graphic.
Mapped: Average Wind Speed Across the U.S.
Wind energy is a hot topic in North America and around the world as a decarbonization tool, but full utilization requires a lot of wind.
This graphic from the team at the Woodwell Climate Research Center maps the average wind speed of the continental U.S. based on NOAA data from 2021.
Zooming in, you can examine North America's wind regions and patterns in great detail. Clearly visible is the concentration of high wind speeds in the Great Plains (known as the Prairies in Canada), which has the greatest potential for wind power. You can also follow westerly winds traveling through the North American Cordillera of mountains, including the Rocky Mountains and Cascades.
Meanwhile, the Eastern U.S. and Canada have significantly lower average wind speeds, especially in the American South. That's despite hurricanes with extremely high winds occasionally moving northward along the Eastern Seaboard towards the North Atlantic.

This article was published as a part of Visual Capitalist's Creator Program, which features data-driven visuals from some of our favorite Creators around the world.
Visualizing the Range of Electric Cars vs. Gas-Powered Cars
With range anxiety being a barrier to EV adoption, how far can an electric car go on one charge, and how do EV ranges compare with gas cars?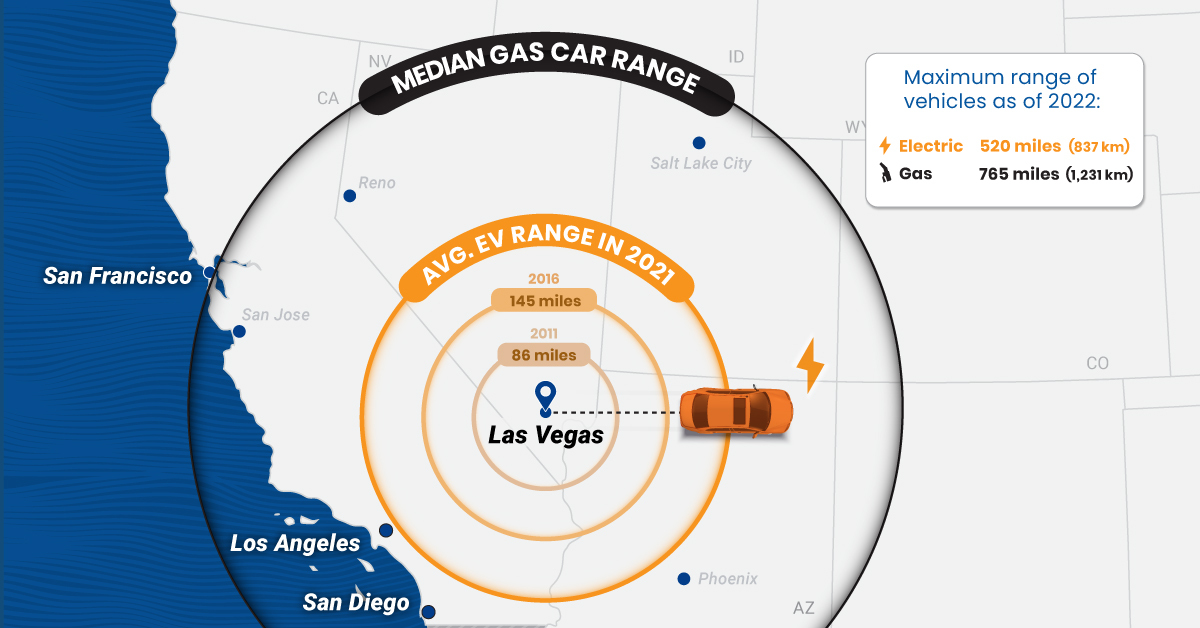 The Range of Electric Cars vs. Gas-Powered Cars
This was originally posted on Elements. Sign up to the free mailing list to get beautiful visualizations on natural resource megatrends in your email every week.
EV adoption has grown rapidly in recent years, but many prospective buyers still have doubts about electric car ranges.
In fact, 33% of new car buyers chose range anxiety—the concern about how far an EV can drive on a full charge—as their top inhibitor to purchasing electric cars in a survey conducted by EY.
So, how far can the average electric car go on one charge, and how does that compare with the typical range of gas-powered cars?
The Rise in EV Ranges
Thanks to improvements in battery technology, the average range of electric cars has more than doubled over the last decade, according to data from the International Energy Agency (IEA).
| Year | Avg. EV Range | Maximum EV Range |
| --- | --- | --- |
| 2010 | 79 miles (127 km) | N/A |
| 2011 | 86 miles (138 km) | 94 miles (151 km) |
| 2012 | 99 miles (159 km) | 265 miles (426 km) |
| 2013 | 117 miles (188 km) | 265 miles (426 km) |
| 2014 | 130 miles (209 km) | 265 miles (426 km) |
| 2015 | 131 miles (211 km) | 270 miles (435 km) |
| 2016 | 145 miles (233 km) | 315 miles (507 km) |
| 2017 | 151 miles (243 km) | 335 miles (539 km) |
| 2018 | 189 miles (304 km) | 335 miles (539 km) |
| 2019 | 209 miles (336 km) | 370 miles (595 km) |
| 2020 | 210 miles (338 km) | 402 miles (647 km) |
| 2021 | 217 miles (349 km) | 520 miles* (837 km) |
*Max range for EVs offered in the United States.
Source: IEA, U.S. DOE
As of 2021, the average battery-powered EV could travel 217 miles (349 km) on a single charge. It represents a 44% increase from 151 miles (243 km) in 2017 and a 152% increase relative to a decade ago.
Despite the steady growth, EVs still fall short when compared to gas-powered cars. For example, in 2021, the median gas car range (on one full tank) in the U.S. was around 413 miles (664 km)—nearly double what the average EV would cover.
As automakers roll out new models, electric car ranges are likely to continue increasing and could soon match those of their gas-powered counterparts. It's important to note that EV ranges can change depending on external conditions.
What Affects EV Ranges?
In theory, EV ranges depend on battery capacity and motor efficiency, but real-world results can vary based on several factors:
Weather: At temperatures below 20℉ (-6.7℃), EVs can lose around 12% of their range, rising to 41% if heating is turned on inside the vehicle.
Operating Conditions: Thanks to regenerative braking, EVs may extend their maximum range during city driving.
Speed: When driving at high speeds, EV motors spin faster at a less efficient rate. This may result in range loss.
On the contrary, when driven at optimal temperatures of about 70℉ (21.5℃), EVs can exceed their rated range, according to an analysis by Geotab.
The 10 Longest-Range Electric Cars in America
Here are the 10 longest-range electric cars available in the U.S. as of 2022, based on Environmental Protection Agency (EPA) range estimates:
| Car | Range On One Full Charge | Estimated Base Price |
| --- | --- | --- |
| Lucid Air | 520 miles (837 km) | $170,500 |
| Tesla Model S | 405 miles (652 km) | $106,190 |
| Tesla Model 3 | 358 miles (576 km) | $59,440 |
| Mercedes EQS | 350 miles (563 km) | $103,360 |
| Tesla Model X | 348 miles (560 km) | $122,440 |
| Tesla Model Y | 330 miles (531 km) | $67,440 |
| Hummer EV | 329 miles (529 km) | $110,295 |
| BMW iX | 324 miles (521 km) | $84,195 |
| Ford F-150 Lightning | 320 miles (515 km) | $74,169 |
| Rivian R1S | 316 miles (509 km) | $70,000 |
Source: Car and Driver
The top-spec Lucid Air offers the highest range of any EV with a price tag of $170,500, followed by the Tesla Model S. But the Tesla Model 3 offers the most bang for your buck if range and price are the only two factors in consideration.
What is the Cost of Europe's Energy Crisis?
As European gas prices soar, countries are introducing policies to try and curb the energy crisis.
What is the Cost of Europe's Energy Crisis?
This was originally posted on Elements. Sign up to the free mailing list to get beautiful visualizations on natural resource megatrends in your email every week.
Europe is scrambling to cut its reliance on Russian fossil fuels.
As European gas prices soar eight times their 10-year average, countries are introducing policies to curb the impact of rising prices on households and businesses. These include everything from the cost of living subsidies to wholesale price regulation. Overall, funding for such initiatives has reached $276 billion as of August.
With the continent thrown into uncertainty, the above chart shows allocated funding by country in response to the energy crisis.
The Energy Crisis, In Numbers
Using data from Bruegel, the below table reflects spending on national policies, regulation, and subsidies in response to the energy crisis for select European countries between September 2021 and July 2022. All figures in U.S. dollars.
Country
Allocated Funding
Percentage of GDP
Household Energy Spending,
Average Percentage
🇩🇪 Germany
$60.2B
1.7%
9.9%
🇮🇹 Italy
$49.5B
2.8%
10.3%
🇫🇷 France
$44.7B
1.8%
8.5%
🇬🇧 U.K.
$37.9B
1.4%
11.3%
🇪🇸 Spain
$27.3B
2.3%
8.9%
🇦🇹 Austria
$9.1B
2.3%
8.9%
🇵🇱 Poland
$7.6B
1.3%
12.9%
🇬🇷 Greece
$6.8B
3.7%
9.9%
🇳🇱 Netherlands
$6.2B
0.7%
8.6%
🇨🇿 Czech Republic
$5.9B
2.5%
16.1%
🇧🇪 Belgium
$4.1B
0.8%
8.2%
🇷🇴 Romania
$3.8B
1.6%
12.5%
🇱🇹 Lithuania
$2.0B
3.6%
10.0%
🇸🇪 Sweden
$1.9B
0.4%
9.2%
🇫🇮 Finland
$1.2B
0.5%
6.1%
🇸🇰 Slovakia
$1.0B
1.0%
14.0%
🇮🇪 Ireland
$1.0B
0.2%
9.2%
🇧🇬 Bulgaria
$0.8B
1.2%
11.2%
🇱🇺 Luxembourg
$0.8B
1.1%
n/a
🇭🇷 Croatia
$0.6B
1.1%
14.3%
🇱🇻 Lativia
$0.5B
1.4%
11.6%
🇩🇰 Denmark
$0.5B
0.1%
8.2%
🇸🇮 Slovenia
$0.3B
0.5%
10.4%
🇲🇹 Malta
$0.2B
1.4%
n/a
🇪🇪 Estonia
$0.2B
0.8%
10.9%
🇨🇾 Cyprus
$0.1B
0.7%
n/a
Source: Bruegel, IMF. Euro and pound sterling exchange rates to U.S. dollar as of August 25, 2022.
Germany is spending over $60 billion to combat rising energy prices. Key measures include a $300 one-off energy allowance for workers, in addition to $147 million in funding for low-income families. Still, energy costs are forecasted to increase by an additional $500 this year for households.
In Italy, workers and pensioners will receive a $200 cost of living bonus. Additional measures, such as tax credits for industries with high energy usage were introduced, including a $800 million fund for the automotive sector.
With energy bills predicted to increase three-fold over the winter, households in the U.K. will receive a $477 subsidy in the winter to help cover electricity costs.
Meanwhile, many Eastern European countries—whose households spend a higher percentage of their income on energy costs— are spending more on the energy crisis as a percentage of GDP. Greece is spending the highest, at 3.7% of GDP.
Utility Bailouts
Energy crisis spending is also extending to massive utility bailouts.
Uniper, a German utility firm, received $15 billion in support, with the government acquiring a 30% stake in the company. It is one of the largest bailouts in the country's history. Since the initial bailout, Uniper has requested an additional $4 billion in funding.
Not only that, Wien Energie, Austria's largest energy company, received a €2 billion line of credit as electricity prices have skyrocketed.
Deepening Crisis
Is this the tip of the iceberg? To offset the impact of high gas prices, European ministers are discussing even more tools throughout September in response to a threatening energy crisis.
To reign in the impact of high gas prices on the price of power, European leaders are considering a price ceiling on Russian gas imports and temporary price caps on gas used for generating electricity, among others.
Price caps on renewables and nuclear were also suggested.
Given the depth of the situation, the chief executive of Shell said that the energy crisis in Europe would extend beyond this winter, if not for several years.