Charted: 40 Years of Global Energy Production, by Country
Energy was already a hot topic before 2022, but soaring household energy bills and a cost of living crisis has brought it even more to the forefront.
Which countries are the biggest energy producers, and what types of energy are they churning out? This graphic by 911 Metallurgist gives a breakdown of global energy production, showing which countries have used the most fossil fuels, nuclear, and renewable energy since 1980.
All figures refer to the British thermal unit (BTU), equivalent to the heat required to heat one pound of water by one degree Fahrenheit.
Editor's note: Click on any graphic to see a full-width version that is higher resolution
1. Fossil Fuels
View the full-size infographic
While the U.S. is a dominant player in both oil and natural gas production, China holds the top spot as the world's largest fossil fuel producer, largely because of its significant production and consumption of coal.
Over the last decade, China has used more coal than the rest of the world, combined.
However, it's worth noting that the country's fossil fuel consumption and production have dipped in recent years, ever since the government launched a five-year plan back in 2014 to help reduce carbon emissions.
2. Nuclear Power
View the full-size infographic
The U.S. is the world's largest producer of nuclear power by far, generating about double the amount of nuclear energy as France, the second-largest producer.
While nuclear power provides a carbon-free alternative to fossil fuels, the nuclear disaster in Fukushima caused many countries to move away from the energy source, which is why global use has dipped in recent years.
Despite the fact that many countries have recently pivoted away from nuclear energy, it still powers about 10% of the world's electricity. It's also possible that nuclear energy will play an expanded role in the energy mix going forward, since decarbonization has emerged as a top priority for nations around the world.
3. Renewable Energy
View the full-size infographic
Renewable energy sources (including wind, hydro, and solar) account for about 23% of electricity production worldwide. China leads the front on renewable production, while the U.S. comes in second place.
While renewable energy production has ramped up in recent years, more countries will need to ramp up their renewable energy production in order to reach net-zero targets by 2050.

This article was published as a part of Visual Capitalist's Creator Program, which features data-driven visuals from some of our favorite Creators around the world.
Visualizing the World's Largest Hydroelectric Dams
Hydroelectric dams generate 40% of the world's renewable energy, the largest of any type. View this infographic to learn more.
Visualizing the World's Largest Hydroelectric Dams
This was originally posted on Elements. Sign up to the free mailing list to get beautiful visualizations on natural resource megatrends in your email every week.
Did you know that hydroelectricity is the world's biggest source of renewable energy? According to recent figures from the International Renewable Energy Agency (IRENA), it represents 40% of total capacity, ahead of solar (28%) and wind (27%).
This type of energy is generated by hydroelectric power stations, which are essentially large dams that use the water flow to spin a turbine. They can also serve secondary functions such as flow monitoring and flood control.
To help you learn more about hydropower, we've visualized the five largest hydroelectric dams in the world, ranked by their maximum output.
Overview of the Data
The following table lists key information about the five dams shown in this graphic, as of 2021. Installed capacity is the maximum amount of power that a plant can generate under full load.
Country
Dam
River
Installed Capacity
(gigawatts)
Dimensions
(meters)
🇨🇳 China
Three Gorges Dam
Yangtze River
22.5
181 x 2,335
🇧🇷 Brazil / 🇵🇾 Paraguay
Itaipu Dam
Parana River
14.0
196 x 7,919
🇨🇳 China
Xiluodu Dam
Jinsha River
13.9
286 x 700
🇧🇷 Brazil
Belo Monte Dam
Xingu River
11.2
90 X 3,545
🇻🇪 Venezuela
Guri Dam
Caroni River
10.2
162 x 7,426
At the top of the list is China's Three Gorges Dam, which opened in 2003. It has an installed capacity of 22.5 gigawatts (GW), which is close to double the second-place Itaipu Dam.
In terms of annual output, the Itaipu Dam actually produces about the same amount of electricity. This is because the Parana River has a low seasonal variance, meaning the flow rate changes very little throughout the year. On the other hand, the Yangtze River has a significant drop in flow for several months of the year.
For a point of comparison, here is the installed capacity of the world's three largest solar power plants, also as of 2021:
Bhadla Solar Park, India: 2.2 GW
Hainan Solar Park, China: 2.2 GW
Pavagada Solar Park, India: 2.1 GW
Compared to our largest dams, solar plants have a much lower installed capacity. However, in terms of cost (cents per kilowatt-hour), the two are actually quite even.
Closer Look: Three Gorges Dam
The Three Gorges Dam is an engineering marvel, costing over $32 billion to construct. To wrap your head around its massive scale, consider the following facts:
The Three Gorges Reservoir (which feeds the dam) contains 39 trillion kg of water (42 billion tons)
In terms of area, the reservoir spans 400 square miles (1,045 square km)
The mass of this reservoir is large enough to slow the Earth's rotation by 0.06 microseconds
Of course, any man-made structure this large is bound to have a profound impact on the environment. In a 2010 study, it was found that the dam has triggered over 3,000 earthquakes and landslides since 2003.
The Consequences of Hydroelectric Dams
While hydropower can be cost-effective, there are some legitimate concerns about its long-term sustainability.
For starters, hydroelectric dams require large upstream reservoirs to ensure a consistent supply of water. Flooding new areas of land can disrupt wildlife, degrade water quality, and even cause natural disasters like earthquakes.
Dams can also disrupt the natural flow of rivers. Other studies have found that millions of people living downstream from large dams suffer from food insecurity and flooding.
Whereas the benefits have generally been delivered to urban centers or industrial-scale agricultural developments, river-dependent populations located downstream of dams have experienced a difficult upheaval of their livelihoods.
– Richter, B.D. et al. (2010)
Perhaps the greatest risk to hydropower is climate change itself. For example, due to the rising frequency of droughts, hydroelectric dams in places like California are becoming significantly less economical.
The Top 10 EV Battery Manufacturers in 2022
Despite efforts from the U.S. and Europe to increase the domestic production of batteries, the market is still dominated by Asian suppliers.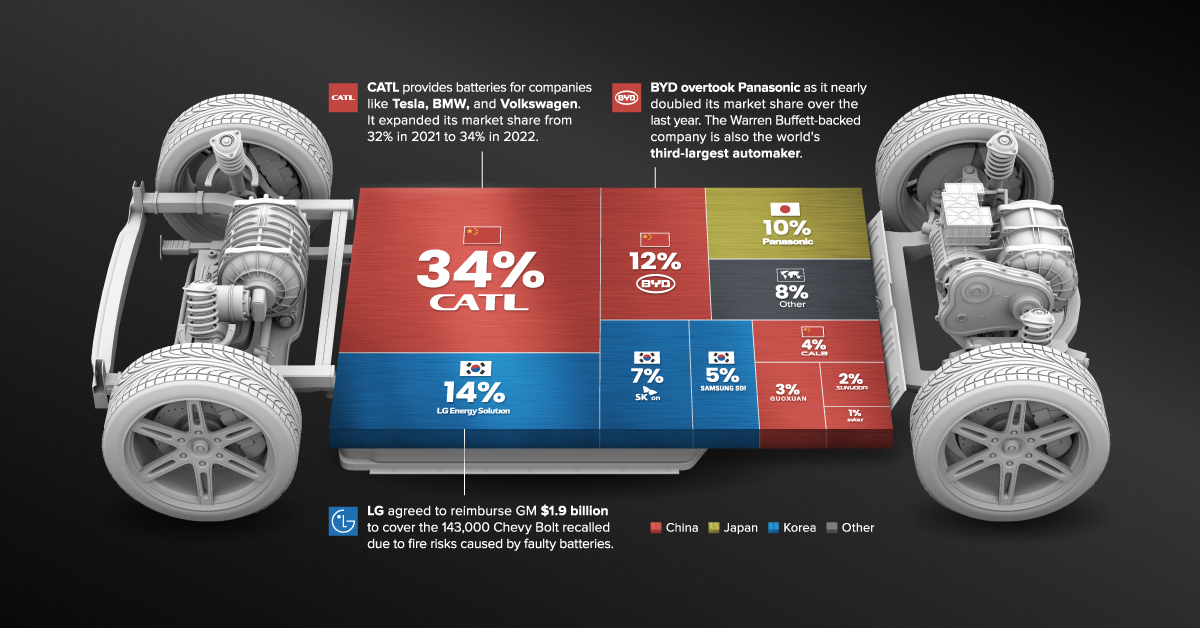 The Top 10 EV Battery Manufacturers in 2022
This was originally posted on Elements. Sign up to the free mailing list to get beautiful visualizations on natural resource megatrends in your email every week.
The global electric vehicle (EV) battery market is expected to grow from $17 billion to more than $95 billion between 2019 and 2028.
With increasing demand to decarbonize the transportation sector, companies producing the batteries that power EVs have seen substantial momentum.
Here we update our previous graphic of the top 10 EV battery manufacturers, bringing you the world's biggest battery manufacturers in 2022.
Chinese Dominance
Despite efforts from the United States and Europe to increase the domestic production of batteries, the market is still dominated by Asian suppliers.
The top 10 producers are all Asian companies.
Currently, Chinese companies make up 56% of the EV battery market, followed by Korean companies (26%) and Japanese manufacturers (10%).
The leading battery supplier, CATL, expanded its market share from 32% in 2021 to 34% in 2022. One-third of the world's EV batteries come from the Chinese company. CATL provides lithium-ion batteries to Tesla, Peugeot, Hyundai, Honda, BMW, Toyota, Volkswagen, and Volvo.
| Rank | Company | 2022 Market Share | Country |
| --- | --- | --- | --- |
| #1 | CATL | 34% | China 🇨🇳 |
| #2 | LG Energy Solution | 14% | Korea 🇰🇷 |
| #3 | BYD | 12% | China 🇨🇳 |
| #4 | Panasonic | 10% | Japan 🇯🇵 |
| #5 | SK On | 7% | Korea 🇰🇷 |
| #6 | Samsung SDI | 5% | Korea 🇰🇷 |
| #7 | CALB | 4% | China 🇨🇳 |
| #8 | Guoxuan | 3% | China 🇨🇳 |
| #9 | Sunwoda | 2% | China 🇨🇳 |
| #10 | SVOLT | 1% | China 🇨🇳 |
| | Other | 8% | ROW 🌐 |
Despite facing strict scrutiny after EV battery-fire recalls in the United States, LG Energy Solution remains the second-biggest battery manufacturer. In 2021, the South Korean supplier agreed to reimburse General Motors $1.9 billion to cover the 143,000 Chevy Bolt EVs recalled due to fire risks from faulty batteries.
BYD took the third spot from Panasonic as it nearly doubled its market share over the last year. The Warren Buffett-backed company is the world's third-largest automaker by market cap, but it also produces batteries sold in markets around the world. Recent sales figures point to BYD overtaking LG Energy Solution in market share the coming months or years.
The Age of Battery Power
Electric vehicles are here to stay, while internal combustion engine (ICE) vehicles are set to fade away in the coming decades. Recently, General Motors announced that it aims to stop selling ICE vehicles by 2035, while Audi plans to stop producing such models by 2033.
Besides EVs, battery technology is essential for the energy transition, providing storage capacity for intermittent solar and wind generation.
As battery makers work to supply the EV transition's increasing demand and improve energy density in their products, we can expect more interesting developments within this industry.