Comparing the Sizes of Dinosaurs in the Lost World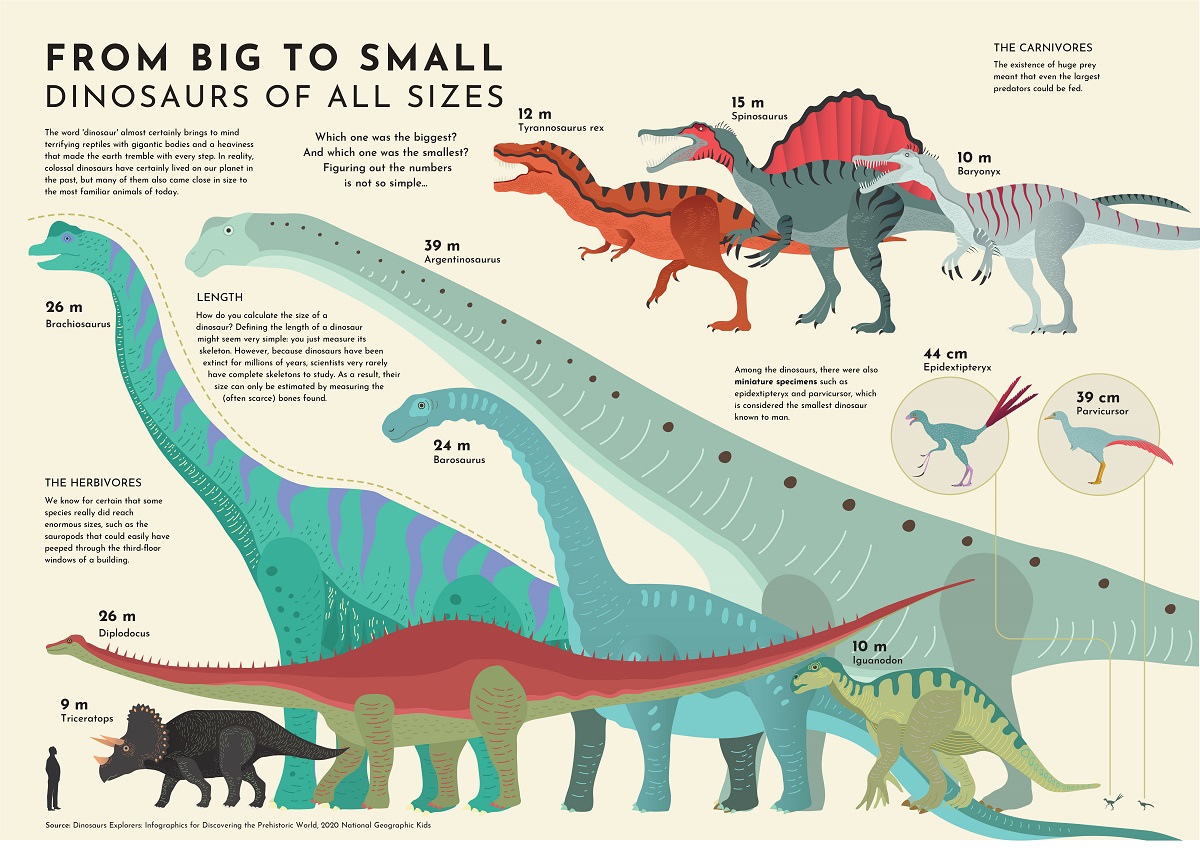 Click to view a larger version of the graphic.
Comparing the Sizes of Dinosaurs in the Lost World
When dinosaurs inhabited the Earth over 66 million years ago, their sizes and species varied dramatically.
While geological evidence is far from complete, fossil evidence suggests that the largest dinosaurs were comparable to the length of a Boeing 737 or the weight of 12 elephants. Meanwhile, the smallest were similar to the size of a chicken or bird.
In this infographic from Giulia De Amicis we compare the sizes of dinosaurs to get a sense of their vast scale and diversity.
Sizes of Dinosaurs Compared to Modern Day Life
Towering as high as 39 meters, the Argentinosaurus or 'Argentina lizard' is currently thought to be the largest dinosaur ever discovered. It was a sauropod, a subgroup of dinosaurs with very long necks and long tails, four wide legs for support, and relatively smaller heads.
In 1987, its bones were unearthed in the Patagonia region of Argentina, a destination well-known for prehistoric fossils. For comparison's sake, the length of the Argentinosaurus is as high as a 13-story building.
| Name | Length (Meters) | Length (Feet) |
| --- | --- | --- |
| Argentinosaurus | 39 m | 128 ft |
| Blue Whale | 30 m | 98 ft |
| Brachiosaurus | 26 m | 85 ft |
| Diplodocus | 26 m | 85 ft |
| Barosaurus | 24 m | 79 ft |
| Spinosaurus | 15 m | 49 ft |
| Tyrannosaurus rex | 12 m | 30 ft |
| Iguanodon | 10 m | 33 ft |
| Baryonyx | 10 m | 33 ft |
| Triceratops | 9 m | 30 ft |
| African Elephant | 7 m | 23 ft |
| Human | 1.8 m | 6 ft |
| Epidextipteryx | 44 cm | 1.4 ft |
| Parvicursor | 39 cm | 1.3 ft |
Other sauropods were also massive, including the Brachiosaurus, or 'arm lizard'—it was roughly the size of a blue whale.
Fossil evidence discovered in 1900 in the Colorado Valley showed that the Brachiosaurus lived in the late Jurassic Period, 140-155 million years ago. Similarly, the Tyrannosaurus rex (12 m) also lived in North America, but during the Late Cretaceous period some 80 million years later.
Among the smallest dinosaurs were the Parvicursor (literally 'small runner') and Epidextipteryx (literally 'display feather'). Both were under 45 centimeters, similar to a modern mid-sized bird.
The Age of Giants
Not only were the dinosaurs sheerly colossal in size, but so too was their mass.
Consider how the Argentinosaurus was about the weight of a typical rocket at 75,000 kg, or twice the mass of a Boeing 737. And there were many heavy dinosaurs, such as the Diplodocus (meaning 'double beam') which weighed a hefty 13,000 kg.
Sizes of Dinosaurs In Question
How do we know these sizes and weights?
Scientists use discovered bones, impressions, and completed fossils to come up with ranges of estimates. The more complete a fossil and the more similar fossils exist, the more accurate the estimate that scientists can make.
But amid discoveries of the largest dinosaurs on earth, many paleontologists have questioned size claims. Due to incomplete fossil records, some estimates are based on as little as a handful of bone records. For instance, just 20% of the Brachiosaurus' skeleton has been discovered.
At the same time, techniques such as 3-D scanning continue to be refined, and there are now many different techniques being used to estimate size. That said, one study has shown that even diverse sizing techniques typically arrive at similar results.
With access to virtual fossils, broad archeological datasets, as well as advancing techniques and new discoveries, the understanding of the sizes of dinosaurs continues to evolve.

This article was published as a part of Visual Capitalist's Creator Program, which features data-driven visuals from some of our favorite Creators around the world.
Timeline: The Most Important Science Headlines of 2022
Join us as we look back at some of the most exciting, inspiring, and biggest science stories that made headlines in 2022.
Scientific discoveries and technological innovation play a vital role in addressing many of the challenges and crises that we face every year.
The last year may have come and gone quickly, but scientists and researchers have worked painstakingly hard to advance our knowledge within a number of disciplines, industries, and projects around the world.
Over the course of 2022, it's easy to lose track of all the amazing stories in science and technology.
At a Glance: Major Scientific Headlines of 2022
Below we dive a little deeper into some of the most interesting headlines, while providing links in case you want to explore these developments further.
The James Webb Space Telescope Arrives at its Destination
What happened: A new space telescope brings promise of exciting findings and beautiful images from the final frontier. This telescope builds on the legacy of its predecessor, the Hubble Space Telescope, which launched over 30 years ago.
Why it matters: The James Webb Space Telescope is our latest state-of-the-art "window" into deep space. With more access to the infrared spectrum, new images, measurements, and observations of outer space will become available.
» To learn more, read this article from The Planetary Society, or watch this video from the Wall Street Journal.
Complete: The Human Genome
What happened: Scientists finish sequencing the human genome.
Why it matters: A complete human genome allows researchers to better understand the genetic basis of human traits and diseases. New therapies and treatments are likely to arise from this development.
» To learn more, watch this video by Two Minute Papers, or read this article from NIH
Monkeypox Breaks Out
What happened: A higher volume of cases of the monkeypox virus was reported in non-endemic countries.
Why it matters: Trailing in the shadow of a global pandemic, researchers are keeping a closer eye on how diseases spread. The sudden spike of multinational incidences of monkeypox raises questions about disease evolution and prevention.
» To learn more, read this article by the New York Times.
A Perfectly Preserved Woolly Mammoth
What happened: Gold miners unearth a 35,000 year old, well-preserved baby woolly mammoth in the Yukon tundra.
Why it matters: The mammoth, named Nun cho ga by the Tr'ondëk Hwëch'in First Nation, is the most complete specimen discovered in North America to date. Each new discovery allows paleontologists to broaden our knowledge of biodiversity and how life changes over time.
» To learn more, read this article from Smithsonian Magazine
The Rise of AI Art
What happened: Access to new computer programs, such as DALL-E and Midjourney, give members of the general public the ability to create images from text-prompts.
Why it matters: Widespread access to generative AI tools fuels inspiration—and controversy. Concern for artist rights and copyright violations grow as these programs potentially threaten to diminish creative labor.
» To learn more, read this article by MyModernMet, or watch this video by Cleo Abram.
Dead Organs Get a Second Chance
What happened: Researchers create a perfusion system that can revitalize organs after cellular death. Using a special mixture of blood and nutrients, organs of a dead pig can be sustained after death—and in some cases, even promote cellular repair.
Why it matters: This discovery could potentially lead to a greater shelf-life and supply of organs for transplant.
» To learn more, read this article by Scientific American, or this article from the New York Times
DART Delivers A Cosmic Nudge
What happened: NASA crashes a spacecraft into an asteroid just to see how much it would move. Dimorphos, a moonlet orbiting a larger asteroid called Didymos 6.8 million miles (11 million km) from Earth, is struck by the DART (Double Asteroid Redirection Test) spacecraft. NASA estimates that as much as 22 million pounds (10 million kg) was ejected after the impact.
Why it matters: Earth is constantly at risk of being struck by stray asteroids. Developing reliable methods of deflecting near-Earth objects could save us from meeting the same fate as the dinosaurs.
» To learn more, watch this video by Real Engineering, or read this article from Space.com
Falling Sperm Counts
What happened: A scientific review suggests human sperm counts are decreasing—up to 62% over the past 50 years.
Why it matters: A lower sperm count makes it more difficult to conceive naturally. Concerns about global declining male health also arise because sperm count is a marker for overall health. Researchers look to extraneous stressors that may be affecting this trend, such as diet, environment, or other means.
» To learn more, check out this article from the Guardian.
Finding Ancient DNA
What happened: Two million-year-old DNA is found in Greenland.
Why it matters: DNA is a record of biodiversity. Apart from showing that a desolate Arctic landscape was once teeming with life, ancient DNA gives hints about our advancement to modern life and how biodiversity evolves over time.
» To learn more, read this article from National Geographic
Fusing Energy
What happened: The U.S. Department of Energy reports achieving net energy gain for the first time in the development of nuclear fusion.
Why it matters: Fusion is often seen as the Holy Grail of safe clean energy, and this latest milestone brings researchers one step closer to harnessing nuclear fusion to power the world.
» To learn more, view our infographic on fusion, or read this article from BBC
Science in the New Year
The future of scientific research looks bright. Researchers and scientists are continuing to push the boundaries of what we know and understand about the world around us.
For 2023, some disciplines are likely to continue to dominate headlines:
Advancement in space continues with projects like the James Webb Space Telescope and SETI COSMIC's hunt for life beyond Earth
Climate action may become more demanding as recovery and prevention from extreme weather events continue into the new year
Generative AI tools such as DALL-e and ChatGPT were opened to public use in 2022, and ignited widespread interest in the potential of artificial intelligence
Even amidst the lingering shadow of COVID-19, new therapeutics should advance medicine into new territories
Where science is going remains to be seen, but this past year instills faith that 2023 will be filled with even more progress.